Icelandic sceneries are magnificent. No other place on earth is blessed with such richness of nature. Every twist and turn is adorned with marvels like waterfalls or canyons. Here is one such gem from Iceland called the Secret Lagoon. Located within the range of the Golden Circle, Secret Lagoon is filled by naturally occurring hot springs located at Hverahólmi. The lagoon is an exquisite terrain surrounded by the lush green lands and majestic mountains.
See and Explore around Secret Lagoon
Situated near the village of Flúðir in southern Iceland, Secret Lagoon is the oldest pool in the country. There are various natural and age-old thermal pools that you will find in the vicinity. This is due to the heavy geothermal activity in the area. For those who are interested in agriculture and horticulture of Iceland, a mini trip can be taken to the village of Flúðir.
For a wholesome trip, you can take a detour to the Golden Circle. Popular among the tourists and explorers for hot-springs and mud pits, Golden Circle has many small surprises for you to look at. This area contributes massively to the beauty of Iceland through magnificent landscapes, fascinating geological forces, and rich culture. Within 300 kilometers of the Golden Circle, three major tourist places – the Geysir Geothermal Area, Gullfoss Waterfall, and Þingvellir National Park can be explored. A magnificent hot-spring haven in Haukadalur Valley, The Geysir Geothermal Area will immediately pull you towards its serene beauty. This is a location where you would click awesome pictures, so make sure to keep your lenses ready. Spooky brown cauldrons and bubbling mud pots will pleasantly intrigue you. There are other smaller geysers such as Smiður and Litlí-Strokkur that can be visited in the area.
For flora and fauna enthusiasts who cannot get enough of Iceland, Þingvellir National Park is a treasure to uncover. Declared a UNESCO World Heritage site on the mainland of Iceland, the National Park is cherished by the locals and tourists for its sheer aesthetic beauty. Glacial springs and iconic old mountains are an absolute treat to watch. If you want to escape city noises for a while and looking for a soothing place to relax, Þingvellir National Park will be perfect for that. The glacial spring, Silfra fissure, is a major stunner in the park. Considered a playground for snorkelers and scuba divers, Silfra will truly fascinate you.
Best Season to Visit Secret Lagoon
Places to Stay around Secret Lagoon
There are ample options to stay in and around Secret Lagoon. Garður Stay Inn has perks like free Wi-Fi and parking. Apart from that, it has a garden set up where you can enjoy yourself with your friends. They have dormitories and rooms available on a sharing basis. Icelandair Hotel Fludir has beautiful rooms and a BBQ area. The rooms and dorms have perplexing views, so it would make for an exquisite stay as you can devour the view of the area from your bed. You can also find good camping grounds in Flúðir and the weather in the area is usually very pleasant during the summer time. 
Interesting locations in the area
More Locations in the Golden Circle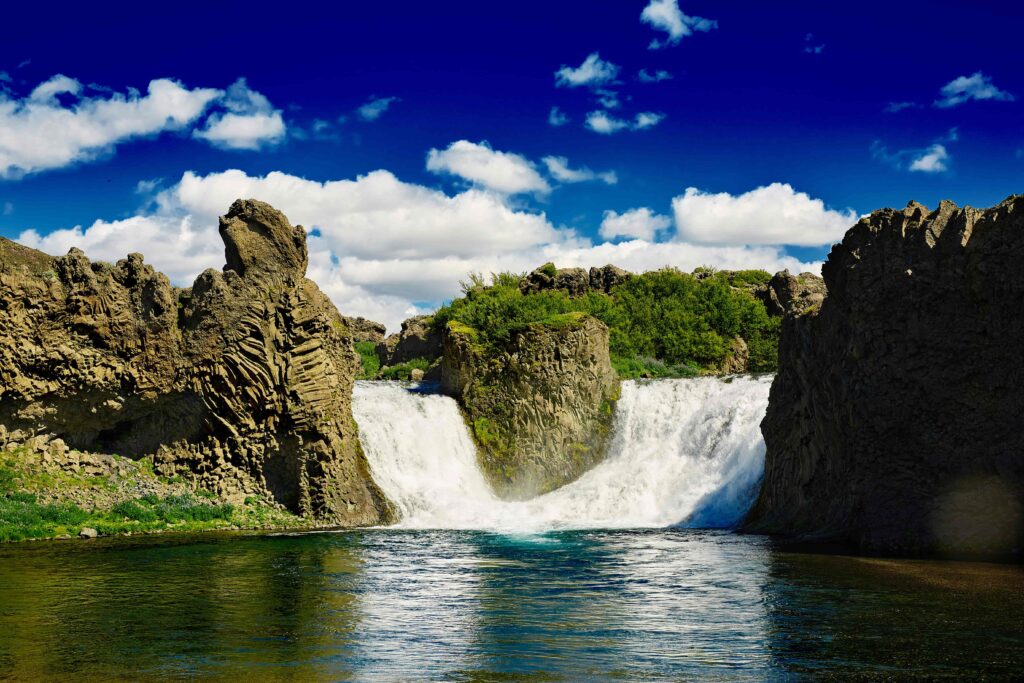 Previous Next Iceland is filled with exceptional places and sites...
Read More