Ranging from north to the south, east to the west, the land of ice and fire never ceases to surprise you with its never-ending wonders and natural sights. From the fiery landscapes of the highlands, the popular and eccentric black sand beaches, to the vast glaciers, raging volcanoes, and powerful cascading waterfalls lined along with an exceptional view, Iceland is the perfect place for your vacation – blow off some steam while experiencing the most thrilling of adventures. Different parts of Iceland have their specialties and main attraction so you can not help but visit all some of the top spots from each part to get the most out of your trip. But the vastness of the country and the sheer number of the destination and limited time of a vacation seldom allow anyone to cover the whole country or at least see one attraction from each kind.
This is where the Snæfellsnes Peninsula comes in picture. Also known as miniature Iceland, Snæfellsnes Peninsula has everything from glaciers to beaches, lava fields, waterfalls, craters, ice and lava caves, bird and whale watching spots, gorgeous towns and villages with rich history and culture as well as huge basalt rock structures. Snæfellsnes Peninsula contains most types of attractions from all over the country. Located only a few hours away from the capital city, Snæfellsnes Peninsula can be a part of your single-day trip but there are so many destinations and places that you can visit
Do you want to have a local expert plan your trip to Iceland?
Do you want feedback on your itinerary from a local expert?
Find the best self driving itinerary for your trip. 
Map with top 100 locations in Iceland.
Map with top 100 secret locations in Iceland.
Discover hidden gems in Iceland.
Pre-Visit Requisites - Knowing Snæfellsnes Peninsula
Deciding which country to travel to when you are on vacation or which places to visit in that country not only require a thorough study of the most popular and important attractions but also other factors like the weather of the country, possible transportation options, etc. Iceland, especially, can be very unpredictable when it comes to details like the weather. So, you need to have a thorough understanding of what to expect and how to be prepared for it in advance.
December and January tend to be the coldest months in Snæfellsnes Peninsula with an average low temperature of -6°C while July and August are the warmest months with an average high temperature of 10°C. The average weather in the western part of Iceland – home to Snæfellsnes Peninsula – is not the warmest part of the country but it gets fairly pleasant summers. The winters are not as harsh as they are in the northern parts which can fall to about -10°C to -15°C.
October tends to be the wettest month of the year with an average precipitation of about 3.8 inches and May is, more often than not, the driest month of the year with an average precipitation score of barely 2 inches. The yearly average precipitation score of the area stands by 31.54 inches (801 mm) which makes the western part of Iceland a fairly dry part with very low chances of unpredictable rain or snowfall. Note that precipitation can come in any form from drizzle to heavy rain and snow.
The standard sunset and sunrise time is pretty similar in the whole country with a minimal difference of an hour or so. The peak of summer brings in the viewing of the midnight sun and the fact is that Snæfellsnes Peninsula is one of the most popular places for the viewing. Winters are as dark as any other part of the country with a barely 4-5 hours of sunlight/daylight.
Top Attractions of Snæfellsnes Peninsula
With countless options in front of you, and each of them is every bit beautiful as the other, it could be hard to decide where to start your expedition at. Here is a list of some of the top options for you to visit in the Snæfellsnes Peninsula. Note that this selection has one place form each category be it the glaciers or volcanoes, towns, or countryside, and these are not to missed out on to make your trip a successful one.
When looked at from afar, this insanely popular mountain looks at the head of an arrow which is the description that was given by Jon Snow in the prevalent TV show Game of Thrones. Iceland is filled with places and destinations which were featured in the shows and Kirkjufell mountain happens to be one of them. The shape of the mountain appears to be triangular from a long distance it is rather wide from the top when it seems up close.
Although it is just 463 meters high, the mountain still presents a very challenging hiking trail which takes up to 1.5 hours to conquer. It is even advised that only experienced hikers should take this hike. A picture of exceptional beauty, Kirkjufell mountain seems to have a striped black and white pattern on it in horizontal fashion – almost as if it is surrounded by mystical rings of energy.  
Kirkjufellsfoss Waterfall
Situated right on the opposite side of the Kirkjufell mountain, Kirkjufellsfoss waterfall is not only the ideal place to spend some time with serenity but also for viewing Kirkjufell mountain. It creates a beautiful foreground for pictures in every weather – brown and green landscape with two small waterfalls running down the hill and ice stalactite that hang from the small outcrops of the cliff in the winters along with the cascading water.
This place is extremely popular among tourists all year round as it makes a wonderful spot for midnight sun viewing in summers and aurora viewing in winters. The fall and spring seasons get their crowd because of the extremely pleasant weather and glorified sights around the waterfall.
A lava cave that is about 8000 years old not something to be missed out on when you are exploring Snæfellsnes Peninsula. It is one of the most popular lava caves in Iceland and many family-friendly tours are conducted by several tour agencies every year in all seasons here. Situated on family-owned land, this cave is about 200 meters long and 35 meters deep below the surface of the earth. You will be taking a spiral staircase to get to the bottom where the cave starts and then it will be about a 45-minute long journey.
This trip will be like no other and you will experience things which are exclusive to lava caves which are conveniently centuries old. The cave is filled with vibrant colored rock formation, mineral clutters, and live frozen lava which has retained its original flaming red color. The cave was formed when an eruption in the nearby volcano made lava flow on a river. It cooled down and formed a crust on top while the lava below the crust kept flowing and hence left a hollow tube. There are several such lava tubes in the surrounding area but this one is the most popular of them all. Due to the way it was formed, Vatnshellir Cave is also known as the Water Cave.
A former important trading post, Arnarstapi is now a small settlement near the pyramid-shaped mountain named Stapafell. Now, this small settlement is famous for its calm surroundings, beautiful views, and the statue of Bárður Snæfellsás. Bárður Snæfellsás is a being from the Icelandic sagas written in the medieval times. It is said that this creature had a human mother who was exceptionally tall and the most beautiful woman of her days and a hall-giant, half-troll father. He is said to have fostered by Dofri – the mountain dweller of Norway and later settled in Iceland. Bárður Snæfellsás was extremely handsome and large – thanks to his parents and married twice and led a good life before he was driven mad by a prank of one of his children. Bárður Snæfellsás than went to the Snæfellsnes Glacier, made a cave there lived till death came and took him. Now he is worshipped as the guardian spirit of the glacier and the surrounding area.
A fascinating story (or reality), the tale of Bárður Snæfellsás is very famous in Iceland and is one of the most-read stories of all times. Along with the statue of Bárður Snæfellsás, Arnarstapi also has huge lava fields, fascinating rock formations and a very rich birdlife which makes it worth at least one visit for the history and bird enthusiasts during the trip.
Djúpalónssandur Black Beach
A vivid presentation of lethal beauty, Djúpalónssandur is a well-suited rival of the ever-famous black sand beach on the south coast of Iceland Reynisfjara. Not only that it has miles of distance covered in the black sand, but it also has perfectly round black pebbles. A beauty that no camera can do justice to, Djúpalónssandur is also the site of The Epine GY7 – a British Trawler – which wrecked on March 13th, 1948. Only 5 men could be saved by Icelandic search and rescue teams from the nearby towns while 14 were reported to be dead. The ruins of the ship could still be seen all around the place. Djúpalónssandur is a thing of beauty for sure but should only be admired from afar. Surfing is highly unrecommended as the waves here are very unpredictable and can easily grab the surfer without any warning. As long as you maintain a safe distance, Djúpalónssandur or the Deep Lagoon's Sand Black Beach is a wonderful place to visit.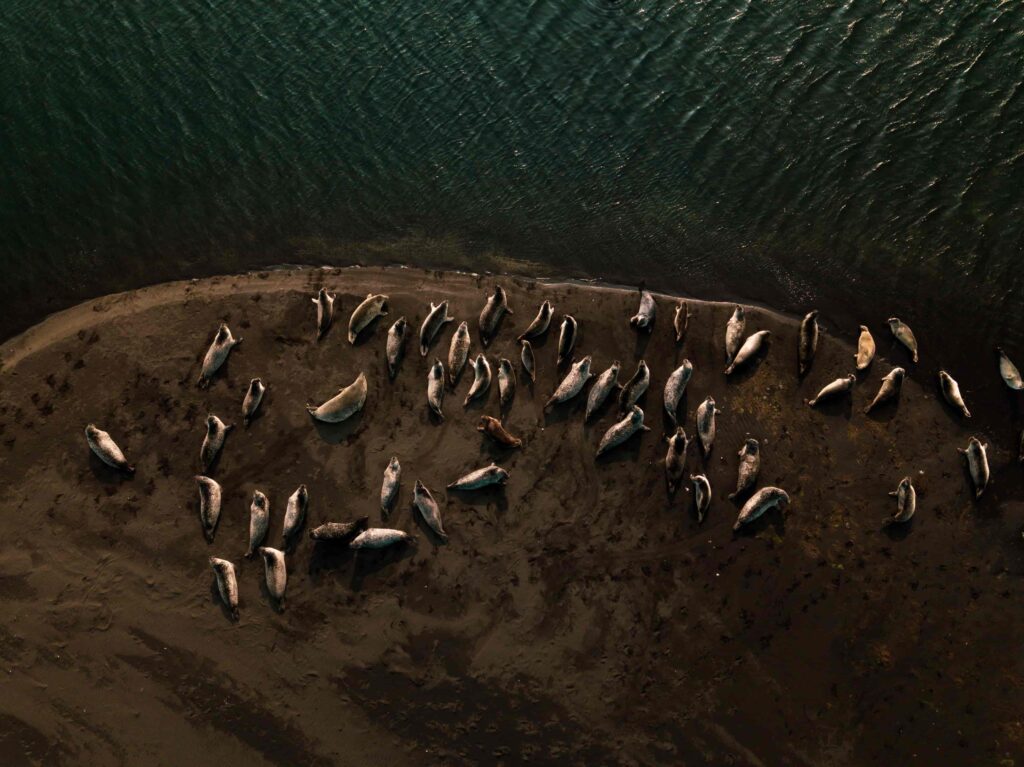 A beautiful contrast to the black sand beaches of Iceland, this beige sand beach is popular for the vivid sights as well the frequent sightings of seals. Standing on the beach, you will get a beautiful backdrop of Snæfellsjökull glacier with giant stone scattered in the front. Many photographers prefer to get some shots at this beach mainly because of the seal but the landscape of the place is reason enough to spend some time here.
Stykkishólmur – Town of Colors
The biggest town of Snæfellsnes Peninsula, you need to visit Stykkishólmur if you say that you are a fan of Bowie. The very popular song Space Oddity was shot in Stykkishólmur and was used to present Nuuk in Greenland. This fishing town has countless ferries leave for Breiðafjörður fjords each day, some of which further travel to the Wstfjords such as ferry Baldur. You can catch a ferry that stops at Flatey island which is very famous among both locals and tourists. The town is unbelievably beautiful with green landscapes scattered all across town. You are sure to find some great bakeries, grocery shops, and accommodation options here.
A settlement with just two buildings – a church and a boutique hotel – Búðir will be one of the most eccentric places you will see in West Iceland. A black colored church between the golden-brown grass landscape makes the visit worth it. The pitch-black church was established in 1703 but was disintegrated and again erected in 1848.
Snæfellsjökull National Park
One of the three national parks in Iceland, Snæfellsjökull National Park is neither the smallest one nor the biggest one. It is conveniently sized at 170 square kilometers and houses many iconic trip spots like Snæfellsjökull glacier/volcano. Filled with many glorious folktales like the one with Bárður Snæfellsás, several formations and structures are dedicated to characters and beings from these folklores. But Snæfellsjökull glacier remains to be the biggest attraction of the park. It is 1446 meters high and is located above a volcano which is 700,000 years old and is known by the same name.
The volcano/glacier is one of the most visited glaciers in Iceland and not just because of its fabulous sights and the thrilling hike that is offered. It is believed that the volcano is surrounded by mysterious spiritual energy and people who are spiritually awakened and practice the art even claim to have felt it. Snæfellsjökull volcano was also featured in Jules Verne's book 'Journey to the Center of the Earth' as the center of the earth.
With only 870 inhabitants, this beautiful little town/village is a great place to enjoy some great restaurants, cafes, bakeries, 9-hole golf courses, swimming pools, and even whale watching. The town offers some great accommodation options as well in the form of hotels, campsites, guesthouses, and hostels. You can even spot the very famous mountain Kirkjufell from the town.
Just beside Grundarfjörður, there is another small town with only 1000 inhabitants named Ólafsvík. Home to the beautiful waterfall Bæjarfoss, this town is also a good choice to gather some groceries, visit cafes and play some golf.
Some Additional Attractions
Hellnar – a settlement near the southern coast of Snæfellsnes with amazing views of Snæfellsjökull glacier and live performances on the pebble beach.
Gatklettur – a giant rock with a hole at the seaside cliffs. Perfect for some alone, tranquil time and pictures.
Eldborg – a perfectly round crater with a depth of 50 meters and a diameter of 200 meters.
Gerðuberg Cliffs – very close to Eldborg carter, Gerðuberg is one of the longest rows of basalt cliffs in Iceland where you can also enjoy mineral water straight from the ground.
Lóndrangar Rock Formation – beautiful rocks by the seashore of Snæfellsjökull National Park, these rocks are said to be the petrified version of a giant and his wife. Climbing these rocks is a popular but very dangerous sport, so proceed if you wish to but take as many cations as you possibly can.
Raudfeldsgja Ravine – perfect for a small day-time adventure, hike up to the canyon, climb through the river, get some canyoning action and pass some smaller waterfall to reach the final destination – an extremely beautiful, small but gorgeous waterfall.
Ondverdarnes and Svortuloft Lighthouse – at the westernmost point of Snæfellsnes, you will find a beautiful lighthouse with orange hues erected among black cliffs called Svörtuloft (Black Ceiling).
Irskrabrunnur & Gufuskalavor – heaven for archeologists, this place is flooded by land history and remains of an Irish – back from the settlement of Iceland and fishing station from 14th or 15th
Getting through even the top ten attractions of the Snæfellsnes Peninsula will take up a substantial amount of time so you can not really travel back and forth every day from the capital city to the west. Snæfellsnes Peninsula has many towns and settlements that offer very comfortable accommodation options, such as Hotel Búðir. Situated right next to the Black Church which is very popular for weddings. This countryside luxury will provide you many options when it comes to quality living arrangements, a romantic getaway, and top-tier customer service.
The town of Stykkisholmur also offers many accommodation options ranging from campsites to hostels, hotels, guesthouses, apartments, and homestays. Since all the living arrangements are within the town, you will have plenty of access to restaurants, cafés, and bakeries as well as other luxury places like swimming pools and golf courses.
When traveling to the Snaefellsnes Peninsula, you can stay at the cottages and cabins built in the countryside for the tourists. They are equipped with all essential luxury hotel items and are perfect for family stays as well as group stays. You also get a great view of the northern lights from the cabins.
Other great options for accommodation on Snaefellsnes Peninsula include Freezer Hostel in the town of Rif which is also a theater and a music venue, Fosshotel – a small modern countryside hotel in the small settlement of Hellnar, Hotel Egilsen, North Star Hotel Olafsvik, Hotel Breidafjordur, Hótel Fransiskus Stykkishólmi, Arnarstapi Hotel, and Hotel Stundarfridur. Depending on your travel arrangements and tour plans, you can choose any of these fabulous accommodation spots for a comfortable stay on the Snaefellsnes Peninsula.
If you are wondering about the right time to visit Snaefellsnes Peninsula then stop and start packing your bags. There is no right or wrong time as the place flourishes with beauty and elegance throughout the year with each season having its specific charms and delights. Summers will show you beautiful bright days, mild weather, ideal driving conditions and midnight sun viewing on the coasts while winters will bargain with the glimmering northern lights, snow-clad mountains and frozen waterfalls, often grey but seldom gloomy landscapes, killer whales in the northern-most part of the Snaefellsnes Peninsula, and beautiful contrasting black cliffs with the bright foamy ocean. Take precautions when driving in winters and check up on road conditions. The rest will be a breeze for you.