Laugavegur trail is a one-way trail between Landmannalaugar and Thorsmork.
34 miles or 55 kilometers.
3-4 days of hiking.
You can continue further on to Fimmvorduhals trail which adds about 1-2 days of more hiking.
From a rich culture, gorgeous sites, undeniably beautiful natural glory, countless landscapes, thrilling adventures, and majestic creatures that are not to be found anywhere else in the world, Iceland is different from any other place in the world. It is a cold country in the Arctic Circle and yet possesses naturally boiling groundwater. There are volcanoes with ice caps on top and glaciers with black lava ash veins, Iceland combines so many contrasting features and natures and creates a beautiful blend that is not unnatural in any way. Activities in the country are all organized to experience these beautiful sites from a little bit closer and to become one with nature.
Hiking is one such activity that would have you travel some very unknown and unseen realms. One of the best places to go hiking in Iceland is the Laugavegur trail. With its unbelievable sites, the place is like heaven on earth. Sometimes it is even hard to believe that something like this can exist on our planet. The surreal scenery, thrilling challenges, and the raw touch of nature make it an unforgettable experience for hikers. The gigantic landscape may even drag you into some existential crises. Every time you visit Laugavegur you will find a different kind of view waiting to be explored by you patiently. At times, there are mountains, at other times they seem like a giant formation of frozen lava. Numerous small volcanoes are spread out over miles and miles of the area – there is no shortage of adventurer spirit and no shortage of nature's wonders.
Pros and Cons of Laugavegur Hike
Needless to say, the beautiful backdrop and scenery are the very first on the list of pros of  the Laugavegur hike followed by good accommodation arrangements, and an unmatched level of thrill. The transportation system to get to the starting of the hike.
Not that there are any such cons to taking on one of the most gorgeous hikes in the world a few discomforting factors can come along the way if it is your first-time hiking and you do not know what to expect. The weather is generally very temperamental and can change at any moment from warm and sunny to cloudy rainy. Bad weather may often result in loss of visibility and hence the scenery may be unavailable for you to gaze upon for the time being.
Laugavegur trail is a one-way trail between Landmannalaugar and Thorsmork. It measures a total of 34 miles or 55 kilometers. The total time this hike will take us about 3-4 days assuming that you will be moving at a standard pace and stop in the evening hours for rest. If you choose to continue on long hiking days then it is possible to complete the hike in a maximum of 2 days only. Many of the hikers on the Laugavegur trail choose to continue further on to Fimmvorduhals trail which adds about 1-2 days of more hiking. The Laugavegur hike trail ends at Thorsmork – a place named after the Norse god of thunder – Thor.
Generally, the hike functions in a north to south fashion starting from Landmannalaugar – the northern trailhead and ending at the southern trailhead Thorsmork. But you can choose to hike from south to north direction as well if you see that as a more suitable option as per your travel arrangements and hotel location. The Laugavegur hike combined with the extended hike to Skogar contains a total of 7 stops including the trailhead. There is only one stop between Thorsmork and Skogar and the hike continues through Eyjafjallajökull and Katla volcanoes.
North to South / South to North
There are several benefits of both the north to south hike and the south to north hike. Proceeding further from north to the south feels a bit more natural because you start the hike at the highlands, and walk towards the south. Although if you go from south to north, you will have an opportunity to end the hike with a dip in one of the various hot springs in the highlands and wash the soreness of your muscles away. As far as views and landscapes are concerned, both routes will offer you the same kind of serenity and thrill, as well as the accommodation facilities on the way, will also remain the same. The south to north travel will not cause any additional exertion either since the northern trailhead Landmannalaugar is only 300 meters higher than Thorsmork.
The challenges of the trail lie in the changing weather and not the difficulty of the hike or the danger level of the trail. All other things apart from the weather are pretty much intermediate level and you are sure to enjoy them to the fullest. An additional stop that you can make when you are on the trail and have some time to spare is at Háskerdingur – the highest peak between Hrafntinnusker and Álftavatn. It hardly takes 1.5 to 2 hours to climb this peak and every single second you spend conquering it will be worth it.
You will find yourself with two kinds of accommodation options available on the hike – the first one is 'huts' and the other one is campsites. Both these options have their pros and cons and a choice can be made depending on your comfort level. Let's have a look:
The huts along the Laugavegur trail are operated by the Icelandic Touring Association – a government body that was founded in 1927 to regulate and facilitate tourism in the country. There are a total of 6 huts along the trail which generally stay in operation from mid-June to early-September – the peak season of the hike. Opening dates can be affected by weather conditions though. If you plan to stay in the huts during your hike then you must make the reservations several months before the hiking date. Huts remain so busy that they are almost always at full capacity, especially during the peak season.
These huts come with all facilities and amenities provided. Although the exact list keeps changing from time-to-time depending on the requirements and availability, the following are the basic things you will find at every hut:
Sleeping Bag Style Space: The huts provide a unique sleeping bag style lodging where a basic mattress is supplied but you need to bring a sleeping bag yourself along with other kinds of bedding that you need.
Toilets and Showers: Except for the hut in Hrafntinnusker, all huts come with working toilets with flush and working warm showers. The Hrafntinnusker contains a latrine which is an open trench or pit used for defecation.
Cooking Facilities: Basic cooking equipment like gas, stove, cooking utensils like pots, and pans, dishwashing liquid, and tea towels are available for the guests in the hut. The equipment can be used only by the guest staying in the hut and not by the campers.
Food and Water: There are restaurants at Alftavatn and Thorsmork where you can find fresh, hot food to eat. For the rest of the hike, you need to bring the food yourself. You can consider carrying some canned foods and snacks for the hike and raw material to cook meals in the hut. Fresh drinkable water is available at all huts. Tap water is drinkable in Iceland.
Supplies: You may see some huts selling basic supplies like canned goods, different kinds of crisps and chips, soft drinks, energy drinks, biscuits and cookies, sanitary napkins, tampons, band-aids, and some alcoholic beverages like beer, and wine. Although it is recommended to turn to these goods only when you are completely out of food to eat.
Wardens: Each hut has a warden who takes care of the accommodation and keeps track of the reservations. But if you need help with the trail, routes, maps, or anything else as well, they will be more than happy to help you.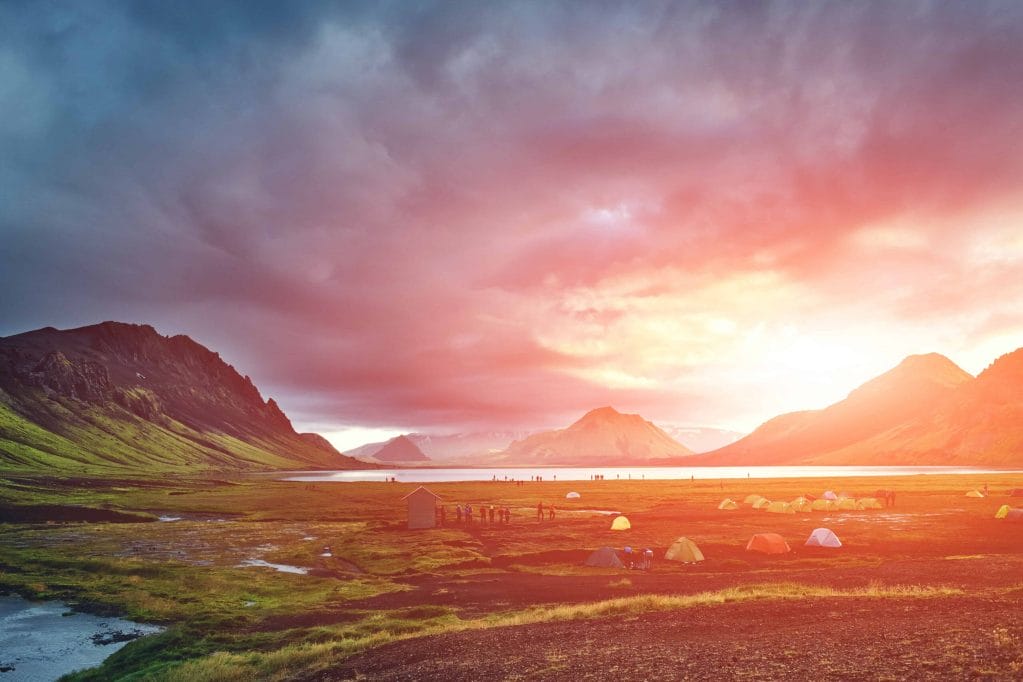 Campsites are situated right outside the huts and the warden of the hut is responsible to handle folks staying in the camps as well. Reservations are not required to be made to use the campsite. You can simply show up and get accommodated easily. There are some basic facilities provided to the camper as well which are as follows:
Toilets and Shower: The same toilet facilities are available for the campers as for the guests in the huts. Although, if you want to use the shower, you can pay the fee upfront and use the facility.
Cooking: Campers do not have access to the cooking equipment provided in the huts. So you will either have to carry cooked food which will not go stale or carry your personal basic cooking equipment. Huts at Emstrur and Thorsmörk provide common tents for the campers to facilitate activities like cooking, socializing, eating, etc.
Water and Hot Food: Campers have access to the same restaurants at Alftavatn and Thorsmork for hot food and water is made available at the hut.
Supplies: Basic supplies are available with hut warden to purchase.
How to Get to the Hiking Point
Buses will be the mode of communication you will be using to get to the trailhead of your hike. After you arrive to Iceland, take the bus to Reykjavik. Once you have reached your destination, you will have to take another bus to Landmannalaugar to start the hike. Three main bus operators in Iceland will provide rides to the trailhead – Reykjavik Excursions, Sterna Travel, and Trex. You can find the schedule of the rides by a simple google search and book some seats. Yet again, you need to make an advance or at least look out for the reservations to avoid "bookings not available" sort of a situation.
The fare for all three providers ranges somewhere between $67 to 77 (8500 to 9000 ISK) but you can score discounts on roundtrips and other special arrangements. The routes are available with 3 different destinations – Landmannalaugar, Thorsmork, and Skogar. The return trip will pick you up from the same destination where you alighted the bus.
While all three bus providers are flexible with the booking policies, as stated on their official websites. You should call ahead of time and inform them about your change of plans. You can more often than not change your bookings if the seats are available on the bus you want to travel in. As far as real-time boarding is concerned (in case of a missed bus), they are allowed by all three providers but the priority is given to the reservations. Another facility that the buses provide is to take an early ride if you happen to finish your ride earlier than anticipated.
Weather conditions open only a small window for Laugavegur hike. If you want to avoid the peak summer crowd and the slippery, muddy trails from the melting of the snow in early summers then you have an even smaller window to go hiking. The hiking trail operates from mid-June to mid-September depending on the weather condition. Most tourists book their hikes around the period of mid-June to mid-August. While the weather is warmer and the midnight sun is at peak at this time of the year, the crowd of tourists may make it quite difficult to find bookings at the huts. Even if you choose to stay at the campsites, you will find them quite busy at this time around. 
If you are comfortable with lodging with a great number of people then peak season should not cause any troubles assuming that you make your hut reservation far in advance. But if you prefer a little bit of calm and isolation then the ideal time for you to hike is mid-August onwards, we realize that the window is smaller but you are sure to find ample amount of space in the campsites. Making last-minute bookings for huts in August is also possible.
Be Prepared – Essentials to Pack
If you think that hiking shorts or hiking pants are going to be enough then think again. Laugavegur hiking is as unpredictable as it gets. Proper clothing is essential for this hike as there is no telling when the weather will take a turn for the worst. Make sure you have packed everything from the following list:
Waterproof and Windproof Jackets: One of the most important items on your list, do not forget to pack a fine-quality wind and waterproof jacket with you. The jacket should be lightweight but perfectly sealed to keep you from weighing down during the hike while keeping you safe from winds and rain.
Waterproof Pants: Just as important, waterproof pants will perform the same purpose. While buying waterproof pants, make sure that you have checked the zipper style properly. Waterproof pants with ankle zippers are lighter in weight but may turn out to be difficult in getting over the boots. You can try other options like full length or 3/4th zipper which is a tad bit heavier but performs fabulously when it comes to comfort.
Gloves and Mittens: It is a solid recommendation to pack some sort of waterproof gloves or mittens. It may not seem important at first but they will make surviving the storm a lot easier.
Warmers: Warm undergarments to keep you safe from the cold.
Hiking Trousers: Look for attributes like – comfortable, quick-drying, and lightweight when buying hiking pants. Try to avoid belted pants and go for drawstrings and elastic waist. They are easier to function with and prove more comfortable during long hours of hiking.
Insulated Jackets: It is an absolute must to keep the cold out since the waterproof jackets do not provide any warmth.
Backpack: You might require a backpack with a total capacity of about 40 to 60 liters to comfortably pack all the supplies you need to carry.
Rain Cover: Extra layer of protection for the backpack.
Additional Accessories: Warm headgear like caps and hats, hiking shoes and socks
Campers need basic cooking supplies like a stove, gas (fuel), a lighter, cooking utensils, and spork (spoon + fork), a bowl, and a cup.
Shelter and Sleeping System for Camps
No matter if you are going to stay at the hut or the campsite, there are some basic sleeping equipment you will require. Below is a checklist for you to follow:
Sleeping Bag with good insulation and cold temperature compatible ratings. Look for a variant that is rated for temperature a bit lower than 0°C.
Inflatable Sleeping Pad to keep the sleeping bag a comfortable place for a good night's sleep.
Pillow (Optional)
Tent: Choose a variant that is capable of withstanding high-velocity winds and heavy rains. Huts are mostly not accommodating campers so it means that you will have to cook in your tent. Make sure that the vestibule is large enough to perform all the required functions comfortably.
Additional Hiking Accessories
Map and a Compass
Pocket Knife
Flashlight or a headlamp
Trekking poles to serve as tent poles
Toiletries and bug spray, mosquito repellant and first aid box
Necessary gadgets and charging equipment