Gifted with awe-inspiring natural beauty, Iceland is a perfect place for adventure enthusiasts to experience the best nature has to offer. The varied range of landscapes often lures hikers, explorers, campers, and travelers to explore Iceland to the fullest. The place offers some of the best hiking routes that totally deserves to be listed as the best hiking places in the world. The best thing about traveling to Iceland is that it always has something new that one can unfold and explore. Eye-captivating trails, waterfalls, ice walls, hot springs, and glaciers, there is a wide range of options for every kind of travelers and hikers.
Hiking across Iceland is one thing that you can do almost all year round. Be it summer, spring, autumn, or winter, the beauty of this place enhances in every weather and season even though the summers are considered the best time for hikers to visit the country since all the best trails are open during that time of the year. You don't need a reason to travel to Iceland, the scenic beauty, friendly locals, picturesque tourist scene are compelling enough. You may know a lot about Iceland, but it's not everything. So, let's know everything about this visually entrancing and thrilling place – It's your guide to hiking through amazing Iceland.
Best Hiking Places in Iceland
Icelandic Highlands is the deserted aesthetic wilderness in the country's interior which offers incredibly varied landscapes. For those looking for some real adventurous spree, hiking through any of these trails will be an unforgettable experience.
Get ready with your trail maps!
Thorsmork valley is located in Iceland's southern highlands and nestled between three glaciers, promising thrill, and adventure throughout your expedition. The breathtaking landscapes, sparkling glacier rivers, and thrilling hikes are what this valley has to offer. Thorsmörk has a variety of birch forests and unpredictable warmer weather in comparison to the surrounding areas. The network of amazing hikes in the valley and surrounded areas provide a memorable hiking experience at greater lengths with some level of difficulties.
This hiking destination in Iceland is nearly 7 km long with volcanic mountains throughout the way. The Mount Esja Trail is the most popular among hikers and travelers; once you reach the summit, you will be welcomed with a stunning view of Iceland's colorful capital city, Reykjavik. The white Esjan valley and clean sky set the mood and keep your adrenaline running. It is recommended to hike through the trail in summer as the heavy snowfall in winter makes navigation a tough job.
Imagine hiking in the wilderness and camping near the warm and conforming Landmannalaugar rivers. Rejuvenating, right? Landmannalaugar is also known as 'the Pools of the People,' and it is widely popular as the country's premier hiking destinations. The multi-colored mountain peak of the trail offers a beautiful scenic experience. The surreal Graenagil Gorge is an eye-candy for all the hikers as it made of beautiful green rocks. Landmannalaugar has three popular hiking sites, Mount Brennisteinsalda, Mount Bláhnjúkur, and Ljótipollur crater lake. It takes around 1-4 hours to hike to these picturesque hiking sites.
Laugavegur and Fimmvörðuháls Hiking Trails
The spectacular scenery is among the most popular hiking places in Iceland. You can take public transit or drive to Landmannalaugar to hike through Laugavegur. The tall mountains and blue sky will be your hiking partner throughout your journey. The travel experience of both these trails is enhanced with some of the best mountain huts like Hvanngil, Emstur, Alftavatn, and Hrafntinnuske. The Fimmvörðuháls is a long trail that takes around 10 hours, and a lot of hikers spend a day or two camping in the wilderness.
Víknaslóðir Hiking Trails
If you're on your 'much needed long break,' then Víknaslóðir hiking trails is the perfect pick for you. It is highly recommended to spend at least 5-10 days at the 'The Trails of the Inlets' as there are many other trails in the area. Some trails are over 150 km, and hiking in through the Víknaslóðir trail could be one of the best hiking experiences in Iceland. You will come across some luscious mountains with seafront views, waterfalls and green valleys. It is recommended that hiking in this area should only be done in the summer season as it can get risky in winter due to heavy snowfall.
Hornstrandir Nature Reserve
Iceland is such an adventurous country that it has so many different trails that one can unleash. Hiking in the Hornstrandir Nature Reserve needs preparation than hiking anywhere else in the country. The area has no roads and permanent inhabitants; thus, you need to carry everything along. You need to take a boat from Ísafjörður to reach the Hornstrandir Nature Reserve. Alternatively, if you're into fishing, then you can take the tiny fishing hamlet of Bolungarvík. You will find small cozy cabins creating a perfect setting for overnight stays. It's 2-4 days hiking spree in which you'll come across steep slopes of Skálarkambur, a panoramic view of Hornvik and eye-pleasing bird cliffs of Hornbjarg.
If you're hiking with your family, especially with your kids, then Iceland National Parks are the perfect areas for you. The countryside offers various shorter hiking opportunities with camping options. But that doesn't mean that your dose of wilderness, thrill, and adventure will be compromised. The main three national parks, Vatnajökull, Thingvellir, and Snæfellsjökull in Iceland, offers great hikes with beautiful sceneries. These are easy hikes with waterfalls and downhill throughout the hiking. These hikes usually take 30-45 minutes to explore and are safer in comparison to others.
Best Season to Hike in Iceland
Summer is known as the hiking season in Iceland because they're warmer and less stormy. The summer months – June, July, and August offer a comfortable hiking experience. The average wind speed, storm frequency, and precipitation are less in these months in comparison to others. They aren't too hot and too cold, making them the perfect time of the year for hiking. Another reason to hike in summer is that nature booms in the summertime. Many birds and animals come out of the woodworks. You will see colorful flowers around you with cool breezes, that indeed enhance your hiking experience. Also, many of these trails are accessible in summers only from mid-June to late August.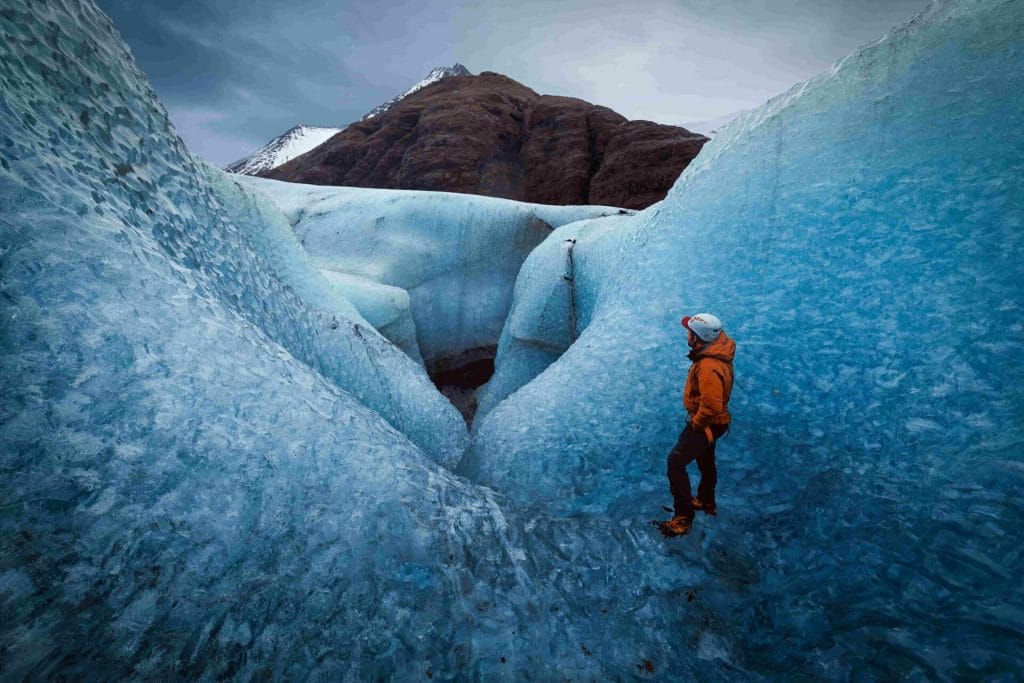 We can go on records and say that Iceland is known for its white winter beauty across the world. Imagine the country shining in the northern lights and sparkling in the snow, indeed a scenic affair that can take you to the parallel universe. Despite the popular beliefs, Iceland is not that cold in winters, as you may think. The average temperature is around 0 degrees in winters, and in the mountains, it is lower. The weather is not at all adverse to travel across the country and visit the cities, but hiking can be a risky affair in the winter. Some trails are not even accessible in winters because of heavy snowfall and risk of avalanches. The daylight also lasts for 3 to 6 hours, though you can hike smaller trails, you still require intense preparations for that. Thorough research on the weather conditions is highly recommended before hiking.
Hiking off-season can prove to be a remarkable experience, or it could end up being a disaster. In a month like May or mid-June, the weather is clumsy and sweaty; its neither hot nor cold. The country looks golden brown with no or less darkness in nights, which kind of spoils the camping excitement. Spring and autumn can be very unpredictable for hiking as they can be rainy, windy, or calm and sunny. The accessibility to trails can be only be discovered in real-time because no one can know in advance. Choosing an off-season month for hiking means more preparation and getting everything you need ready. From hiking equipment to food, you need to be well-equipped with everything.
What to bring when hiking in Iceland
The abundance of beauty, nature, wilderness, and thrill is what makes Iceland heaven for every hiker. This is the reason why hikers visit the country years after years to experience the enchanting beauty. Every hiker value the importance of preparation and planning before setting out. As you will be traveling through peaks, waterfalls, & forests, you need to require aforethought on every how, what, why, and where. First things first, always know the place you wish to hike before, carefully study the map and surrounded areas. And, even before everything evaluates your physical strength. Still decide the distance of your hike based on your stamina and physical strength, know how long you will take to a specific range.
Once done with this necessary evaluation and thought process start preparing a list of things you need based on the weather and the number of hiking days. Your starters should be getting yourself not so heavy, comfortable clothes, sturdy and durable backpack, pair of boots, and food. If you're hiking for a couple of days, then make sure you have equipment for overnight stay. Carry light-weight cutlery and cooking range for easy accessibility and usage. Remember, your backpack will be your best friend throughout the hiking spree. So, choose your backpack wisely, pick one with pockets and sections for storing small things. Safety should be on top of your list.
Even in the modern era, maps are an essential thing to carry along any adventures journey. Because you will be surrounded by wilderness all around, it is easy for you to get lost. Maps will effectively help you keep track of the distance as well as the directions. Try to decipher your path beforehand; know what path you will follow, be foreseeable of the nest stage to avoid dangerous circumstances.
Some of the things you can check before hiking:
First Aid Kit should be an essential thing in your backpack.
SafeTravel App, god forbid, you suffer an injury that requires a medical attention call for emergency help using this official mobile app. It has a GPS that will provide your location to the service rescue teams. You can also call on 112 in emergencies.
Safety tools, be prepared with some security while exploring any unforeseen terrain
Extra pair of shoes though, you should always get shoes that are rugged and durable. But always be prepared with another pair
Food, look for easy to carry food options, that are filling but not heavy on your stomach. Keep yourself hydrated with water.
Always Know What's Coming Your Way – Things We Often Ignore
It is essential to be aware of the potential threats amid exploring the wilderness and picturesque beauty. Hiking in the country is as safe as anywhere else in the world. It is good to measure possible hindrances and to pack according to the needs. The weather could be a significant hazard while hiking in Iceland. It is unpredictable with different patterns; you will experience the glorious sun in one moment and frizzy rain in the other. Make sure you wear and pack clothes that are prone to these infamous weather conditions. Remember, rains make paths sloppy and dangerous. The trails often have tree branches fallen off due to heavy rainfall. Do not try to hike in undesirable conditions; try to look for safe accommodation and rest until the weather comes clear.
When on long hikes, make sure you're hydrated with water. Research about the trail you're hiking before so that you know at which points you have access to drinkable water. Fatigue is the last thing you want on your hiking expedition, so make sure you have enough drinking water. It is excellent to enjoy the hiking experience amid waterfalls, forests, mountains, and rivers, but it is essential to take care of yourself as well. Create a hiking plan with regular intervals to give your body the needed rest while hiking through long trails.
Another possible threat would be the animals; it is safe to say that you will not come across any bear, mountain lions, and wild boar in your way. But you can come across Arctic Fox and many small animals and birds. There is no possibility that they will harm you, but it is always good to be prepared. Be calm and handle every situation patiently. Don't panic and take any impulsive decision that can harm you and the animals.
Hiking in Iceland is the once in a lifetime experience that every hiker craves for. The country is wonderful and has a great aesthetically appealing sites that can completely revamp your life experiences. When in nature's lap, you could feel every bit of it, the birds, flowers, trees, mountains, rivers, and sun so tightly that you will embrace the visuals throughout your life. It offers an unforgettable experience that you can preserve in pictures and your memory forever.