Waterfalls have been nature's most beautiful and awe-inspiring creations for ages. People from all over the world travel miles just to experience the serenity and mesmerizing sight. The cascading water over high mountains running down to create a visually appealing site rejuvenates your soul. Yes, nothing can beat a captivating and heavenly Waterfall!
Gljúfurárbúi Waterfall: Walking Through the Narrow Cliffs!
There are innumerable waterfalls in the world that have already been a center of attraction for hikers, tourists, mountaineers, and adventure seekers, but there are few hidden gems that still have not been explored! Gljúfrabúi Waterfall, which comes down from the Gljúfurá River, is one of the most beautiful and picturesque waterfalls – still unexplored and hidden in the canyons of Iceland. Gljúfrabúi, situated on the Hamragarðar land, means " Dweller In The Gorge ". This is a spring-fed river and is less voluminous than the neighboring Seljalandsfoss waterfall. When in Iceland, you cannot afford to miss visiting this waterfall! It has found its way inside a cave and cascades into a pool, nearby Seljalandsfoss.
Gljúfrabúi, located at Iceland's South Coast, gushes into a hidden cave and is partially covered behind the palagonite rock that blocks the view, and only the upper part of the waterfall is visible. The narrow boulder blocking the way to waterfall is Franskanef – The French Nose, which can be climbed easily to see the fascinating view of the waterfall from the above. The massive cliffs make it difficult to see the waterfall at once, but all the trek and paddling through the gorge is worthy enough to witness this mystical natural beauty. Approximately dropping down to 131 feet; visiting Gljúfrabúi Waterfall is a unique experience in itself. Walking behind the Seljalandsfoss with lush green surrounding and experiencing the drizzle throughout doubles up the joy.  Looking at the waterfall through the massive and narrow rock is enthralling and spell bounding! Once you made it to the waterfall – the breathtaking view will leave you in awe. This is not you will witness every day. And if you are lucky enough, you will see a glimpse of a beautiful rainbow as the light hits the rising water vapor.
When headed towards the south of Gljúfrabúi, there is a small canyon right in the cliff face that is easy to climb and reach to the heath above to witness the incredible view of the neighboring area. People have named this as Stígurinn meaning the Path, which is clear and has stairs as well.
Snowmobile on Eyjafjallajökull
Super Jeep to Thorsmork
Thorsmork Hiking Tour
Sólheimajökull glacier hike
Sólheimajökull ice climbing
What to Wear when visiting Gljúfrabúi?
Visiting a waterfall pops up the thought of carrying a boost and a raincoat for sure. Yes! You are right, carrying good quality boots will provide enough grip to walk easily over the rocky river bottom, icy and slippery canyon and walk past that cliff easily. A raincoat will surely cover you from the cold water, and drizzle that you will experience throughout the hiking. Another most important thing to carry! A protective cover for your camera and other equipment. You need to take good care of your camera and protect against the moisture and wet environment.
How to Get to Gljúfrabúi?
Gljúfrabúi waterfall may be hidden behind the cliffs but it is less than a kilometer away from one of the most famous and popular Seljalandsfoss that makes it easy to get there. Drive along Iceland's Ring Road – Route 1 for about 1.5 hours from Reykjavik, before taking a left at the intersection for Road-249. Seljalandsfoss will be easily visible to you and driving for few more minutes down the Þórsmörk road will take you straight towards Gljúfurabúi, on your right. Although to feel the warmth of nature, we recommend you to walk via the path behind Seljalandsfoss. It is worth going off the beaten path to make it more adventurous!

Distance from Reykjavik: 1,5 hours
Distance from Vík: 45 minutes
More Locations on the South Coast
Seljavallalaug natural swimming pool
Interesting locations in the area
More Locations in South Iceland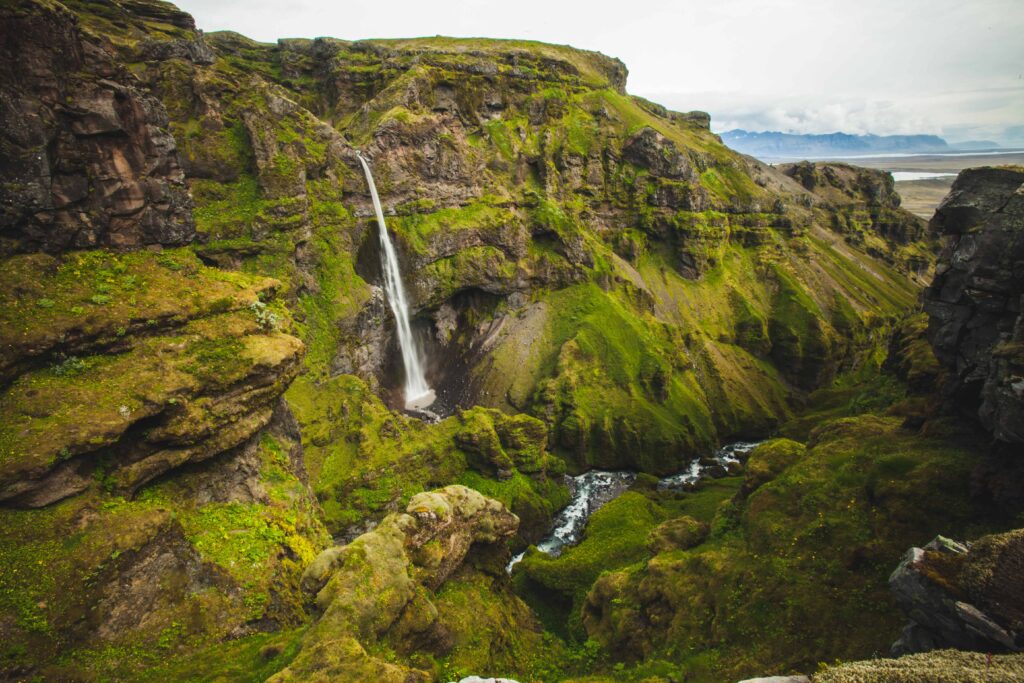 Múlagljúfur Canyon along with Hangandifoss and Múlafoss waterfalls are listed...
Read More