February comes near the end of the winters when the weather starts to get milder, but the magic of the snow is still in season. While most parts of the country stay covered in snow in February, some parts from the south and the capital city get a bit warmed up and snow melts for a bit. The month sees a bit more sunlight than December and January even though it is one of the coldest months of the year. February is one of the best months to visit Iceland as all the natural beauty is frozen expertly under the snow, the country is not overcrowded with tourists and the destinations are open to entertaining the visitors.
Iceland Weather in February
Weather in Iceland is always unpredictable which means that you should be ready for anything and everything ranging from snowfall to drizzle, heavy rainfall, crisp winds, and a clear sky. Although all factors considered, February weather is rather hospitable in Iceland.
The average temperature of Iceland in February is usually ranged between -3°C and +3°C (26 – 36°F). The temperature is lower in the northern parts as compared to the southern parts of the country. The gulf streams further regulate the temperature by bringing in a warm stream of water to the island. This makes Iceland feel less cold than expected.
Daylight Hours in February
Since daylight hours pick up starting with January when you can see about 4-7 hours of sunlight on an average. The hours rise to about 7 to 9 hours per day. Most of the day is still pitch black with up to 15 hours of the night time. You can witness sunrise at 9:30 AM approximately and sunset around 6:00 PM. The mild weather and the long night hours make February the best time to view northern lights while the ample amount of daylight hours gives tourists enough time to travel around and take part in activities.
Iceland gets about 38.1 mm rainfall in February. While the sky is clear most of the time, the chances of rain in Iceland are always high. The cold weather brings in a fair chance for the rain to turn into snowfall.
Best Self Drive Activities in Iceland in February
Crystal Ice Caves
Snorkel Silfra
Skaftafell Glacier Hike
Katla Ice Cave
Akureyri Whale Watching
Pros of Visiting Iceland in February
Visiting Iceland is wonderful any month of the year but February has some of its special charms. The weather is pleasant and milder than January so it's easier to travel and go sightseeing in different parts of the country. The caves are loaded with glistening snow and ice sculptures. The frozen waterfalls are a sight to behold. There are countless festivals and tours for you to take in February. Northern Lights are of course the undying attraction of the winter season and the clear weather of February brings the best chance to witness them in full glory.
Cons of Visiting Iceland in February
You will not be able to catch the midnight sun in February. The weather is very cold so if you are not a fan of the cold then you may find the trip a bit frostier than you can tolerate.
Best Day Tours to Take in Iceland in February
Golden Circle & Northern Lights
South Coast & Glacier Hike
Snæfellsnes Peninsula Premium
Golden Circle & Snowmobile
Blue Lagoon & Northern Lights
Top 10 Things to Mark 'Check' in Iceland in February
There are countless things you can add to your to-do list if you are visiting Iceland in February. It is the ideal month to watch Northern Lights as the sky is mostly clear and the weather is milder. The contrast of cold weather with the hot springs feels like heaven on earth. There is an array of activities, festivals, and events planned around February. Here is a list of the must-do things:
As if the cascading waterfalls of Iceland were not already mesmerizing enough, winter season comes and makes them even more magical. Most parts of the waterfalls are frozen which creates fabulous ice sculptures that surround the beautiful stream of water falling. Combined with snowy mountains and snowy white landscapes, these frozen waterfalls create an unimaginable scenery which is not to miss out on. Some of the best places to catch the sight of these frozen wonders are South Coast & Northern Lights Tour or South Coast Waterfalls and Glacier Hike that leaves from Reykjavik.
Northern Lights in the Pitch-Black Sky
Most of the winter season is great to catch a glimpse of the northern lights in Iceland but February stands as one of the best months to enjoy and soak into the beautiful view of glimmering colorful lights. The milder weather brings in lesser clouds and hence the sky is clear to glance at the light in an ideal way with no distractions. Although the light pollution in the city can dim the charm of the pretty gleaming lights in the sky. Checking the aurora forecast is always recommended to plan around the trip ideally. Any rating above 'KP3' is an ideal forecast to enjoy the lights. You would want to hire a vehicle and drive to a remote location out of the city or to book a tour to fully enjoy the Northern Lights. Apart from the personal drives and the tours, you have an option to take a Northern Lights cruise to have a more leisurely experience.
Take a Lazy Winter Stroll in Reykjavík
The cold yet pleasant weather of February is the ideal time to enjoy the glimmering streets of the capital city of Iceland. While the days can be used to take the rides, travel to tourist locations in the country or to take tours around the landscapes of Iceland, the long nights can be the time when you slip into comfy clothes and take a walk in the frosted street with colorful houses, busy cafes and positive banter of the crowd. Some of the top spots you can visit when in out in the city are The Penis Museum, Reykjavík Art Museum Hafnarhús, Safna húsið e. The Culture House, The National Museum of Iceland, Hallgrímskirkja Church, see the Sun Voyager or explore the public gardens and parks. Reykjavík is known for its several hot water swimming pools which are worth having a dip.
Heed to the Call of the Blue Ice Caves
Winter marks the ideal time to visit the beautiful crystalline caves of Iceland. The blue-colored beauties form every winter and melt away as the spring approaches so you would not want to miss out on them if you get to Iceland in February. Ice caving is a winter activity and is a rare opportunity because glaciers become scarce after winters. What makes February the ideal month to visit the ice caves is the relatively calmer weather. Most of the winter season sees heavy rainfall which floods the caves. While February has its fair share of precipitation, it is still lesser than other months of the winter season. Most ice caves tours are conducted with Vatnajökull glacier naturally formed crystal ice caves as their destination.
Fur Coated Wonders – Horseback Ride
You would think that as strong as horses are, the chilling weather of Iceland would have tucked up inside the stables like everyone else, but that is not so at all. Over the years, Icelandic horses have evolved to stay aboard for a frisky ride in the snow unless the weather conditions are way too dangerous to go out. Horseback rides are available throughout the year in Iceland but they are exceptionally magical when the landscape is covered in snow. The Icelandic horse is covered in a thick layer of fur by this time of the winters and are extremely photogenic which would explain the reason so many tourists and even natives stop to take pictures of and with the horses. Just like any other activity in Iceland, horse riding can also be enjoyed by simply booking one of the many available tours. Some popular picks include Reykjavík horse riding tour, horse riding and golden circle day tour, and Volcanic Landscape horse riding tour.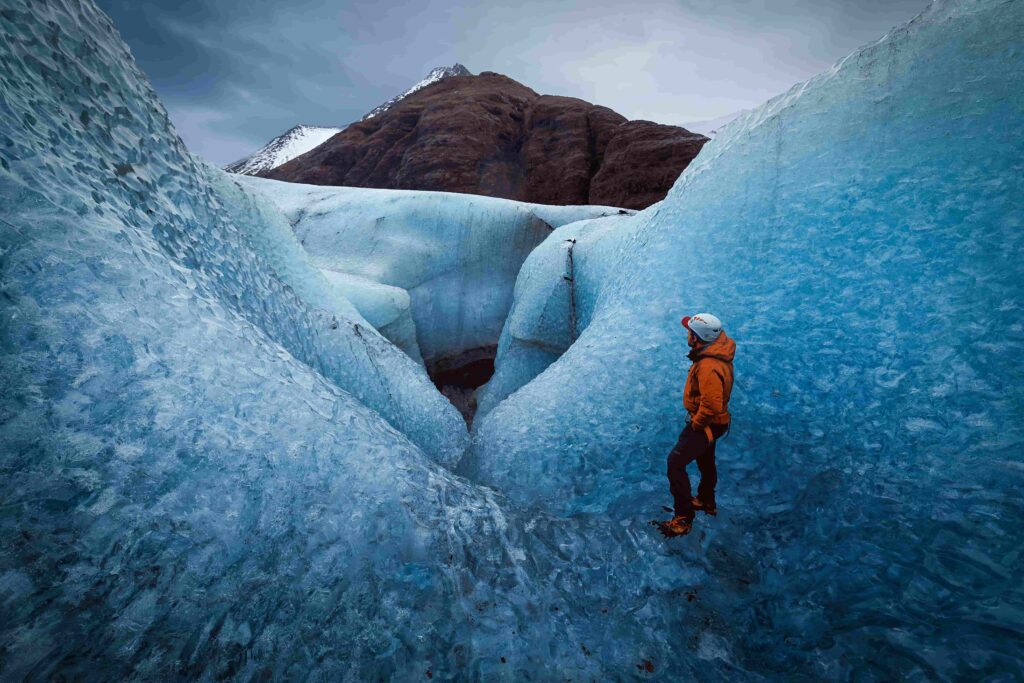 Just like horseback riding, hiking is also a year-round event in Iceland. What makes hiking extra special in February is the electric blue ice that envelopes the glaciers from top to bottom. Glacier hiking in February is a whole different kind of experience if done while taking necessary precautions. Sólheimajökull glacier and Svinafellsjökull glacier in South Iceland are two of the main glaciers which you will find open for hiking in February. It is best to hire a local tour guide to both ensure your safety while hiking as well as to know a bit about the geology of Iceland.
With the mesmerizing icicles in the picture, lava caving in February is extra fun as compared to the summer season. The porous lava rocks let the water seeps through them slowly which freezes in the extremely low temperature of February in Iceland forming beautiful ice sculptures in the process. The water that manages to reach ground makes the caves slippery but provides a beautiful glittery look adding to the beauty of the already splendid beauty of the place. Iceland has both challenging and easy to conquer lava caves. Depending on your preference you can choose to visit Raufarhólshellir or Víðgelmir which are relatively easy to complete or you can pack your backpack and set out for Leiðarendi where you will have to scramble through narrow spaces, and have to encounter many other geographical challenges. Amidst all this, one thing is for sure – you will have a time of your life.
Snorkeling and Diving Never Gets Old
One of the top ten diving sites in the world, Silfra in Iceland is open throughout the year for snorkeling and diving. It is located in Þingvellir National Park and is filled with crystal clear spring water with visibility that extends up to 100 meters. While diving in the summer season holds its magic in the beauty of colorful fissure, the winter season is unique for the divers. Silfra dive is considered to be one of the rarest dives for its location which falls right between two tectonic plates making it a dive between continents. Proper security measures should be taken while preparing for your dive. Due to the overbearing cold weather, drysuits are seen as appropriate safety gear for the divers. There is a list of health criteria you should meet before preparing to dive, for example, you must be over 16 years old, weigh 45+ kg, 145+ cm tall, etc. Pregnant women are not allowed to dive.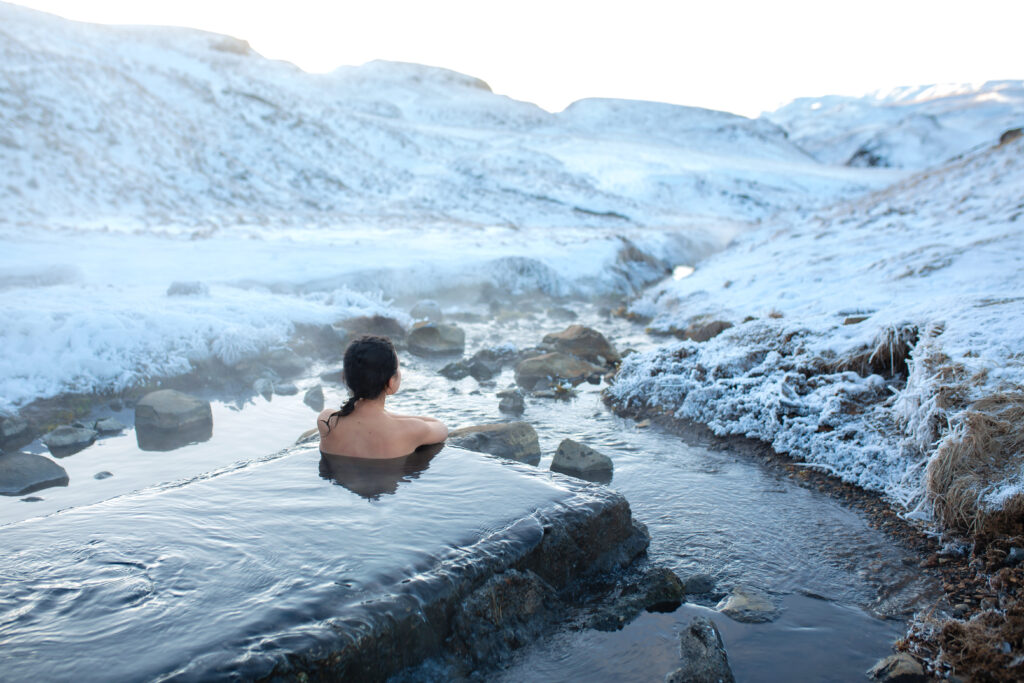 There is never a bad time to take a dip in the soothing hot natural stream of water of Iceland. Although, it is a rather unique transcendent experience when you take the same dip surrounded by fresh winter snow. February does not bring a lot of tourists so most places are not very crowded so you can enjoy all by yourself. Less crowd also means that it is the ideal time to visit some of the most popular places like The Blue Lagoon and The Secret Lagoon.
The Winter Lights Festival
The Winter Light Festival celebrates the lengthening of the daylight in the country and the beauty as well as grace that the wintery world brings. It is celebrated in the first week of February. The beginning of the festival is marked when the lights all across the town are turned on. Later the lights are followed by a variety of events related to music, art, history, culture as well as culture. Two special events that are not to be missed are Museum night on February 2nd and Pool Night in on February 3rd. Cities' public pools and museums hold special events and some unique entertainment arrangements for the guests.
Amidst the Pink Masquerade Ball and Welcome Party at Kiki, the Rainbow pride festival in Reykjavík could be seen as the second part of the Pride Parade that takes place in August. People gather in the countryside and make the most out of the landscapes that February brings along. The banter of nature is mixed with a bountiful of music, food, culture, and nightlife. The event rooster includes Northern Lights viewing, LGBT guided tours, Bus tours to Reykjanes peninsula and Blue Lagoon, Golden Circle tour, wonderful meals, and ballroom parties.
Bolludagur, Öskudagur and Sprengidagur
'Bun day' aka Bolludagur falls about 6 weeks before Easter. Cream filled buns, meatballs, and fish balls are on the menu for everyone on this special day. The cafes and restaurants have all kinds and sizes of buns stacked up on the shelves and served filled with jams and cream. After Bolludagur comes the 'Eat-Until-You-Burst-Day' also known as Sprengidagur. This day is all about lentil soup, salted meat, vegetables, fatty food, and traditional mutton. Ash Wednesday is another food festive day in Iceland. Also known as Ash Wednesday, it falls about 40 days before Easter. It can be seen as an equivalent of a traditional American holiday named Halloween but without the ghostly gothic theme that Halloween sustains. Children dress up in costumes and go store to store singing songs in exchange for candy.  
Best Multi Day Tours to take in Iceland in February
2 Days South Coast
3 Days South Coast & Golden Circle
5 Days Snæfellsnes, Golden Circle & South Coast
8 Days winter tour Around Iceland
Down to Every Last Detail – Pack the Essentials
While February weather is comparatively pleasant and milder than other major months of the winter season, there are still a few things that you should not forget to drop in your trip luggage. The weather is still extremely cold and one should be prepared for all unforeseen weather changes that may occur. Apart from the clothes and warm layers, there are many other things that you must pack for a successful trip on the beautiful island. Here is a list of all essentials that you must have:
Windproof Jacket for hiking and other activities
Waterproof Pants
Insulated Jacket to keep warm outside
Protective warm woolen hats, and caps
Scarf as a shield against the wind
Warm heavy gloves
Thermal Underwear for comfort and warmth
Fleece and woolen layers in the form of jackets, jumpers, and sweaters
Cotton shirts/t-shirts as sleepwear and to prevent wool allergies
Comfortable stretchable leggings
Outwear/ Party Clothes – Jeans, Dresses, etc.
Swimsuit for hot springs
Hiking Boots and waterproof boots
Casual Shoes, Sandals, Flip Flops, and comfortable shoes
Warm Socks
Ice cleats
Additional Important Picks
Camera and Camera gear like a tripod for aurora photography
Soap, bath towels, shampoo, face washes, etc.
Gadgets like phones, tablets, chargers, and travel adapters.
Water bottles (reusable) and thermos
Flashlights and batteries
Rain cover for hiking and touring bags
Windshield like sunglasses
Prescribed medicines and over the counter drugs
Water Bottle
We hope this article about Iceland in February will help you figure out if it's the best month for you to visit Iceland or not. 
We would love to hear your thoughts. Tell us about your tips and tricks to when it comes to planning a trip to Iceland. 
It would be perfect if you let us know about your favorite locations from your trip. It's even better if they are hidden gems that you would like to share with the rest of us. 
Leave your comments and questions below and we will happily answer all of them.