Reynisfjara Beach is a world-famous black sand beach which boasts of interesting stunning panoramic views and intriguing geology. The masterful waves of the Atlantic Ocean power ashore the tremendous beach, and the white foam of the blue water creates a perfect contrast with the black sand – making for a view to marvel at. The beach has a pitch-black enchanting coast that is draped with smooth pebbles, stones, towering cliffs, and stunning lava formations in the shape of enormous basalt columns. The tales of formation of rocks and columns on the beach are a part of local Icelandic folklore that add a mystical charm to the beach. The experience at this beach is so otherworldly that it is often said that standing ashore the Reynisfjara beach feels similar to standing in a natural amphitheater where the crystal-like water creates the drama. These features are so mesmerizing that Reynisfjara Beach has featured in popular shows and movies such as Game of Thrones, Star Trek, and Star Wars.
History of Reynisfjara and How is was Formed
The name "Reynisfjara" can be traced back to the Norwegian king called Reynir. He is known to be the first settler in the area where the beach is. Reynisfjara translates to "Reynir's beach." Other geological sites in the area have similar nomenclature, namely Reynisfjall – Reynir's mountain and the Reynisdrangar – Reynir's pillars.
Formed by volcanic ashes, the black sand beaches are a result of violent interaction between hot lava and seawater. The Reynisfjara Beach was formed during a major eruption of the notorious Katla volcano. When the molten lava entered the hot water, it cooled down rapidly and broke into debris and sand. The distinctive feature of the sand at Reynisfjara is that it is always wet due to rainfall and powerful waves. This means it never dries and looks grey, and always has a unique gloomy appearance because of the unbelievably black sand.
The Mystical Tales of Folklore
The basalt cliffs that stand tall in the sea are known as Reynisdrangar sea stacks. These columns also have an interesting history, and according to Icelandic legend – they were once two giant trolls who attempted to drag a ship on to the mainland. They couldn't get it done before daylight shined and the sun-rays turned them both to stone. Geologists say they were a part of the Reynisfjall Mountain and got separated due to stormy rains and majestic waves. Whatever story one chooses to believe, one thing is for sure – these basalt stacks are a rare natural formation that can be associated only to Iceland.
How to Get There and Things to Keep in Mind
The spectacular black sand beach is on the south coast of Iceland, roughly 112 miles from Reykjavík. It is an easy two and a half hours' drive from the capital and can be a part of a day-long south-coast sight-seeing tour. Follow Route 1 main road and you will find plenty of directions directing you to the beach. Take the turn marked Route 215 and a 10-minute drive will find you in the parking area. The weather is uncertain, and it is advised that you dress up in layers and carry a windbreaker. Wear hiking boots as the beach is rocky. As Reynisfjara is not a tropical beach, the swimwear and sandals are best skipped.
The strong waves of the Atlantic are as dangerous as they are majestic, and keeping a safe distance is necessary. These waves can be life-taking and strong tides can hit anytime. Carefully read and adhere to all warning signs and instructions in the parking and on the beach to enjoy your trip without any imminent danger.
Distance from Reykjavik: 2 hours 30 minutes
Distance from Vík: 10 minutes
Reynisfjara black sand beach on a map
Interesting locations in the area
Tours to Reynisfjara black sand beach
More Locations in South Iceland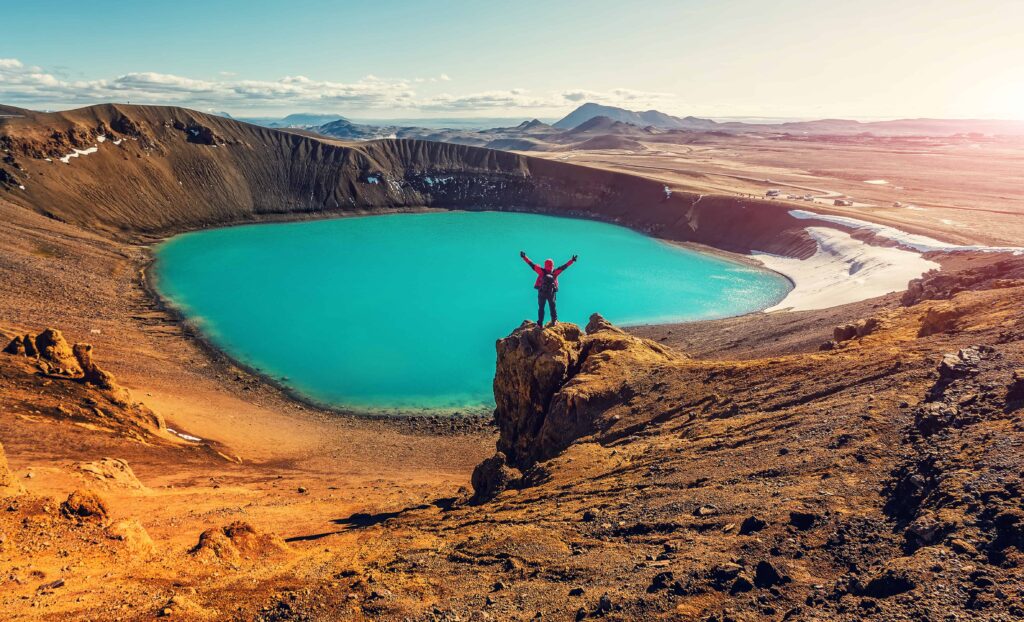 A large crater surrounded by mountains and a geothermal area,...
Read More