From Homo erectus to Homo sapiens, the caves were what provided them shelter, protection, and where the first cave paintings emerged.  There is something about caves that intrigues us even today, it may be because we are after all Homo sapiens. One such cave that will truly connect from our ancient past is Rútsehellir cave, Iceland's largest man-made cave. Situated amidst the majestic Mount Hrútafell, Rútsehellir cave is located in South Iceland. Known by different names Cave of Rútur and Hrútshellir Cave, it looks like a big rock house.
Every place in Iceland has some legends, so does the Rútsehellir cave. According to one legend, a man named Rutur once lived inside the cave-dwelling. According to one folklore, he was an evil chieftain and people living around the cave were afraid of him. People were so fearful of him that nobody dared to challenge him in the open. One day, those people entered the cave by making a hole and killed him with spears while he was sleeping. Even after his death, people were afraid of going inside the cave. One of the killers named Björn ran away to a mountain, today the mountain bears his name known as Bjarnarfell Mountain. Read Jón Árnason's Compilation of Folklore, you will find even more mysterious stories of this cave.
While another legend says that Rutur lived inside the caves with his slaves. However, he discovered the slaves' plot before they could kill him. Slaves running to save their lives were chased down by Rutur, killing each one of them. Whatever legend you want to believe, one thing is certain that the Rútsehellir cave derived its name from Rutur. Nazi scientists in the 1930s came to this cave looking for traces of a pure, strong Norse race. Nazis were always fascinated by Vikings and Old Norse culture. They thought the cave might have been the ruins of an advanced heathen temple. They believed or wanted to believe that the larger cave area was the banquet hall where ferocious Viking warriors sat by the long-fire, and the smaller area was used for performing rituals.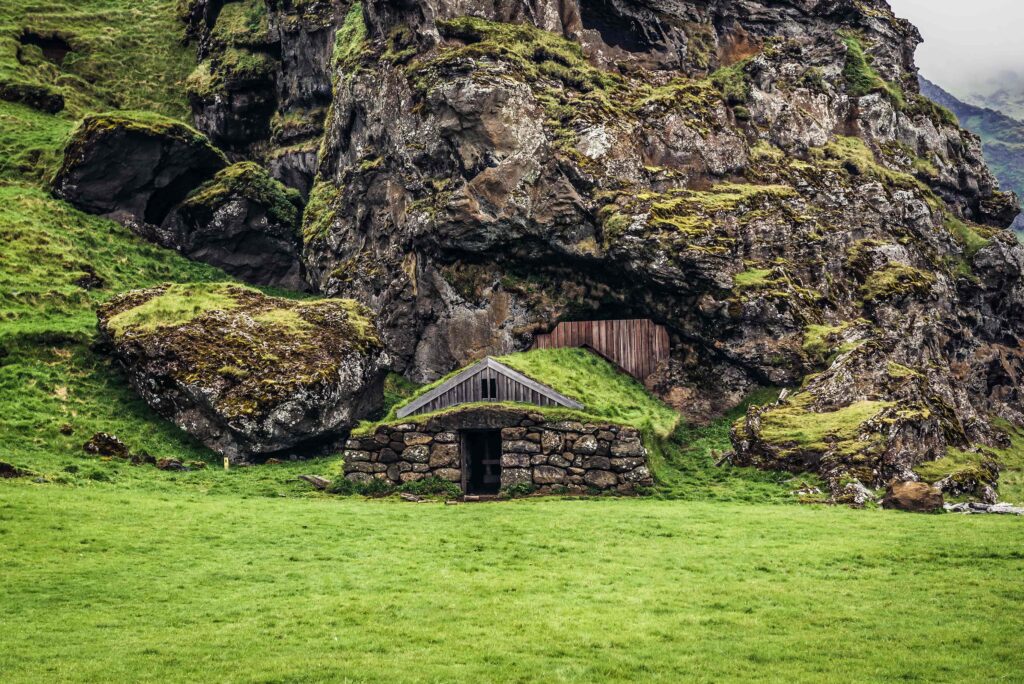 The cave is divided into two parts. The first one is approximately 20 meters long reaching a height of a maximum of 3 meters. Although there is little evidence that could support the folklore story that the cave was used as a residence, you can see some signs of habitation. It looks more like a ruined home from the inside, but some work has been done to improve the cave from the outside.
The second cave is known as Stúkan. It is much smaller than the first cave, measuring 8.05 x 2.40-meter square. Both caves are connected through an entrance. If you are into legends and historical fiction, Rútsehellir cave will surely inspire you to delve deep into Icelandic tales.
More Locations on the South Coast of Iceland
How to reach the Rútsehellir Cave?
The cave is roughly 150km from the capital, Reykjavík. There are no guided tours, thus renting a car in Reykjavik or at the airport for a day or two is recommended. Rútsehellir cave is situated near the Skogafoss Waterfall on the southern Ring Road. Once reached, you can park your car at an old community center building at Skarðshlíð. From the parking lot, the cave is within a walking distance. After reaching the outer entrance, close the gate after you. Locals keep their farm animals inside the outer space of the cave. Recently, stone slabs have been added on the trail leading to the cave. Just a few kilometers away from Rútsehellir cave is the astounding Skógafoss waterfall. You can plan a day or two to explore the natural beauties that south Iceland has to offer.
Interesting locations in the area
More activities in the area
More Locations in South Iceland