With its unimaginably beautiful sights, exotic Nordic culture, volcanoes, glaciers, waterfalls, craters, hot springs, geysers, rivers, beaches, and the gorgeous Icelandic horses, there is hardly any other place better than Iceland to spend your vacations at. While the season has got nothing on the beauty of this heavenly place, the summer season seems to be more popular among tourists. If you do want to experience the rich bird life of Iceland, hike on some glaciers, witness the vibrant colorful landscape without being weighed down under the extra heavy warm layers of clothes then summer season could be the ideal choice of time to visit Iceland for you as well. There are a few attractions that might be unavailable in summers, mostly ice-related like ice cave tours but there are plenty of activities that you can enjoy in the mild beautiful weather of Icelandic summers. Form the glorious midnight sun, powerful cascading waterfalls, horse riding, self-driving tours, and puffin watching trips, some things are exclusive to Icelandic summers like summer festivals.
Do you want to have a local expert plan your trip to Iceland?
Do you want feedback on your itinerary from a local expert?
Find the best self driving itinerary for your trip. 
Map with top 100 locations in Iceland.
Map with top 100 secret locations in Iceland.
Discover hidden gems in Iceland.
What Does Summer in Iceland Bring?
It is a known fact that Icelandic summers are mild and have beautiful weather. Citizens are often spotted sitting is parks, by public swimming pools or on their decks soaking in the sun, trying to get that summer tan. But if you are a citizen of a tropical county or countries where summer season cannot be tolerated without air conditioners then you may be in for a surprise. Iceland maintains an average temperature of 11°C in summers which translates to "winter is here" for many tropical and sub-tropical countries. Although, you can expect the temperature to go up to about 20° to 25° C on very warm summer days. Even if you are traveling to Iceland in the summer season, do not forget to pack an optimum number of warm layers along with some waterproof shell clothing because weather in Iceland is as unpredictable as it can be. Make sure you are prepared for everything that comes your way. 
Daylight hours are a delight in summers in Iceland with an average of 21 hours of sunlight in a day. barely any day is dark which means that you will have more than enough time to make the most out of what Iceland has to offer. However, it will be a bit difficult to fall asleep with the sun shining brightly most of the day. It is recommended to bring a nice cozy sleeping mask with you to create a suitable environment to sleep.
Top Activities to Do in Iceland during Summers
If you are familiar with kayaking then you must know that it is an adventure sport in itself even when done on a regular water body. Now imagine doing the same on a glacial lagoon with huge chunks of ice floating by you and the huge glacier visible in the distance. Glacier kayaking is a very popular summer activity in Iceland and attracts many visitors every season due to the sheer sense of tranquility and thrill that people get from it. The most popular spots in Iceland for glacier kayaking include Jökulsárlón, Fjallsárlón, Sólheimajökull and Heinabergsjokull glacier lagoons. 
If you decide to go on a kayaking tour, make sure that you have slipped into a thick cushioned jacket or jumper as the kayak may poke a bit in your back when you sit in it paddling. Extra protection against cold is required here even though you may not feel the need for these items normally in Iceland during summer. Wear a nice warm hat, some well-layered gloves and a scarf of your like. Keep an extra pair of clothing to change after the trip ends. The rest of the equipment that you will need for kayaking will be provided by the tour organizers like life vests, paddles, and kayaks.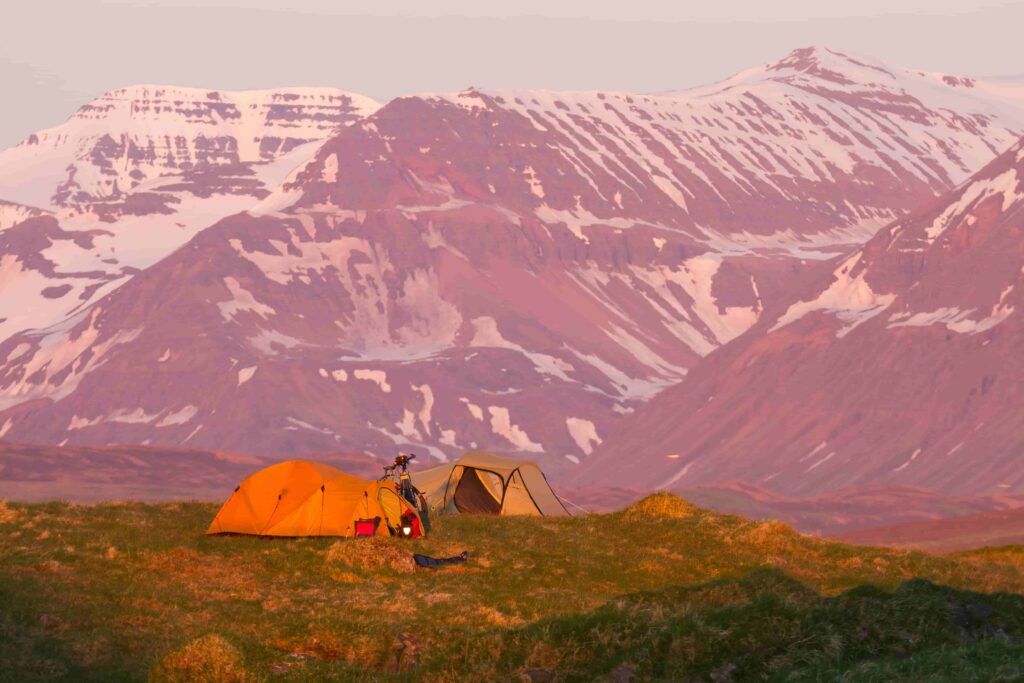 For a country that is initially known for the rugged, untouched beauty of its natural landscape, camping is a primary activity that people prefer for fun. Camping not only helps you explore this exotic landscape first-hand but also allows you to be as close to the overbearing geological formations as it is humanly possible. Campsites like Thakgil north of Vik village, Skogar Campground near the Skogafoss waterfall, Skaftafell campsite, Systragil campsite and Akureyri campsite in the north are some of the great options for you to choose from to set up your tent. Another idea to make camping more interesting is to combine it with hiking. Hiking trails that go on for longer than a single day or few hours like Laugavegur hike requires the users to either stay in the mountain huts or the campsites. If you feel like going complete survivalist with your trip then camping while hiking is the perfect extreme sport for you.
Wild camping is another thing that you can try if you are an outdoor and nature enthusiast. It means that you will set camp wherever and whenever you see a fitting place and opportunity. While this used to be a completely rule-free activity a while back, now some rules need to be followed. Most of the land in Iceland is privately owned. That even includes many popular lava caves, hot springs, and even waterfalls at times. If you want to set up camp somewhere which is not an authorized camping site then ensure that you have checked with the owner to avoid troubles. Also, ensure that you do not light campfires, it is strictly prohibited.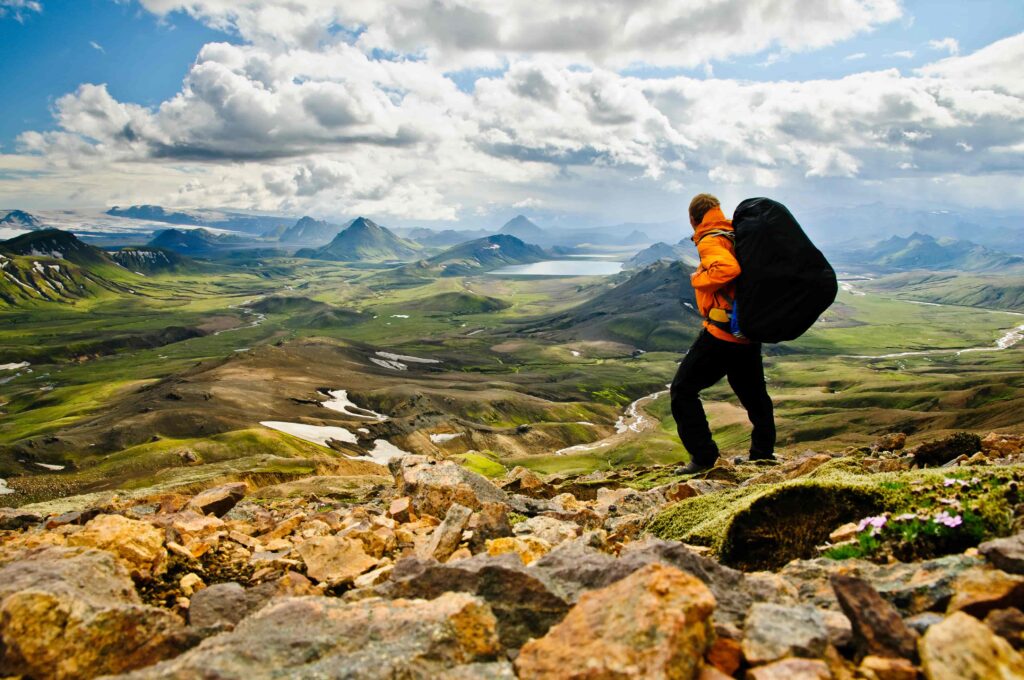 Hiking sounds like an activity more suited to the winter season at first glance but things are always the other way around in Iceland. Hiking is of course available in winters for the tourists to enjoy but the summer season is the peak time for this activity as well. The reason is that Icelandic winters are very harsh and the weather makes it impossible to access many popular hiking sites, mountains, and glaciers. So, come summer season, all the sites are open to the tourists which include many of those which have appeared in movies and TV shows like Game of Thrones.
Iceland has the perfect hiking trail for everyone be it a beginner or an expert hiker. There are many tours that will take you on different hiking expeditions to top hiking spots all-year-round depending on the weather conditions and accessibility of the places. If you have booked a hiking tour then be assured that you will be provided with all the necessary gear for the hike. However, often you must pack some essentials like food, raw material, enough warm and waterproof clothing, and camping equipment if the hike is longer than a single day like Laugavegur hike.
Watch the puffins & whales
Wildlife is an exclusive attraction of Icelandic summer. Millions of puffins and several species of whales and dolphins migrate to Iceland when the feeding season arrives. Icelandic cliffs are breeding grounds for several migratory seas and land birds apart from Atlantic puffins. It is the perfect time for bird and marine life enthusiasts to feast their eyes upon some of the rarest species of birds, animals, and whales. The best places to find puffins are Cape Dyrhólaey, Westman Islands, and Látrabjarg cliff. Westman Islands are essentially a place solely owned by puffins. Only one island out this group of several islands is populated by humans and the rest is left for puffins to make their nests for the breeding season.
South Coast of the country is populated by humpbacks, blue, fin, and minke whales along with some white-beaked dolphins while you can find some killer sharks, bottlenose whales, and pilot whales in the north. Although humpbacks are generally found in the south, they are spotted in the northern regions like Húsavík, the most popular place for whale watching in the north. Most whale watching tours take the tourists out in the sea to watch the whales and dolphins but is also possible to spot them from the coast.
Whale Watching & Puffin Tours
The highlight of Icelandic summer, the midnight sun is not something that you will get to experience in any other season like several other summer specialties. Possible to be seen only in the height of summer, midnights sun technically occurs only from 16th to 29th of June. Summer Solstice, the longest day of the year occurs usually on the 21st or 22nd of June. It is an absolute delight and surprises to see the sun shining on the top of your head in the middle of the night while you stand near a cliff or in front of a beautiful waterfall.
Few of the most preferred ways to watch the midnight sun phenomenon in Iceland include horse riding in the plains, going on a picnic in the countryside, visiting waterfalls, snowmobiling on the glaciers, or taking a dip in the hot springs. Visiting the Seljalandsfoss waterfall is probably the best way to experience the midnight sun. This beautiful waterfall has a hidden cave behind the cascading water. Walk-behind the waterfall in the cave and you will witness a view that is to be found nowhere else. Another popular activity is soaking in the blue lagoon. It stays open till about 11 pm in summers which means that you can stay in late and enjoy a nice soothing dip with sun bright in the sky.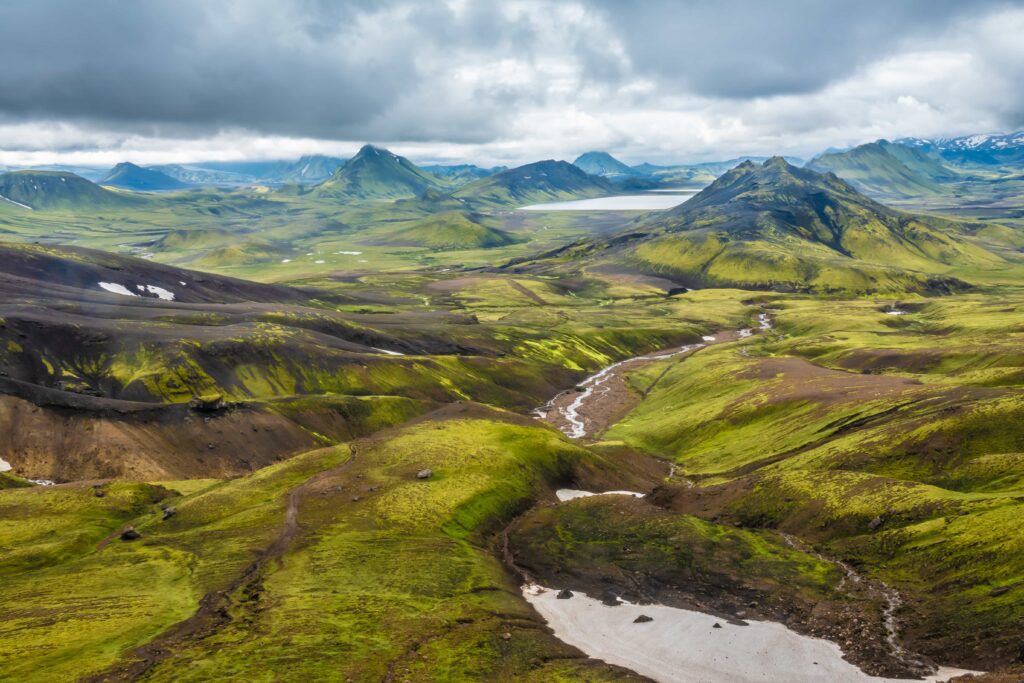 A trip to heaven for the lovers of thrill and adventure, highlands are the labyrinth of Iceland where the prize for completing the journey is exceptional views that expand on an area of about 40,000 square kilometers. The highlands of Iceland are the single largest unpopulated area in the whole of Europe which simply translates to natural sites which are still completely untouched. There are some parts where humans have now reached but that is just for tourism purposes. There are no residents in the highlands.
Filled with fiery yet beautiful craters, hot springs, geothermal pools, mountains and hiking trails, glaciers and volcanoes, highlands are the perfect place to spend long days. Take advantage of the extra hours of light that Icelandic summers get and visit every place that should be visited in the highlands of Iceland. Since the terrain is difficult to cover and take a lot of time, summers are the ideal time for a trip down the mountains. If you have horse riding in your list of activities then highlands are a great place to get it done, although, only experienced riders should take this route.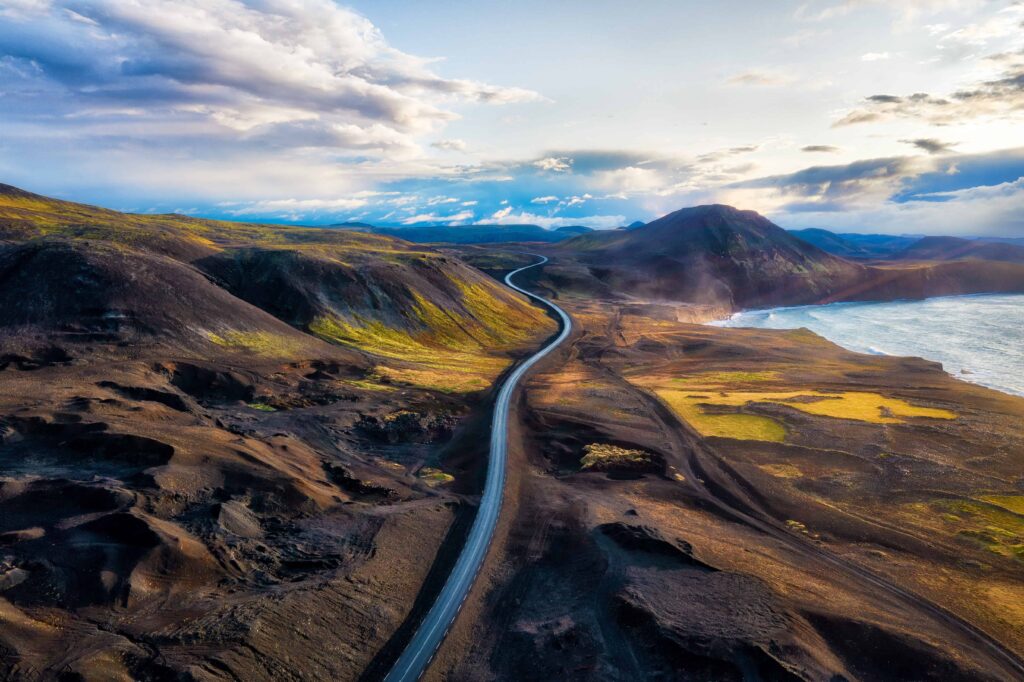 Driving in Iceland is very therapeutic given the beautiful sights laid all around you in abundance. While all seasons are good to take a road trip in Iceland, summer brings a certain sense of security and comfort for all kinds of drivers. The paths and roads are open and clear of snow most of the time so even beginners can drive easily in summers. the clear weather means that you are less likely to run into snow emergencies of any sort. Pretty much every location in Iceland can be driven to by yourself apart form a few difficult ones deep in the highlands.
Ring road, Golden Circle, Jökulsárlón glacier lagoon, Snaefellsnes Peninsula and Akureyri are some of the top places chosen by tourists to drive to. You can find several self driving tours and itineraries that will help you make the most of your road trip in Iceland. Renting a car in Iceland is easy and you can find a vehicle of your choice and requirement depending on the trip you want to take and the destinations you want to visit. There are no special things to take care of when driving in Iceland if you are taking care of the traffic and road rules properly. Offering you the freedom of exploring any place at any time, road trips in Iceland are simply magical. You can make as many stops as you like, take pictures without interruptions and spend as much time as you like on any destination without having to follow a schedule set by tour guides.
Coming to Iceland in summers and not getting a one on one session with the exclusive Icelandic horse should never happen. Summer weather is the perfect time to enjoy some time outside, riding the wind on the back of an Icelandic horse. These unique, pure-bred horses are exclusive to Iceland and are not found anywhere else in the better. Several sites are assigned for horse riding. Several breeders offer their horses for tourism purposes while some breeders would allow you a picture or two and some quality time with their domesticated horses.
Iceland has about 80,000 horses living on the island which is quite a big number considering that the human population of the country is only 364,134. Flaunting their Tolt, these strong beautiful horses will make your trip brighter and a lot more exciting. You can ride the horses even if you have never ridden a horse before. The difficulty of the ride is often influenced by the terrain you travel and not the horses. Take the word and make some stops along the way and visit these friendly, little creatures with exceptional intelligence and a pious personality.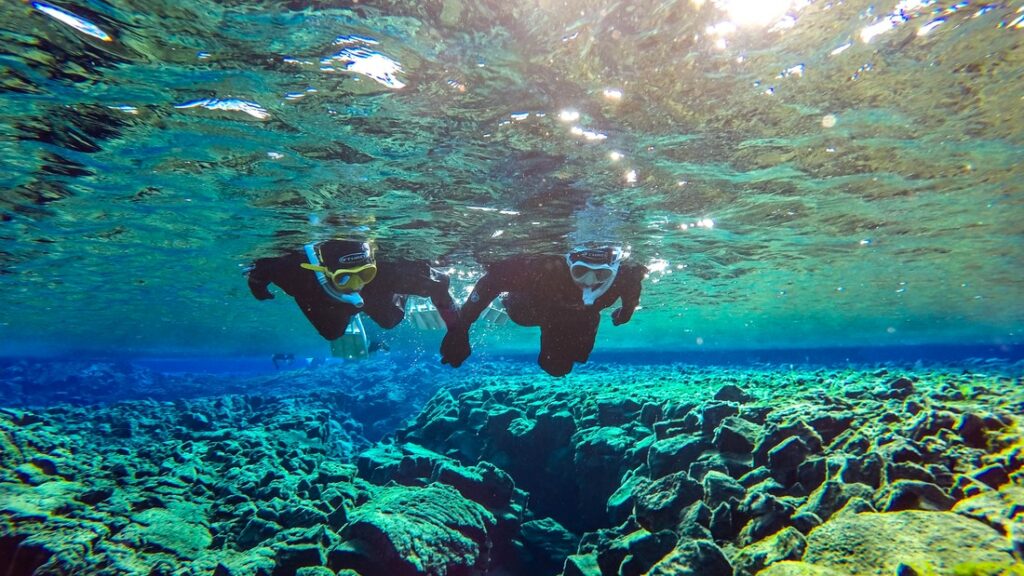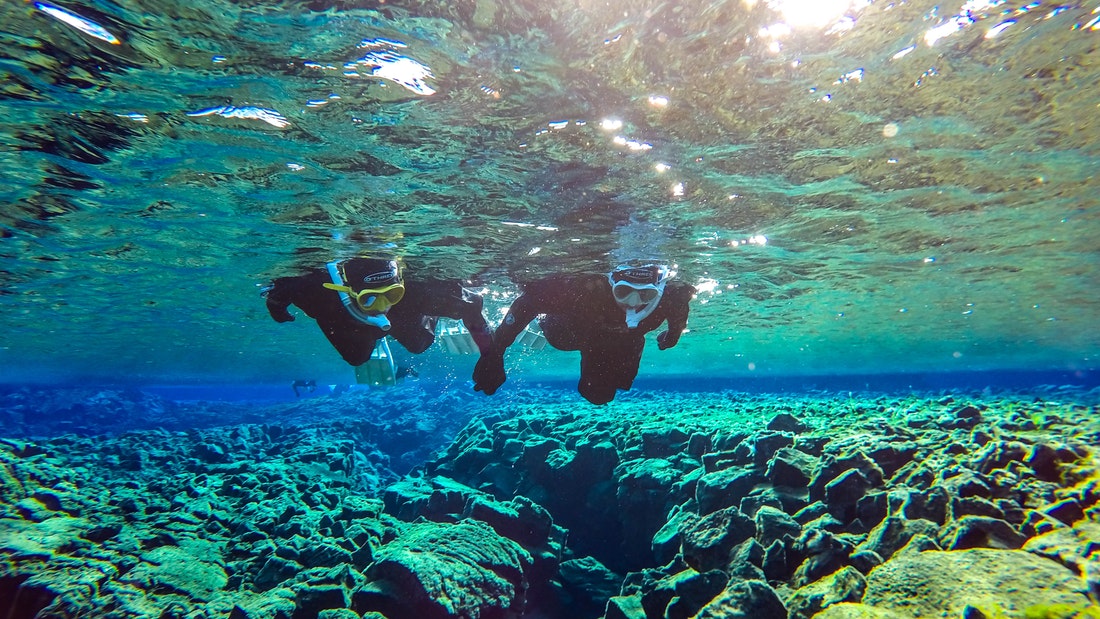 While snorkeling and diving can be enjoyed in pretty much all seasons, it is easier to slip into the suits in summer. The water in all the diving and snorkeling sites in Iceland never freezes due to the constant geothermal activities which makes them accessible even when a very large part of the country is covered in snow. Diving and snorkeling tours are provided by tour agencies and should always be administered with an experienced tour guide. Silfra fissure is by far the most popular site for snorkeling and diving but you can also visit, Garður if you want to see a generous wave of flora and fauns, Kleifarvatn to find an underwater hot spring, Strýtan the geothermal chimney, or Bjarnagjá for a dive in both salty and fresh water. All the snorkeling and diving equipment will be made available by the touring agencies and you will end your expedition with hot cocoa and cookies.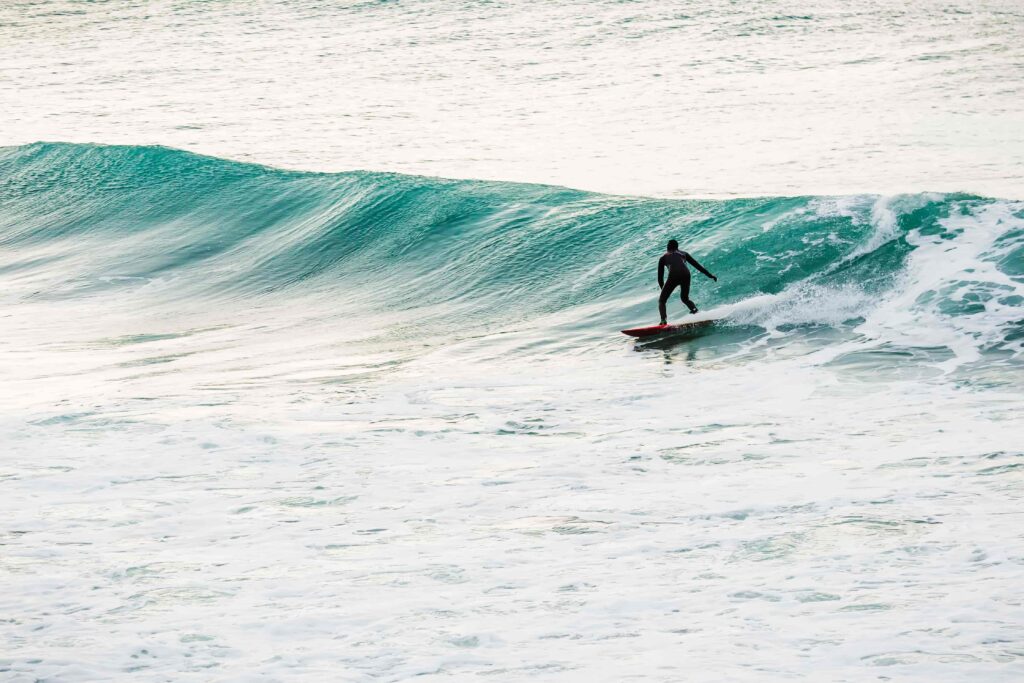 Beaches in Iceland are already one of a kind because of the black sand contrasting with the blue foamy waters and summer season completes the package with constant sunshine and clear skies. Reykjanes peninsula is the most preferred site for surfing in Iceland. Only about 60 minutes away from the capital city of Reykjavik, the black sand beaches on the Reykjanes peninsula are made with the lava flown from the nearby volcanic mountains which contrast perfectly with the monochromatic landscape with their bright red flame-like visuals.
Most of the peninsula coastline is made for expert surfers with the waves crashing right onto the volcanic reefs but Sandvik beach has a perfect environment for the beginners to try a hand in the game. The waves sometimes are extra jumpy and match the ferocity of the rest of the coastline.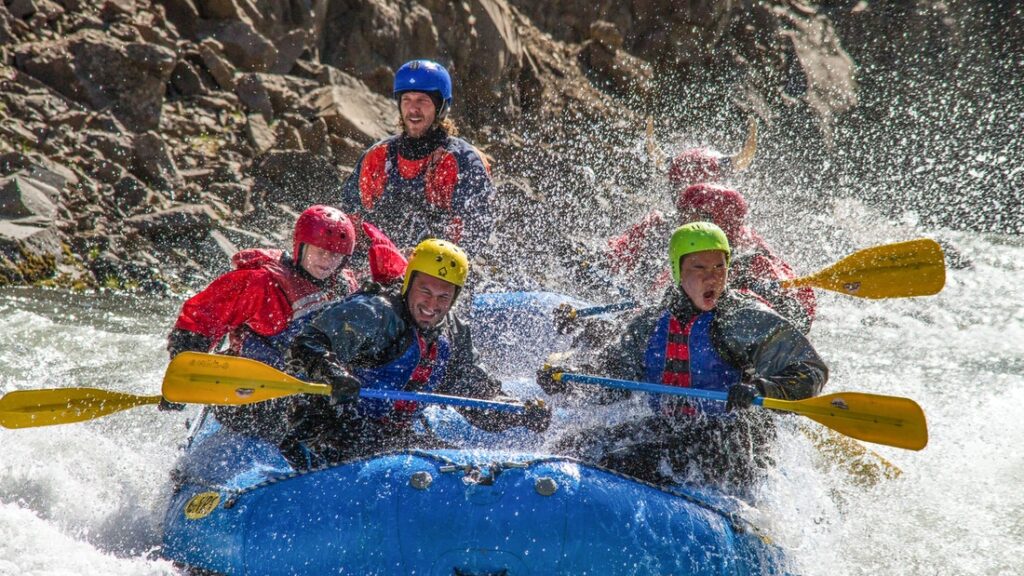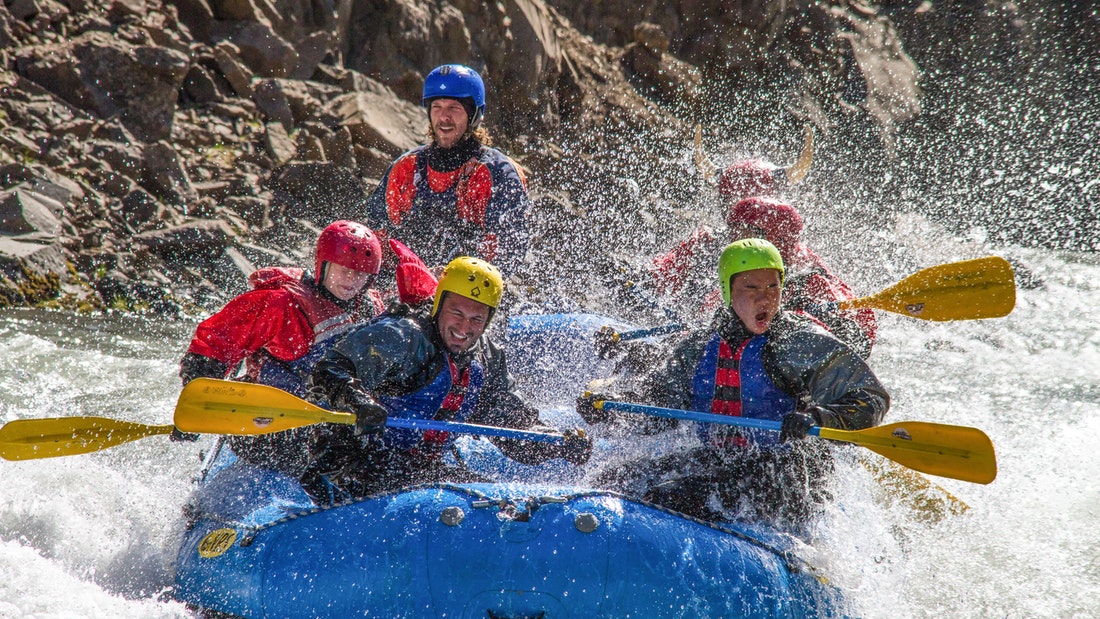 There are only 3 sites or rivers where you can enjoy river rafting in Iceland – Hvítá in the southern part, Jökulsá Austari (also known as the "East Glacial River") and Vestari Jökulsá, the "West Glacial River". All these rivers originate from glaciers Langjökull and Hofsjökull. River rafting is an adventure sport without a doubt and should be administered with care and under the supervision of a guide. River rafting can be a fun activity for the whole family, even though river rafting is a comparatively newly emerged summer activity in the country as compared to others. And this is why only the safest and easiest to supervise spots are chosen for the activity. But given the ferocity of the rivers in Iceland, adrenaline rushes will never be a problem with river rafting.
The summer season sees the hike of tourism in Iceland due to the milder weather and accessibility to comparatively more sights. Only few phenomena like the northern lights and places like ice caves, which exclusively form in winters, are not available to be enjoyed in summers. Apart from that, you will have the time and the freedom to enjoy every single place that you possibly want to and can during your time in the land of ice and fire.