Iceland becomes a beauty to behold by May. Nature becomes lively, spring and early summer flowers begin to bloom. The weather gets warm, especially in South Iceland. The mountains around the capital city of Reykjavik are covered in snow. It is in this month that Iceland becomes a paradise for every tourist. The daybreak comes early and the evenings are bright. The Nordic country becomes a perfect place for outdoor activities such as picnics, outdoor drinks, and dining.
The month of May witnessed an average temperature of 7oC in the capital city. The warmest part of the day is a comfortable 10oC. The precipitation varies every year. However, you can expect rainfall for at least 11 days. There are no powerful storms during this time.
The sun usually rises at 5:00 am and sets at 9:51 pm, nearly 17 hours of daylight from the outset. By the end of the month, the sun rises at 3:25 am and sets at 11:37 pm, 20 daylight hours. You can enjoy the sights whenever the whim takes you. In North Iceland, the sights appear scenic between 17:15 and 21:07 hours of daylight in Akureyri. During this month days get longer by about 6 minutes per day.
The average rainfall in Reykjavik is approximately 42mm in May which is generally the lowest of the year. It usually comes as light rain with no chance of snow, unless you are in the mountains. Despite the summer, it is always recommended to bring layers of clothing and waterproof shoes.
Pros to Visit Iceland in May
May is a shoulder season in the country. You get to travel in neither a peak nor an off-season, which gets you the best deals. There are fewer tourists and a wide range of available accommodations at low prices. It is a perfect time to travel if you are a budget traveler. The weather becomes pleasant, which reduces the hassle of packing thick jackets. You get to enjoy touring the destination in the virtue of warm sun. You can enjoy the geothermal hot springs or go hiking Mt. Esja, sip gull in an outdoor beer garden, go kayaking, and host BBQ parties. This time of the year opens an array of options and places to explore – whale watching, snorkeling, scuba diving, horse riding, surfing, puffins and sightseeing.
Cons of Visiting Iceland in May
One downside of traveling to Iceland in May is that the flora is still blooming. It is not until the end of the month or the beginning of June that you experience the lush scenery that you see in the tourist brochure. There is a price hike on traveling from mid-May, which makes it difficult to find accommodation in areas such as the south coast. One of the most astounding sightings of Northern Lights ceases to operate.
Best Self Drive Activities in Iceland in May
Puffin Tour
Skaftafell glacier hike & ice climbing
Canyon hot spring
Katla Ice Cave
Snorkel Silfra
Snowmobile on Vatnajökull glacier
Your To-Do List for Iceland in May
Icelanders begin to step out of the hibernation period and venture outdoors to relish the beauty of sun, blue skies, and longer days. There are a number of festivals, events, and public holidays in the month that add to the country's cultural overlay while you vacation here. Here are some options for activities you can partake and places you can explore throughout May in Iceland – whether relaxing or participating in adrenaline-fuelled activities, the country has a lot of offer.
This island of Viðey can be visited through a short ferry ride away from Reykjavik. The ride itself is mesmerizing with ocean waves and squeals of the seabirds. Visit the Yoko Ono Peace Tower and wish in peace. Visit Viðey House, the first stone building in Iceland and Old School House where you can learn about the island's history. The ferry rides take place from the capital city on weekends until May 14th and daily ferry rides commence from May 15th.
Hiking is one of the most satisfying activities you can undertake during this holiday. It is one of the best ways to experience the Icelandic countryside, offering you a closer view of the meadows, valleys, and streams that make the landscape scenic. One of the most accessible hiking trails in Mt. Esja that overlooks the city. The two most popular recreational trails are the summits Þverfellshorn and Kerhólakambur. Hiking is divided into four sections, getting more difficult and requiring more experience and skills.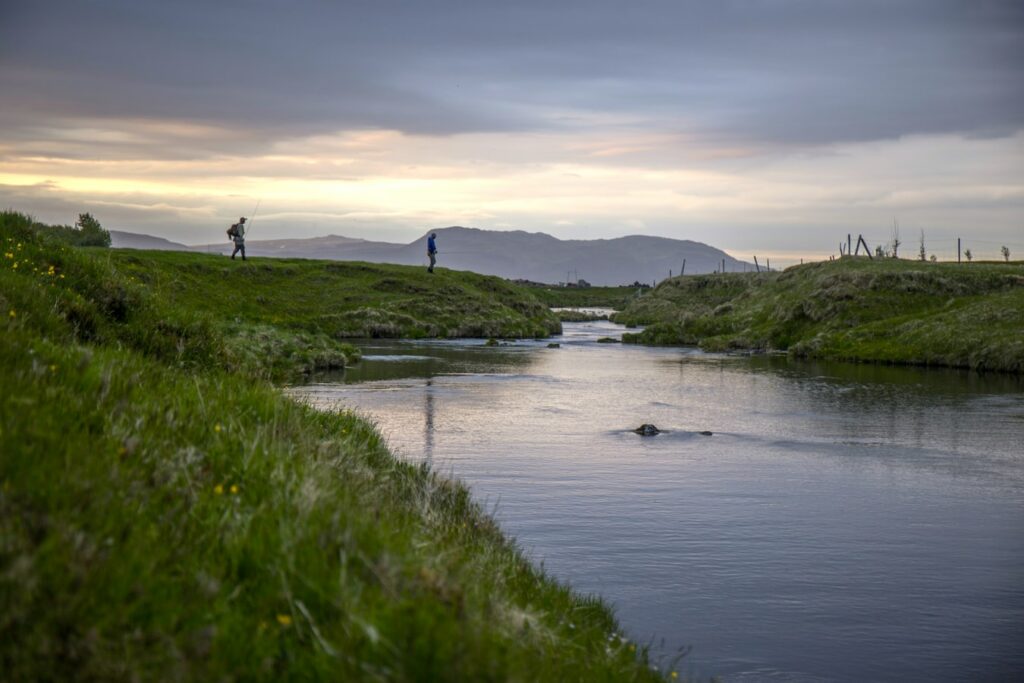 May is heaven for anglers. During this month, Iceland boasts some excellent river fishing. There are several possibilities to fish in the ocean. Angling in the country is a private affair and based on the landowner's discretion. You can find several fish species including migratory brown trout, Atlantic salmon, sea brown run trout, and Arctic char, sea trout. Before partaking in the activity, you should be aware of the strict fishing laws in the country. Ensure that you are not using equipment that has been used abroad unless it has a certification of disinfection.
Iceland is all about mystic landforms, volcanoes, and thrilling adventures. One of the most interesting activities you can do is take a tour of lava caves. Apart from the fantastic display of red, orange, and purple rock, lava caving provides a deeper insight into the geology of Iceland. The majority of the lava caves are easily accessible and can be hiked with an average level of physical fitness. Some caves have narrow segments so there are chances you might have to duck, crawl, or even climb your way through the rock formations.
It is one of the most fun-filled activities you can do in the country. You get a proximate look of these natural glaciers. However, it is recommended to take a tour with a professional guide as you may not know the paths, techniques and lack skills to hike properly. A guide will not only help you locate the safest route but also provide you with equipment such as helmets, snowshoes, hiking poles, and crampons – necessary to tackle the ice caps.
Iceland hosts the largest population of Atlantic puffins in Europe that flock to the coastline to nest in the summer months. Some tours take you to see the puffins in conjunction with whale watching. Puffins are 'threatened' according to the International Union for the Conservation as their population is declining across the region. Consider taking tours from downtown Reykjavik, Latrabjarg, Dyrholaey, Tjornes Peninsula, Ingolfshofdi, Westman Islands, North Iceland, Snaefellsness Peninsula, Heimaey, Grimsey Island, and Papey Island.
Horse riding is one of the most engaging and spectacular activities to explore the Icelandic countryside. The Icelandic horses are one of the most mystical breeds. You are first introduced to the basics of being in a saddle, either through an informational video or personal briefing by the guides. The horses pass through the farmland, rivers, and delicate valleys.
May is the best whale watching time in Iceland. Iceland has a great number of species local to the shores – Killer Whales, Harbor Porpoise, Short Beaked Dolphin, Minke Whales, Sperm and Humpback Whales, and Blue Whales. The whale watching boats are fitted with radar technology and communicate with each other. You can also get a chance to sight Gulls, Fulmars, Aucks, Ducks, and Gannets.
Visit Museums and learn more about the Culture
The country has several museums such as Open-Air Folk Museum. You get to see the old houses and how Icelandic people used to live and work in the past. The museum usually remains open from 13:00 to 17:00 hours. You can also see sculptures at the Einar Jónsson Sculpture Garden and Museum. The garden has impressive sculptures and mature trees.
Walk around the capital city with a local guide and learn its history, culture, and traditions. You also learn about the best places to eat in Reykjavik and relish the most delicious dishes that the city offers. You get to taste grass-fed and free-roaming Icelandic lamb, home-made Icelandic ice cream, and the best local cheese in the season, and visit the popular Icelandic hot dog stand. 
Silfra is a fissure with crystal-clear glacial water that runs through Thingvellir. Snorkeling is a once-in-the-lifetime experience in this region. The clear water provides a perfect view of even the smallest species. May is the perfect time to go snorkeling in the region. A light beam of light passes through the crystal clear water from Langjökull glacier.
Best Day Tours to Take in Iceland in May
Snæfellsnes Peninsula Premium
Golden Circle & Snowmobile
Glacier Lagoon Sightseeing
Golden Circle & Blue Lagoon
South Coast & Glacier Hike
Festivals that make the Country Appear more Vibrant
Besides being a hub for unlimited activities and places to explore, Iceland hosts many festivals in May that draw the attention of the crowd from home and abroad. Explore the highlights of Icelandic and international music and art. Here are all the events you can attend in Iceland in May:
Saga is a two-day music festival. It is a new music and art festival that is unique. The festival is all about communality and sustainability. The tickets to the fest arrive with a packet of seeds that are intended to be planted by the festival goer, helping Iceland in reforesting. The guests express companionship. You can participate by performing, volunteering, or organization. The festival is egalitarian, implying there is no hierarchy between artists and participants. It is an amazing festival with an electric atmosphere. You get an opportunity to meet with strangers and make new friends.
Ascension Day is the oldest Christian holiday that is celebrated forty days after Easter to commemorate the ascension of Jesus to heaven. It is a public holiday across the nation and Icelanders take the day at home with their family and often dine on traditional cuisine. Visitors spend the day visiting Iceland's most iconic churches. Some of them are the modernist Lutheran church, Hallgrímskirkja, and Fríkirkjan í Reykjavík, a green-roofed chapel by the city pond, Tjörnin.
RAFLOST: Icelandic Festival of Electronic Arts
Since 2007, RAFLOST has been one of the most pioneering festivals for electronic artists – computer, dance, music, games, and poetry. The festival has become a force of nature in the last 10 years, attracting artists from across the world. This festival takes place in Reykjavík in collaboration with the Ministry of Education, Science and Culture, and the Icelandic Academy of Arts.
Organized in Akureyri, the Vaka Folk Festival is a four-day lively event dedicated to keeping the traditions alive. Most of the events take place at Hof Cultural and Conference Center. You can listen to an old instrument being played and soulful songs. There are art displays and various talks and mini-courses. You get an opportunity to listen to traditional Icelandic instruments and attend workshops.
This is one of the most iconic days in the country. This day the citizens, accompanied by brass bands walk around the cities and town of Iceland. They bring out a protest for equality and fairness. These protests are peaceful and do not cause any trouble.
Rite of Spring Music Festival
The music festival emphasizes jazz, folk, and world music. Sponsored by Icelandic Music Export, this festival gives a platform to world-class performers like Serbia's gypsy band KAL and Icelandic jazz-funk artists Mezzoforte.
Best Multi Day Tours to Take in Iceland in May
2 Days South Coast
3 Days South Coast & Golden Circle
5 Days Snæfellsnes, Golden Circle & South Coast
6 Days Around Iceland 
7 Days Around Iceland & Snæfellsnes Peninsula
What to pack for your holiday in Iceland in May?
When it comes to taking a trip to Iceland, make sure you pack layers of clothes. Ensure you have at least three layers of clothing. The temperature varies vastly throughout the day, so it gets from warm to cold within hours and back to warm. Here is a list of essential items you should pack:
Thermals
T-shirts
Sweaters and hoodies
Jeans, Sweatpants
Hiking boots
Wind and rain-proof jacket
Swimsuit
Important medication
Party clothes
Also pack other important items such as:
Toiletries – soap, shampoo, bath towels, etc.
Sunscreen and sunglasses
Moisturizer
Head net
Gadgets such as camera, phone, tabs and charging equipment
Prescribed medicines and additional medicines for the trip
Water bottle – you can fill it with fresh water from the tabs. 
May is a shoulder season that witnesses lower fare prices and easy availability of accommodations. The weather is at its best and the natives are coming out of the hibernation mode. You get to experience the vibrant spring colors and colorful topography. Make the most of the trip by relaxing in the hot springs, partaking in thrilling activities, relish the local delicacies, and mixing up with the locals.
We hope this article about Iceland in May will help you figure out if it's the best month for you to visit Iceland or not.
We would love to hear your thoughts. Tell us about your tips and tricks to when it comes to planning a trip to Iceland. 
It would be perfect if you let us know about your favorite locations from your trip. It's even better if they are hidden gems that you would like to share with the rest of us. 
Leave your comments and questions below and we will happily answer all of them