Jokulsarlon Glacier Lagoon
Diamond Beach
Seljalandsfoss waterfall
Skógafoss waterfall
Vík village
Reynisfjara black sand beach
Eldhraun lava fields
Kirkjubæjarklaustur
Hvolsvöllur
Hellisheiði – Hengill Volcano
Embark on an unforgettable adventure with our Private South Coast and Jökulsárlón Glacier Lagoon Tour, which promises to showcase the awe-inspiring beauty of Icelandic nature like no other. This tour is simply unparalleled, and we guarantee to make your day an unforgettable experience.
Note that the price for this tour is per vehicle – not per person. 
Pick up and drop off in the Reykjavik area.
Private vehicle for your group.
Private guide for the day. 
Local English speaking guide for the day. 
Small group experience – no more than 16 people.
Transport by Mercedes Sprinter climate- controlled bus.
Free WiFi and USB power on board.
Rain Ponchos and Crampons – depending on necessity.
Warm clothes (waterproof & windproof)
Walking shoes
Sunglasses
Camera
Note that the price for the tour is per vehicle – not per person.
You can choose between vehicles for 1-4 people, 5-8 people or 9-13 people. See booking engine for price.
This tour is available from 1st of May – 30th of September.
The tour starts at 7am and the duration of the tour is approximately 14-15 hours.
Free pickup/drop off service is in the capital area of Reykjavik.
Some accommodation is in a bus free zone that requires guests to wait at a certain bus stop. Map of Bus Stops.
Baby seats or booster seats provided for free. Please contact us: info@icelandtravelguide.is
For unexpected situations, we provide a 100% guaranteed refund.
There is free WiFi and USB power in the minibus.
Meals are not included in the tour. Stops will be made at a local restaurant or grocery shop where meals and snacks can be purchased.  
You can also bring a packed lunch on the tour if you prefer that. 
Embark on an extraordinary adventure with our Private South Coast and Jökulsárlón Glacier Lagoon Tour, which promises to showcase the breathtaking beauty of Icelandic nature like never before. This tour is an ideal choice for anyone who desires to explore the wonders of Iceland, and we guarantee that your day will be filled with unforgettable memories.
Hellisheiði - Hengill Volcano - Drive on top of an active volcano
Our journey begins with a complimentary pick-up service, after which we will set out on road no. 1, heading towards the breathtaking southern region of Iceland. As soon as we leave Reykjavik behind, the urban landscape will give way to rugged lava terrains, leaving you mesmerized with its raw beauty. The lunar-like vistas will have you captivated, with your eyes glued to the window throughout the drive.
En route, we will pass by the Hengill volcano, where the Hellisheiði Power Station is located. The active volcano spews towering plumes of steam, providing a rare glimpse into the untamed power of nature. Witnessing this incredible spectacle will undoubtedly leave a lasting impression on you, making for an unforgettable memory.
As we leave the mountains behind, we will drive through the charming towns of Hveragerði, Selfoss, Hella, and Hvolsvöllur, en route to the world-renowned Seljalandasfoss waterfall. This majestic wonder is sure to leave you in awe, as the cascading water tumbles down with incredible force. While you may have seen pictures of Seljalandasfoss before, nothing can compare to the exhilarating experience of walking behind the waterfall and feeling the misty spray on your skin.
After admiring the beauty of Seljalandasfoss, we will take a moment to pause and appreciate yet another one of Iceland's treasures – The Skógafoss. This waterfall is a truly magnificent sight, with an enormous volume of water plunging down with incredible force, creating a constant mist that blankets the surrounding area in a stunning rainbow. The experience is so immersive that you may even feel like reaching out to touch it.
Reynisfjara Black Sand Beach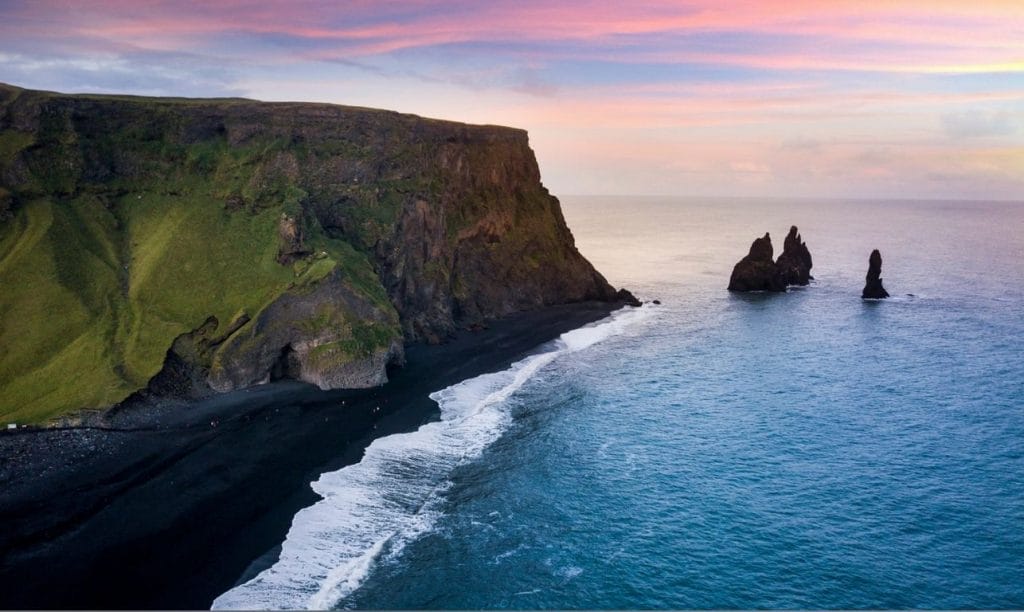 Undoubtedly, one of the most remarkable highlights of our tour is our visit to the world-renowned Reynisfjara Beach, which has been named one of the top 10 beaches in the world by National Geographic. This breathtaking destination is guaranteed to leave you in awe, with its stunning basalt formations, crashing waves, and incredible vistas that tantalize the senses.
As you marvel at the beauty of the beach, it is important to exercise caution and maintain a safe distance from the waves, as they can be exceedingly hazardous. Safety is paramount, and we want you to enjoy the beauty of Reynisfjara Beach while being mindful of its potential dangers.
The Eldhraun lava fields are a vast expanse of volcanic terrain in southern Iceland, covering an area of over 500 square kilometers. This awe-inspiring landscape was formed by a massive volcanic eruption that occurred in the 18th century, and is now covered in a thick layer of moss that gives it a surreal and otherworldly appearance. Visitors can explore the lava fields on foot and marvel at the unique geology and natural beauty of this extraordinary place.
Jokulsarlon Glacier Lagoon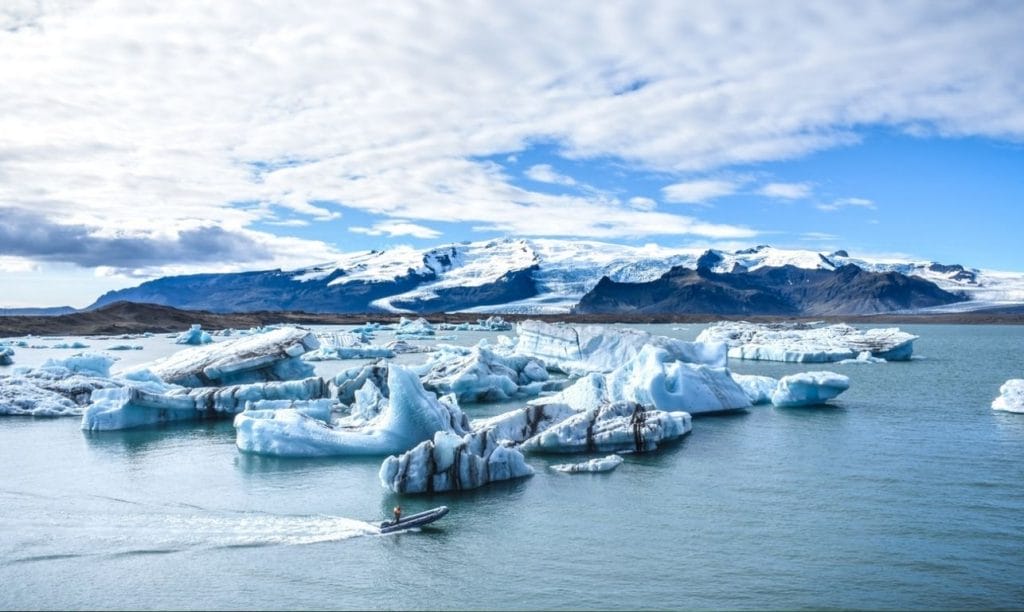 Immerse yourself in the stunning beauty of a glacier lagoon, where floating icebergs create a breathtaking sight that will leave you in awe. This magical place never fails to amaze us with its ever-changing grace, and we're thrilled to share it with you. To make the most of your visit, don't miss the opportunity to take a boat tour on the glacier lagoon. It's an incredible experience that's not to be missed!
Tickets for the boat tour are priced at 6300 kr. per adult and 3000 kr. for children, and they offer an unforgettable glimpse into the majesty of this natural wonder. Get ready to be captivated by the beauty of the glacier lagoon and create memories that will last a lifetime.
Located beside Jökulsárlón, this breathtaking location is a must-see! It's as if Iceland herself, as an artist, has crafted her greatest masterpiece here. Prepare to be absolutely mesmerized and left speechless. The icebergs glistening like diamonds in the Atlantic waters are a sight to behold, creating a stunning spectacle that will leave you in awe. Don't miss out on this unforgettable experience.
Our next destination is an enchanting little town that has so much to offer. And what better way to start than with a mouth-watering meal! After all the excitement, you're likely feeling peckish, so we'll make a stop at a restaurant where you can savor some delectable food and browse through a variety of unique gift items. From there, we'll make our way to the renowned black sand beach in Vík where, if we're fortunate, we may catch a glimpse of some adorable puffins resting on the cliffs.