2-hour Black Sand Beach ATV Adventure!
Þorlákshöfn Black Sand Beach
Atlantic Ocean up close and personal
Þorlákshöfn village
ATV ride inland on a pathway
Head out for an enthralling adventure on an ATV bike to the Black Sand Beach by the town of Þorlákshöfn in South Iceland. This tour is the perfect add on to your road trip in South Iceland if you are up for some fun and excitement. The town of Þorlákshöfn has a natural harbor, which is home to ferries and ships. The Black Sand Beach is located around 45 minutes' drive from Reykjavik, the capital city of Iceland. The thrilling adventure is the ultimate experience to undertake when in Iceland. You will drive across the volcanic black sand beach in your massive ATVs all geared. Drive yoru ATV all the way to the point where the North-Atlantic Ocean and river Ölfusá meet. Apart from driving, you will get to discover the scenic landscapes of Þorlákshöfn town. So, accompany us on this ATV Iceland Black Sand beach tour and go back home with abundant memories.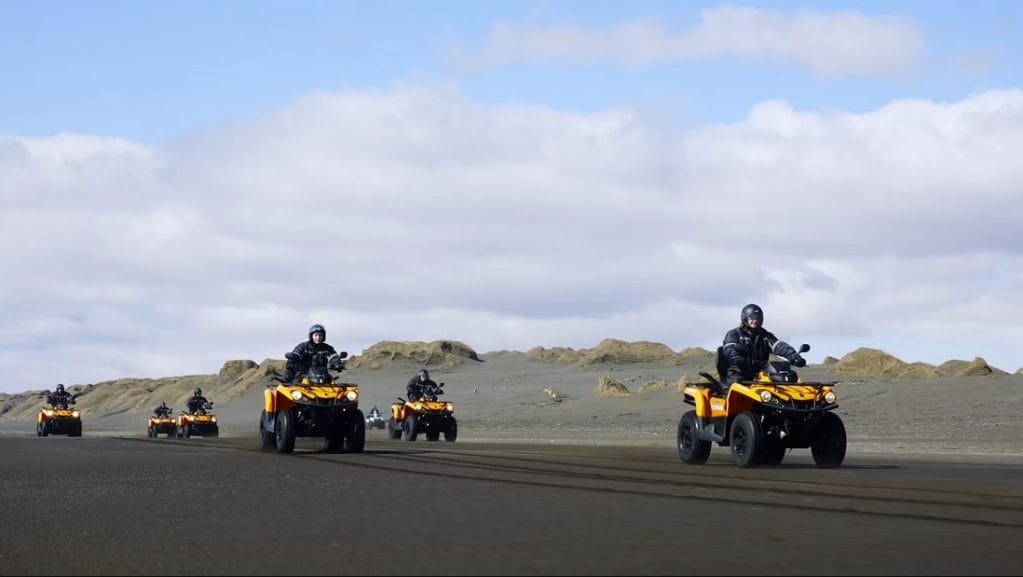 In this 2-hour guided ATV Iceland tour, we will offer all necessary safety equipment (helmet, warm overalls, and gloves). Passengers need to bring along good outdoor shoes, warm clothing (woolen or fleece), and a camera. Participants must be at least 6 years old to undertake the ATV tour. Pick-up and drop-off options are available on prior requests. If you do not wish to avail yourself of the transfer options, then the passengers are requested to reach the venue 20 to 30 minutes before the departure time.  This ATV tour is accessible all year round so come to Iceland in any season, and we will be happy to take you on this adventure.
All the passengers need to arrive at the venue 20-30 minutes before the departure time. Upon the arrival of each passenger, our guide will start with the briefing session and everybody will receive their safety gear. Once everything is set, passengers will occupy their seats and get rolling on their ATVs. In this fun-filled adventure, you will drive along the black sand beach towards a place where river Ölfusá conjoins with the North-Atlantic Ocean. The Black Volcanic Sand is not visited by many travelers, but it is still one of the most beautiful black sand beaches in Iceland.
This tour will also allow you to explore the fascinating landscapes located on the west side of Þorlákshöfn. Soak in the beauty of sea cliffs and see the ocean waves crashing against the rocks. On the way back we cover inland route or trail in etween black and green sandy dunes. We will also visit the sea cliffs Hafnarberg.
Þorlákshöfn - A Brief Overview
Þorlákshöfn is a town in south Iceland, which comes under Ölfus municipality. This place is home to a famous church, Strandarkirkja, which is often visited by tourists and Icelanders for its rich history and folklore. A famous story related to the church is, once, during a storm, a group of sailors prayed to reach a safe land and upon reaching safely, they promised to build a church. Soon after their prayer, an angel appeared and guided them to a bay, which is now known as 'Angel's bay (nearby the church). Keeping their promise, the sailors constructed a wooden church, hence, many Icelanders come to this place with their desires and wishes.
Comprising of 1500 people, the town boasts a natural harbor where many ferries and ships rest. We can also highly recommend the swimming pool in Þorlákshöfn. It is a great place to go after your ATV tour. If you are looking for a lava cave tour, you can visit Raufarhólshellir caves too.
ATV bike rental
Guided ATV tour along the black sand beach
Þorlákshöfn Black Sand Beach
Atlantic Ocean up close and personal
Þorlákshöfn village
ATV ride inland on a pathway
Dress according to weather
Driving license for the driver
Good to have gloves
Driver license necessary for the person driving the ATV.
Age limit for this tour is 6 years for passengers.
Two passengers are minimum for this tour.
The meeting point for this tour is in Þorlákshöfn, South Iceland. It is around 40 minutes drive from Reykjavik. Contact us if you would like to have pick up in Reykjavik.
Every passenger gets a helmet and a warm suit.
Please arrive 30 minutes before your ride in order to get the gear you need.
We can recommend the swimming pool in Þorlákshöfn after your ATV ride.