Explore the Black Sand Beaches of Iceland in a fun and exciting way on this ATV Black Sand Beach Tour! 
Þorlákshöfn Black Sand Beach
Atlantic Ocean up close and personal
Þorlákshöfn village
ATV ride inland on a pathway
Get ready to boost your adrenaline rush as you undertake this fun-filled ATV Iceland tour. The 1-hour Black Sand Beach ATV tour is all set to let you unravel the unmatched beauty of Iceland. This Black Sand beach is very beautiful but not well known to travelers. The beach is situated near the town of Þorlákshöfn in South Iceland. Þorlákshöfn has a population of just about 1400 people but it is one of the main ports of Iceland. The town has a natural harbor, which accommodates various ships and ferries. So, prep yourself to drive off-road in Iceland and get a chance to explore the volcanic Black Sand Beach overlooking the Atlantic ocean.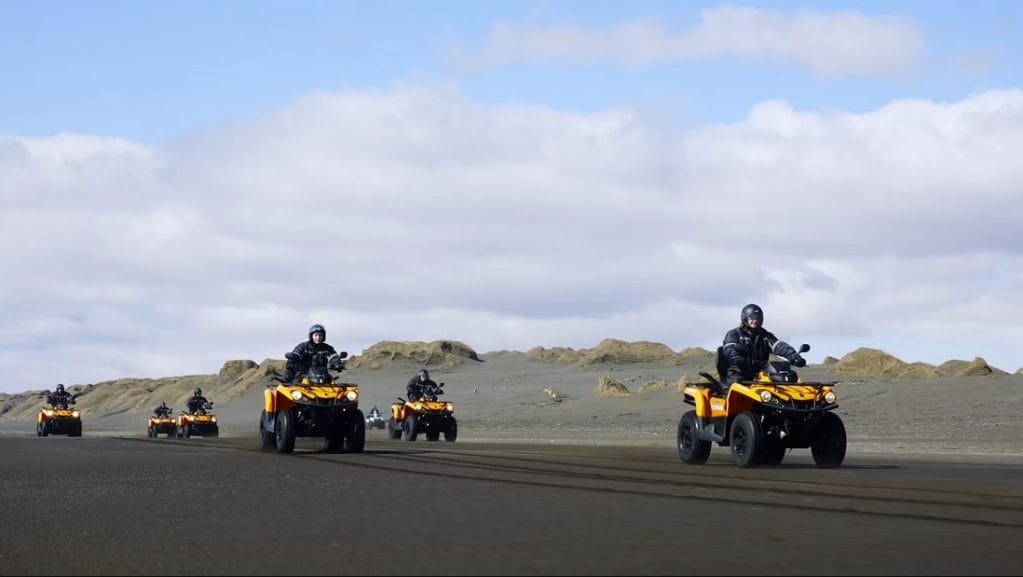 The 1-hour ATV Iceland Black Sand Beach tour ranks among the most fun and exciting tours that you can undertake in Iceland. Every participant has to gather at our address before the departure time. As soon as everybody lines up, our professionals will brief the participants about the tour, trails, and instructions. You will receive the safety equipment required for the ATV tour including warm overalls, helmets, and gloves. Once everybody is all ready to roll, the guided ATV tour will begin. Begin the drive across the Black Sand beach near the town Þorlákshöfn. Þorlákshöfn is located around 40 minutes drive from Reykjavik. You will traverse across inland trail dunes covered with lyme grass. This tour is the best way to discover the magnificent black sand beaches of ICeland and experience the surreal beauty of our country.
This Black Sand Beach is also a popular spot for surfing for both beginner and advanced levels. There is no better way to explore this beach than on an ATV. Take a look at the magical blue Atlantic ocean as you ride your thrilling vehicle. You can stop by the beach to click some pictures and soak in the beauty and peacefullnes of the ocean.
All participants on the tour need to wear good-quality shoes, warm clothing, and ensure proper layering as the Icelandic weather can be unpredictable. Do not forget to carry your cameras on this ATV tour to Black Beach as the views are simply magical. A professional ATV guide will be with you on the tour. The guide will bring along all the necessary briefing so be rest assured.
ATV bike rental
Guided ATV tour along the black sand beach
Þorlákshöfn Black Sand Beach
Atlantic Ocean up close and personal
Þorlákshöfn village
ATV ride inland on a pathway
Dress according to weather
Driving license for the driver
Good to have gloves
Driver license necessary for the person driving the ATV.
Age limit for this tour is 6 years for passengers.
Two passengers are minimum for this tour.
The meeting point for this tour is in Þorlákshöfn, South Iceland. It is around 40 minutes drive from Reykjavik. Contact us if you would like to have pick up in Reykjavik. 
Every passenger gets a helmet and a warm suit. 
This tour is accessible for those with limited mobility. 
Please arrive 30 minutes before your ride in order to get the gear you need. 
We can recommend the swimming pool in Þorlákshöfn after your ATV ride.