Silver Circle
Krauma Spa
Troll's Park Fossatún
Deildartunguhver hot spring area
Hraunfossar
Barnafoss waterfall
Hvalfjörður – Whale Fjord
Reykholt town
Snorralaug
Discover the natural wonders of West Iceland with the Silver Circle and Krauma tour. Experience the stunning fjord of Hvalfjordur, where we'll encounter remnants of Iceland's old whaling industry and capture Iceland's natural beauty through photo opportunities. At Fossatun, we'll explore the unique recreation area of Tröllagarðurinn or the Trolls' Park, home to the scary-looking Grýla, mother of the Icelandic Yule Lads. Our journey then takes us to Reykholt to see an ancient hot tub built by Viking-era scholar Snorri Sturluson. We'll witness the Lava Waterfalls, where water emerges from underground lava tubes beneath the Hallmundarhraun lava field. Afterward, we'll enjoy a relaxing lunch and bath at Krauma Spa, featuring five natural geothermal baths, two calming saunas, a cold tub, and a cozy relaxation room with a fireplace and soothing music. Finally, we'll return to Reykjavik, refreshed and rejuvenated after a day of exploration and relaxation.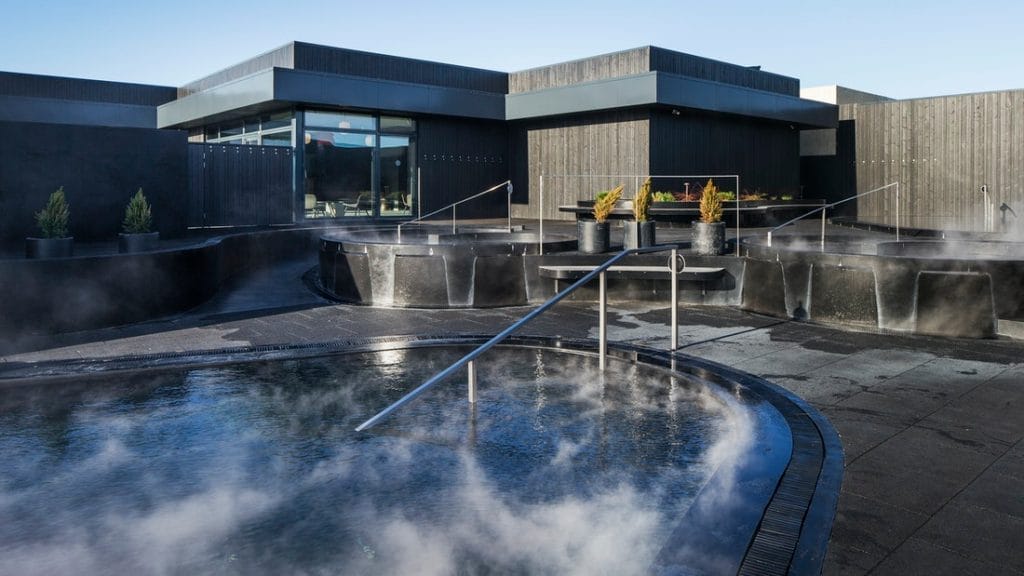 The Silver Circle tour begins in Reykjavik and takes us through Hvalfjordur, also known as Whale Fjord, which is one of Iceland's deepest bays. Along the way, we'll have several opportunities to capture the beauty of Icelandic nature and explore remnants of the country's whaling industry through photo stops. Get ready to witness stunning vistas and learn about Iceland's unique history.
During the tour, we will take a stop at Fossatun, where you can explore Tröllagarðurinn or the Trolls' Park, created for guests at Fossatún. The park features several trolls, some of which have a somewhat scary appearance. Among them is Grýla, the mother of the Icelandic Yule Lads. Strolling among the trolls is a fascinating and truly unique experience that should not be missed.
Our next stop will be the charming village of Reykholt, where we get to see an ancient hot tub constructed by Snorri Sturluson, a renowned scholar during the Viking era. This historical site provides a glimpse into Iceland's rich cultural heritage and is a must-see destination for history buffs.
After that, we will continue our journey to the stunning Hraunfossar/Lava Waterfalls. These cascading waterfalls emerge from underground lava tubes beneath the Hallmundarhraun lava field, creating a mesmerizing sight. Adjacent to Hraunfossar is Barnafoss, a waterfall that originates from a regular river and adds to the scenic beauty of the area.
After our visit to the waterfalls, we'll head to the Deildartunguhver geothermal area where we'll have the option to enjoy lunch (not included in the price) and soak in the luxurious Krauma Spa. Krauma's facilities were completely renovated in November 2017, boasting a modern and fresh design. Here, you can indulge in a relaxing two-hour experience, bathing in the natural hot springs and taking in the stunning views.
Immerse yourself in the heart of nature by indulging in a relaxing bath at Krauma's geothermal baths. Krauma's hot water comes directly from Deildartunguhver, the most powerful hot spring in Europe, with a temperature of 100°C (212°F). To ensure a comfortable bathing temperature, we mix this hot water with cold water from Rauðsgil, sourced from Ok, Iceland's smallest glacier.
Krauma provides an array of rejuvenating experiences, including five natural geothermal baths, a cold tub to stimulate blood circulation, two tranquil saunas, and a serene relaxation room complete with a cozy fireplace and soothing music to help you unwind.
After relaxing at the hot springs, we return to Reykjavik.
Local English speaking guide
Transport by Mercedes Sprinter climate controlled bus
Small group – max 16 people per group.
Free Wi-Fi and USB power on board
All entry and admission fees to attractions
Rain ponchos and crampons – depending on necessity. 
Dress according to weather.
Good hiking shoes.
Sunglasses
Swimsuit and towel for Krauma Nature Baths
Water bottle
Pickup and drop off service is in the capital area of Reykjavik. Some accommodation is in a bus free zone that requires guests to wait at a certain bus stop. Map of Bus Stops.
Pick up starts at 9am. 
Meals are not included on the tour, but stops will be made at a local restaurant or grocery shop where meals and snacks can be purchased.  
You can also bring a packed lunch.
Baby seats or booster seats provided for free. Please contact us prior to your trip regarding this. 
There is free WiFi and USB power in the bus, so you can share your images with friends and family instantly.
It is possible to rent swimsuit, bath towel and bath robe. Add it to your booking in the booking process.

Swimsuit – ISK 1,000
Bath towel – ISK 1,000
Bathrobe – ISK 1,500