Embark on an unforgettable journey around the Ring Road of Iceland in the company of a local guide and a small group of travelers. Experience the beauty and wonder of Iceland's most amazing destinations!
Golden Circle
North Iceland
Dalvík
Siglufjörður
Whale Watching
Sea Angling
East Iceland
Djúpivogur village
Eggin í Gleðivík
West Iceland
Grábrók Crater
Borgarfjörður
Hike up to Grábrók Crater
Reykholt
Experience the adventure of a lifetime with our 6 Days Around Iceland tour, taking you on the famous and breathtakingly beautiful Ring Road. This tour is the perfect way to maximize your Icelandic experience, offering a 'Iceland in a Nutshell' adventure in just six days.
Our team of travel experts have handpicked a selection of their favorite sights and activities for you to enjoy along the way. From the famous Golden Circle to black volcanic beaches, the Jökulsárlón glacier lagoon, and the most beautiful waterfalls in the world, this tour has it all. You will visit charming fishing villages, historical sights, rugged lava fields, and stunning glaciers.
In every season, we make the most of the different opportunities and activities available. Winter time offers the chance to chase the Northern Lights, while late summer brings the unique experience of sheep round-ups done in the old Icelandic way. During high summer, we bask under the famous midnight sun beams. Other adventures include whale watching, hiking on Europe's largest glacier, and stops at extraordinary sightseeing spots. All hikes and activities on this tour are rated as easy, with a slow pace determined by the participants.
For those looking to relax, we will make a stop at the beautiful Vök Baths, which can be booked as an optional extra. To help you prepare for Icelandic conditions, we have put together a packing list, provided weather information, and detailed the facilities and meal possibilities at different stops.
Please note that due to the changeable Icelandic weather, specific clothing requirements are necessary. But don't worry, we've got you covered with everything you need to know to make the most of your Icelandic adventure. 
Pick up and drop off in Reykjavik.
5 nights accommodation in comfortable country hotels with private bathroom.
Breakfast each morning at your hotel. 
6 Days Guided sightseeing to all the best locations around the Ring Road of Iceland.
English speaking professional guide.
Glacier Hike on Vatnajokull (summer)
Crystal Ice Cave tour (winter)
Certified glacier guide
Glacier equipment; helmet, harness, crampons and ice axe.
All safety equipment
Whale Watching
Small groups
Wi-Fi and Icelandic music on board the minibus
Dress according to weather
Waterproof outdoor clothing
Warm clothes
Warm socks
Gloves & Headwear
Hiking boots (available for rent when booking)
Swimsuit and towel
Camera (optional)
The luggage limit for this tour is one small backpack and one piece of luggage weighing a maximum of 20kg (44lbs). If you have any extra luggage, you can book storage for the surplus luggage before you arrive. There is a small fee for using this facility. You can add it to your booking in the booking engine.
You are guaranteed an accommodation at a nice country hotel and/or a guesthouse. The hotels we have partnered up with are all of the same standard and offer nice rooms with made-up beds. The rooms come with private bathrooms.
The standard room is a twin room but it's possible to request a double room or a triple room, with no extra charge.
If you are traveling solo, you will have to add the single room fee if you wish to have a single room. Remember to do that when booking the tour. 
You are not required to pay a single supplement. If you are a single traveler and do not wish to book a single room, you'll be roomed with another traveler of the same gender.
We always recommend booking a multi-day tour starting at least one day after arriving in Iceland. If you're flying in from the US or will be landing early (4-6:30 am) you should be able to join the tour, but some risks would follow (i.e if the flight gets delayed) and could, therefore, miss out on the tour.
This tour includes a pick up from Reykjavik. You can see the designated pick up locations in the drop down menu when booking.
Pick-up is at 08:00 am from your hotel or a nearby meeting point in Reykjavík. Picking everyone up can take up to 30 minutes, your patience is much appreciated.
You will have plenty of chances for bathroom breaks and to buy snacks on the way.
Pick up is from designated locations in Reykjavík on a drop-down menu at the time of booking. Pick up is not available from Keflavik airport or outside of the greater capital area.
The Ice cave that will be visited on this tour is 100% natural and always changing. Since the ice caves are ever changing we will visit new ice caves each year in different areas of the glacier. The photos that you see on our website are from recent tours, but note that the ice caves might have changed due to the dynamic nature of these formations. 
Lunch & dinner is not included in the tour. Your guide will find a good place for the group to eat lunch. We always choose places that have a wide selection of dishes on the menu, so there will be options available for everyone.
The dinner is usually at the hotels we stay at for the night.
It is recommended to bring some snacks and drinks for the day time adventures. Some light chips and soda should do the trick.
This tour is perfect for groups, single travelers and families. 
You will be traveling on a minibus on this tour. The minibus includes free Wi-Fi. We will introduce you to Icelandic music aboard the minibus. 
We recommend you wear proper warm clothing, gloves, hat, scarves, and hiking shoes.
If you don't have hiking shoes, you can rent them at the time of booking. 
In the rare case that we need to cancel the tour because of extreme weather, road conditions or other factors, we will assist you with rebooking to another date. If that does not work out for you, you will receive a full refund for the tour. 
The minimum age bar to join the tour is 8 years for the hiking and ice caving part. If children below 8 years are on the trip then one adult will have to stay with them while the group completes these activities.
We drive on average around 300 km (186 miles) per day on our multi-day tours. You will be spending approximately 4-5 hours in the car each day. We do of course stop on multiple locations throughout the tour for sightseeing, activities, bathroom breaks and lunch stops.
Your tour will end in Reykjavik on the 6th day around 5-6 pm. 
Day 1 - Day in Reykjavik – Northern Lights Boat Tour
Golden Circle
Þingvellir National Park
Geysir geothermal area
Gullfoss waterfall
Strokkur geyser
Seljalandsfoss waterfall
Skógafoss waterfall
Guided Minibus Tour
The Golden Circle (Geysir, Gullfoss and Þingvellir)
Visit the most beautiful waterfalls of the South Coast
English speaking tour guide
One night in a hotel close to Vík
On the first day of the 6 Day Around Iceland Adventure, the pick-up service will begin promptly at 8:00 am in Reykjavík. The focus of the day is on sightseeing and experiencing the incredible power and beauty of Icelandic nature. We will start by visiting the Golden Circle attractions, which include the historic Þingvellir National Park, where one of the world's first democratic parliaments was held. This geological wonder is where two tectonic plates have drifted apart, forming a rift valley that is a breathtaking sight to behold. You will also witness the stunning Gullfoss waterfall, where the glacial water from Langjökull glacier cascades through the falls, and the erupting geyser at Geysir, which frequently erupts every few minutes.
Our journey takes us to Þingvellir National Park, a UNESCO World Heritage Site with a rich history and geological significance. In 930 CE, Icelanders established their historic Parliament, Alþingið, which is recognized as one of the first democratic governments in the world. The Law Speaker's dramatic "platform" stood at the edge of the mighty rift valley, where the Eurasian and North American tectonic plates meet and continue to drift apart, creating a stunning rift valley. As we move on to our next destination, we will explore the fascinating Geysir hot spring area.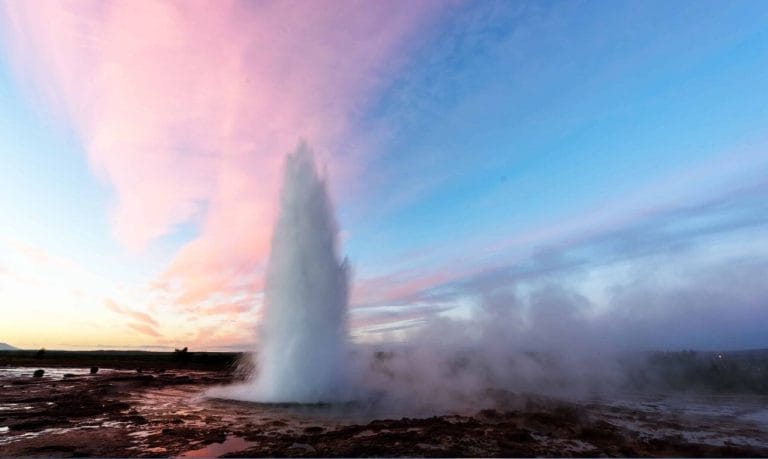 Geysir, the namesake of the natural phenomenon, is a fascinating hot spring area that boasts the impressive Strokkur geyser. You'll witness its impressive eruptions of hot water and steam every few minutes, alongside the bubbling fumaroles. Next, we'll head to the majestic Gullfoss waterfall, the final stop on the Golden Circle. Here, the Hvítá River pours down from the stunning Langjökull glacier, creating a mesmerizing golden mist that rises from the rugged canyon. Gullfoss cascades down 32 meters in two breathtaking stages, providing a truly unforgettable sight.
Gullfoss is a stunningly beautiful and powerful waterfall located in southwestern Iceland, on the Hvítá river. It is one of the most popular tourist attractions in Iceland, known for its dreamy golden-hued mist rising from the spray as the water plunges down into a rugged canyon. Gullfoss drops 32 meters in two stages and is a highlight of the Golden Circle tour.
Seljalandsfoss waterfall is one of the most popular waterfalls in Iceland, located along the south coast of the country. It is famous for its picturesque beauty and the unique experience of being able to walk behind the waterfall. The waterfall drops approximately 60 meters and is fed by the melting waters from the famous Eyjafjallajökull glacier. During the summer months, the surrounding cliffs and fields are covered in lush green vegetation, adding to the scenic beauty of the waterfall. Seljalandsfoss is a must-visit destination for anyone exploring the natural wonders of Iceland.
Skógafoss is a magnificent waterfall located near the town of Skógar. With a height of 60 meters (197 feet) and a width of 25 meters (82 feet), it is one of the largest waterfalls in Iceland. The waterfall is fed by the Skógá River, which has its source in the glaciers of Eyjafjallajökull and Mýrdalsjökull.
Skógafoss is not only impressive for its size but also for its beauty. The waterfall creates a mystical and magical atmosphere with its mist and rainbow, especially when the sun shines. It is also possible to climb a staircase of 527 steps to the top of the waterfall, where you can enjoy stunning views of the surrounding landscape.
According to legend, the first settler in the area buried a treasure chest behind the waterfall, which has never been found. The Skógafoss waterfall is undoubtedly one of the must-visit attractions in Iceland, and its breathtaking beauty attracts thousands of visitors each year.
Our next stop will be a cozy country hotel near Kirkjubæjarklaustur, where you will spend the night. If you're visiting between September and April and the forecast is in your favor, your guide will be happy to assist you in searching for the elusive Northern Lights.
Day 2 – The South Coast & Glacier Hike
Reynisfjara black sand beach
Eldhraun lava fields
Vatnajökull National Park
Glacier Hike / Ice Cave
Jökulsárlón Glacier Lagoon
Diamond Beach
Höfn village
Guided Glacier Hiking Tour (May – September)
The Crystal Ice Cave (October – April)
Certified glacier guide
All glacier equipment
Guided Minibus Tour
English speaking tour guide
Hotel Breakfast
One night in a 3 star hotel with private bathroom
Explore the Highlights of the South Coast
The next day will start with you and your group heading towards the southern coast of the country. 
Reynisfjara black sand beach
Reynisfjara black sand beach is a stunning natural wonder located on the south coast of Iceland. The beach is known for its striking black sand, towering basalt columns, and dramatic waves crashing against the shore. Visitors can also admire the Reynisdrangar rock formations, which rise up from the ocean just off the coast. Reynisfjara is not only a beautiful sight to behold but also steeped in folklore and mythology, making it a must-visit destination for anyone traveling to Iceland.
Vatnajökull National Park - Glacier Hike on Vatnajokull
As we journey, we'll catch sight of Mýrdalsjökull glacier, home to the unpredictable Katla, one of the most renowned and dreaded volcanoes, lurking beneath its icy surface. On clear days, you may even catch a glimpse of this fiery giant! Continuing on, we'll witness the aftermath of past volcanic eruptions while crossing the Eldhraun lava field en route to Skaftafell in Vatnajökull National Park. Skaftafell is a haven of green birch forests and thriving vegetation, a vibrant gem amid the rugged black sand wasteland.
Led by our expert glacier guide, we'll embark on a three-hour glacier hike across a Vatnajökull glacier – Europe's largest glacier. Alternatively, from October to April, we'll take a fascinating tour of the Crystal Ice Cave in place of the glacier hike.
Jökulsárlón glacier lagoon
Jökulsárlón glacier lagoon is a breathtaking natural wonder located in southeast Iceland. The lagoon is formed by melting ice from the Breiðamerkurjökull glacier, which flows into a lake and then out to the Atlantic Ocean. Visitors can witness the awe-inspiring sight of icebergs of various shapes and sizes floating in the lagoon, as well as spot seals and various seabirds. It is a popular filming location, having been featured in movies like James Bond's "Die Another Day" and "Batman Begins".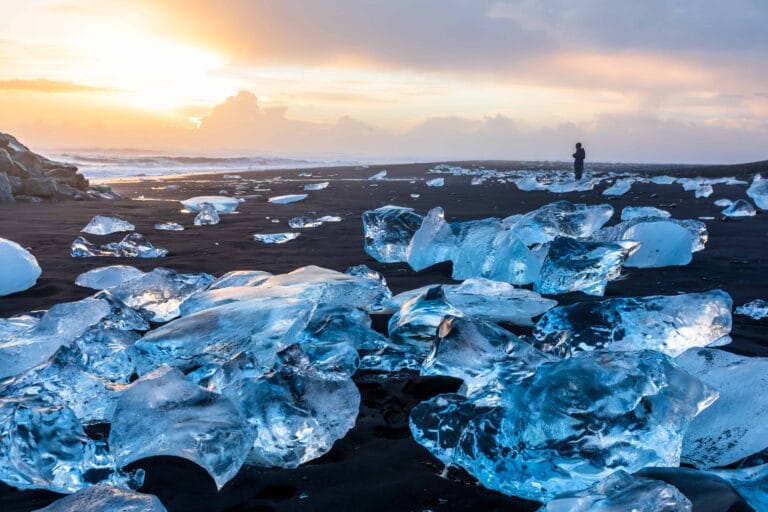 The Diamond Beach is a stunning black sand beach located next to the Jökulsárlón Glacier Lagoon in Iceland. It is famous for its glistening ice chunks of various sizes and shapes that have broken off from the nearby glacier and washed up on the shore. The combination of the black sand and crystal clear ice creates a beautiful and surreal landscape, which has earned the beach its name due to the ice resembling diamonds. The Diamond Beach is a popular destination for tourists and photographers, offering a unique and unforgettable experience of Iceland's natural beauty.
Höfn is a small coastal town in southeastern Iceland, located near Vatnajökull, the largest glacier in Europe. It is known for its picturesque location surrounded by mountains and glaciers, as well as its seafood, particularly langoustine. Höfn is also a popular destination for outdoor activities such as hiking, glacier tours, and Northern Lights viewing. The town has a population of around 2,000 people and offers various accommodations, restaurants, and shops for visitors.
We will spend the night at a guesthouse in the Höfn area, which is renowned as the lobster capital of Iceland. If the conditions are favorable, you can join your guide in searching for the Northern Lights from September to April.
East Fjords of Iceland
Hvalnes Peninsula
Djúpivogur Fishing Village
Eggin í Gleðivík
Egilsstaðir
Vök Nature Baths
Guided Minibus Tour
English speaking tour guide
Hotel Breakfast
Explore the Highlights of East Iceland
One night hotel in Egilsstaðir
Today, we will embark on an adventure to explore the mesmerizing East Fjords of Iceland. We will traverse through the narrow roads around the magnificent and secluded Hvalnes peninsula and the Þvottárskriður landslides area, located between Lóns and Álftafjarðar, as we continue our journey along the picturesque coastline.
Djúpivogur is a small fishing village located on the eastern coast of Iceland, known for its picturesque harbor and unique sculptures called Eggin í Gleðivík (The Eggs of Merry Bay). The sculptures, created by Icelandic artist Sigurður Guðmundsson, are replicas of 34 different bird species found in the area and are displayed along the harbor. The village also offers opportunities for outdoor activities, such as hiking and bird watching, as well as a variety of seafood restaurants.
At the end of the day, we will relax in the geothermal Vök Baths while enjoying the stunning views of Lake Urriðavatn. These baths are renowned for their contemporary architecture and the sole floating infinity pools in Iceland. You may indulge in the hot baths at an additional cost, which can be reserved as an extra during the booking process.
After the Vök Baths, we will continue our journey by car to Egilsstaðir, the largest town in East Iceland, where we will spend the night at a comfortable hotel.
Day 4 - Stuðlagil & North Iceland
Stuðlagil Canyon
Dettifoss waterfall – most powerful waterfall in Europe
Lake Myvatn
Hverfjall Crater & Mountain
Námaskarð geothermal area
Dimmuborgir lava fields
Goðafoss waterfall
Akureyri – capital of North Iceland
Guided Minibus Tour
English speaking tour guide
Hotel Breakfast
Explore the Highlights of East Iceland
One night hotel in Akureyri
Today, we will journey towards the north of Iceland, starting from Egilsstaðir. We will drive through the wilderness surrounding Möðrudalur, the highest farm in Iceland that has been inhabited for generations and now features a restaurant. At 469 m above sea level, it offers spectacular views of the surrounding area. 
Our first destination is the mesmerizing Stuðlagil Canyon, known for its fascinating basalt rock formations. The striking blue color of the river Jökla, flowing through the canyon, contrasts beautifully with the dark basalt columns, making it a popular spot for photographers and nature lovers. The canyon was hidden under water until recently when a dam upstream lowered the water level, exposing its stunning beauty to the world.
Dettifoss waterfall is located on the Jökulsá á Fjöllum river. It is considered the most powerful waterfall in Europe in terms of water volume, with an average flow rate of 193 m³/s. The waterfall is about 100 meters wide and drops 44 meters down into a canyon. Its impressive power and size make it a popular tourist attraction and a must-see destination for nature lovers visiting Iceland.
Lake Myvatn is a volcanic lake located in northern Iceland, known for its unique and otherworldly landscape. The area around the lake features geothermal hot springs, bubbling mud pools, and strange lava formations that were created during volcanic eruptions. The lake itself is also home to a variety of bird species and is a popular destination for birdwatching. Visitors can enjoy activities such as hiking, exploring lava fields, soaking in hot springs, and admiring the surreal scenery.
Námaskarð geothermal area
Námaskarð geothermal area, located in the north of Iceland, is a highly active geothermal area that is often referred to as "Hverir". It is known for its impressive boiling mud pools, steaming vents, and colorful hot springs. The area is surrounded by barren and alien-looking landscape, which adds to its unique character. Visitors can take a walk on the boardwalks that wind through the geothermal area and experience the fascinating natural phenomena up close. However, it's important to note that due to the high temperatures and sulfuric gas emissions, visitors are advised to keep to the designated paths and be mindful of their safety.
Hverfjall Crater is a large volcanic crater located in northeast Iceland, near Lake Mývatn. It was formed during a volcanic eruption around 2,500 years ago and is approximately 140 meters deep and 1,000 meters wide. The crater's unique horseshoe shape and rugged terrain make it a popular hiking destination for tourists. Hverfjall Crater is an impressive example of Iceland's volcanic geology and is worth a visit for anyone interested in natural wonders.
Dimmuborgir, also known as the "Dark Fortress," is a unique lava field located in northern Iceland near Lake Mývatn. It is famous for its unusual rock formations, which resemble a dark castle or fortress, hence the name. The area was formed during a volcanic eruption over 2,000 years ago and is now a popular tourist attraction, offering hiking trails and stunning views of the surrounding landscape. According to Icelandic folklore, Dimmuborgir is also believed to be home to trolls and other mystical creatures.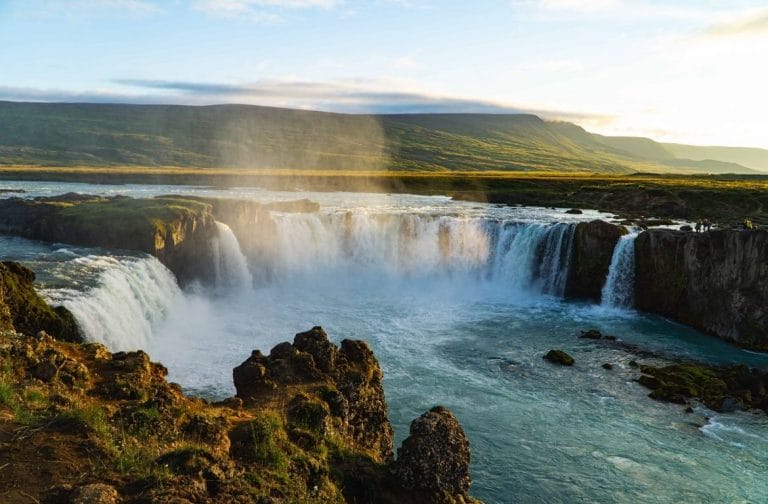 Goðafoss, meaning "Waterfall of the Gods," is a beautiful and majestic waterfall located in northern Iceland. The falls cascade over a wide horseshoe-shaped rock formation, dropping around 12 meters into the river below. According to Icelandic folklore, the waterfall was named when the local chieftain threw pagan idols into the falls upon converting to Christianity in the year 1000. Today, Goðafoss is a popular destination for visitors to Iceland, offering stunning views and photo opportunities.
Akureyri is the second largest city in Iceland, located in the northern part of the country. It's known for its picturesque location, surrounded by mountains and situated at the head of Iceland's longest fjord. The city offers a range of cultural activities and attractions, including museums, galleries, and theaters, as well as plenty of outdoor activities such as hiking, skiing, and whale watching. It's also home to several universities and has a vibrant student population.
We will spend the night at a countryside hotel in Akureyri, and you will have the opportunity to explore this charming fishing town in the north. If the forecast is favorable, your guide will help you find Northern Lights viewing spots near the hotel between November and March.
Icelandair Hotel Akureyri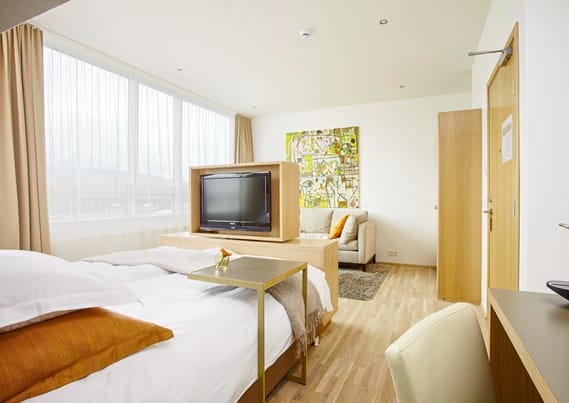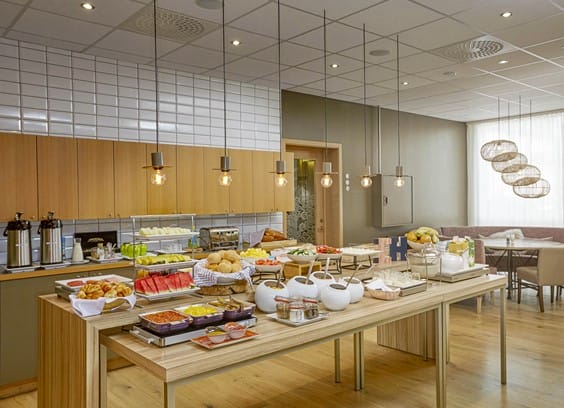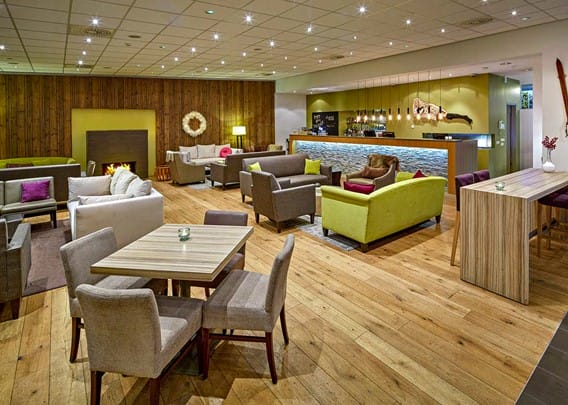 Akureyri
Eyjafjörður Fjord
Whale Watching from Dalvík
Sea Angling
Siglufjörður Fishing Village
Laugarbakki