Golden Circle
Strokkur geyser
East Iceland
Djúpivogur village
Eggin í Gleðivík
Lake Lagarfljót
Hallormsstaðaskógur forest
Vök Nature Baths
West Iceland
Grábrók Crater
Borgarfjörður
Hike up to Grábrók Crater
Reykholt
Snæfellsnes Peninsula

Arnarstapi
Hellnar
Snæfellsnes National Park
Snæfellsjökull Glacier
Lóndrangar
Djúpalónssandur
Kirkjufell
North Iceland
Dalvík
Siglufjörður
Whale Watching
Sea Angling
Glacier Hiking on Vatnajokull
Crystal Ice Cave (winter)
Whale Watching in North Iceland
Guided Hiking tour
Northern Lights (winter)

Midnight sun (summer)
Luggage Storage – ISK 4,500
Hiking Boots – ISK 4,500
Waterproof Jacket – ISK 4,500
Waterproof Pants – ISK 4,500
Embark on a once-in-a-lifetime adventure and discover the stunning landscapes of Iceland with our 7-day Ring Road and Snæfellsnes Peninsula tour. Experience the thrill of glacier hiking and embark on a thrilling whale watching excursion, all while exploring the very best that Iceland has to offer.
This tour offers the perfect blend of adventure, relaxation and sightseeing, with a carefully crafted itinerary that includes all the highlights of Iceland. Explore the rugged beauty of the Snæfellsnes Peninsula, drive the famous Ring Road and marvel at the breathtaking natural wonders that dot the landscape.
Our expert guides will ensure that you get the most out of your trip, sharing their local knowledge and providing fascinating insights into Icelandic culture and history. This tour promises to be an unforgettable experience, allowing you to immerse yourself in the wild beauty of Iceland and create memories that will last a lifetime. So what are you waiting for? Join us on this amazing journey and discover the true magic of Iceland.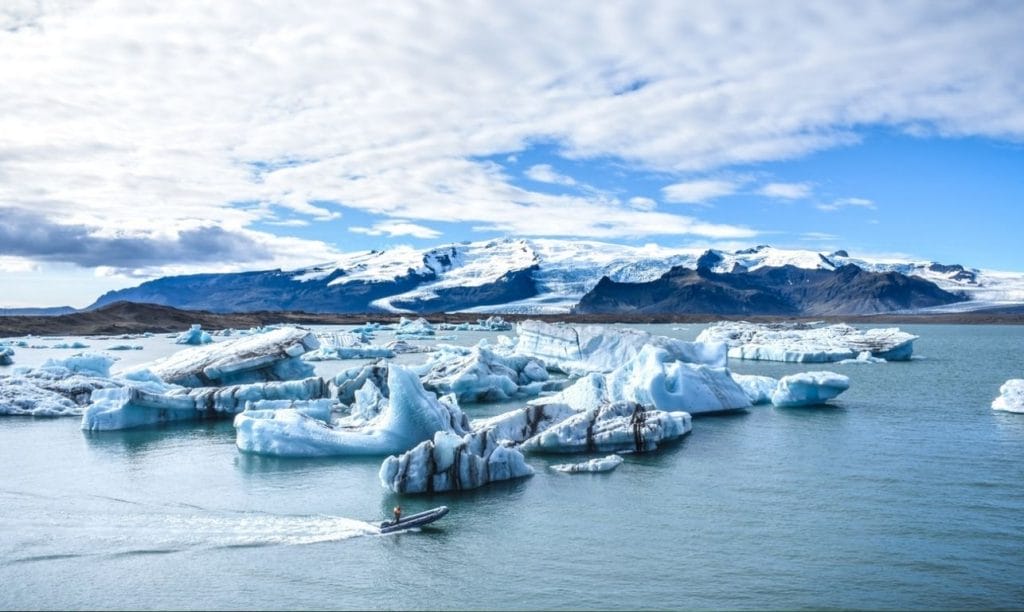 Pick up and drop off in Reykjavik.
6 nights accommodation in comfortable country hotels with private bathroom.
Breakfast each morning at your hotel. 
7 Days Guided sightseeing to all the best locations around the Ring Road of Iceland and Snæfellsnes Peninsula. 
English speaking professional guide.
Glacier Hike on Vatnajokull Glacier
Crystal Ice Cave tour (October – April)
Certified glacier guide
Glacier equipment; helmet, harness, crampons and ice axe.
All safety equipment
Whale Watching in North Iceland
Small groups – max 18
Wi-Fi and Icelandic music on board the minibus
Dress according to weather
Waterproof outdoor clothing
Warm clothes
Warm socks
Gloves & Headwear
Hiking boots (available for rent when booking)
Swimsuit and towel
Camera (optional)
The luggage limit for this tour is one small backpack and one piece of luggage weighing a maximum of 20kg (44lbs). If you have any extra luggage, you can book storage for the surplus luggage before you arrive. There is a small fee for using this facility. You can add it to your booking in the booking engine.
You are guaranteed an accommodation at a nice country hotel and/or a guesthouse. The hotels we have partnered up with are all of the same standard and offer nice rooms with made-up beds. The rooms come with private bathrooms.
The standard room is a twin room but it's possible to request a double room or a triple room, with no extra charge.
If you are traveling solo, you might want to to add the single room fee if you wish to have a single room. Remember to do that when booking the tour. 
You are not required to pay a single supplement. If you are a single traveler and do not wish to book a single room, you'll be roomed with another traveler of the same gender.
We always recommend booking a multi-day tour starting at least one day after arriving in Iceland. If you're flying in from the US or will be landing early (4-6:30 am) you should be able to join the tour, but some risks would follow (i.e if the flight gets delayed) and could, therefore, miss out on the tour.
This tour includes a pick up from Reykjavik. You can see the designated pick up locations in the drop down menu when booking.
Pick-up is at 08:00 am from your hotel or a nearby meeting point in Reykjavík. Picking everyone up can take up to 30 minutes, your patience is much appreciated.
You will have plenty of chances for bathroom breaks and to buy snacks on the way.
Pick up is from designated locations in Reykjavík on a drop-down menu at the time of booking. Pick up is not available from Keflavik airport or outside of the greater capital area.
The Ice cave that will be visited on this tour is 100% natural and always changing. Since the ice caves are ever changing we will visit new ice caves each year in different areas of the glacier. The photos that you see on our website are from recent tours, but note that the ice caves might have changed due to the dynamic nature of these formations. 
Sometimes we may need to change glaciers or glacier outlets on this tour for various reasons, including weather conditions. Glacier outlets used on this tour include Svínafellsjökull, Falljökull, and Sólheimajökull, all amazing and unique glaciers, equally as beautiful. From November to March, we replace the glacier hike with a tour through the Vatnajokull ice caves.
Lunch & dinner is not included in the tour. Your guide will find a good place for the group to eat lunch. We always choose places that have a wide selection of dishes on the menu, so there will be options available for everyone.
The dinner is usually at the hotels we stay at for the night.
It is recommended to bring some snacks and drinks for the day time adventures. Some light chips and soda should do the trick.
This tour is perfect for groups, single travelers and families. 
You will be traveling on a minibus on this tour. The minibus includes free Wi-Fi. We will introduce you to Icelandic music aboard the minibus. 
We recommend you wear proper warm clothing, gloves, hat, scarves, and hiking shoes.
If you don't have hiking shoes, you can rent them at the time of booking. 
In the rare case that we need to cancel the tour because of extreme weather, road conditions or other factors, we will assist you with rebooking to another date. If that does not work out for you, you will receive a full refund for the tour. 
The minimum age to join the tour is 8 years.
We drive on average around 300 km (186 miles) per day on our multi-day tours. You will be spending approximately 4-5 hours in the car each day. We do of course stop on multiple locations throughout the tour for sightseeing, activities, bathroom breaks and lunch stops.
Your tour will end in Reykjavik on the 6th day around 8 pm. 
The 7-day Ring Road tour promises to be an unforgettable adventure, allowing you to discover the very best that Iceland has to offer. On the first day, we'll take you to the breathtaking Gullfoss waterfall, which is part of the famous Golden Circle. The waterfall cascades down in two stages, spanning an impressive 32 meters and is located in the canyon of the Hvítá river. We will then explore the rest of the Golden Circle before we head on to the Ring Road of Iceland, and later on Snaefellsnes Peninsula. 
As the tour progresses, you'll stay at different country hotels or guesthouses each night, allowing you to make the most of your time in Iceland. If you're traveling between September and April, you'll even have the chance to hunt for the elusive Northern Lights, with exclusive advice from your guide on the best places to spot them.
We promise that this tour will provide a truly unforgettable experience, allowing you to immerse yourself in the beauty of Iceland and create memories that will last a lifetime. Book your spot on the 7-day Ring Road tour today and get ready for the adventure of a lifetime!
Day 1 - Golden Circle & South Coast
Golden Circle
Þingvellir National Park
Geysir geothermal area
Gullfoss waterfall
Strokkur geyser
Seljalandsfoss waterfall
Skógafoss waterfall
Reynisfjara Black Sand Beach
Reynisdrangar
Vík Village
Kirkjubæjarklaustur
Northern Lights (September – April)
Guided Minibus Tour
The Golden Circle (Geysir, Gullfoss and Þingvellir)
Visit the most beautiful waterfalls of the South Coast
English speaking tour guide
One night in a hotel close to Vík
The first day of our 7-day Ring Road tour begins with a pick-up from your accommodation or a nearby pick-up point in Reykjavík. We'll kick off the day with a visit to the famous Golden Circle's three main attractions. We'll start at Þingvellir National Park, an essential location for every Icelander. Established in 930 CE/AD, it's the world's oldest continually operating parliament. UNESCO recognizes it as a World Heritage Site for its geological, cultural, and historical significance. You'll also see Þingvallavatn, home to the Silfra fissure, which runs down between the Eurasian and North American tectonic plates. The cliff of the rift valley runs through the National Park.
After exploring Þingvellir, we'll head to the geothermally active hot spring area at Geysir. Although Great Geysir is inactive, Strokkur, a nearby hot spring, erupts with impressive torrents of superheated water every 5 to 10 minutes. We'll complete the Golden Circle with a visit to Gullfoss waterfall, where you'll feel the power of the falls as they drop 32 meters in two stages through the high, rugged canyon.
Next, we'll drive along the picturesque South Coast, stopping at Seljalandsfoss Waterfall, where you'll have the unique opportunity to walk the pathway behind the falling cascade. We'll continue onwards to the scenic Skógafoss waterfall, where the water cascades over former sea cliffs, creating a beautiful backdrop for rainbows. Our final stop of the day is Reynisfjara black sand beach, home to the legendary Reynisdrangar peaks and an incredible basalt column cave.
After a full day of sightseeing, we'll check into a charming country hotel in the Kirkjubaerklaustur area on the South Coast. From September to April, our guide will provide special tips to help you find the Northern Lights in the area.
Day 2 – The South Coast & Glacier Hike
Eldhraun lava fields

Skaftafell Nature Reserve
Vatnajökull National Park
Glacier Hike on Vatnajokull
Jökulsárlón Glacier Lagoon
Diamond Beach
Höfn village
Guided Glacier Hiking Tour
Certified glacier guide
All glacier equipment
Guided Minibus Tour
English speaking tour guide
Hotel Breakfast
One night in a 3 star hotel with private bathroom
Explore the Highlights of the South Coast
After breakfast and checking out from our hotel, we'll continue our journey along the south coast towards Skaftafell and Vatnajökull National Park, a protected wilderness area spanning 13,600 km2, home to Vatnajökull glacier, Hvannadalsnúkur – Iceland's highest peak, Skaftafell, and Jökulsárlón Glacier Lagoon, among other natural wonders. This tour offers the opportunity to visit all three of Iceland's national parks: Þingvellir, Vatnajökull, and Snæfellsjökull.
During our stop at Skaftafell, we'll embark on a glacier hike led by a certified guide, equipped with crampons and all the necessary gear to explore one of Vatnajökull's outlet glaciers. These unique glacier tongues offer stunning views, with crevasses and moulins that lead down to the glacier's base. Our guides are happy to answer any questions you may have during the hike.
From October to April, the glacier hike is replaced with an ice cave excursion, where you can explore the glacier's heart and see Iceland's magnificent ice caps from the inside.
After the exhilarating glacier experience, our minibus will take us to Jökulsárlón Glacier Lagoon, where we'll witness icebergs floating mystically in the water. These impressive chunks of ice break free from the retreating Breiðamerkurjökull glacier, with seals occasionally seen playing in the lake between the ice sculptures. Scenes from James Bond movies and other films have been filmed here, and the glittering blue icebergs eventually make their way to Diamond Beach, a black sand beach where they rest like sparkling diamonds on the shore.
We'll spend the night in comfortable accommodation in Höfn, a charming seaside town known as the lobster capital of Iceland. In winter, we'll search for the Northern Lights near our hotel.
East Fjords of Iceland
Stokksnes
Hvalnes Peninsula
Djúpivogur Fishing Village
Eggin í Gleðivík
Egilsstaðir
Lake Lagarfljót
Hallormsstadaskogur Forest
Vök Nature Baths (optional extra)
Guided Minibus Tour
English speaking tour guide
Hotel Breakfast
Explore the Highlights of East Iceland
One night hotel in Egilsstaðir
On day three of our seven-day trip around Iceland, we bid farewell to the stunning Vatnajökull National Park area, but the breathtaking scenery persists. Winding through the East Fjords, we drive on roads bordered by the coast on one side and magnificent mountain peaks on the other until we reach Egilsstaðir. This charming town sits on the banks of the Lagarfljót River and is famous for the legend of Largarfljótasormurinn or the Largarfljót worm, a giant worm said to reside in the lake and reveal itself occasionally, an enduring element of Icelandic folklore.
Along the way, we make a stop at Djúpivogur, a small, remote fishing village that boasts a rich birdlife thriving on its black sandy beach. During the summer months, the majority of Icelandic birds make this area their home and breeding ground, leading the locals to joke that there are more birds than people in the town. Despite its size, Djúpivogur's approximately 1100 inhabitants are renowned for their warm hospitality and staunch dedication to eco-issues.
The day concludes with a visit to the Vök Baths, situated on the shores of Lake Urriðavatn, where we can relax and soak in the geothermal waters while taking in the magnificent views. The Vök Baths are known for their modern design and the distinction of being Iceland's only floating infinity pools. The cost of enjoying a hot bath at the Vök Baths is optional and is not included in the trip's booking fees. If interested, please book the experience as an additional service.
Our accommodation for the night is in the picturesque Egilsstaðir area, where winter visitors can scout for the Northern Lights.
Djúpivogur is a small fishing village located on the eastern coast of Iceland, known for its picturesque harbor and unique sculptures called Eggin í Gleðivík (The Eggs of Merry Bay). The sculptures, created by Icelandic artist Sigurður Guðmundsson, are replicas of 34 different bird species found in the area and are displayed along the harbor. The village also offers opportunities for outdoor activities, such as hiking and bird watching, as well as a variety of seafood restaurants.
Day 4 - Lake Myvatn & North Iceland
Rjúkandi waterfall
Stuðlagil canyon
Dettifoss waterfall – most powerful waterfall in Europe
Lake Myvatn
Hverfjall Crater & Mountain
Námaskarð geothermal area
Dimmuborgir lava fields
Goðafoss waterfall
Akureyri – capital of North Iceland
Northern Lights (September – April)
Guided Minibus Tour
English speaking tour guide
Hotel Breakfast
Explore the Highlights of East Iceland
One night hotel in Akureyri
Day four of our seven-day trip around Iceland is packed with breathtaking highlights in North Iceland. Our journey from Egilssaðir takes us through remote and untamed landscapes, starting with the awe-inspiring Stuðlagil Canyon, one of the world's most enchanting basalt rock formations. On the way to see the magnificent Dettifoss waterfall, we'll stop at Möðrudalur, which at 469m, is Iceland's highest farm. With a flow rate of 193 m3/s (6,816 cu ft/s), Dettifoss is the most powerful waterfall in Europe, and the thundering Jökulsá á Fjöllum River plunges 44m (144 ft) through a rugged canyon. The rawness and vastness of the nature surrounding Dettifoss, where the great river and glacial floods have carved out imposing ravines, are truly awe-inspiring.
Next, we'll visit Hverfjall, a volcano crater created by an eruption 2500 years ago, and the Dimmuborgir lava formations, also known as the "dark cities." Some of these towering lava formations will remind you of fairytale giants. Dimmuborgir was formed when the roof of a giant lava tube collapsed, and although completely natural, some formations may resemble certain shapes. Can you guess which one is The Church (Kirkjan)?
As we continue our drive around picturesque Lake Mývatn en route to Akureyri, we'll make a stop at the stunningly beautiful Goðafoss Waterfall.
Our accommodation for the night is at a country hotel in Akureyri, Iceland's second-largest city, where clear skies in winter make for excellent Northern Lights viewing opportunities.
Icelandair Hotel Akureyri