Explore both the Must-See attractions and the Hidden Gems of Iceland, ensuring that you get a complete and unforgettable experience of this stunning country. Make the most out of your 8-day Iceland tour with the help of an expert guide and a group of travelers who share your interests. 
Golden Circle
Strokkur geyser


East Iceland
Djúpivogur village
Eggin í Gleðivík
Hengifoss waterfall
Litlanesfoss waterfall
Guided Hiking tour in East Iceland
North Iceland
Dalvík
Siglufjörður
Whale Watching
Sea Angling
West Iceland
Grábrók Crater
Borgarfjörður
Hike up to Grábrók Crater
Reykholt
Snæfellsnes Peninsula

Arnarstapi
Hellnar
Snæfellsnes National Park
Snæfellsjökull Glacier
Lóndrangar
Djúpalónssandur
Kirkjufell
Highlands of Iceland
Landmannalaugar (June – Oct)
Hot Spring Bathing in Landmannalaugar (June – Oct)
Mountain Brennisteinsalda (June – Oct)
Laugahraun lava fields (June – Oct)
Snowmobile on Langjokull Glacier (Nov – May)
Super Jeep Tour (Nov – May)
Glacier Hiking on Vatnajokull
Guided Hike in East Iceland
Whale Watching in North Iceland
Landmannalaugar Jeep Tour (June – October)
Hiking in Landmannalaugar (June – October)
Landmannalaugar hot spring bathing (June – October)
Snowmobiling on Langjökull (November – May)
Luggage Storage – ISK 5,000
Hiking Boots – ISK 5,000
Waterproof Jacket – ISK 5,000
Waterproof Pants – ISK 5,000
Iceland boasts some of the world's most stunning natural landscapes, including glistening glaciers, active volcanoes, powerful waterfalls, and colorful scenery. To truly elevate your Iceland experience, join a guided 8-day tour in a small group, available year-round.
Day 8 of the tour offers unique activities depending on the season. In the summer, embark on a super jeep tour through the remote Icelandic Highlands, while in winter, ride across Langjokull Glacier on a snowmobile!
Explore Thingvellir National Park and discover the fascinating tales of natural wonder waiting to be told. Witness the breathtaking beauty of Skógafoss and hear the legend of the troll that turned into stone upon gazing at it. Uncover the origin behind Goðafoss, known as the "waterfall of the gods." This tour offers a comprehensive understanding of why Iceland captivates visitors worldwide. Take your Iceland journey to the next level and discover the hidden gems that lie beyond!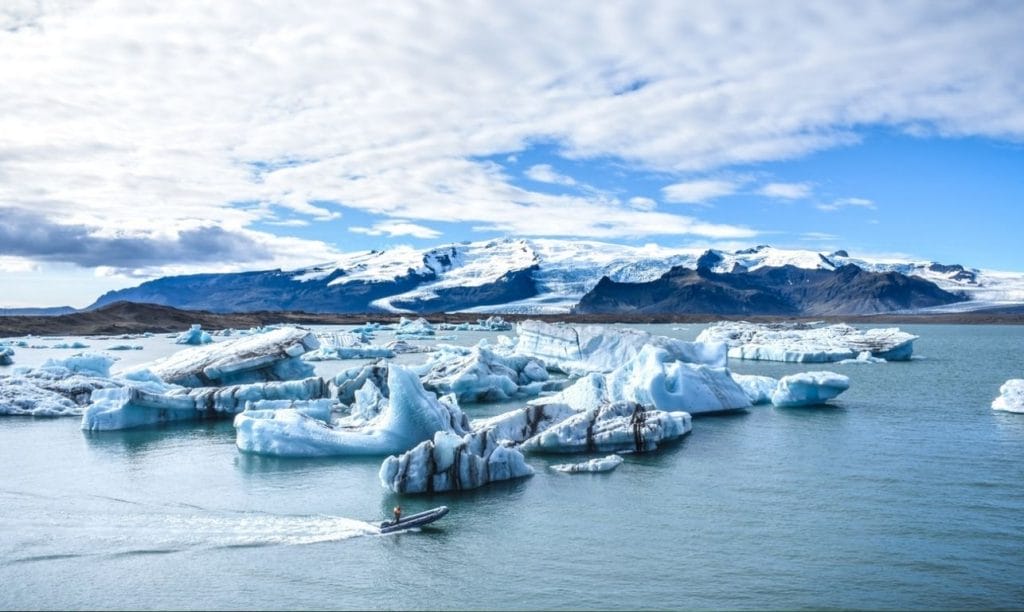 Pick up and drop off in Reykjavik.
7 nights accommodation in comfortable country hotels with private bathroom.
Breakfast each morning at your hotel. 
8 Days Guided sightseeing to all the best locations around the Ring Road of Iceland.
English speaking professional guide.
Glacier Hike on Vatnajokull (summer)
Crystal Ice Cave tour (winter)
Certified glacier guide
Glacier equipment; helmet, harness, crampons and ice axe.
All safety equipment
Whale Watching
Small groups
Wi-Fi and Icelandic music on board the minibus
Landmannalaugar Super Jeep Tour (summer)
Glacier Snowmobile tour (winter)
Dress according to weather
Waterproof outdoor clothing
Warm clothes
Warm socks
Gloves & Headwear
Hiking boots (available for rent when booking)
Swimsuit and towel
Camera (optional)
The luggage limit for this tour is one small backpack and one piece of luggage weighing a maximum of 20kg (44lbs). If you have any extra luggage, you can book storage for the surplus luggage before you arrive. There is a small fee for using this facility. You can add it to your booking in the booking engine.
You are guaranteed an accommodation at a nice country hotel and/or a guesthouse. The hotels we have partnered up with are all of the same standard and offer nice rooms with made-up beds. The rooms come with private bathrooms.
The standard room is a twin room but it's possible to request a double room or a triple room, with no extra charge.
If you are traveling solo, you might want to to add the single room fee if you wish to have a single room. Remember to do that when booking the tour. 
You are not required to pay a single supplement. If you are a single traveler and do not wish to book a single room, you'll be roomed with another traveler of the same gender.
We always recommend booking a multi-day tour starting at least one day after arriving in Iceland. If you're flying in from the US or will be landing early (4-6:30 am) you should be able to join the tour, but some risks would follow (i.e if the flight gets delayed) and could, therefore, miss out on the tour.
This tour includes a pick up from Reykjavik. You can see the designated pick up locations in the drop down menu when booking.
Pick-up is at 08:00 am from your hotel or a nearby meeting point in Reykjavík. Picking everyone up can take up to 30 minutes, your patience is much appreciated.
You will have plenty of chances for bathroom breaks and to buy snacks on the way.
Pick up is from designated locations in Reykjavík on a drop-down menu at the time of booking. Pick up is not available from Keflavik airport or outside of the greater capital area.
The Ice cave that will be visited on this tour is 100% natural and always changing. Since the ice caves are ever changing we will visit new ice caves each year in different areas of the glacier. The photos that you see on our website are from recent tours, but note that the ice caves might have changed due to the dynamic nature of these formations. 
Lunch & dinner is not included in the tour. Your guide will find a good place for the group to eat lunch. We always choose places that have a wide selection of dishes on the menu, so there will be options available for everyone.
The dinner is usually at the hotels we stay at for the night.
It is recommended to bring some snacks and drinks for the day time adventures. Some light chips and soda should do the trick.
This tour is perfect for groups, single travelers and families. 
You will be traveling on a minibus on this tour. The minibus includes free Wi-Fi. We will introduce you to Icelandic music aboard the minibus. 
We recommend you wear proper warm clothing, gloves, hat, scarves, and hiking shoes.
If you don't have hiking shoes, you can rent them at the time of booking. 
In the rare case that we need to cancel the tour because of extreme weather, road conditions or other factors, we will assist you with rebooking to another date. If that does not work out for you, you will receive a full refund for the tour. 
The minimum age to join the tour is 8 years.
We drive on average around 300 km (186 miles) per day on our multi-day tours. You will be spending approximately 4-5 hours in the car each day. We do of course stop on multiple locations throughout the tour for sightseeing, activities, bathroom breaks and lunch stops.
Your tour will end in Reykjavik on the 6th day around 9 pm. 
Experience Iceland to the fullest with this amazing 8-day tour that covers everything you could want to explore on this island of ice and fire. Follow the famous Ring Road with a knowledgeable guide and like-minded travelers in a small group, creating memories that will inspire and fill your heart with love for this remarkable destination.
Please note that day 8 activities vary depending on the season. From June to October, we offer a guided super jeep tour through the stunning Icelandic Highlands. From November to May, embark on a thrilling snowmobiling tour across Langjokull Glacier, Iceland's second-largest glacier.
Day 1 - Golden Circle & South Coast
Golden Circle
Þingvellir National Park
Geysir geothermal area
Gullfoss waterfall
Strokkur geyser
Seljalandsfoss waterfall
Skógafoss waterfall
Reynisfjara Black Sand Beach
Vík Village
Guided Minibus Tour
The Golden Circle (Geysir, Gullfoss and Þingvellir)
Visit the most beautiful waterfalls of the South Coast
English speaking tour guide
One night in a hotel close to Vík
On the first day of your tour, get ready for an exhilarating contrast of experiences as we explore the Golden Circle tour and the first part of the South Coast route. The day starts with a visit to the historical Thingvellir National Park, where you will learn about Viking history and Iceland's geothermal elements. We then head to the hot spring paradise of Haukadalur, home to the active Strokkur and the world-renowned Geysir, after which all geysers are named.
Next, we will witness the majestic Gullfoss, also known as the Golden Waterfall, which provides a spectacular sight with its rich history and numerous viewing angles that you simply must try! The day also includes stops at the famous Seljalandsfoss waterfall, where you can walk behind the falls, and its brother, the powerful Skógafoss waterfall. We will continue our journey along the South Coast, passing glaciers and volcanoes before reaching the captivating Reynisfjara black sand beach, a mystical basalt wonderland that will leave a lasting impression.
We will spend the night at a cozy country hotel near the charming village of Kirkjubæjarklaustur in Iceland's south.
Day 2 – The South Coast & Glacier Hike
Eldhraun lava fields

Skaftafell Nature Reserve
Vatnajökull National Park
Glacier Hike on Vatnajokull
Jökulsárlón Glacier Lagoon
Diamond Beach
Höfn village
Guided Glacier Hiking Tour
Certified glacier guide
All glacier equipment
Guided Minibus Tour
English speaking tour guide
Hotel Breakfast
One night in a 3 star hotel with private bathroom
Explore the Highlights of the South Coast
Once you've had breakfast with the group, it's time to check out of the hotel and hit the road to your next adventure. Today, you'll continue following Ring Road One, heading further east towards Skaftafell and Vatnajökull National Parks. Iceland boasts three national parks: Þingvellir, Vatnajökull, and Snæfellsjökull, all of which you'll see on this tour. Skaftafell and Vatnajökull National Parks offer stunning sights, including Hvannadalshnúkur, Iceland's highest peak, the alluring Svínafellsjökull and Falljökull outlet glaciers, and the extraordinary Jökulsárlón Glacier Lagoon.
Today's adventure includes a hike on one of Vatnajökull's two outlets, Europe's largest glacier, led by a certified glacier guide who will be with you every step of the way. Equipped with all necessary glacier equipment, you'll explore the amazing glacier tongues, with crevasses, moulins, and breathtaking views. Our guides love to share their knowledge, so don't hesitate to ask questions.
After the hike, it's time to cool down and enjoy the spectacular vista of the glacier lagoon, where multi-colored icebergs and blocks float quietly. You can walk around the lagoon's beach to enjoy it from various points of view. The icebergs break off from Breiðamerkurjökull Glacier and melt in the lagoon before ending up on the pitch-black volcanic sand beach, Breiðarmerkursandur, which is often called the Diamond Beach due to the icebergs' glistening appearance. Jökulsárlón Glacier Lagoon and Diamond Beach are both must-see stops.
In the evening, you'll spend the night in Höfn, a comfortable seaside town and the lobster capital of Iceland.
East Fjords of Iceland
Stokksnes
Hvalnes Peninsula
Djúpivogur Fishing Village
Eggin í Gleðivík
Egilsstaðir
Hengifoss waterfall
Litlanesfoss waterfall
Guided Minibus Tour
English speaking tour guide
Hotel Breakfast
Guided hike to Hengifoss & Litlanesfoss waterfalls
Explore the Highlights of East Iceland
One night hotel in Egilsstaðir
Today, we embark on an adventure through the breathtaking Eastfjords of Iceland. As we continue on our tour, the magnificent Vatnajökull glacier will still be in sight, providing us with stunning scenery throughout the journey. As we wind through the mountains, the roads become narrower and steeper, leading us towards our first point of interest: Egilsstaðir. Here, the mystical Lagarfljót River flows, and according to Icelandic folklore, is home to the fabled "Icelandic Loch Ness Monster". Our knowledgeable guide will share with us the tales of the giant Largarfljót worm and its mysterious sightings.
Although Egilsstaðir is often called the capital of the East, we believe that the smaller villages along the way hold their own charm. We will be making a stop at Djúpivogur, a remote fishing village with a population of just over 1100 people. Here, the North Atlantic waves crash against the black sandy beaches, while a variety of bird species thrive in the area. The community of Djúpivogur is known for its warm hospitality and strong commitment to environmental issues.
Our adventure for the day will consist of an easy 3-hour hike on the waterfall trail of Hengifoss and Litlanesfoss. The hanging Hengifoss waterfall is one of Iceland's tallest waterfalls, cascading into a stunning gorge. Keep an eye out for the layers of red strata within the cliff's walls behind the waterfall, a testament to the volcanic activity in Iceland. Along the hike, we will also come across the equally captivating Litlanesfoss, a smaller waterfall that drops down hexagonal-shaped basalt columns.
In the evening, we will be staying at the comfortable accommodation in Egilsstaðir, providing us with a well-deserved rest after an adventurous day exploring the Eastfjords of Iceland.
Day 4 - Lake Myvatn & North Iceland
Rjúkandi waterfall
Stuðlagil canyon
Dettifoss waterfall – most powerful waterfall in Europe
Lake Myvatn
Hverfjall Crater & Mountain
Námaskarð geothermal area
Dimmuborgir lava fields
Goðafoss waterfall
Myvatn Nature Baths (extra)
Akureyri – capital of North Iceland
Guided Minibus Tour
English speaking tour guide
Hotel Breakfast
Explore the Highlights of East Iceland
One night hotel in Akureyri
Leaving the Reindeer Kingdom behind, we journey into the Icelandic Horse Paradise of the North. Our day begins in the charming Egilsstaðir as we drive through landscapes that resemble the moon towards the highest-located farm in Iceland, Möðrudalur. Our first stop is the awe-inspiring Dettifoss waterfall, the most powerful waterfall in Europe, with a flow rate of 193 m3/s (6,816 cu ft/s). Fed by the Jökulsá á Fjöllum river, the water originates from the Vatnajökull glacier. The vastness surrounding Dettifoss is humbling, and the fresh, wet air lifts your spirits.
Next, we visit the surreal Námaskarð geothermal area, filled with colorful mud pools and fumaroles emitting clouds of steam and hot gases. Continuing on our geothermal journey, we make a stop at Lake Mývatn and its nature baths. Here, you can soak in the warm, mineral-rich waters at an extra cost. We recommend booking in advance to reserve your spot. The water in the baths is geothermally heated and rich with algae and silica, known for its skin-healing properties. The non-bathers can take a stroll around the extraordinary lunar-like landscape or relax in the cafeteria.
Feeling refreshed from the natural baths, we visit Hverafjall, a volcanic crater that formed 2500 years ago during an eruption. We also explore the Dimmuborgir lava formations, known as the "dark cities," where some of the lava formations tower above us like fairytale giants. Dimmuborgir was formed when the roof of a giant lava tube collapsed, and standing amidst the formations is a unique experience.
We continue our drive around the picturesque Lake Mývatn, stopping at the stunningly beautiful Goðafoss waterfall, also known as the waterfall of the gods. Finally, we arrive in Akureyri, the second-largest city in Iceland, and stay at a charming country hotel.
Icelandair Hotel Akureyri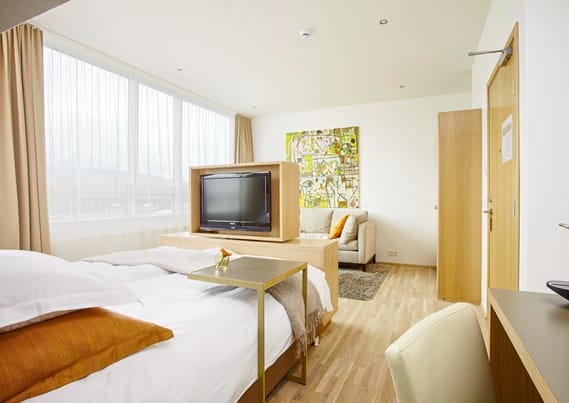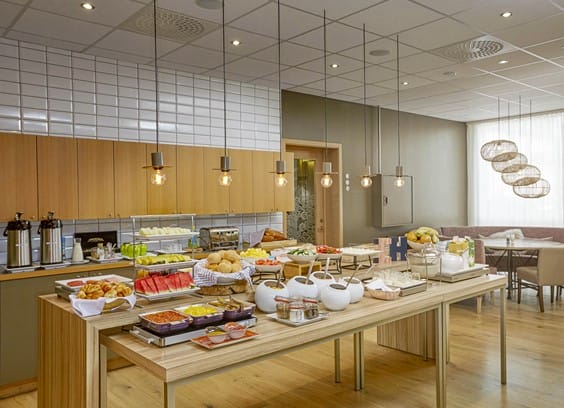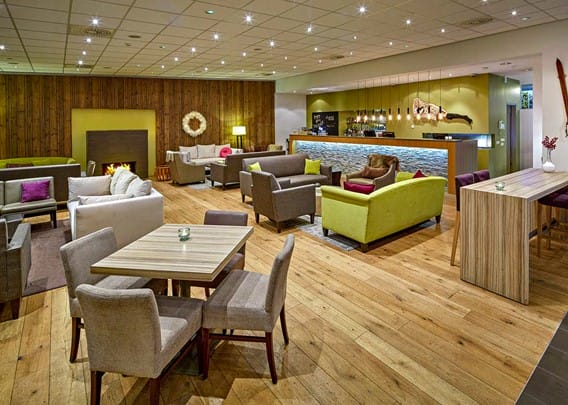 Day 5 - Whale Watching & North Iceland
Akureyri
Whale Watching & Sea Angling in Dalvík
Eyjafjörður
Tröllaskagi Peninsula
Siglufjörður Fishing Village
Northern Lights (September – April)
Guided Minibus Tour
Whale Watching boat tour
English speaking tour guide
Hotel Breakfast
Explore the Highlights of North Iceland
Hotel Accommodation
After spending a night in the picturesque city of Akureyri, we continue our journey towards the west before turning back south. Our first destination of the day is the charming town of Dalvík, renowned for its exceptional Whale Watching Tours. This place boasts a high success rate for spotting a variety of marine life, making it an exciting stop on our journey.
Led by expert guides, we will embark on a thrilling boat ride, spotting humpback whales, dolphins, porpoises, blue whales, and seals along the way. Our guides will ensure we get the most out of this unforgettable experience.
Our route then takes us along the breathtaking Tröllaskagi or Troll Peninsula, where we will pass by adorable farms and quaint villages. One such village is the vibrant Siglufjörður, a town steeped in Icelandic history. Siglufjörður was once the herring fishing capital of the Atlantic and experienced a gold-rush like atmosphere during the early 20th century. Although the great shoals of herring are no longer present, the town's rich history and character have been well-preserved.
After a photogenic stop in the picturesque Sail Fjord, we continue our journey through Skagafjörður and Húnavatnassýsla, known for their colorful Icelandic horses that roam the endless fields.
We will spend the night at a charming country hotel in Laugarbakki.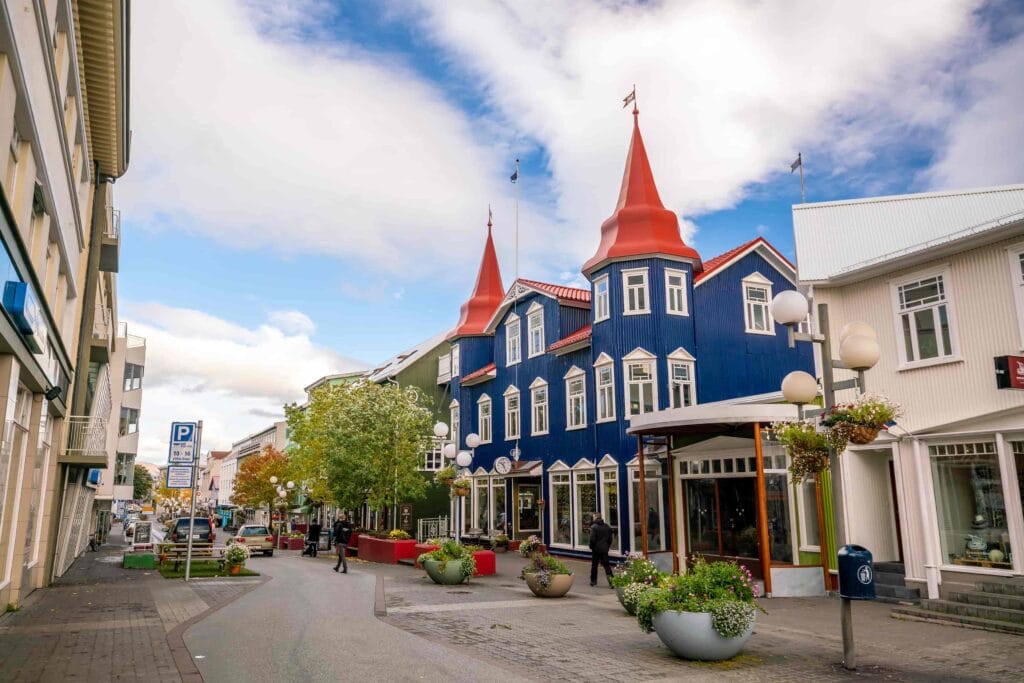 Akureyri is the second largest city in Iceland, located in the northern part of the country. It's known for its picturesque location, surrounded by mountains and situated at the head of Iceland's longest fjord. The city offers a range of cultural activities and attractions, including museums, galleries, and theaters, as well as plenty of outdoor activities such as hiking, skiing, and whale watching. It's also home to several universities and has a vibrant student population.