Jökulsárlón Amphibian Boat Ride
This unforgettable 2-Day South Iceland Tour that includes a Glacier Hike & a visit to Jokulsarlon Glacier Lagoon and the unique Diamond Beach is all filled with breathtaking views, powerful waterfalls, and volcanic black sand beaches. The tour will give you a perfect visual treat to your eyes. Come with us to explore the natural beauty of Iceland. We will take care of planning and organizing the trip to make sure that you make the most of your 2 days in our magical country. We got your back, let us take you to the most memorable ride of your life!
Pick-up & Drop-off in Reykjavik or the capital area (see pick up options when booking). 
One night accommodation in the countryside in a 3 star hotel with private bathroom
Breakfast at the hotel.
Professional English Speaking Tour Guide
Guided sightseeing to the best locations on the South Coast.
Glacier Hike in Skaftafell. 
Jökulsárlón Amphibian Boat Ride
Glacier equipment; helmet, harness, crampons, and ice axe. 
All safety equipment. 
Wi-Fi and Icelandic music on board the minibus. 
Small group experience. 
Warm & waterproof outdoor clothing
Warm clothes
Hiking shoes
Water bottle

Gloves & Headwear

Warm socks

Camera (optional)
Lunch & Dinner – we will stop at restaurants
Order or availability of attractions may change due to road or weather conditions.
The luggage limit for this tour is one suitcase of 24 inches per person. If you have any extra luggage, you can store it in our office for 1,000 ISK. You can add it to your booking in the booking engine.
If you are traveling on your own, you will receive a single room. Reservations for 2 people will be allocated a double room. For bookings of 3 or more, triple rooms will automatically be allocated. If these arrangements do not meet your requirements, please contact us.
Remember to choose the Single Supplement Fee in the booking engine if you are traveling alone.
This tour includes a pick up from Reykjavik. You can see the designated pick up locations in the drop down menu when booking.
Pick up is not available from Keflavik airport or outside of the greater capital area.
Lunch & dinner is not included in the tour. We will stop on restaurants where you can buy lunch & dinner.
It is recommended to bring some snacks and drinks for the day time adventures. Some light chips and soda should do the trick.
The departure time for this tour is at 8am.
This tour is perfect for groups, single travelers, and families.
You will be traveling on a minibus on this tour. The minibus includes free Wi-Fi. We will introduce you to Icelandic music aboard the minibus.
We recommend you wear proper warm clothing, gloves, hat, scarves, and hiking shoes.
If you don't have hiking shoes, you can rent them in the booking engine.
In the rare case that we need to cancel the tour because of extreme weather, road conditions or other factors, we will assist you with rebooking to another date. If that does not work out for you, you will receive a full refund for the tour.
Before you join us on this trip you might want to check out the daily itinerary to know more about what to expect on your 2-day tour. Here is the daily itinerary that gives you a detailed version of the destinations you will be visiting.
Seljalandsfoss waterfall
Gljúfrabúi waterfall
Skógafoss waterfall
Skaftafell Nature Reserve
Vatnajokull National Park
Vatnajokull glacier
Glacier Hike in Skaftafell
Guided Minibus Tour
English speaking tour guide
Glacier Hike in Skaftafell
Certified Glacier Guide
All necessary equipment
One night in a hotel
Seljalandsfoss: Explore the Beautiful Walk-Behind Waterfall
The very first destination for the day will be Seljalandsfoss waterfall that is sure to leave you stunned with the exemplary lush green surroundings. The water is sure to drizzle all over, so don't forget to carry your raincoat. This beautiful waterfall is sure to leave you speechless. It is one of the most scenic waterfalls in Iceland. The reason why it is so popular is that you will have the opportunity to walk behind it. Yes! You can walk all around the waterfall, catching magnificent views from behind the waterfall over the south coast of Iceland. The path is clearly visible and has sufficient space for the visitors to ensure you don't miss the beautiful views with the power of water up and close. Hike behind the waterfall and be prepared to get drenched in the water too. It will be an experience you will never forget!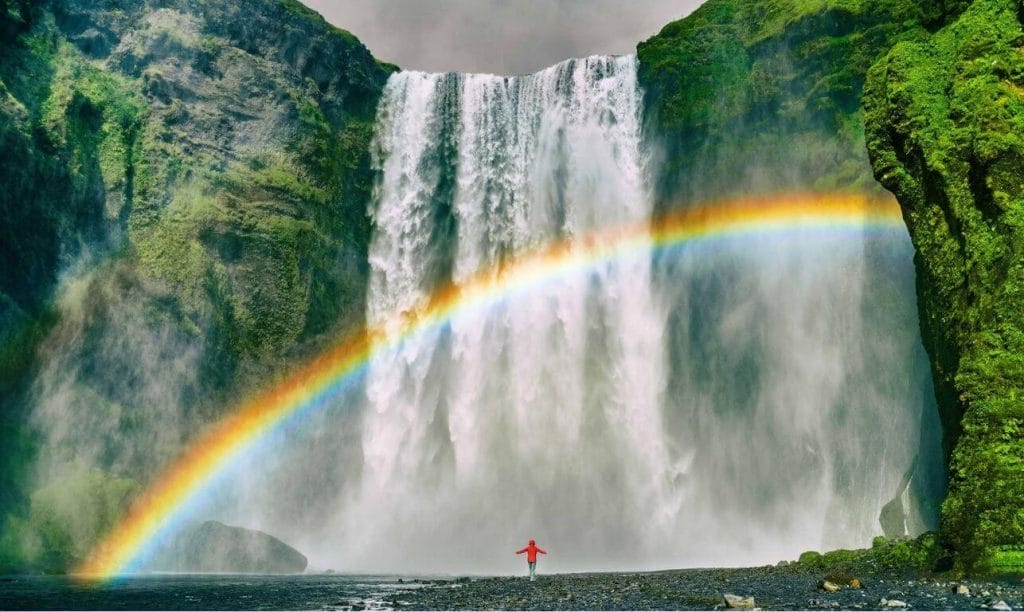 Moving towards the next destination, yet another beautiful waterfall awaits you. It is Skógafoss Waterfall with an approximate drop of 62 meters. It looks majestically magical and is sure to make you astounded by its beauty. This waterfall is wider and more powerful than Seljalandsfoss with an approximate 25 meters width. Indeed, one of the biggest waterfalls in Iceland. Skógafoss Waterfall allows you to hike up to the top where you will find an observation platform to capture the picturesque waterfall. You can also walk on the ground and get very close to the waterfall. Bring your raincoat if you want to get close to the waterfall because you will most definitely get wet. But there is something so unique about experiencing the power of nature so deeply.
Glacier Hike in Skaftafell
Vatnajökull is the largest glaciers in Iceland and the largest glacier in Europe. One of its outlet glaciers will be the next and last destination of the day. We will visit Skaftafell Nature Reserve – one of the most beautiful pars of Iceland – where you will go hiking on a glacier. This will only add more adventure to your day and make it even more memorable. In Skaftafell Nature Reserve you will find numerous of hiking paths but the views over the glacier are simply magnificent. The spectacular views, rugged and wild landscapes will add to the adventure. Fret not, complete guidance about glacier hike and how to commence that will be provided. You will also be equipped with ice axes, harnesses, helmets, and crampons to keep the safety quotient high. Before you leave for glacier hiking, spend few minutes feeling the spellbinding beauty around the area. Like mentioned above, this is an extremely beautiful area. It has been a part of TV shows and different films, including the Game of Thrones, James Bond, and Interstellar.
After glacier hiking on Vatnajokull Glacier we will end day 1 of this memorable tour. We will drive to our accommodation in South Iceland where we will have great dinner and relax for the rest of the evening.
Day 2 - Glacier Lagoon, Diamond Beach & Boat Tour
Jokulsarlon glacier lagoon
Boat tour on the glacier lagoon
Diamond Beach
Reynisfjara black sand beach
Guided Minibus Tour
Breakfast at your hotel
English speaking tour guide
Jokulsarlon glacier lagoon boat tour
Jökulsárlón Glacier Lagoon
We will start Day-2 by visiting one of the most stunning part of Iceland, Jökulsárlón glacier lagoon. Jokulsarlon is located in Vatnajökull National Park and is by many considered to be the most beautiful place in Iceland. This 200m deep glacier lagoon looks spectacular with the floating and flipping icebergs all around. The ice bergs in the glacier lagoon drop off from Breiðamerkurjokull glacier, which is an outlet glacier of Vatnajökull, Europe's largest glacier. On Day 1 you will be hiking on another outlet glacier of Vatnajokull, so when visiting this area and participating in those activities you will get a good idea on how big Vatnajokull really is. The whole lagoon is filled with huge chunks of icebergs that are a treat to the eyes. Walk around and experience the serene and calm environment closely. We can promise you that you will want to visit this place again in the future.
After taking in the views at Jokulsarlon Glacier Lagoon you will be heading just a couple of meters away to the Diamond Beach. Just after witnessing the massive chunks of icebergs in the glacial lagoon, now is the time to experience those icebergs closely. Yes, the icebergs from the stunning Jökulsárlón glacier lagoon are thrown to the Diamond Beach by the massive waves and tides. Diamond Beach is known for the human-sized and naturally polished icebergs, that are sculpted by mother nature. These icebergs from the Jökulsárlón glacier lagoon crashes at the Beach to form a visually stunning sight. These icebergs look like diamonds and create a beautiful contrast against the black sand, under the sun. You will find massive icebergs to smaller ice blocks in varied shapes and sizes in the shades of white and blue
Reynisfjara black sand beach
The last destination for the day will be yet another stunning place of Iceland that looks extremely dramatic and spectacular. Reynisfjara is a black sand beach that is situated on the South Coast of Iceland. You will witness nature's immense power, the massive roaring waves hit the shore with all the power, while the unique basalt pillars also add to the dramatic view. The enormous basalt stacks look like geometrically symmetric enclosures gazing at the cliffs of Dyrhólaey. This place is also home to razorbills, puffins, and varied other species; these can be easily spotted over the cliffs in the summertime, a perfect place for bird lovers.
Make the most of your 2 days in Iceland and hop on this 2-Day South Iceland tour. Join the tour with your friends and family and make some new friends on the way!