The Golden Circle stands out as one of Iceland's top day tours, celebrated for its accessibility and the array of captivating sites along the way. With our Golden Circle Afternoon Bus tour departing from Reykjavík, you get to experience this renowned route with added flexibility. Take your time in the morning or explore downtown before embarking on our comfortable tour bus, accompanied by our friendly and knowledgeable staff.
This classic Golden Circle tour encompasses visits to remarkable locations. Thingvellir National Park, an area of both historical and natural significance, is on the itinerary. You'll witness the Geysir geothermal region, known for its frequent hot-spring eruptions, and the awe-inspiring Gullfoss waterfall. To top it off, we've included a stop at the volcanic crater lake of Kerið as an extra treat.
Throughout the guided tour, our knowledgeable guides will acquaint you with these sites and more. They'll share captivating tales of Icelandic history, nature, and culture as we journey through the scenic Icelandic countryside during the afternoon.
Local English speaking guide
Entrance fees to Þingvellir National Park
Entrance fee to Kerið Crater
Free WiFi
Dress according to weather.
Good hiking shoes.
Pickup and drop off service is in the capital area of Reykjavik is not included but can be added as extra.
Pick up starts at 12.00. 
Meals are not included on the tour, but stops at Geysir visitor center where meals and snacks can be purchased. 
You can also bring a packed lunch.
There is free WiFi in the bus, so you can share your images with friends and family instantly.
The duration of the tour is 8.5 hours.
Cancellation fee of 100% if cancelled 1 day or less before departure
Our tour commences at Thingvellir National Park, also referred to as Þingvellir. This UNESCO World Heritage site holds immense geological, historical, and cultural significance for Iceland.
Thingvellir is a destination of dual allure. Firstly, it was the historic home of the world's oldest parliament, the Alþingi, which convened between 930 AD and 1798 AD. Chieftains and leaders from across Iceland undertook arduous journeys to this assembly, held once or twice annually, to deliberate over shared concerns and laws. Though the parliament is now situated in Reykjavík, Thingvellir continues to hold a special place in the hearts of Icelanders.
Secondly, Thingvellir lies at the juncture of the mid-Atlantic ridge, where the North American and Eurasian continental plates dramatically converge. This rift valley between the tectonic plates, manifesting in the awe-inspiring 7.7 km-long Almannagjá gorge, remains the area's focal point. The plates steadily drift apart by up to 2.5 cm annually. Visitors can venture through a portion of Almannagjá, while the nearby Silfra Fissure beckons divers and snorkelers to explore the space between the plates.
Adjacent to this marvel lies Lake Thingvallavatn, Iceland's largest natural lake.
Following our visit to Thingvellir, we'll journey to the geothermal wonderland of Geysir in Haukadalur Valley. This area, brimming with hot springs, derives its name from the famed "Great Geysir." Notably, this is the first geyser to be mentioned in written records, and the English term 'geyser' itself is derived from the Icelandic language. This marks one of the rare instances where an Icelandic word has been embraced into English vocabulary.
Geysir has been active for approximately 10,000 years, though its activity has waned significantly in recent decades. Fortunately, the vicinity boasts a more lively geyser named Strokkur, which erupts with remarkable frequency. Strokkur reliably sends forth its explosive display of boiling water and steam roughly every 10 minutes. These eruptions can reach heights of up to 50-60 feet into the sky, and on rare occasions, they've soared as high as 130 feet.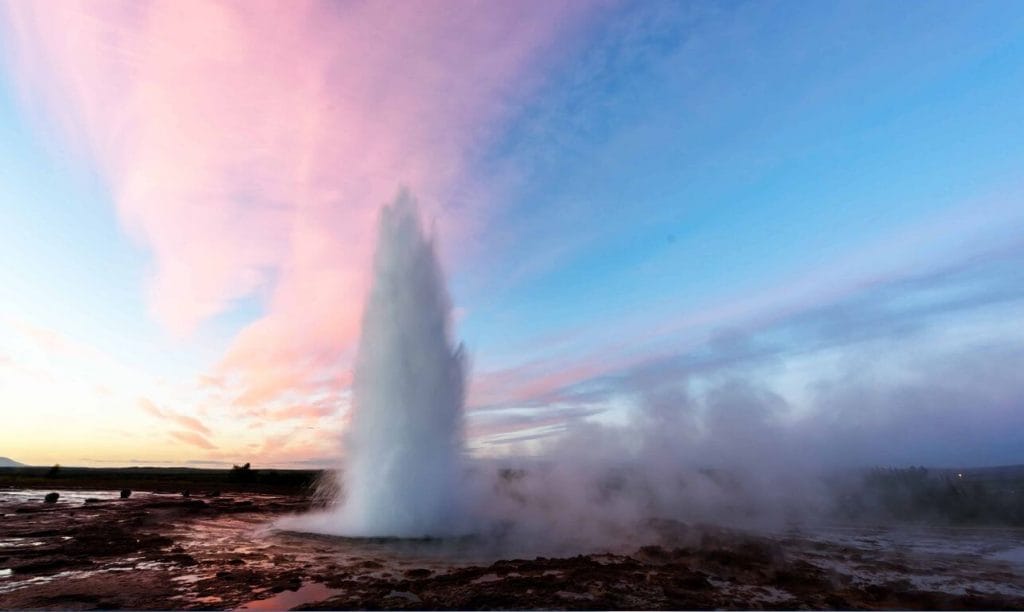 Our following destination brings us to the awe-inspiring Gullfoss waterfall, also known as the "Golden Falls." Gullfoss stands as a grandeur in its own right, fueled by the waters of the Hvítá river, which itself receives its source from the melting Langjökull glacier that majestically towers to the north. This sprawling cascade unfolds over a series of tiers, spanning a collective drop of 32 meters. Given its glacier-fed origin, Gullfoss holds heightened power during the summer months. Throughout this season, the average flow rate achieves a remarkable 140 cubic meters per second, with astonishing records reaching an extraordinary 2000 cubic meters per second.
As the water gracefully descends over the riverbed, the mineral composition of the terrain lends the water a shimmering allure, contributing to the apt moniker of Golden Falls. Approaching the waterfall, its base often remains concealed from immediate view, creating the illusion of water flowing into a vast chasm within the earth. On sunlit days, Gullfoss's misty spray frequently gives birth to a captivating rainbow.
Our concluding destination on the Golden Circle is the Kerið Volcanic Crater. Created during an eruption approximately 3000 years ago, the crater's basin now cradles a charming lake. Its distinctive allure lies in its captivating color contrasts – a blend of reddish mineral sediment, black lava rocks, and bluish lake waters harmoniously combine to form a mesmerizing tableau. A walkway encircles the crater's rim, offering the opportunity to bask in its wonder from various viewpoints, and for those eager to get closer, a descent to the water's edge is also possible.
As we reach this juncture, our day tour sadly comes to an end. Nevertheless, there are still captivating sights to behold from the bus as we transport you back to Reykjavik.
For those seeking to augment their experience with a geothermal lagoon visit, the "Golden Circle & Secret Lagoon" option awaits. We also provide a small group alternative that follows the Golden Circle route while incorporating extra stops through our "Golden Circle Tour of Iceland" Premium minibus tour.