Custom Made Tour
Private Tour
Boat tour on Jokusarlon glacier lagoon (optional)
Kayaking on Jokulsarlon glacier lagoon (optional)
Embark on an exclusive private custom-made tour of South Iceland, culminating in an awe-inspiring visit to the magnificent Glacier Lagoon. Explore the enchanting landscapes of this region, with its countless mesmerizing waterfalls and vast stretches of picturesque terrain. Our experienced team will tailor the tour to your specific preferences, ensuring a truly personalized and unforgettable experience. Contact us now for more information and to start planning your dream journey through South Iceland.
Indulge in the ultimate tailor-made Glacier Lagoon private tour, where you have the freedom to include your bucket list stops in the itinerary. We are dedicated to crafting a trip that caters to your unique preferences, ensuring you have ample time to explore and experience everything you desire on your private day tour. Discover our favorite destinations to visit on this exclusive excursion to the breathtaking Jokulsarlon glacier lagoon.
 A hidden gem just a short 30-minute drive from Reykjavik, Hveragerði is a charming town renowned for its geothermal wonders and thriving greenhouses. Take a leisurely stroll to Reykjadalur, where you can soak in one of Iceland's beloved local geothermal pools, indulge in vibrant flower markets, explore the hot springs at Hveragarðurinn Park, and savor delightful culinary delights.
Surrounded by the geothermally active Hengill central volcano, this area experiences occasional (typically minor) earthquakes, adding to its natural allure. Immerse yourself in Hveragarðurinn, a park adorned with captivating hot springs, fumaroles, and informative displays that unravel the fascinating geothermal phenomena.
As one of the largest towns in South Iceland, Selfoss offers a captivating blend of history and modernity. The town recently unveiled a new town center, featuring a unique collection of repurposed old houses from different regions of Iceland. Embark on a fascinating journey through time as you explore the charming architecture of bygone eras, making Selfoss a delightful destination for architecture enthusiasts and history buffs alike.
Considered one of Iceland's iconic attractions, Seljalandsfoss is a captivating waterfall that should not be missed. While not towering in size, its beauty is undeniable. What sets this waterfall apart is the unique opportunity to walk behind it, offering breathtaking photo moments, especially during twilight. Immerse yourself in the enchanting atmosphere and capture unforgettable memories at this remarkable natural wonder.
Just a short walk away from Seljalandsfoss, you'll find Gljúfrabúi, another stunning waterfall that is often overlooked. It is nestled in a canyon, hidden from view from the road, and can only be reached by walking into it. Both Seljalandsfoss and Gljúfrabúi will generate a lot of spray, so it is recommended that you wear waterproof shoes and bring a coat to stay dry.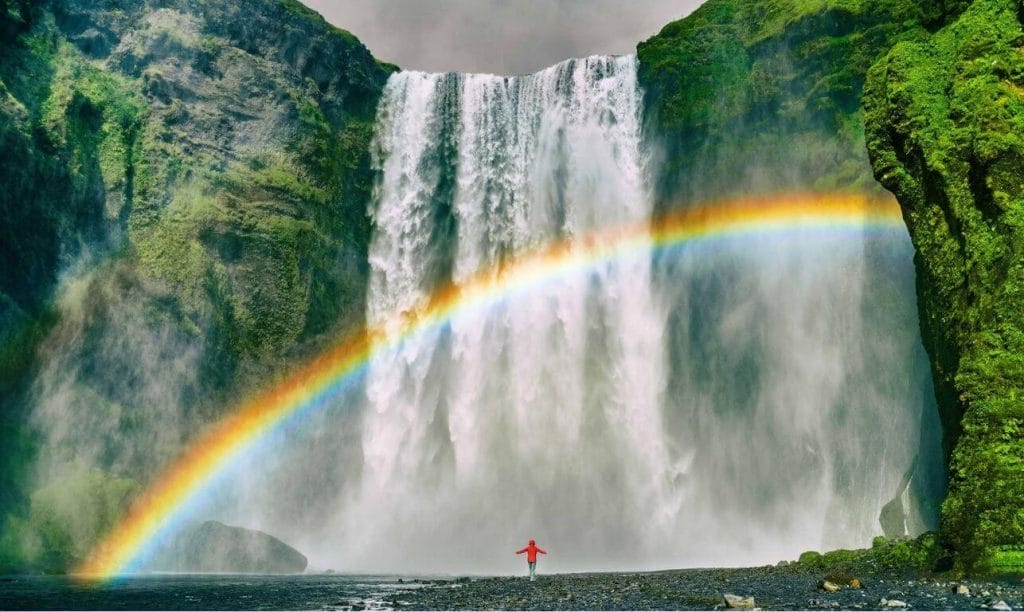 Just a short distance away, you'll find the impressive Skógafoss Waterfall. This magnificent waterfall has made appearances in popular films like Thor: The Dark World and The Secret Life of Walter Mitty. Unlike Seljalandsfoss, this waterfall is much larger and more powerful, so it's not advisable to walk behind it. However, you can get up close and witness its grandeur, but remember to maintain a safe distance. For a different perspective, you can climb a few steps to enjoy a view from above, offering a panoramic vista of the vast southern plains of Iceland. These steps also mark the beginning of the Fimmvörðuháls hiking trail leading to Þórsmörk.
In the vicinity, you'll discover the captivating Skógar Folk Museum, which houses a remarkable collection of 8,000 regional artifacts displayed across six historical buildings and three museums. It's an immersive experience showcasing the rich cultural heritage of the area.
Don't miss the enchanting Dyrhólaey bird cliff, an absolute must-see. The only slight drawback is that you won't be able to spot the unique hole in the cape while standing on it. Historically, it was referred to as Cape Portland by seafarers. However, the cliff offers breathtaking vistas of the majestic Mýrdalsjökull glacier, the sweeping Reynisfjara Black Sand Beach, and the striking Reynisdrangar Basalt Sea Stacks. Prepare to be captivated by the panoramic views that unfold before your eyes.
Reynisfjara black sand beach & Reynisdrangar sea stacks
Reynisfjara, a stunning and renowned destination, is an absolute must-visit for everyone. However, it is crucial to exercise caution and stay away from the powerful waves, as they can be extremely hazardous.
This beach is widely regarded as one of Iceland's finest black sand beaches, earning a coveted spot on National Geographic's list of top 10 non-tropical beaches to explore.
At one end of the beach, you'll be greeted by the magnificent sight of Dyrahólaey, while on the other end, you'll encounter the impressive Reynisdrangar rock formations, mesmerizing basalt columns, and a charming little cave. Legend has it that the Reynisdrangar were formed when two trolls attempted to drag a three-masted ship ashore, only to be petrified by the sunlight.
Prepare to be enchanted by the natural wonders that await you at Reynisfjara. Just remember to respect the power of the waves and relish the breathtaking beauty of this extraordinary location.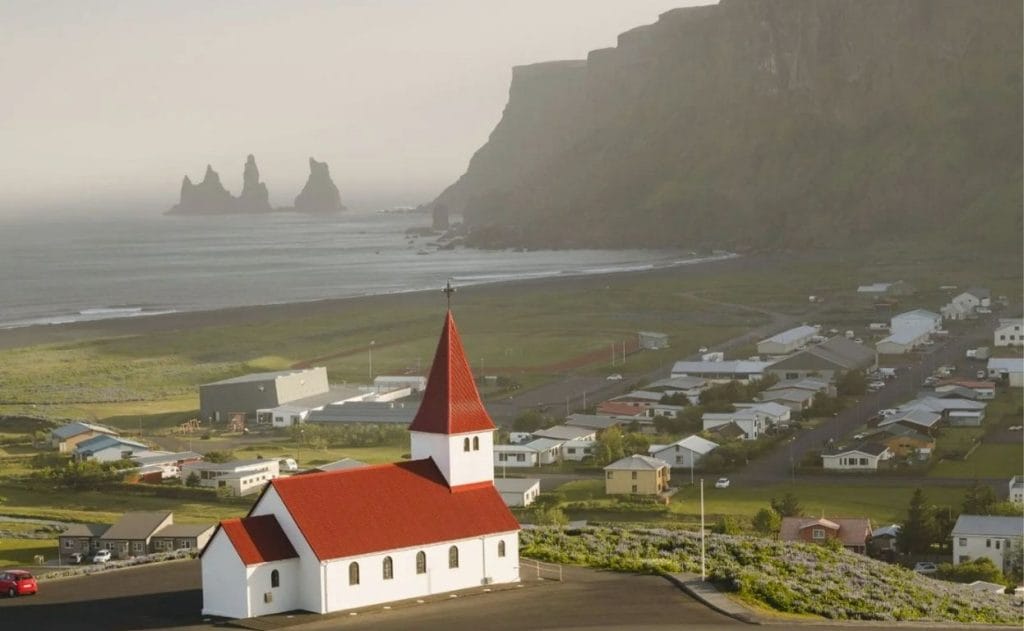 Vík, nestled in the scenic Mýrdalur, is a charming town that should not be missed. Take a moment to explore its captivating black sand beach, offering a splendid vista of the awe-inspiring Reynisdrangar rock formations. For an unforgettable photo opportunity, embark on a hike up to the quaint local church, where you can capture the essence of this enchanting place. Vík in Mýrdalur promises a delightful stopover with its natural wonders and picturesque landmarks.
Fjaðrárgljúfur gained worldwide recognition when Justin Bieber filmed a music video here during his visit to Iceland. This captivating location is truly stunning and definitely deserves a visit. The canyon stretches over 1.2 miles (2 kilometers) in length and reaches a depth of up to 330 feet (100 meters). Its formation can be attributed to the gradual erosion caused by glacier-fed streams during the Ice Age. Immerse yourself in the beauty of Fjaðrárgljúfur and witness nature's artistry carved over millennia.
Located between Vík in Mýrdalur and Höfn in Hornarfjörður, the charming town of Krikjubæjarklaustur is home to approximately 500 residents. Its name, which means Church Farm Cloister, reflects its historical significance as the site of a Benedictine convent founded in 1186. The convent thrived until the Reformation in 1550. Krikjubæjarklaustur also played a notable role during the eruption of the Laki volcano in 1783. Reverend Jón Steingrímsson, the local church's pastor, delivered a powerful sermon known as the "Fire Sermon" on July 20, 1783. Legend has it that his sermon miraculously halted the lava flow, saving the village from destruction. In honor of Rev. Jón, the current church was erected in 1974, serving as a poignant memorial to his remarkable legacy.
Jokulsarlon Glacier Lagoon
To explore South Iceland fully, a visit to Jökulsárlón Glacial Lagoon and Diamond Beach is a must. The lagoon, located near Breiðamerkurjökull Glacier, is a product of meltwater from the glacier. Its formation began in the mid-20th century, and it has been gradually eroding Breiðamerkursandur beach ever since. The lagoon is now Iceland's deepest lake, measuring 932 feet (284 meters) in depth and covering approximately 6.9 square miles (18 km2). Despite being a poignant reminder of the Earth's rising temperatures, it is still a breathtaking sight to behold. Jökulsárlón is also home to a thriving animal ecosystem, including seals that can often be spotted swimming in the lagoon or lounging on icebergs.
On the other side of the Ring Road, you'll discover the enchanting Diamond Beach, adorned with glistening icy-blue icebergs. Aptly named, this mesmerizing beach derives its moniker from the scattered melting icebergs that resemble sparkling diamonds against the contrasting black sand. The beach owes its existence to the impressive outlet glacier, Breiðamerkurjökull, which spans approximately 25 kilometers and shapes the vast expanse of Breiðamerkursandur beach, of which Diamond Beach is a captivating part. Prepare to be captivated by the stunning juxtaposition of crystal-clear ice against the dark sands, creating a truly awe-inspiring spectacle.
Boat Ride on Jokulsarlon Glacier Lagoon
You have the freedom to select from three enticing options for exploring Jökulsárlón Glacial Lagoon:
Zodiac small speed boat tour
Kayaking Tour
Amphibian Boat Tour
To fully immerse yourself in the beauty of Jökulsárlón Glacial Lagoon, a boat excursion is highly recommended. The speed boat and kayaking tours offer approximately one hour of exploration, allowing you ample time to soak in the awe-inspiring surroundings. Alternatively, if you prefer a shorter but equally memorable experience, the amphibian boat tour provides a captivating 35-minute adventure on the lagoon. The choice is yours to make, ensuring you find the perfect way to embrace the wonders of Jökulsárlón Glacial Lagoon.
Kayaking on Jokulsarlon Glacier Lagoon
The kayaking tour offers complete guidance and support throughout the adventure. Each participant will be equipped with a two-piece suit and all the necessary gear for a safe and enjoyable experience. The kayaks provided are SIT-ON-TOP boats, designed for stability and ideal for individuals who may be new to kayaking. To ensure safety, there are weight restrictions in place: single kayaks (for one person) cannot exceed 120 kg (270 lbs) in weight, while double kayaks (for two persons) have a combined weight limit of 180 kg (395 lbs). For the kayaking tour, participants must be at least 14 years old and taller than 1.30m. As for the speed boat tour, the minimum age requirement is 10 years. However, there is no specific age limit for the amphibian boat tour, allowing individuals of all ages to join in the experience.
Pick up and drop off in Reykjavik or the capital area.
Private guided sightseeing tour
Professional private guide
Parkings
Amphibian Boat Tour
Zodiac Small boat tour
Private Zodiac Boat tour
Private Amphibian Boat Tour
Glacier Lagoon Kayaking
Contact us for adding these activities to your booking.
Custom Made Tour
Private Tour
Boat tour on Jokusarlon glacier lagoon (optional)
Kayaking on Jokulsarlon glacier lagoon (optional)
Dress according to the weather
Warm Clothes & socks
Comfortable shoes
Gloves & Headwear
Camera / Phone
This private tour of the south coast, diamond beach, and the Jokulsarlon lagoon will last at least 12 hours depending on the travel speed and the time spent on each location.
This is a tailor made tour so you can customize it to your wishes. After booking the tour, please contact us with your wish-list for the day. 
Each vehicle has space for 6 passengers. If you need a bigger vehicle, please send us an email to info@icelandtravelguide.is 
Pick up and drop location can be chosen and customized according to the list of pick-up locations available on the booking page. Most accommodations and hotels in the capital city area are accepted as a pick-up location.
Additional boat tours on the Jokulsarlon glacial lagoon can be bought for an extra fee, as per the rate of the excursion chosen.
The boat tours are only available from May 15th to September 30th.
The price that will show up in the booking engine is per vehicle / group. 
Lunch is not included in the tour, but we can make stops on the way where you can purchase lunch. 
You can choose departure time fort he tour in the booking engine. 
This tour is perfect for families and groups. 
We can pick you up at the cruise harbor.