Adventure on The Largest Glacier in Europe
Snowmobile Adventure
Glacier Experience
Iceland's trip is not just about sightseeing and witnessing the beauty from a distance, but it is about experiencing it on your own by going for an invigorating plunge in the natural beauty of Iceland. And one such thing is going on snowmobile adventure on the Vatnajökull glacier, which is also the largest glacier in Europe. This tour is ideal for someone who would want to have thrill and excitement straight on the rugged and wild landscapes of Vatnajökull glacier. The stunning and breathtaking views await you over this astonishing glacier.
Don't fret if this is going to be the first time on snowmobiles, you will be guided thoroughly by the experienced local guides and they will share information about icefields, glaciers and their impact on the environment, especially for the curious travelers. You will be given the complete instructions for driving the snowmobiles and it won't take much time to learn the basics. The scenic rides will take you through the snowy mountains and gives you once in a lifetime experience. Iceland's spectacular nature will make you witness the purity of snowy mountains. You will be provided with all the safety equipment to ensure complete safety while driving. The duration of the Snowmobile Tour will be approximately 3 hours. Since the weather can be brutal, don't forget to carry warm clothing and waterproof outerwear along with reliable boots.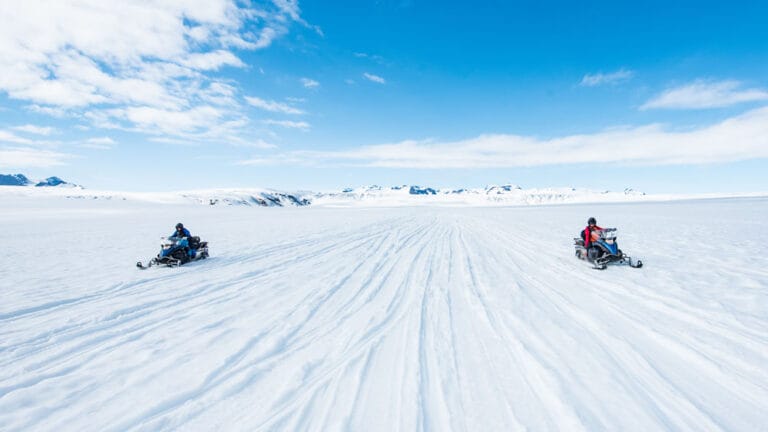 Snowmobile ride on Vatnajokull – the largest glacier in Europe.
Experienced and qualified glacier guide.
Snowmobile per two persons.
All snowmobile equipment needed. 

Insulated over-all
Helmet, face cover & gloves
Hiking boots
Waterproof clothes
Warm socks
Thermals
Camera
Good outdoor clothing and hiking boots are required.
A reasonable level of fitness is required.
There is a minimum 2 participants on each tour. 
All drivers must be 17 years of age or older and have a full, valid driver's license. A learner´s permit, tractor, or motorcycle license is not sufficient according to Icelandic law. 
There are two people sharing a snowmobile on this tour. It is possible to book a single ride on the snowmobile when booking the tour. 
It is mandatory to book a single ride on the snowmobile for groups with odd number.  
No snowmobile experience is required for this tour. 
We recommend that you arrive at the meeting point at least 30 minutes before the scheduled departure time. 
The meeting point for this tour is at Hótel Smyrlabjörg. Hótel Smyrlabjörg is located 46 km west of Höfn and 30 km east of Jökulsárlón-Glacier Lagoon.
We would love to hear from you
Interesting locations in the area