South Coast & Jökulsárlón Glacier Lagoon with boat tour
The South Coast and Jökulsárlón Glacier Lagoon Tour in Iceland is an amazing experience that shows you the beauty of nature. You will see big blocks of ice floating on a lagoon, they look beautiful as they reflect colors from the sky. If you are visiting Iceland for the first time, this tour will show you a lot of different and amazing landscapes. You will go to the famous Jökulsárlón Glacier Lagoon, which is a wonder of the world. You will see icebergs in different shapes and colors, making a stunning view that will leave you amazed. This tour will take you through the southern part of Iceland, and you will see many beautiful things. Don't miss this chance to experience and enjoy the great natural beauty of Iceland!
Jökulsárlón Lagoon​ with breathtaking Glacial Landscape
Embark on a captivating 14-hour day tour to Jokulsarlon, Iceland's mesmerizing natural wonder. Traverse the diverse landscapes and vibrant colors along the enchanting south shore via the Ring Road, ultimately reaching Iceland's crown jewel. Embark on a truly unforgettable journey with our exciting and adventurous tour package! This tour offers numerous highlights that will surely take your breath away. 
Throughout the scenic journey. We will of course visit Jokulsarlon Glacier Lagoon and the Diamond Beach. We will also include Fjallsárlón Glacier Lagoon in our tour – a smaller glacier lagoon that is not as popular as the infamous Jokulsarlon.  we'll make several stops, including the hidden gem Stjórnarfoss waterfall and the charming seafront village of Vík í Mýrdal. Here, you can enjoy a delightful dinner and admire the formidable Reynisdrangar sea stacks standing nearby. Another memorable stop is Seljalandsfoss waterfall, renowned for its cave that allows you to experience a unique perspective of the cascade. Finally, we'll return to the capital.
Sailing In Between The Icebergs
One of the highlights of this tour is our amazing boat trip through Jokulsarlon Glacier Lagoon, an experience that you simply cannot miss. Witness the brilliance of the icebergs and be awed by nature's untouched beauty. Immerse yourself in the awe-inspiring and truly mesmerizing black volcanic ash and crystal ice-speckled Diamond Beach. It's a once-in-a-lifetime sight that you will never forget. The beauty and majesty of these sights will leave you feeling inspired and truly connected to the wonders of the earth. Join us on this incredible journey and let us take you on an adventure of a lifetime!
Professional Guide
Sightseeing the South Coast
Boat tour on Jokulsarlon glacier lagoon
Sightseeing and admission to the sights
Free WiFi on board the bus
Pick up & drop off – available for extra – otherwise meeting point in Reykjavik
Food & Drinks
Good outdoor shoes
Warm & waterproof clothes
Gloves & hat
This tour is also available all year without the boat tour on Jokulsarlon glacier lagoon.
Food and drinks are not included but can be purchased on the way.
This tour is operated in a coach that holds approximately 40-65 people. 
This tour is only available from Reykjavik. 
You can bring snacks and beverages on the tour if you like. 
All tickets are e-tickets so there is no need to print them out.
Our Jokulsarlon day tour commences with our efficient and prompt pick-up service, ensuring a convenient start to your adventure. We'll collect you either from your hotel in Reykjavik city center or one of the designated stops throughout the city.
Once everyone is on board, we'll embark on a picturesque drive along Iceland's stunning coastline. As we journey southward, you'll be treated to captivating sights of black sand beaches blending with the endless blue horizon, glaciers crowned with white, and moss-covered lava fields. The entire route showcases the breathtaking and dramatic landscapes that Iceland is renowned for.
Our first destination is the renowned Jokulsarlon Glacier Lagoon, hailed as Iceland's natural crown jewel. Fed by the glacial meltwater from the mighty Vatnajökull glacier, Europe's most voluminous ice cap, this lagoon lies adjacent to the North Atlantic Ocean.
Here, you'll witness the ever-changing spectacle of massive ice chunks breaking away from the glacier and gracefully drifting into the lagoon. The colors and shapes of Jokulsarlon's icebergs continuously evolve, creating a mesmerizing display of nature's artwork. To truly immerse ourselves in this glacial wonder, we invite you to join us on an unforgettable amphibian boat ride. Sail among the floating shades of blue, and even have the opportunity to hold a piece of ice that is over 1000 years old.
Adjacent to the glacier lagoon, you'll find the famous Diamond Beach, where icebergs that have made their way to the sea wash ashore on the black sand beach. Take some time to explore this unique setting and consider visiting the visitor center to delve deeper into the area's wonders.
After the awe-inspiring glacial experience, we'll board our bus and proceed to Vík í Mýrdal, a charming coastal village in the south. Here, you can rest, enjoy a meal, and perhaps pick up some souvenirs for your loved ones. Our journey continues with a visit to Seljalandsfoss waterfall, another mesmerizing attraction in South Iceland.
This comprehensive tour spans approximately 14 hours. It's important to note that food is not included in the tour package, but we will make stops along the way where you can purchase snacks or meals to keep you energized throughout the day.
Our journey begins with a visit to Fjállsárlón, a breathtaking lagoon where the majestic Fjalljökull and Vatnajökull glaciers meet its surface. This natural wonder serves as a source of awe-inspiring icebergs that gracefully drift and float across the lagoon.
While Fjállsárlón may be less renowned than the famous Jökulsárlón, its lesser-known status grants you the privilege of experiencing the extraordinary vistas in serene tranquility, away from the crowds.
Jokulsarlon Glacier Lagoon
Vatnajokull, Iceland's largest and Europe's most voluminous glacier, has given rise to a multitude of glacial marvels, with the renowned Jokulsarlon Glacier Lagoon being the most celebrated of them all. As the Breidamerkurjökull glacier tongue breaks apart, its glacial meltwater feeds the lake below, causing colossal ice blocks to gracefully meander through the cerulean lagoon, eventually drifting towards the ocean. This natural spectacle ensures that Jokulsarlon Glacier Lagoon's appearance is in a constant state of transformation.
During the summer, this lagoon serves as a natural haven for wildlife, offering a chance to glimpse seals swimming or resting on icebergs, while Arctic Terns fill the air with their cheerful chirping.
Situated within the magnificent Vatnajökull National Park, this area is a true paradise for nature enthusiasts. In winter, the captivating blue ice caves take center stage, captivating visitors year-round. Its distinctive beauty has also captivated the attention of filmmakers, with two James Bond movies among those inspired by its allure.
Adjacent to the glacier lagoon, the Diamond Beach derives its name from the captivating juxtaposition of velvety black sands and shimmering ice fragments. Various shapes and sizes of icebergs grace the beach, remaining serenely as waves ebb and flow, weaving a mesmerizing symphony of nature unique to Iceland. This awe-inspiring location serves as a beloved haven for photographers and nature enthusiasts, offering an extraordinary exploration of Iceland's wonders.
Glacier Lagoon Amphibian Boat Tour
Embark on a thrilling 30-40 minute amphibian boat tour at Jokulsarlon Glacier Lagoon, immersing yourself among the enchanting floating icebergs. This exhilarating excursion provides the perfect opportunity to intimately experience the glacier lagoon and its remarkable attributes. Accompanied by an English-speaking guide, you'll delve into the geology and formation of the lagoon, gaining valuable insights. Additionally, you'll have the unique opportunity to touch and savor the ice, which has endured for at least a millennium.
As we make our way back to Reykjavik, we'll continue to uncover the marvels of Vatnajokull National Park while enjoying additional captivating stops. Our first destination is the charming town of Kirkjubaejarklaustur, where we'll discover the hidden gem of Stjórnarfoss waterfall. This enchanting waterfall features a two-stage descent, each approximately 15 meters (49.21 ft) in height. Flowing mysteriously from a secluded valley adorned with moss-covered cliffs, the waterfall gracefully blankets a dome-shaped rock at its base, forming a symmetrical cascade.
This off-the-beaten-path experience allows you to witness the quieter side of Iceland, granting you fresh perspectives and breathtaking scenes away from the crowds.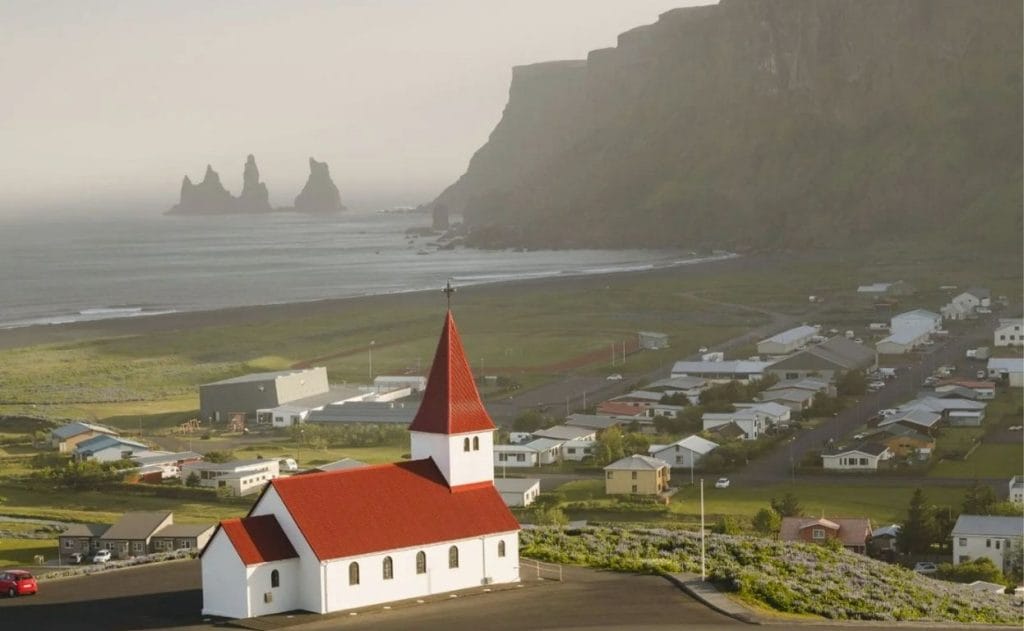 Vík í Mýrdal, Iceland's southernmost town, is a delightful seaside fishing village with a population of 300. It not only serves as a peaceful haven to rest and rejuvenate but also boasts notable attractions. The iconic Vik church stands proudly atop a hill, while the magnificent Reynisdrangar sea stacks can be admired from a distance. Additionally, the town offers a variety of gift shops where you can discover unique Icelandic souvenirs, adding to the charm of your visit.
Seljalandsfoss, a magnificent waterfall boasting a 60-meter cascade, holds a prominent place among Iceland's most beloved natural wonders. Its standout feature is a cave located behind the falling water, which visitors can walk through when conditions permit. This delightful surprise offers a whole new perspective, allowing you to marvel at the waterfall and take in the captivating surroundings from an unconventional vantage point.
Originating from the renowned Eyjafjallajökull glacier and volcano, Seljalandsfoss descends from a concave cliff, occasionally gracing the misty air with the appearance of a rainbow. While exploring, it's important to exercise caution and watch your step, as the pathway can become slippery.
We would love to hear from you
Interesting locations in the area