South Coast & Jökulsárlón Glacier Lagoon
If you're looking to explore the natural beauty of Iceland, the country's South Coast is an absolute must-visit destination. This breathtaking stretch of coastline is home to a multitude of popular attractions, including the incredible Jokulsarlon Glacier Lagoon, which is located around 380 km (236.12 miles) from Reykjavik. This is one of few day tours that take you from Reykjavik and all the way to Jokulsarlon Glacier Lagoon. 
The highlight of this region, Jokulsarlon Glacier Lagoon, is truly one of a kind. The glacier lagoon and its surrounding wonderland were formed by the sheer force of nature, which carved one of the outlet glaciers from Vatnajokull ice cap – Iceland's largest and Europe's most voluminous glacier. The resulting landscape is a stunning sight to behold, with the black-velvet-textured sand of the nearby Diamond Beach scattered with big and small blocks of ice.
If you decide to embark on our 14-hour day tour of Iceland's South Coast, you'll have the chance to explore these incredible sights and more. Our tour stops include the hidden gem Stjórnarfoss waterfall, the mysterious Seljalandsfoss (a waterfall you can walk behind), and the charming, seafront town of Vík – famous for its black sand beach and majestic Reynisdrangar sea stacks.
With its impressive attractions and picturesque landscapes, this tour is truly unforgettable and is consistently praised as one of the best day tours in Iceland. Don't miss out on the chance to experience the natural wonders of Iceland's South Coast for yourself.
Professional English Speaking Guide.
Sightseeing and admission to the sights.
Free WiFi on board the bus. 
Warm & waterproof outdoor clothing
Good hiking shoes are recommended
Water bottle
Gloves & Headwear

Camera (optional)
Food and drinks are not included but can be purchased on the way.
Our tours are designed to ensure that you get to visit all the sights during the daylight hours. This means that in the high winter season, you'll begin and end your tour with a long drive, but you'll be able to explore the stunning natural sights while it's still light outside. For more information, you can read our detailed itinerary below.
This tour is operated in a coach that holds approximately 40-65 people. 
This tour is only available from Reykjavik. 
You can bring snacks and beverages on the tour if you like. 
Would you like to go on a boat tour on the glacier lagoon? Check out the South Coast & Glacier Lagoon boat tour. 
All tickets are e-tickets so there is no need to print them out.
We will experience the beauty of Iceland's South Coast on our day tour, starting with a fast and efficient pick-up service from your hotel in the center of Reykjavik or one of our designated pick-up stops in the city. Once all guests are onboard, we'll begin our exciting journey through the stunning landscapes of Iceland's South Coast.
As we head out to South Iceland via Route 1, you'll be treated to iconic scenery on both sides, including silver-topped glaciers, black sand lowlands, mossy lava fields, and the glistening Atlantic Ocean beckoning afar. The South Coast of Iceland is full of dramatic scenes that are sure to leave a lasting impression.
With our experienced guides, you'll have the opportunity to learn about the unique geological formations and history of the area, as well as the culture and traditions of the Icelandic people. Our tour is designed to provide an unforgettable experience and showcase the best of what the South Coast has to offer.
Jokulsarlon Glacier Lagoon
Our day tour of Iceland's South Coast includes a visit to the stunning Jokulsarlon Glacier Lagoon, often referred to as Iceland's crown jewel. Located near the Vatnajokull National Park, around 380 km (236.12 miles) from Reykjavik, Jokulsarlon is the perfect destination for those looking to experience Iceland's natural beauty at its finest.
As we drive towards our destination, you'll have the opportunity to enjoy the breathtaking scenery that the South Coast has to offer. Once we arrive at Jokulsarlon, you'll be mesmerized by the lagoon's stunning beauty and ever-changing appearance. It's no wonder that this location has inspired so many moviemakers to film here, including James Bond movies Die Another Day and A View to a Kill, Lara Croft: Tomb Raider, Batman Begins, and The Northman.
Our experienced guides will provide insight into the geological formations and history of the area, as well as the unique cultural and traditional significance of this stunning location. Join us on our day tour of Iceland's South Coast and discover the beauty and magic of Jokulsarlon Glacier Lagoon for yourself.
Jokulsarlon Glacier Lagoon is a stunning natural wonder created by the Breiðarmerkurjökull glacial tongue, one of the outlet glaciers from Iceland's largest ice cap, Vatnajokull. In the 1970s, the retreating glacier left a huge pond near the coast that eventually became Iceland's deepest lake.
One of the most striking features of the glacier lagoon is the floating icebergs, which come in various shades of blue and even have brownish stripes, thanks to the ash sediment from volcanic eruptions decades ago. As the icebergs break off from the glacier, they roll, tumble, and drift around the lagoon, constantly changing colors, shapes, and appearances. Over time, they break down into smaller pieces and are washed out to sea, creating a breathtaking spectacle.
Summer is an ideal time to explore Jokulsarlon, as you can take an optional boat ride to sail among the icebergs and experience them up close. You'll also have the chance to observe the lagoon's vibrant wildlife, including Arctic terns nesting nearby and adorable seals swimming around or resting on icebergs. Exploring Jokulsarlon Glacier Lagoon offers an unforgettable experience and a chance to witness the purest elements of Iceland's nature.
If you are interested in this tour with a boat ride on Jokulsarlon – then check it out here.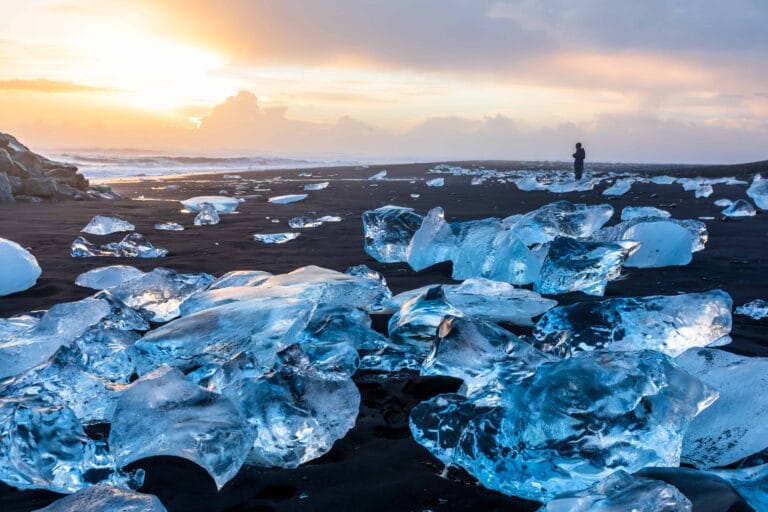 Diamond Beach is located adjacent to the Jokulsarlon Glacier Lagoon and is known for its unique beauty. The beach gets its name from the scattered icebergs of various sizes and shapes that have washed up on its black sand shores. These icebergs come from the Breiðamerkursandur glacial outwash plain and are a result of the glacier tongue breaking away.
Walking on the beach and seeing the contrasting black sand and blue icebergs is a once-in-a-lifetime experience. Additionally, visitors can enjoy the fresh sea air and may even spot seals playing in the surf.
Once you've explored the lagoon and the beach, we'll start our journey back to Reykjavik, stopping at various iconic attractions along the scenic south coast.
Our itinerary includes a stop at the off-the-beaten-path, hidden gem, yet highly-recommended Stjórnarfoss waterfall. This photogenic waterfall cascades in two stages, with each stage measuring about 15 meters (49.21 ft) high. It's a sight to behold and has been popular among photographers for its unique appearance. The waterfall originates from the Stjórn River, flowing out from a valley, creating a mysterious atmosphere. 
Vik Village & Reynisdrangar Sea Stacks
Vík í Mýrdal is a picturesque seaside village located at Iceland's southernmost point. Despite being small with only 300 residents, it boasts a plethora of stunning natural wonders that make it a must-see destination. Visitors can take a break from their journey to recharge and shop for souvenirs at several stores and gift shops in the village.
In the summertime, the unique nature of Vík provides a vibrant array of colors that create a truly magical experience. The black sand beach in Vík is highly rated for its diverse scenery and the beautifully sculpted sea stacks that add to its charm – Reynisdrangar cliffs. The sound of the heavy tides crashing against the shore creates a dreamy, misty world that is perfect for a relaxing break.
Don't miss the chance to take a picture of the magnificent Reynisdrangur sea stack in the distance while you're here!
Seljalandsfoss waterfall is one of Iceland's most popular attractions, fed by glacial meltwater from the famous Eyjafjallajokull glacier volcano. Falling from a 60-meter cliff, Seljalandsfoss has a special surprise for visitors: you can walk behind the cascade for a spectacular panoramic view of the area.
Once you've taken in the beauty of the waterfall, we will head back to our bus and begin the two-hour journey back to Reykjavik via Route 1.
Most frequent questions and answers
We would love to hear from you
Interesting locations in the area