Put on your hiking boots, get into some comfy pants, and zip up your jackets because this tour is going to take you places that are not to be missed in any situation. The golden of the Golden Circle along with some exceptional sightings of Silfra Fissure, Thingvellir National Park, Gullfoss, Geysir Geothermal Area, and more. This tour will be the most exceptional tour of your stay in Iceland and one of the most comfortable ones as well. This will be a long-stretched tour with various stops on the way – each one more gorgeous than the previous one. 
The first step of your tour will be Silfra Fissure and your pick up will be scheduled from Reykjavík. When you visit Silfra, you will be accompanied by your PADI Divemaster guide who will tell you about the tour in detail and help you understand the equipment that you will be using. The main equipment will be provided by your guide and includes neoprene hoods and gloves, a thermal undersuit, a drysuit and, a snorkeling mask. The dive will end with a soothing, delicious cup of hot chocolate and cookies with your team and the dive master.
Thingvellir National Park
Thingvellir National park is the next step of your tour. One of the three most prominent sites in the Golden Circle, Thingvellir National Park is unique for it is location on the rift between the two tectonic plates – Eurasian and the North American plates. The park has various attractions waiting for you to explore which include, fishing, birdlife, and the largest lake of Iceland along with many stone remains. Iceland's and world's first parliament was founded in the park as well which gives it quite a bit of historical significance.
With fabulous blue and green underwater scenery, you will experience one of the most popular activities on one of the most popular places in Iceland. Silfra Spring is located in Thingvellir National park in a fissure which is formed between the two tectonic plates, the Eurasian and the North American Plates. Filled with glacial water that melts down from Langjökull glacier and reaches the spring after being filtered through porous lava rocks, Silfra water is pure and clear that you can not only see for up to 100 meters when underwater but also drink it without any apprehensions. You will explore Silfra Hall – the widest section of the fissure, the Silfra Cathedral – the deepest section and the shallow oasis known as the "Real Blue Lagoon".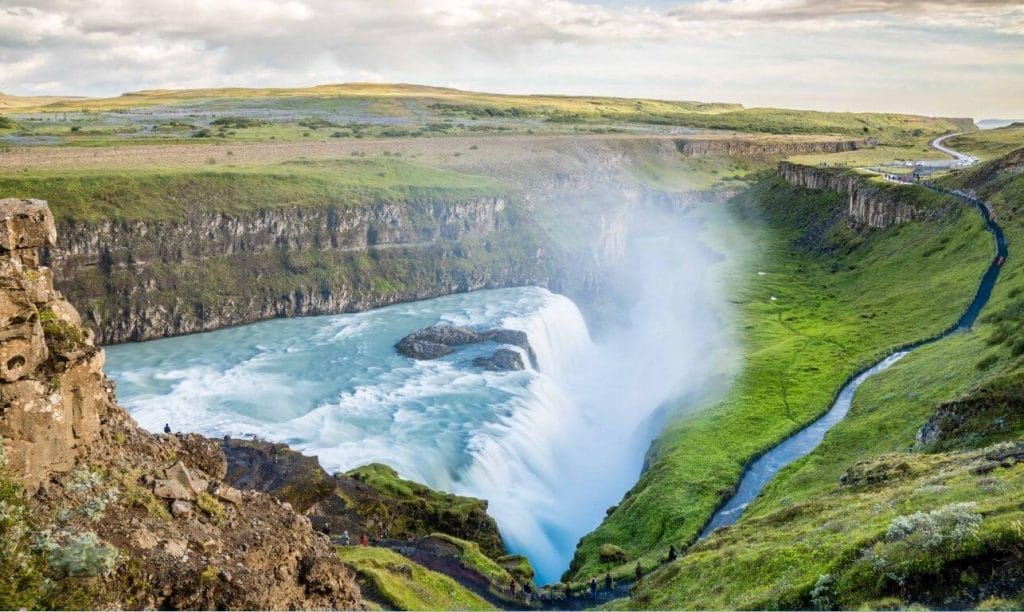 With a name that translates to "Golden Waterfall", Gullfoss waterfall is one of Iceland's most visited, iconic, and a force of raw force of nature. It is divided into two parts. The first part is about 11 meters and the second, bigger cascade is about 21 meters high. Located on the Golden Circle Route, the Gullfoss waterfall is an incredibly beautiful site alongside Geysir Geothermal Area and Thingvellir National Park. It will be the next stop on your tour of the Golden Circle and Snorkelling Sites.
The final stage of your tour will be the geothermal area known as Geysir. You will find wonderful countless hot springs and two geysers. One of the geysers is called Geysir which used to be a rather active geyser but has been dormant for a while now. The other geyser is named "Strokkur" which erupts about every 5 minutes and goes as high as 40 meters.
Join in this marvelous tour with us and experience some of the most wonderful sights of Golden Circle and Silfra Diving Sites. Equipped with quality equipment for every activity and sites, you are sure to enjoy every step of the tour with optimum safety and security. The tour will last for about 10 hours.
English Speaking Professional Guide
Certified PADI dive guide / Dive-master
10 hours of a guided small group tour of the most popular route in Iceland.
Small group snorkeling tour in Silfra – max 6 people per guide
Free underwater photos from the snorkeling tour
All necessary Snorkeling Equipment
Warm under suit and a dry suit
Free Wifi on board the minibus
Hot drinks and cookie after the snorkeling
Icelandic music on board the minibus
Good outdoor shoes – available for rent when booking
Waterproof clothing
Warm clothes
Thick socks
Contant lenses if you wear glasses
Change of clothes – just in case
Gloves & Hat
Camera 
We have to adjust timings to the short daylight and we always try to avoid big crowds.
Pick up is from designated locations in Reykjavík. Pick up from Keflavík airport or outside of the greater capital area is not available.
You can bring some favorite snacks and beverages if you like.
We recommend you bring hiking boots with slip-resistant soles if you are visiting in the winter. Hiking boots are available at the time of booking.
To be able to do this tour, you have to be able to comply the following requirements: 
Have read, signed, and followed directions on the Snorkeling Silfra Medical Statement Form – click here. We recommend you bring the Form already printed out and signed, but you cal also can sign the Form at the meeting location.
Be comfortable in water and be able to swim.
Communicate in English at the time of the tour.
Be physically fit.
Not be pregnant.
You must be ready to wear a tight and constricting dry suit to protect your body from the cold
You must be a minimum of 150 cm and a maximum of 200 cm in height and weigh between 45 and 120 kilos along with being physically fit.
You must be a maximum of 69 years of age to participate in this tour. If you are 60 years of age or over, you need a medical waiver, available on page 2 of the Medical Statement.
You must be a minimum of 12 years of age to participate in this tour. Participants under the age of 18 must be accompanied by a parent or adult guardian booked on the same tour
If you are over 45 and partake/have partaken in pipe smoking or heavy alcohol intake, you need a medical waiver.
Please note that should you have any neurological, circulatory or respiratory problems or underlying diseases, battled any illnesses or have any physical problems you might have to turn in a physicians allowance to participate in this tour.

Interesting locations in the area