If you are an avid traveller who enjoys peace, serenity and beauty of nature more than crowded beaches, cafes with long queues then Landbrotalaug Hot Spring is the perfect spot for you to be at. This secret place is one of the many hot springs in Iceland but not-so-easy to find. Located on the Snaefellsnes Peninsula, this small pond of hot water can contain only two or a maximum of three people in one go which means that you will have this beautiful little place all to yourself. Since it is located off of the main route of the Snaefellsnes Peninsula, not many people know about this secret hot spring. This is why you can come to enjoy this place alone or in a company of a few close people.
With no construction around it, it will feel like you are taking a bath in the middle of no-where – a true rugged experience of nature. Known to be a romantic hot spring among couples, the small structure of this spring is made of uneven concrete stones that makes it look historical and something from the medieval times. Just beside the small pool, there is another big spring which is usually filled with water using a pipe and can accommodate a larger group of people. If you are alone or travelling with your partner, you could either wait for your turn to experience the authentic natural hot spring of bathing or you can hop in the artificially filled pool for a quick dip and soak. The area is surrounded by long stretched plains, clear sky, mountains and wild trails, visible in the distance. When you look at the far end of the place, you can experience the local Horizon, a point where land and the sky meets. There is no restroom or changing room nearby so you will have refrain to the traditional ways for the time being or if you are shy to convert into a survivalist then you can head to your car and change in it. Since the parking space and the hot spring are far away, you can use the quick-dry towel to dress-up.
Map with all locations in the Snæfellsnes Peninsula.
Explore more villages in Iceland. 
Discover hidden gems in Iceland.
Located at a secluded place, the Landbrotalaug Hot Spring is not easily accessible. It is about 1 hour and 45-minutes ride from Reykjavík city. Move towards the north of the city and you will cross the Hvalfjarðargöng tunnels moving towards the town of Borgarnes. After leaving Borgarnes, take a left turn and head towards North-West leading to Snæfellsnes. After the ride of about 25-minutes, you will see the old volcanic crater 'Eldborg'. Take a left turn as soon as you cross Eldborg and drive for a few minutes to reach Landbrotalaug. After a few more minutes of driving, you will see a parking spot.
To verify if you have reached the right place, you can look for an old abandoned house as soon as you reach Landbrotalaug. There is a dirt road after crossing Eldborg that also ensures that you are heading towards the secluded hot spring. While driving to this hot spring, you will cross many traditional and historical locations. If you like to explore the countryside then you can stop at these places to make your trip more lively and memorable.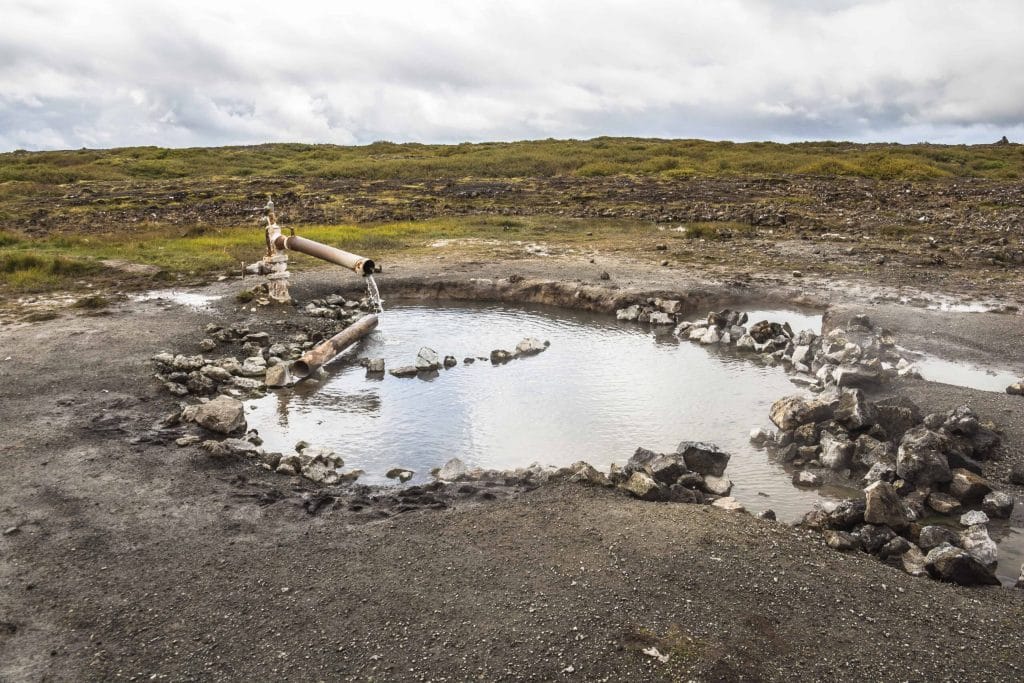 Expect to be relaxed and perplexed at the same time. The beauty and raw charisma of this place will render you speechless. This hot spring, along with other hot springs of Iceland, is naturally made by volcanic activities and it will surely give you a trip that you will never forget. You can expect the comforting, warm spring of water that is heated by the shallow intrusions of magma along with the soothing temperature of around 38°C throughout the year. With an open area and relaxing weather, you can expect to the beauty of nature in its true form.
Since the water of the hot springs remains soothing warm all-year-round, you can visit Landbrotalaug hot spring during winter and summer season. During the summer season, you can live the moment of taking bath under the blazing midnight sun whereas the winter season will give you a magical experience of warm soothing soak under the glimmering northern lights.
To cut the waiting time for your turn, it is better to reach the place during odd hours. The peak hours of daytime attract more visitors and that will ultimately make you wait for your turn. Visiting in the early hours of the day or late in the evening is a perfect time to experience this magnificent natural beauty.
Interesting locations in the area