West Iceland has become a dream destination for travelers around the world. Prominently, it has received the title of 'Little Iceland' as it has the best of everything Iceland has to offer. Picturesque landscapes, pristine glaciers, lava rock textures, astounding craters, massive mountains, breathtaking cliffs, and even the black sand beaches. There is just too much to put into words.
From natural to man-made brilliance, it is a hotspot for anyone seeking to exhilarate themselves into an adventurous trip of discovery and Viking culture. However, it could be equally daunting to determine the perfect trip. After all, we all have limited time to explore, and if you genuinely want to enjoy Iceland in its glory, this is the list of must-do things in West Iceland.
Hraunfossar & Barnafossar Waterfalls
West Iceland has a fine selection of waterfalls to explore. Hraunfossar & Barnafoss fall top on the list, with Glanni Waterfall coming right next to you if you got the time.
Hraunfossar is popularly known as the Lava Waterfall. It is a collection of minor waterfalls that expands over Hallmundarhraun's fields and moss cliffs. The water from under the lava fields makes it exciting to witness the flow. The irregular yet intriguing trails of these waterfalls symphonize to be an enchanting tune and a visual feast to the visitors. Hence, it has become one of the most charming waterfalls.
Barnafoss is known as Children's waterfall, and you can hike there to enjoy the milky waterfall. It is almost the opposite. This has a glacier river and brings you a much louder and robust flow to witness. Of course, there is popular folklore associated with the Barnafoss and the 'stone arched bridge.' But that's for you to explore when you visit the destination.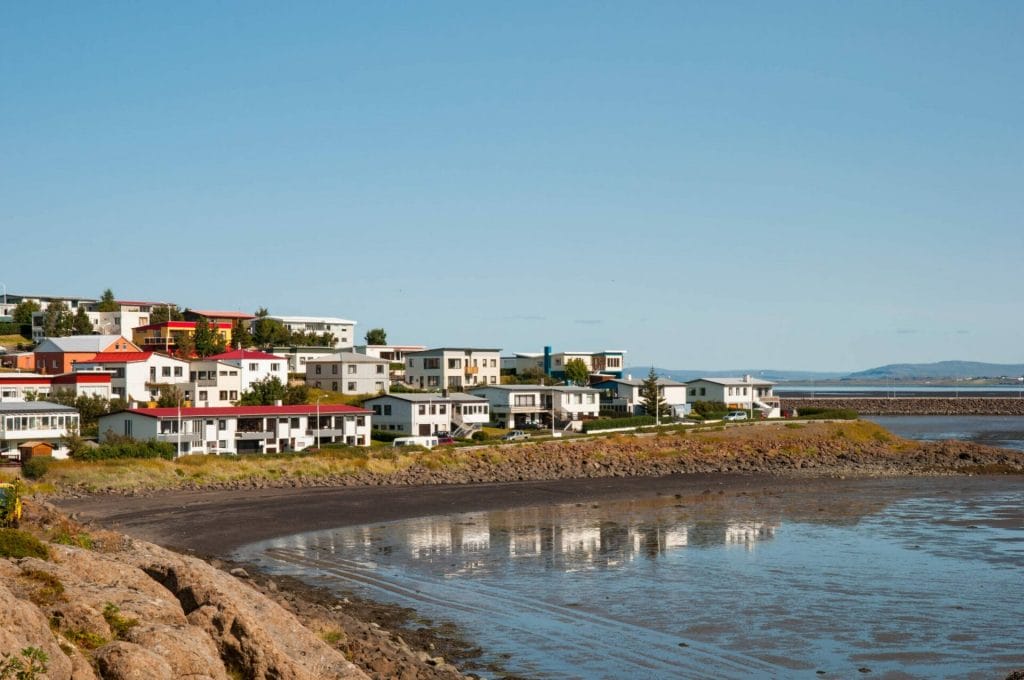 Borgarnes is the 'activity hub of West Iceland where you would go to freshen up your spirit and rest into an enchanting layover. Just 75 KM from Reykjavik City center, it is a perfect spot for a 'vacation-specific' visit. Borgarnes offers a wide array of activities. You can witness the spellbinding Geirabakari or have a rejuvenating picnic at Skallagrímsgarður public park. The local Museum is perfect to live through the history and treat yourself to some exotic bird sightings. Einkunnir Country Park offers hiking, while Hafnarfjall mountain is known for an excellent climb.
There are exhibitions at Settlement Center, several shops, and local stores to explore. All of these are enchanted with an abundance of restaurants, cafes, hotels, and other sanctuaries for your relaxation. Finally, the delight of the Borgarnes beauty further enhances the experience. Overall, Borgarnes is a complete package for those who want to do many 'local' things without exploring too much.
Deildartunguhver is popularly known as the most powerful hot spring of the entire European region. It has the remarkable capacity to pump 180 liters of water per second. The water reflects the natural forces and blends perfectly with the 'beauty in destructive force' theory of the Icelandic lores. Almost every locality settled around this massive spring uses the water for food, washing, and other necessary tasks. Hence, everything will be a delight around this hot spring. It is also the source for Borgarnes and Akranes. The natural qualities also bless the land with an abundance of greenery. The enchanting hot spring is equally picture-worthy for you, but the steamy sights might fog up your camera. You can indeed take a dip in the local hot springs like Krauma baths for a calming sauna experience. Overall, it is a perfect place for you to rejuvenate your body, mind, and soul. You will find utter peace and relaxation in this region.
Glymur was once known as the highest or tallest waterfall in entire Iceland until discovering another one, Morsafoss. Still, it is incredibly mesmeric with the canyon's expansive view and a hiking trip that would pose challenges to avid hikers and nature lovers. Glymur is in Hvalfjordur Fjord, an hour drive from Reykjavik. Almost every hiker dreams of visiting this destination for varying reasons. While it is not the most challenging, it mixes difficulties with the pleasures of sight that make it worth the trip. Once you reach the top, you will witness panoramic scenery like none other. The water comes from Botnsa, which flows from Hvalvatn, known for storing molten lava underwater (160 meters deep). The entire trip will take around four to five hours but the epic canyons and immersive view of green moss, along with one of the highest waterfalls, makes it all worth exploring.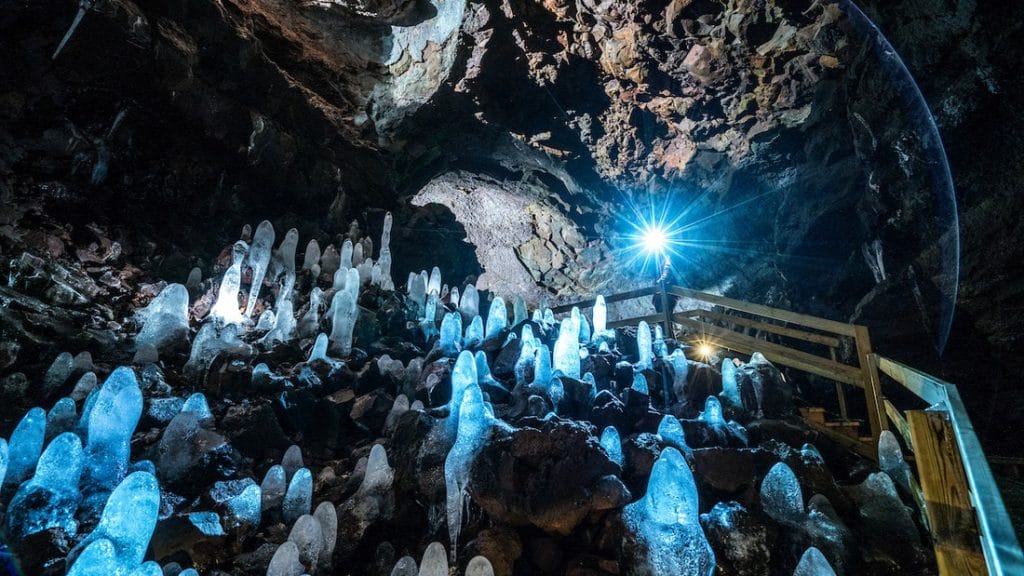 Víðgelmir is known as one of the most extensive caves in the world, formed in the last 1,000 years. For over four decades, almost five, it was not accessible for the people. But now, you can have access to the fascinating lava formations. The cave is quite deep, sitting at least 700 meters. Despite the heart-pounding depth, the entire tour with hiking is quite effortless. Both winter and summer have something unique to offer. It is one of the well-preserved caves. This is the only place you will get various colorful lava formations, not seen in many other caves anymore. Located in Hallmundur, there are many folklores and Icelandic sagas for you to explore throughout the cave's exploration. Much to anyone's surprise, it is a family-owned and operated territory. Yet, the seclusion is a perfect treat for anyone intrigued by the caves.
The mystical waterfall, Glanni, is quite famous in the local folklore as the dwelling place for elves and trolls from Viking Mythology. If you visit it, there is a golf course nearby for those who would love to enjoy the sport in West Iceland. There is also an old Grabrokarhraun lava field. It is one of the 'rarer' sights in Iceland, as the wide waterfall with segmented falls. Of course, if you visit the lava fields, you will come across an oasis right in the center. The destination is perfect for self-drive tours to explore without any need for a guide. There are multi-layered tiers in which the waterfall drops. Glanni means 'brightness' and has received the name for the elegant white water waves produced from the fall and flow. It is also prevalent for fishing, and you might get to catch salmon or other fishes.
Since you're visiting Iceland, you'd love to bask in its culture, history, folktales, and mythologies. The perfect place for all of this is none other than Reykholt, known as Iceland's cultural and historical hub. Snorralaug is in Reykholt as the oldest spring used by people in Iceland as a geothermal pool. The village holds a lot of architectural brilliance in churches and even was home to Snorri Sturluson, a highly celebrated author in the 1200s. It is a friendly village with high hospitality. However, it is perfect for people who love to attend historical exhibitions and lectures. You can get guided tours and come across handicrafts of the Icelandic artisans. There are enough books on history and culture if you love these things. In short, Reykholt & Snorralaug is a unique addition on the list as the place you can visit if you want to get accustomed to everything related to Iceland and Vikings. Culture, history, arts, crafts, customs, and much more are there for you to explore.
Since you're in Iceland, the volcanic capital of the world, you might want to explore volcanoes and creators. Here is one of the best options available for you to explore in the heart of West Iceland. Grabrok is one of the three highest craters in Iceland, rising to 170 meters and expanding vastly. Accessible through the foot, it is yet another popular hiking spot for you that offers something unique compared to other selections on the list. It belongs to Ljosufjoll and expands up to Berserkjahraun Laval Field in Snaefellsnes. The crater has been dominant for thousands of years. Grabrok is another self-exploring location on the list, perfect for another unique scenery only Iceland can offer due to volcanic nature. You can reach it conveniently through self-drive and then take the 40 minutes hike. The height is apt to give you a panoramic view of the surrounding. Ergo is one of the lesser-known natural wonders worth exploring in West Iceland.
If you're in Reykjavik and plan to explore Langjokull glacier, Husafell might be another great 'hub' to explore for you. The river-crossed valley, Kalda river, lava fields, and abundance of greenery make the place quite charming. It is one of the destinations known for the most pleasant weather year-round. Husafell is one of those locations that combine pleasure with adventure. You can access Ice Caving, Lava Caving, Canyon Baths, and Open-Air Float therapies. These are some of the most prominent selections of activities available. If you want to ride a horse or go fishing, there are several recreational activities for you. Let's not forget about the iconic Northern lights. That's right! Husafell might offer you the perfect leisure to admire the brilliance of northern lights at night. You can go camping, hiking, or indulge in almost anything while you're in Husafell, and that's what holds the place's charm.
Akranes is another popular location that works as a hub or the city with an apt settlement. There is the Museum Area at Gardar, working as the cultural hub for the place. You have a golf course and a playground available for people of all ages. Jadarsbakki is another excellent place for a swim. Overall, there are many activities similar to Husafell. However, there are also many visually stimulating destinations and picturesque locations spreading throughout Iceland. You have Akranes lighthouses, and if you admire the scenery from this astonishing architecture, you will love the lighthouses. There is also a beach nearby. Langisandur is great for all the exotic activities you'd associate with the beach. In the rock garden Langisandur, you will find Gudlaug, a perfect place for a hot bath. If you don't want to spend too much time in Reykjavik, Husafell, or Borgarnes, Akranes is an ideal scenery change.
Enchant Your Vacations - Visit West Iceland
You'll come across an array of enthralling activities when visiting West Iceland. As you explore these locations, you will get an opportunity to try the local brews, authentic Viking sushi, hike into the lava field and travel on the whites of Icelandic snow. That's not all! If you want to learn about the Viking culture and explore the natural beauty and ancient tales, it has much to offer. The immersive world of West Iceland is genuinely a rare destination. So, pack your bags and don't forget your warm overalls because this is once in a lifetime trip that will redefine the way you will perceive journeys.
Frequently Asked Questions
What Is the Best Time of The Year To Visit West Iceland?
Every season and any month is perfect for visiting West Iceland. Each time you visit, you will find yourself exploring something new, an entirely different West Iceland experience. However:
Spring is perfect for hiking, visiting waterfalls, and witnessing the snow melts.
Summer is perfect for bird and whale watching, and you can indulge in almost every activity.
Autumn is the festive season and a colorful time of the year with unique hues and appearances.
Winter is the best time for Northern lights and explores the authentic Viking culture, hike glaciers, and much more.
When Will Iceland Be Cheapest to Visit?
There is no off-season in Iceland, especially Western region. However, April is known as the perfect month to get discounts and appealing bargains. It is somewhat of the off-season and a transition between different weather. So, if you're on a budget, it is a perfect season to explore.
What Are Some of The Activities You Must Do In West Iceland?
West Iceland is full of almost every activity you could dream of in Iceland. However, you can do many things somewhere else, so don't forget these:
Visit lakes and waterfalls.

Hiking.
Witness the northern lights if you are visiting during the winter. 
What Are Some Things to Wear and Carry For A West Iceland Tour?
Make sure that you're carrying sunglasses and other appropriate gear. You will undoubtedly need warm clothes, even in summer. Iceland is full of several 'wet' destinations and activities. Thus, you need to be prepared to get wet, and some waterproof or water-resistant materials, clothes, and storage would be the right choice. You might also want to carry enough snacks and munchies to enjoy the trip. But most importantly, try to get some outlets that would work with Icelandic sockets and plugs as they are different from conventional choices available.
Should You Get A Camera or Is A Smartphone Fine?
Smartphones have undergone a considerable upgrade that you can capture a lot of stunning pictures. However, nothing can match the quality and experience of the high-grade camera. West Iceland is full of breathtaking sites. Therefore, a camera would be the only picture-capturing equipment that would do justice to the scenery.