Discover the Best of Iceland on this 5-day tour. See glaciers, waterfalls, hot springs, and the Northern Lights, all while taking in the country's breathtaking natural beauty. This tour is a must-do for anyone looking to experience Iceland's famous sights.
Northern Lights search on each night of your tour (if forecast is favorable).
Golden Circle
West Iceland
Reykholt
Experience the best of Iceland on our 5-day tour from West to East Iceland. Visit the stunning Snaefellsnes Peninsula, named the ultimate winter destination by Travel & Leisure and explore unique rural landscapes. Discover the South Coast's breathtaking sights including waterfalls, glaciers, national parks, and black volcanic beaches. We will of course not miss the infamous Golden Circle of Iceland. The most popular traveling route in the country where you will see the top attractions in the country. Don't miss out on this once in a lifetime opportunity to see some of Iceland's most coveted attractions.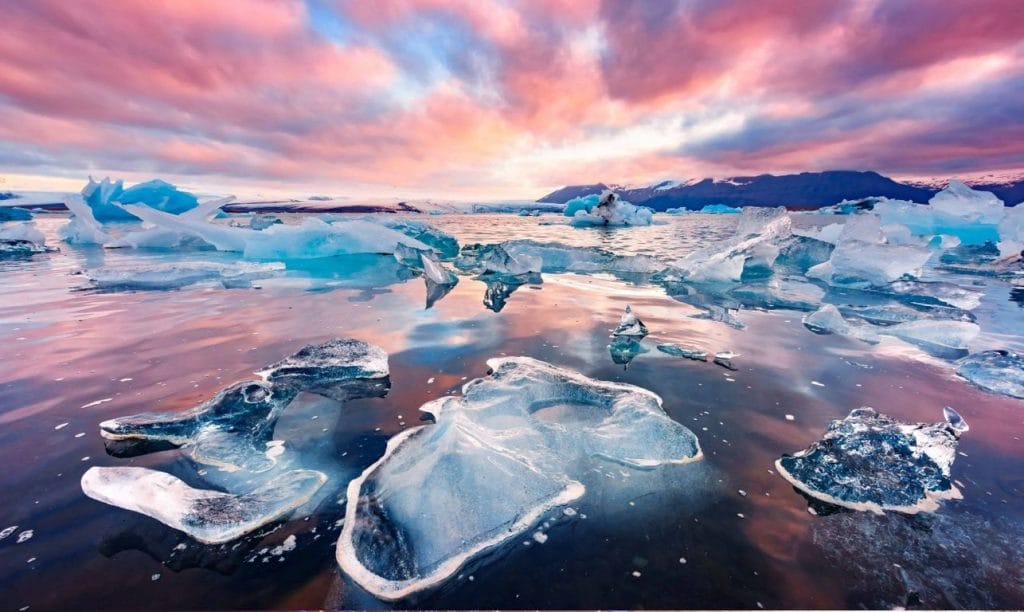 Pick up and drop off in Reykjavik.
4 nights accommodation in comfortable country hotels with private bathroom.
Breakfast each morning at your hotel.
5 Days guided sightseeing to all the best locations at the Golden Circle, South Coast & Snaefellsnes.
English speaking professional guide.
Glacier Hike.
Natural Ice Cave.
Certified glacier guide.
Glacier equipment; helmet, harness, crampons and ice axe.
Northern Lights hunting every night if the weather allows.
Small groups
Wi-Fi and Icelandic music on board the minibus.
Dress according to weather
Waterproof outdoor clothing
Warm clothes
Warm socks
Gloves & Headwear
Hiking boots
Swimsuit and towel
Camera (optional)
Order or availability of attractions may change due to road or weather conditions.
The luggage limit for this tour is one suitcase of 20kg (44lbs) and a small backpack per person. If you have any extra luggage, you can store it in our office for 1,000 ISK. You can add it to your booking in the booking engine.
Single room accommodations are available for an additional fee, but are not required. If you are a solo traveler and prefer not to pay for a single supplement, you will be matched with a same-gender roommate.
This tour includes a pick up from Reykjavik. You can see the designated pick up locations in the drop down menu when booking.
You will have plenty of chances for bathroom breaks and to buy snacks on the way.
Age limit for the tour is 8 years.
The Ice cave that will be visited on this tour is 100% natural and always changing. Since the ice caves are ever changing we will visit new ice caves each year in different areas of the glacier. The photos that you see on our website are from recent tours, but note that the ice caves might have changed due to the dynamic nature of these formations.
Lunch & dinner is not included in the tour. We will stop on restaurants where you can buy lunch & dinner.
It is recommended to bring some snacks and drinks for the day time adventures. Some light chips and soda should do the trick.
This tour is perfect for groups, single travelers and families.
You will be traveling on a minibus on this tour. The minibus includes free Wi-Fi. We will introduce you to Icelandic music aboard the minibus.
We recommend you wear proper warm clothing, gloves, hat, scarves, and hiking shoes.
If you don't have hiking shoes, you can rent them at the time of booking.
In the rare case that we need to cancel the tour because of extreme weather, road conditions or other factors, we will assist you with rebooking to another date. If that does not work out for you, you will receive a full refund for the tour.
Krauma Geothermal Baths (optional)
Deildartunguhver hot spring
Reykholt
Snorralaug
Hraunfossar
Barnafossar
Gerðuberg
Northern Lights
Guided Minibus Tour
English speaking tour guide
One night in a hotel.
Northern Lights tour in the evening.
Explore the Highlights of Borgarfjörður.
Start your Iceland adventure with a trip to the scenic West Coast. We will start with your pickup in Reykjavik at 9:00 a.m. from your hotel or designated pickup point. Explore the beautiful rural scenery of Western Iceland, including a stop at Deildartunguhver, the most powerful hot spring in Europe with a constant temperature of 206°F (97°C) and a flow rate of 47.5 gallons per second. Relax at Krauma Geothermal Baths (optional extra) or visit a nearby horse farm for an opportunity to pet Icelandic horses. 
Explore the picturesque area around Deildartunguhver on designated walking paths to ensure safety near the hot spring. Next, visit the historic Reykholt and the hot spring pool Snorralaug, a treasured spot once used by Iceland's famous poet and politician Snorri Sturluson. Discover Iceland's rich culture and history on this unique tour experience.
Experience the raw power of nature at Hraunfossar and Barnafoss Waterfalls. Hraunfossar, meaning "the Lava Waterfalls," is a collection of small waterfalls flowing through lava formations. Learn the folk legend of Barnafoss, meaning "Children's waterfall," where two children tragically drowned in the past. Admire the dramatic landscape of the falls, fed by the Langjokull Glacier. Our tour ends with a visit to Gerðuberg, a cluster of basalt columns formed by flowing lava cooled by seawater. Don't miss out on this unique opportunity to see Iceland's natural beauty.
Day 2 – Snaefellsnes Peninsula
Snæfellsnes Peninsula
Northern Lights
Guided Minibus Tour.
English speaking tour guide.
Breakfast.
One night in a hotel.
Hiking at Djúpalónssandur Beach
Northern Lights in the evening.
Begin your day with a hearty breakfast at our hotel before continuing our tour to the western part of Snæfellsnes. Be amazed by the stunning marginal and alpine scenery on the way. Our first stop is the charming fishing village of Arnarstapi, where we'll take a short walk and explore the area. Then, explore the 8,000-year-old Vatnshellir Lava Cave, a lava tube tunnel located in Snæfellsnes National Park. With a certified caving guide, learn about its formation and hidden features. This tour offers a unique opportunity to experience the story of Jules Verne's A Journey to the Centre of the Earth.
Experience the beauty of Iceland's picturesque village, Hellnar, where we'll have lunch. Then, visit Djúpalónssandur, a breathtaking black pebble beach surrounded by tall cliffs facing the Atlantic Ocean. Admire the inky, sleek pebbles and the sound of crashing waves. Don't miss out on this unique opportunity to see one of Iceland's most beautiful beaches.
Explore Djúpalónssandur beach with caution, as the power of the ocean is truly majestic. Keep an eye out for the remains of the 1948 shipwrecked British trawler, Epine. At the end of the beach, test your strength with the famous lifting stones, once used as a challenge for the men of a nearby fishing village. Afterwards, head to the photogenic Kirkjufell Mountain for a stunning viewbefore returning to Reykjavik for the night, and hopefully we will also see the Northern Lights.
Day 3 – The Golden Circle
Þingvellir National Park
Geysir geothermal area
Strokkur hot spring
Gullfoss waterfall
Seljalandsfoss waterfall
Kirkjubæjarklaustur village
Northern Lights
Guided Minibus Tour
English speaking tour guide
Hotel Breakfast.
One night in a 3 star hotel with private bathroom.
Northern Lights tour in the evening.
Explore the Highlights of the Golden Circle & South Coast
Begin your day with the Golden Circle tour. Start at Thingvellir National Park, a UNESCO World Heritage Site known for its complex geological nature and history, including the rift valley created by the North American and Eurasian tectonic plates and home to the world's longest-running parliament, the Althingi. Spot the largest natural lake in Iceland, Thingvallavatn. Next, visit the geothermal area of Geysir, where you'll see the still-active geyser, Strokkur, erupting every few minutes. See the majestic Gullfoss (Golden Waterfall) and learn about the failed hydroelectric plant plans in the early 20th century. 
Next we will head on to the South Coast of Iceland, the most beautiful part of the country. We will continue to Seljalandsfoss Waterfall, where a path leads behind the waterfall for a breathtaking view. Make sure that you bring waterproof clothing for walkign all around the waterfall. Finish the day with a hunt for the Northern Lights and overnight stay near Kirkjubæjarklaustur. Don't miss out on this unique and exciting tour experience
Day 4 - Glacier Hike & Ice Cave - Jokulsarlon & Diamond Beach
Vatnajokull Glacier
Skaftafell Nature Reserve
Svinafellsjokull Glacier
Glacier Hike
Natural Ice Cave
Jökulsarlon Glacier Lagoon
Diamond Beach
Kirkjubæjarklaustur village
Northern Lights
Guided Minibus Tour
English speaking tour guide
Hotel Breakfast.
One night in a 3 star hotel with private bathroom.
Guided Glacier Hiking Tour.
All Glacier Hiking Gear needed.
Visit to a Natural Ice Cave.
Northern Lights tour in the evening.
Explore the Highlights of the South Coast
Explore Iceland's rural landscapes and moss-covered lava fields as we drive eastward.
Embark on a glacier adventure on day 4 of your trip! On this day you will be glacier hiking on Vatnajokull Glacier, and exploring a natural ice cave. You will be hiking on Europe's largest glacier, Vatnajokull, with a certified glacier guide and discover the crevasses, moulins, and naturally formed ice cave.
On this day you will also visit two of the best attractions in Iceland, Jökulsárlón Glacier Lagoon and nearby Diamond Beach, where you'll see icebergs of many shapes and sizes floating in the lagoon or resting on the black sand beach.  Remember to bring warm clothes and a camera for photo opportunities.
Overnight stay in Kirkjubæjarklaustur, and of course we will be keeping an eye out for Northern Lights if the forecast is favorable.
Fjaðrárgljúfur Canyon
Eldhraun lava field
Reynisfjara black sand beach
Skógafoss waterfall
Guided Minibus Tour
English speaking tour guide
Hotel Breakfast.
Explore the Highlights of the South Coast
Drop off in Reykjavik
Begin your day with a nourishing breakfast as we embark on a journey to explore the breathtaking highlights of Iceland's south coast.
Our first stop will be the majestic Fjaðrárgljúfur Canyon. Next, we'll visit the iconic Elhraun lava field before heading to Reynisfjara Black Sand Beach. Here, you'll have the opportunity to witness the raw power of the Atlantic Ocean and explore a black basalt cave and Reynisdrangar basalt stacks. Legend has it that they were formed by trolls turned to stone by the rising sun.
Our tour continues to Skógafoss, a 60-meter tall waterfall believed to hold a Viking treasure deep in its pool. Take the 527 steps leading to a panoramic view of the falls.
As we make our way back to Reykjavík, we'll have the chance to visit more sites along the way, and anticipate to arrive back in the city between 4:00 p.m. and 7:00 p.m.