Combine the exceptional beauty of Iceland with the luxury of privacy on this private tour of the Golden Circle. With some additional new twists on the way, this tour is a completely different version of the tour of the Golden Circle and the best part is that it will be catered to your wishes, desires, and needs. From hot springs to pools, volcanic craters, waterfalls, and one of the three national parks, this particular tour is going to take you to all the places that there are to experience on the Golden Circle. A perfect way to spend some time among the beautiful sites of Iceland in perfect isolation with only your friends and family.
Since this is a private tour, you can always catch up with your private guide if you have any special requests. Here below you can find some ideas of what your itinerary could look like, but you can skip some of these stops and add some new ones instead. 
Thingvellir National Park
Thingvellir National Park: The very first stop on the Golden Circle route of Iceland, Thingvellir National Park is the only UNESCO world heritage recognized site in Iceland. From springs to fissures, lava fields, mountain ranges, lush flora, and incredible fauna, there is a bit of everything from all over Iceland in this national park which makes it a must-visit place for every tourist. Thingvellir National Park is also the site where the very first parliament building of the country was erected. The sessions are not held anymore in this building since a new one was constructed in the capital city but it remains open for the tourists to visit makes a great attraction for history buffs.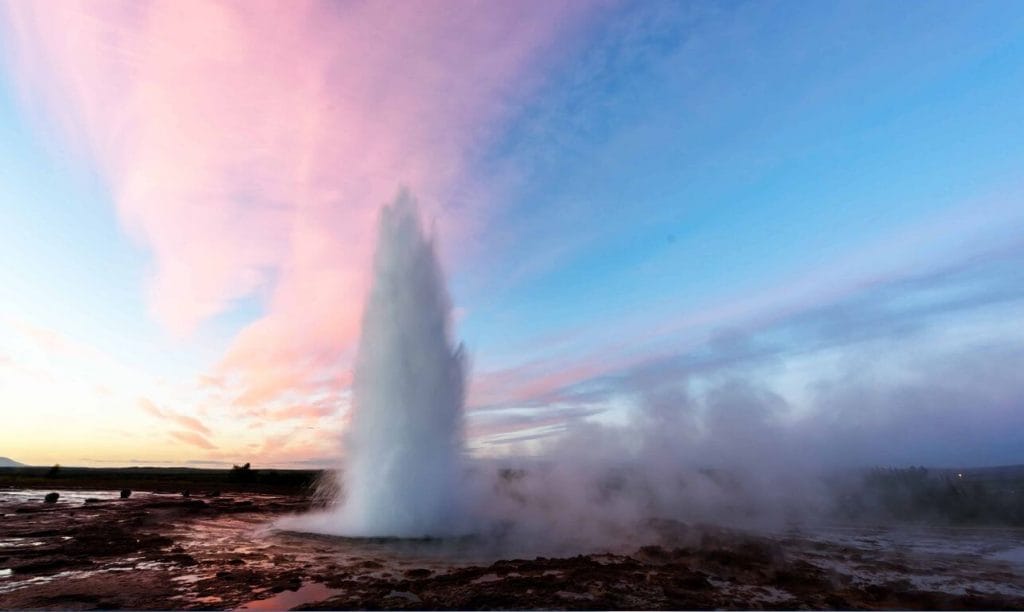 Geysir Geothermal Area: A huge field filled with hundreds of geysers, some active and some dormant, the Geysir Geothermal Area is something that one does not normally get to see even when on vacation in a foreign country. The Geysir Geothermal area was named after one of the main geysers in the area – Geysir. It is dormant now but it used to throw a stream of boiling water in the sky for about 110 meters. Now the highest active geyser you will find in this geothermal area is Strokkur – the second most important one. It goes up to about 15-20 meters. It is a whole new experience to walk through these small ponds of boiling waters.
Gullfoss waterfalls: Also, known as the Golden Falls, Gullfoss waterfall is one of the most beautiful waterfalls in Iceland is undoubtedly something so high on the magnitude of power that it almost looks god-like. This waterfall is about 175 meters wide, 106 meters high, and drops in a canyon at a distance of about 69 meters. Every changing season brings a new life to the surroundings here and the waterfall itself and completely changes the landscape. The summers have a white foamy thrilling stream of water falling in a canyon surrounded by lush green rocks while the winter brings in a completely white landscape covered in snow with the electric blue and white stream of water falling in the snow-white canyon.
Friðheimar Tomato Farm: One of the best places in Iceland to get a taste of homegrown vegetables – especially tomatoes. The farm has its horse show of pure-bred Icelandic horses, a beautiful restaurant with dishes made with the ingredients they grow themselves on the farm, and a greenhouse that is open for tourists to visit.
Kerid Crater: Once an active volcano, the Kerid crater is a unique formation even in Iceland with a perfect oval shape. The lava inside the volcano dried up and left the crater free which later got filled with beautiful azure blue water. When you visit this site now, you will find a gorgeous oval-shaped volcanic mouth amidst a land of dusty yellow and brown colors filled with azure blue spring water – an eccentric sight on its own.
If there area any other locations that you would like to explore on your private tour you can always contact your private guide beforehand and we can help you make an itinerary that is suited best to your wishes. Check out more locations in the Golden Circle here. 
The Secret lagoon: The Secret Lagoon is allegedly the oldest natural hot spring in Iceland and has recently become a popular place for tourism after the refurbishment. Although not an official part of the Golden Circle, the Secret Lagoon is a good place to add to your tour list if you are on a trip on the golden circle. The Secret Lagoon is located in a small village named Fludir which falls somewhere between the Gullfoss waterfall and the Friðheimar Farm and can be easily added to the trip schedule without having to travel off route for a long distance.
Laugarvatn Fontana: A natural geothermal bath located in the small village of Laugarvatn, between Geysir and Thingvellir. Loaded with warm ad hot pools, Laugarvatn Fontana is a great place to stop by and have a relaxing time in the ideally warm water. The geothermal bath also has a great restaurant along with a special geothermal bakery where you can enjoy delicious meals and desserts.
Additional Information About the Tour
All admission fees are included in the price of the tour. If you would like to add some additional activities to your tour, you need to pay extra for them.
The total duration of the tour can be up to 8 hours depending on the number of stops you decide to make.
All tour vehicles will be equipped with high-speed Wi-Fi and premium glacial water bottles.
It is advised to wear proper warm clothing, gloves, hat, scarves, and sturdy shoes with a water and windproof shell outer layer to keep safe in the cold. Do not forget to carry a swimsuit if you have added either or both Secret Lagoon and Laugarvatn Fontana to the tour.
 Pick up & drop off in Reykjavik or the capital area. 
 Private Guided sightseeing to all the best locations in the Golden Circle
 4G Internet WiFi on the vehicle.
 Premium Icelandic Glacial Water Bottles. 
 Dress according to weather
Swimsuit& towel (Secret Lagoon & Laugarvatn Fontana)
You can choose a vehicle for your private tour in the booking engine. We have vehicles for up to 16 people. 
The price that will show up in the booking engine is per vehicle / group. 
Entrance fee to Kerið Crater & Þingvellir National Park is included in the price. 
Lunch is not included in the tour, but we will stop at Friðheimar Tomato farm where you can purchase lunch. 
If you would like to stop at Laugarvatn Fontana or the Secret Lagoon, you will have to add it as an extra in the booking engine.  
Please bring a towel and bathing suit if you are going to Laugarvatn Fontana or the Secret Lagoon. 
You can choose departure time fort he tour in the booking engine. 
This tour is perfect for groups. 
You might find interesting...
Most frequent questions and answers
We would love to hear from you