Organic Tomato Farm in the Golden Circle
Restaurant, greenhouse and horse show. 
We recommend that you book a table at the restaurant in advance. 
Iceland is known around the world for its stunning landscapes, unique wildlife, and beautiful flora. The northern European country is home to many lava fields, mountains, rivers, caves, volcanoes, and many cultural and artistic heritage centers. Out of many great attractions, one that captures the interest of agronomists, botanists, spectators, connoisseurs, travelers, and explorers, is the Friðheimar tomato farm. This farm is located on the Golden Circle route in south west Iceland and is recognized for its fresh produce, visitor-friendly ambiance, and horse shows. You can visit the farm with your family, it is recommended by many to take your little ones for a fun trip to the Friðheimar tomato farm.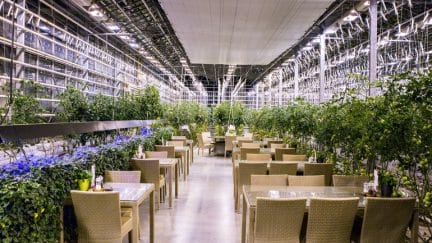 This tomato farm is a family-run business operated by Knútur Rafn Ármann and his wife Helena Hermundardóttir along with their five children. At Friðheimar, the family grows tomatoes throughout the year, even during the chilly and dark winters under faux lighting in greenhouses. You can take a tour of these greenhouses, where you can also learn about state-of-the-art agricultural techniques. The family welcomes tourists to enjoy the taste of their fresh and delicious crops. You can also shop for drool-worthy food souvenirs made from fresh cucumbers and tomatoes. Other than being a tomato farm, Friðheimar is also a small company that meets the standard of a sustainable business and the certification from Vakinn ensures that it serves its customers and visitors exceptional quality products and services without harming the environment or nature. Friðheimar follows environment-friendly practices and serves the guests responsibly.
Other than being a stunning hub for fresh tomatoes and other crops, Friðheimar is surrounded by a variety of popular sites. Friðheimar is often visited as part of many sightseeing tours that take you to the Golden Circle. When driving the Golden Circle you will often visit Gullfoss Waterfall, Geysir and Þingvellir National Park.
At Friðheimar, enjoy the beautiful ambiance of the theme restaurant, serving three different varieties of tomatoes. This unique and adventurous food experience takes you to a whole different level during your stay in Iceland.
Another fun experience at Friðheimar is to watch the beautiful horse show, that is performed in fourteen different languages. The horse breeding programs also take place in the premises of Friðheimar. Icelandic horses are one of the most special breeds around the world as most horses have four gaits, these horses have five, which is one of the reasons for their worldwide popularity. The horses are trained to be social and calm, which is also the reason why bringing kids to the place becomes significant. The meeting with Icelandic horses is often followed by a visit to the stable, where you can meet the horse riders, their steeds, enjoy sipping hot drinks, and capture the incredible moments in photographs.
Also, don't forget to take a look at the online store of the Friðheimar tomato farm, selling freshly prepared cucumber salsa, BBQ sauce, tomato jam, chutney, juices, and also gift cards. Not just in Iceland, but the farm people send these incredible goodies overseas to many countries including India, Bahrain, Indonesia, the United States, and Canada.
Since Friðheimar is a popular location in the Golden Circle, it is recommended to book a table there in advance if you are going to eat at the restaurant. 
Tours to Friðheimar Tomato Farm
Map of Friðheimar Tomato Farm
Interesting locations in the area