Iceland is a place that is known for its mysterious, brutal yet serene and exquisite nature that attracts travelers, globetrotters, adventure seekers, and environmentalists from across the globe. It is indeed a dream destination for many. The mesmerizing landscapes, captivating cloud-covered mountains backdrop, diamond beach, roaring waterfalls, hot springs, and steaming geysers will make your jaw drop in awe. There are infinite pictures available online but the sense of surge that flows down the body as you witness Iceland's beauty by visiting this place is something unexplainable. The diverse and spectacular nature creates magic every time and surely says a lot about the majesty of Icelandic beauty. Now amidst all those mountains, snowcapped volcanoes, certain places hold some of the most beautiful sights of Iceland. And one such place is Þjórsárdalur valley. Let's dive in and get started.
Explore the Icelandic Beauty at the Edge of the Icelandic Highlands
Þjórsárdalur is a beautiful valley, which is located in Árnessýsla county in between the mount Búrfell along the river Þjórsá, which is to the east and mount Skriðufell to the west. In general, this valley is divided into two floors that are named as Rauðukamba (eastern part) and the Bergólfsstaðaá (towards river Sandá – western part). This valley is right at the edge of Icelandic highlands and has numerous major landmarks that include the Þjóðveldisbærinn Stöng, the waterfalls Hjálparfoss, Háifoss, and the small valley Gjáin. Apart from this, there is a threatening volcano Hekla, which is Iceland's one of the most active volcano. These are the most famous places that are in the Þjórsárdalur valley. Þjórsárdalur valley is now flattened over and is more pumice owing to the frequent eruption of the volcano Hekla and not just this, many other volcanoes in the vicinity includes the Vatnaöldur volcanic system, which is responsible for Iceland's biggest known lava field Þjórsá Lava (Þjórsárhraun).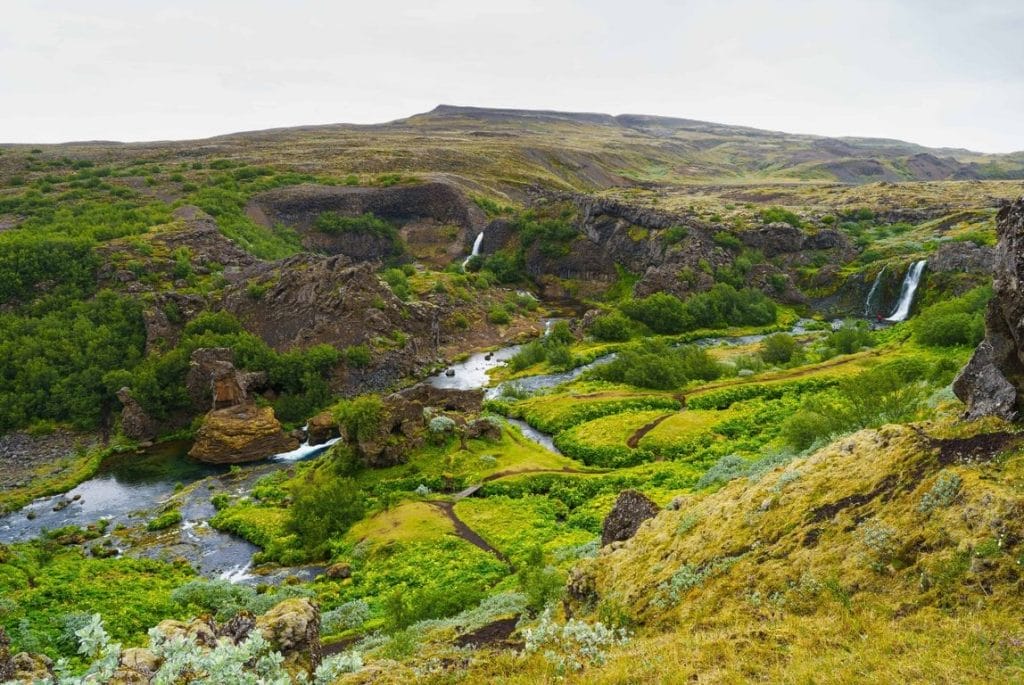 Natural Sites to Visit Within The Þjórsárdalur Valley
Þjórsárdalur is a famous place that runs along Iceland's longest river, Þjórsá. The tributary of this river, Fossá, falls into the valley, which is responsible for the creation of the splendid waterfall Háifoss. Háifoss, which is one of the tallest waterfalls in the country has a dramatic height of 122 meters (400 feet) and falls with enormous power. Apart from this, there are the Þjórsárdals hot springs, which is nearby the Háifoss. Then moving ahead, Búrfell woods is also a beautiful, serene, and natural attraction, it is a magnificently large forest of Iceland. Þjórsárdalur is indeed a botanist's paradise that will make you witness species of wildflower, grass, and moss.
There are many places within this valley and one of the most famous is Þjóðveldisbærinn Stöng – if you are a "Game of Thrones" fan, then you would be happy to see this place that served as a village during a "wildling" attack. So, do stop and relive the iconic scene here! Not just this, as mentioned earlier, Þjórsárdalur valley is within the clear sight of the active volcano Hekla and near the Þjórsá lava, which is the largest lava field in Iceland. Þjórsárdalur valley is also most popular for rock-climbing owing to its sheer cliffs, but with proper guidance and with the help of experts only, else this place can be extremely dangerous, when not paid attention.  Another most visited place is the hydroelectric power station near Þjórsárdalur, where you can witness how Iceland gets its electrical energy.
So, put on your shoes, carry the essentials with you and head out for some adventure and hiking in Þjórsárdalur valley. Don't forget to carry your hiking essentials, few extra sets of clothes (the weather can be brutal and unpredictable, so take extra care), along with the camera gears and protectors.
Interesting locations in the area