This whale watching tour put Húsavík on the map as the whale watching capital of Iceland!
Skjálfandi Bay
Hot cocoa and cinnamon buns
The marine life of Iceland is something to be explored. When in Iceland, you simply cannot miss watching the whales in their natural habitat. It is one of the most popular experiences in Iceland! Join us on this whale watching tour in Húsavík, northern Iceland, to experience and see the whales up close. 
This tour is ideal if you are traveling around North Iceland and want to add some adventures to your trip.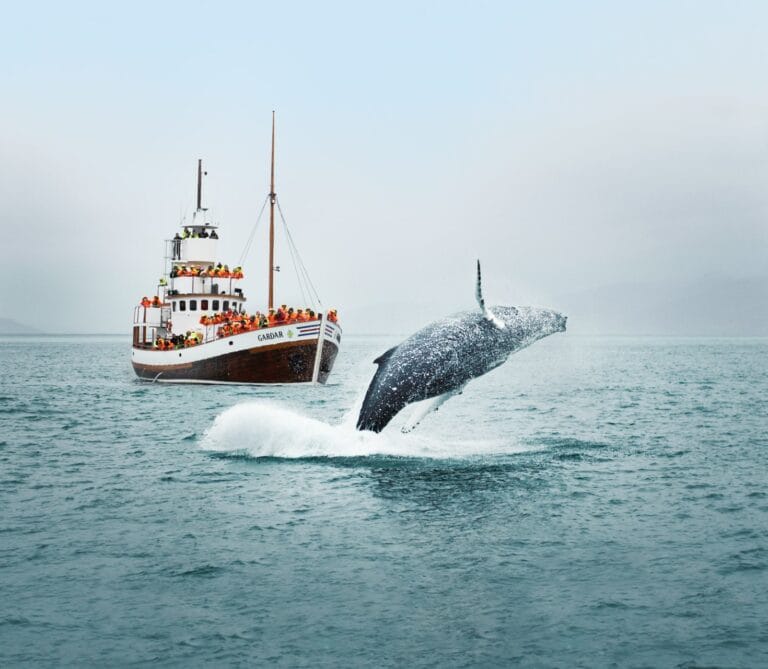 On this tour you will sail around and see the beauty of Skjálfandi Bay, the bay where Húsavík is located. You will have the opportunity to see whales, dolphins and sea birds in their natural habitat.
Enjoy a smooth, safe sailing in a traditional Icelandic oak boat and treat yourself to a cup of hot cocoa and traditional Icelandic cinnamon buns on the way back to Húsavík.
It is simply magical to watch whales at the magnificent Skjálfandi Bay. Húsavík is on Iceland's north coast, so this tour is a great add on to your road trip in North Iceland. Get on board with the great crew to watch the whales in the traditional and well-known areas of Skjálfandi Bay. You will not only get to see the whales swim around their natural habitat, you will get to see the dolphins, and birds as well. You will see the most common whales and dolphins up and close on this tour. During your Húsavík whale watching tour, you will see minke whales, white-beaked dolphins, humpback whales, porpoises; and if you visit during the beginning of summer, you will also get to see the blue whales and fin whales.
Icelandic weather is completely unpredictable, and since we are sailing on The Atlantic Ocean, you need to come prepared for it. There can be a rapid change in the weather so we will bring warm overalls and raincoats if needed. However, it is recommended to wear something warm under the overalls to protect you from the chilly weather and rain. The complete Húsavík whale watching tour will take approximately 3 hours.
Specialized Whale Watching Guide
Boat tour on a Traditional Icelandic Oak Boat
Warm overalls and raincoats if needed.
Hot chocolate and cinnamon buns
Skjálfandi Bay
Hot cocoa and cinnamon buns
Dress according to weather
Warm clothes
Good shoes
Gloves & Headwear
Camera (optional)
We will provide you with warm overalls and rain coats on the tour.
Safety is a top priority for us, and we take every possible precaution to guarantee a safe and enjoyable tour.
All whale watching tours are subject to weather conditions and sightings cannot be guaranteed. We reserve the right to cancel the tour due to bad weather conditions.
You should be at the departure point at least 30 minutes before scheduled departure.
If tour is cancelled by tour operators, for example because of bad weather, you will get a full refund.
Hafnarstétt 9, Húsavík 640, IS
Most frequent questions and answers
You might find interesting...