It is no secret that Iceland is no short of glaciers and mountain ranges that make everything else look smaller somehow. And with these majestic, larger-than-life beauties come various hidden caves that hide wonderful secrets, sights, and serenity. While one would imagine that caves in a glacial country must be limited to ice caves only, the reality is quite contrasting. The land of ice and fire flaunts bountiful of both ice and lava caves, also known as lava tunnels. Since Iceland is located on one of the top hot spots on earth, it has a lot of volcanoes, geothermal areas with geysers, about 170 hot springs, and hot pools, and dozens of lava caves. And to make things even more fascinating, there are lava caves with hot springs located inside them – a double treat. Like any other location and geographical formations in Iceland, some of these glorious lava caves have also served as shooting locations for popular shows and movies.
The formation of lava caves takes place in a few different ways when come to Iceland. While the traditional, more popular way for lava caves or tunnels to form is when lava flowing in a stream cools off from the surface forming a hard crust but the lava flowing underneath is still active and hence form a tunnel. Another way by which lava caves have formed in Iceland is when active flows and covers a water body like rivers. The lava cools down pretty swiftly and hence form a hard surface. This particular phenomenon often results in the formation of underground rivers and streams.
Lava caves have been a lot more than just tourist attractions to Iceland. In the old times, lava caves served as an escape when weather conditions went downhill and proved to be a great shelter for both cattle and people. Many people use these caves as sheds or barns for sheep and other farm animals even today.
The Best Lava Caves in Iceland
There are a little too many wonders in Iceland to be able to fit each one them into a single trip. So, we have created a carefully crafted list of all the top lava caves that you can choose from to visit when you travel to Iceland.  The following are the options from which you can pick one or more depending on what your plans are for your upcoming visit.
Víðgelmir - The Largest Lava Cave
Rocks with colors that you have seen before, remains from the age of Vikings and many other exciting things awaits you in this beautiful lava cave located in the west part of the country. Víðgelmir is among one of the largest and longest lava caves in Iceland also comes up as one of the biggest caves in the whole world in terms of cubic measures. Víðgelmir lava cave was created in a lava field that formed during the time of Vikings which explains the remains like bones and pearls that are often found inside the cave.
Víðgelmir is 1,585 kilometers long. The widest point in the cave is about 16.5 meters wide and the highest point stands at 15.8 meters. Hallmundarhraun lava field, in which the cave is located, was formed some 1100 years ago. The things you would find inside this gorgeous cave will render you speechless. From colorful rocks to crystal ceilings and actual lava frozen in time, this cave contains everything that one would expect of the biggest lava cave in the world and so much more. Several guided tours go to this particular cave in a single day. There are both long and short versions of tours available for this particular lava cave ranging from 1.5 hours to 4 hours. Depending on how much you would like to spend exploring, you can choose from the available options.
Note that it is not possible to visit this cave on  your own, an experienced guide is needed. 
Raufarhólshellir - The Lava Tunnel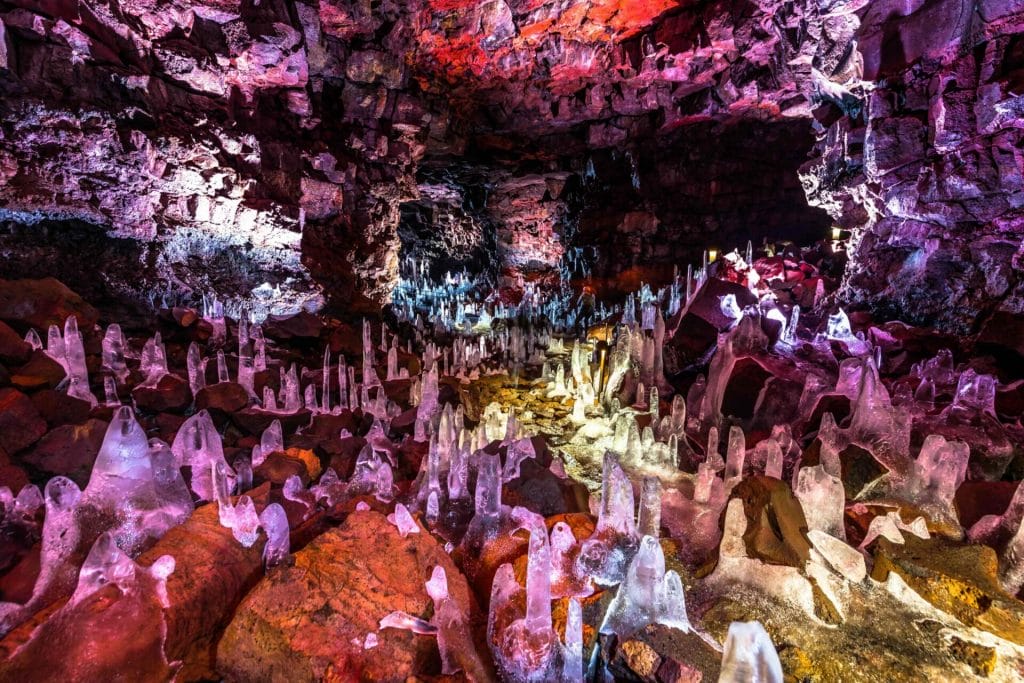 Raufarhólshellir is the fourth largest lava cave of the country and measures a total of 1360 meters in length, 10 meters in height, and 10-30 meters in width (30 meters at its widest point). Raufarhólshellir is popular for fantastic color schemes that it flaunts on its rocks and ice formations that change every season. The cave has served as a beautiful spot for northern lights photography on several occasions since the entranced to the cave is through a hole. There is another hole in the ceiling of the cave that gives a beautiful view of the sky. The hole in the ceiling also means that when it snows, ice freezes into the cave creating beautiful little abstract ice sculptures. Apart from that, the lava cave contains many beautiful colors that range from red, green, yellow, blue, and purple to golden and silver. The extraordinary sights that these colorful rocks create make this cave perfect for photography and videography. Raufarhólshellir cave also served as one of the shooting locations for the movie Noah.
Lofthellir – The Lava Cave with Ice Sculptures
This extraordinary cave is the epitome of underground adventure for the ones who have an undying hunger for the thrill. Lofthellir lava cave is known for the exquisite ice sculptures that it hides deep inside. These ice sculptures are the biggest ones to have been found yet in a lava cave of Iceland. This lava cave is about 3500 years old and measures 370 meters in length and 10-15 meters in height.
Although, one needs to do cover a bit of a distance inside the cave in the movie-stunt or army training style. Crawling on your stomach and swinging by a rope are two of the ways you will be using to get to the ice sculptures. It may seem like a lot of work but this particular activity is second to none when it comes to adventure in Iceland. At the end of this small thrill trail, the beautiful ice sculpture and glimmering multicolored lava rocks await you. Just make sure that you are accompanied by someone who has gathered a certain amount of experience with these caves even though the activity itself doesn't pose any threats.
Vatnshellir – Doorway to Underworld
Located deep underground at a depth of somewhat 200 meters into the ground, Vatnshellir cave is another place where you can find incredible authentic lava frozen in place retaining its original flaming red and orange shade. The cave is located in the western part of the country on the Snæfellsnes peninsula in Purkhólahraun lava field. This lava field has several other small lava caves as well but the prominent ones are those four that form the infamous Vatnshellir lava cave. Vatnshellir lava cave is about 35 meters below the surface reaching up to 200 meters in length. There is a spiral staircase that takes the visitor to the place from where the cave begins and then it's a horizontal journey towards the other end of the cave.
Vatnshellir cave, which translates to 'water cave', got its name from the fact that it served as a source of water before it got turned into lava due to an eruption in the nearby Purkhólar crater family. The eruption caused the lava to flow atop the river and it froze right there creating a thick lava crust. The stream under the crust dried up after a few years and hence the cave-tunnel was born. The insides of the cave are filled with beautiful colored rocks and still-frozen lava featuring every possible bright color.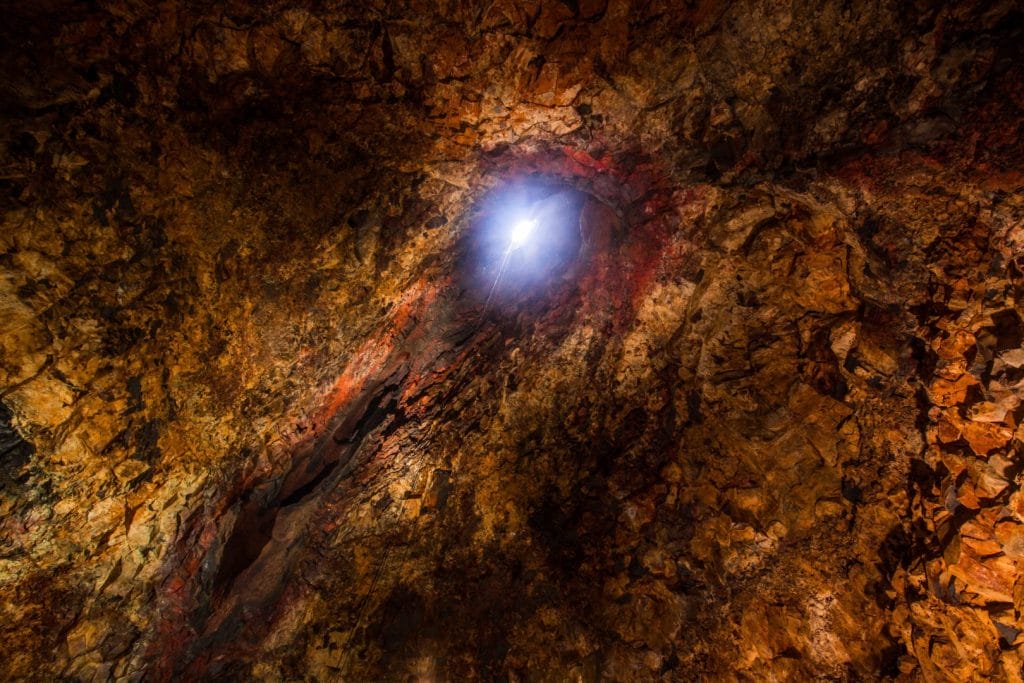 A literal trip into a volcano, this particular cave stands out because it is not like the ones which are generally found in the country. Thrihnjukagigur cave is a cave located inside a dormant crater which has not erupted since the past 4000 years named Þríhnjúkagígur. The crater is located in Southwest Iceland in the Blue Mountains near Reykjavik. The volcano itself is spread across 3270 square meters and is 213 meters deep. A rift was discovered beneath the surface which is believed to be the way from where the magma of the volcano has escaped.
An elevator has been constructed over the crater to help the tourist get inside the cave. The two things that make this particular site special are – one, the sheer enormous size of the volcano and two, the vibrant color scheme of the rocks. To paint a simple picture in reference to the style of the volcano, the width is equivalent to the surface area of three basketball courts put side by side and the height is enough to house the statue of liberty with ease. The color palette is simply exquisite with shade of brown, red, yellow, green, and maroon mixed with darker shades of blue and black. If you plan to visit a lava cave but want something other than the usual caves then this volcano lava cave is the perfect spot for you to add to your list.   
Another cave near the capital city located close to the Blue Mountains in the Tvíbollahraun lava field, Leidarendi is considered to be one of the best examples of Icelandic lava tubes. The special feature of this cave includes the lava flakes fallen on the ground from the ceiling of the cave dues to erosion. Along with beautifully polished walls of the cave, you can expect to find many geological formations like stalagmites and stalactites inside along with glimmering ice sculptures if you happen to pay a visit in the winter season. There are some parts in the cave where you may have to resort to crawling to move further or do some climbing as well but overall, it can be explored by self if you do not wish to get a guided tour. Although, several tour agencies offer a proper tour to the cave. If you set on the expedition by yourself then make sure to bring heavy hiking boots, headlights, and helmets along as they are a necessity for the task.
Even though Buri cave has been discovered only recently, it is 5000 years old cave that is 1 kilometer long and about 10 meters high and wide. The most impressive part of this lava cave is a 17-meter-long vertical pit which is evidently created by a lava waterfall. Everything about this cave is simply exquisite. The lave cave is located in the Leitarhraun lava field. You will find that the entry to the cave is adorned with several ice sculptures. Buri is one of the largest lava caves in the world and has a lot of complicated to cover areas. There can be a bit of crawling and climbing involved so make sure that you are prepared for the challenge.
Located on private property, this cave is like a hidden gem under the snow. Grjótagjá lava cave is an extremely beautiful cave with a live natural hot spring inside and what's better than visiting a lava cave and witnessing beautiful sights? Getting to bathe in a world-famous lava cave hot spring. Even though Grjótagjá lava cave is located on the private property of a local family, it is always available for visitors. Grjótagjá made an appearance in the third season, episode 4 of the popular HBO show Game of Thrones featuring Jon Snow and Ygritte.
The entrance to the cave is very narrow and only a little natural light gets into the cave. The hot spring is located inside the cave but it is not always open to access. The temperature of the water in the hot spring rose to 50°C when a nearby volcano erupted in 1975 which rendered it unfit to bathe in. So, the hot spring was closed for the time of bathing. You can get to know whether bathing is allowed at a certain time only when you get to the location. But rest assured, even if the hot spring is closed, the cave is reason enough to pay a visit.
Literally translated to "Girl Cave" and also known as Helguhellir or Stelpuhellir, Gjabakkahellir is a 9000 years old lava cave. It is one of the very few caves which have easy access and an easy exit as well so, you can cover it from end to end but there can be some crawling involved in the process. The highlights of this cave include stalagmites with a "shark-tooth" design that hangs from the ceiling. This lava cave is located in Þingvellir National Park which means that you can include a visit to this cave in your golden circle tour.
Hljóðaklettar – The Lava Church
Smaller lava caves in Iceland are often referred to as lava churches and Hljóðaklettar lava cave is one of those lava churches of Iceland. Hljóðaklettar lava church is a part of a group of three rock formations. But unlike the other two, Hljóðaklettar is a cave instead of being a simple rock formation. Different than the other lava caves that you would find across the country, this one features basalt columns and a massive glacial river. Another special quality of this particular cave is the amazing acoustics which makes it a heaven on earth for people who have a knack for singing.
Since there is no shortage of lava in Iceland, just like any other natural landscape, it can be a bit confusing to choose the one to add to your schedule of trips and tours. But no matter which one you choose for your endeavors; it will be more than worth every second you spend exploring these beauties. Make sure that you are ready with your hiking boots, warm jackets, and waterproof clothing to make sure that nothing becomes a hindrance in your expeditions of the beautiful lava caves of the land of ice and fire.
Lava Caving Tours in Iceland