Iceland has a gorgeous environment that attracts a lot of attention from migrating fishes as well as birds who find their breeding and nesting ground in the beautiful arena of the country. Iceland is quite popular among many migratory birds and is famous around the world for is rich birdlife right alongside glaciers, waterfalls, and volcanoes. The sheer landscape of the country inspires and invites a lot of different species of birds to house themselves in the country. You will be surprised by the huge number of species of birds that you can find in this land of ice and fire.
A total of 388 species of birds can be found on the island of Iceland which includes the ones that nest in the country as well as the ones that are simply migrating. The species that nest in the country can be seen almost all-year-round in Iceland whereas the migrating birds can be seen in the summer season. There are some other species of birds that are more like visitors in the country but completely worth watching. All in all, there is no shortage of places and destination that you can find these beautiful little birds at. This article will discuss perfect places in Iceland to go bird watching and what are the main species that you have to catch while you are at it.
Bird Watching as an Activity
Just like all other things in Iceland, bird watching is also considered as a huge tourist activity and is very popular among tourists. Several tourism companies and agencies in Iceland offer great guided bird watching tours in Iceland some of which are customizable. Guided tours are a great way to move around the top spots to catch a sight of these birds in their natural habitat. Another plus about guided tours is that you will be well informed about the guidelines that you should be following when approaching the birds. From puffins to seagulls, all birds are very sensitive to people approaching them especially when they are in the middle of nesting and breeding.
Another way people prefer to engage in the activity of bird watching is on their own. Most people who take on self-driving as their preferred mode of transportation for their travels around the country choose to find bird-watching spots on their own. While it is a great way to enjoy the bird-watching, you should make sure of the fact that you know all the right places to look for the species you want to watch and that you are aware of the things you need to take care of when approaching the birds. Bird watching and photography is a whole other world in Iceland like watching and photographing the northern lights.
Just like out of the several destinations in Iceland there are a few places that you must visit during your trip, there are some species that you must get to take a look at when you go bird watching in Iceland. We have prepared a list of the top species, both nesting and migratory, that you must find out on your bird watching endeavors in the land of ice and fire.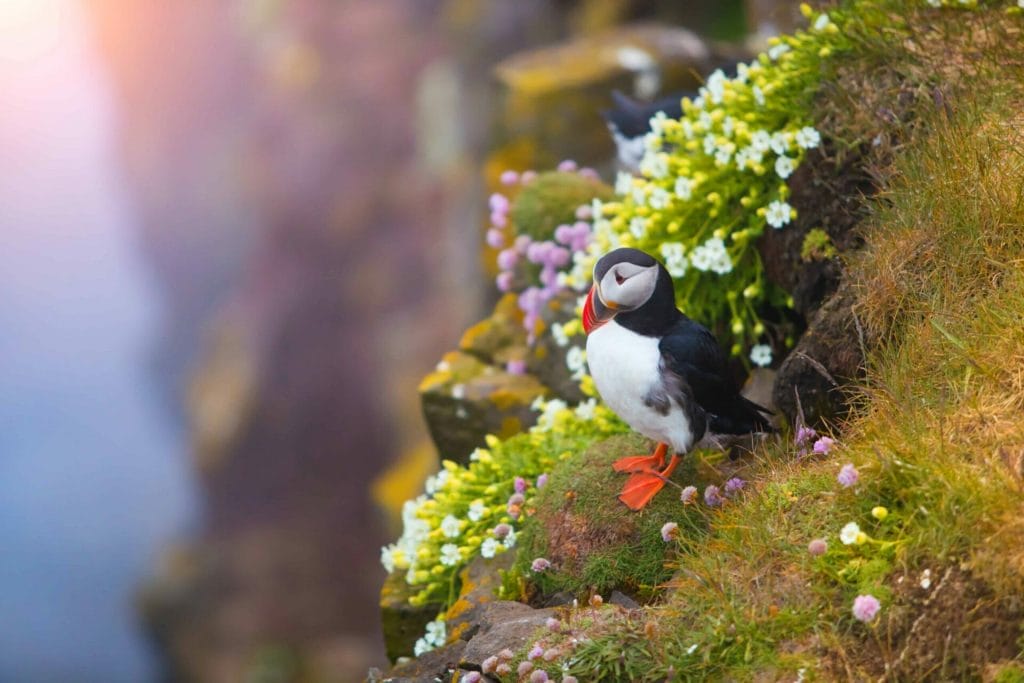 Tourism in Iceland is not complete without a good look at the puffins. The Atlantic Puffins can be found from May to September in the country. It is the official season for the puffins to breed and nest in Iceland. During this time, Iceland houses almost 60% of the total population of puffins in the entire world which makes up for a huge number of little wobbling puffins waiting to meet you, from a safe distance though. The estimated total population of puffins in Iceland counts up to about 2 million pairs. This distinct thing about these small birds is their bright colorful beaks. The orange color of the beak contrasts well with their black and white feathers.
The best places to catch puffins and Iceland include Latrabjarg cliffs, Dyrholaey rock on the southern coast, Tjornes Peninsula, Natural Reserve of Ingolfshofdi, Westman Island, Snaefellsnes peninsula, and Papey Island. You don't need to ride a boat in some of these places to get to see the puffins like Dyrholaey island. But if you prefer to enjoy a boat ride then going puffin watching on Papey island or Heimaey island is a good deal.
These small birds are said to be the carrier of the springtime in Iceland. The Golden Plovers are related to this notion in such a way that the national paper publishes a picture of this bird every summer as soon as the summer arrives, somewhere between 20th and 30th March. The reason Golden Plover's arrival such a hype in the country is because of its environmental challenges. The arrival of golden plover signifies the end of the harsh winter season and the arrival of the more pleasant summer season.
Golden Plovers are known for their colorful appearance and the single repeated chirp that they let out. They can only be found in the spring-summer-fall season, as long as the ground stays free of snow because worms are their primary diet and it is impossible to get any of those when there is snow everywhere. Golden Plovers can be found near any freshwater body in Iceland. They arrive in late March and generally stay till September. There are times and some places when you will be able to spot the ducks through September and early November. Lake Þingvallavatn in the southern part of Iceland and Lake Mývatn of the Diamond Circle are great choices for catching these beautiful little colorful birds.
All fans of Harry Potter should get aboard this train, without a doubt. The gorgeous snowy owls of Iceland are everything that you expect to see after hitting all seven parts of the Harry Potter and falling for Hedwig in the process. The Snowy owls of Iceland are one of the rarest appearances in the country and are birds of prey. Most of these majestic creatures have been seen in a year is about 10 times. It is considered a real reward for bird watchers if they get to catch a sight of these birds.
The reason snowy owls are so rarely seen in Iceland is that they do not breed in on the country ground. Moreover, since they are snowy owls, they tend to appear when it is snow all around in Iceland which means that there are very few chances for them to find the ideal meal for proper nourishment. In addition to the snow, the winters bring a lot of dark hours which makes it even more difficult to spot them. East fjords and the Highlands are pretty great places to try and get a look of snowy owls.
Normally people who are visiting Iceland in winters do not expect to see any birds since the nesting and breeding season is already over for the country and most of the migratory birds have already returned. For those who are trying to catch a sight of both the northern lights and the beautiful birdlife of Iceland, Little Auk may have something in store. While Little Auks do not breed in Iceland anymore, they can still be seen regularly in the winter season. The best shot you have at seeing these is away from land, near the shore.
Just like tourists are generally very big on, ravens are the most popular bird in Iceland among the locals. Many Icelandic myths, legends, and saga have mentioned ravens in them and there are several poems, folk songs, and stories are written about ravens in Iceland. It is even said that the Norse God Odin used to have two ravens, Huginn and Muninn ('Thought' and 'Memory'). He would travel the world and tell his stories to his ravens. Hence, Raven signifies wisdom, knowledge, and mysticism in Iceland.
Several superstitions involve ravens in Iceland. It is said that if a raven happens to let you stroke his feathers, it will tell you some secrets of the future. If you see a raven being noisy on a rooftop, it may signify that someone, somewhere near is drowning. If they fly directly at you overhead then this action may signify extremes like death and prosperity depending on the direction that they fly in.
It must be evident now that ravens can be seen in most parts of the country. The moving patterns of ravens generally signify the starting of winters like the arrival of Golden Plover signify the arrival of the spring season. 
This gorgeous species of duck is as beautiful as it sounds. The red-throated diver is a golden-colored duck with a beautiful and distinct red-colored throat. The species is a very common breeder in Iceland and they can be seen and heard in the springtime very easily. There are some places where you can catch a sight of these beautiful birds in the winter season as well. While you can find the ducks in almost all places, the Flói area of southern Iceland, Mýrar in western Iceland, Hérað in eastern Iceland, and Öræfi in south-east Iceland are some particularly great places to find the birds going about their day.
Traveling straight from Antarctica to Iceland every single year, the Arctic Terns have one of the longest migration routes in the world of migratory worlds. They travel about 80,000 kilometers every year to breed and nest in Iceland in the summer season and go back to Antarctica. The total distance that an Artic Tern covers in its lifetime can be equal to three round trips to the moon which, truth be told, is a very large distance to cover. They see the most amount the sunlight in comparison to any other living creature. Reykjavík, Grótta lighthouse on the Seltjarnarnes Peninsula, Jökulsárlón glacier lagoon, and other coastal areas are the places where you can find Arctic Terns in abundance.
Arctic Terns tend to nest by digging burrows in the ground so it is very important you maintain a good distance from their nesting area so that you do not step on the sensitive ground or loose soil. Arctic Terns are very fierce. They protect their eggs in such a way that there is no need for them to nest in protected places like other birds. If anything or anyone disrupts the peace of these birds or seems like a potential threat to a single Arctic Tern, the whole colony rises and dives to protect the bird. Their extremely sharp talons and beaks are quite dangerous and can cause a lot of damage.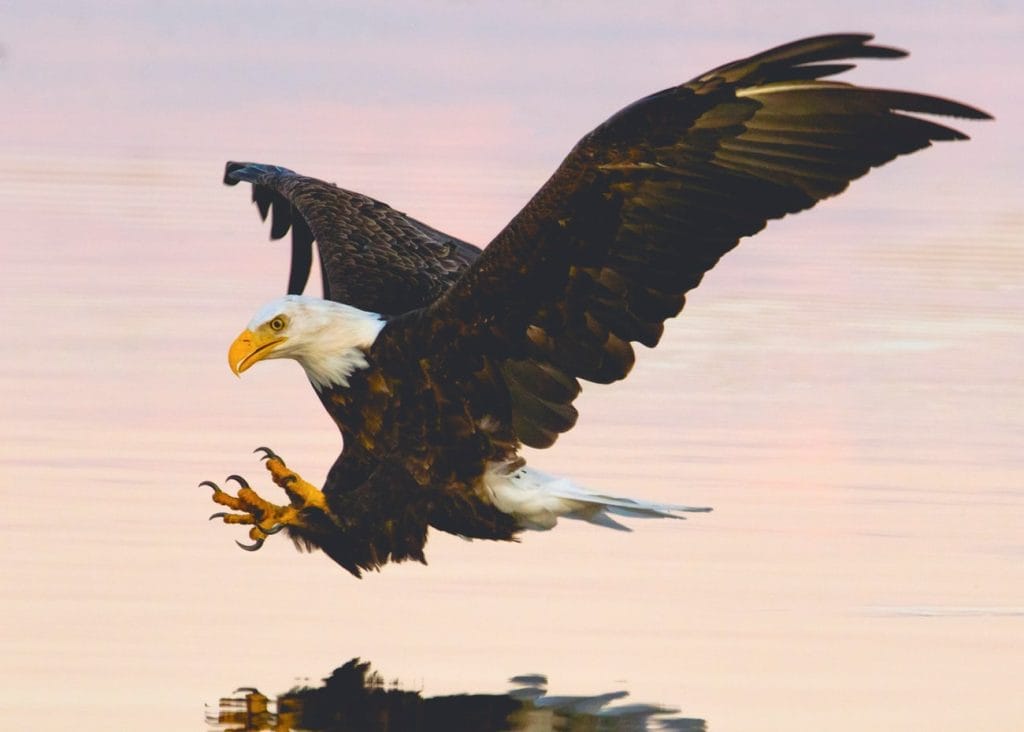 The largest bird to be found in the country, the white-tailed eagles are a great example of big beautiful birds that the country can proudly boast of. The wings of a white-tailed eagle spread up to 2.5 meters which makes them every bit majestic as they sound to be. Birds of prey like the snowy owls, you can find these beautiful birds in coastal areas. Not limiting to anything at all, the white-tailed eagle preys on fishes, rodents, other smaller birds, and even lambs, which turns to be a not-so-happy incident for farmers.
White-tailed eagles are like royalty in Iceland. The species was at the brink of intinction around the late 19th century. Severe protective measures were taken to reverse the decline of the population of the birds and save them. Starting from a low of just a few pairs, Iceland now has about 70 pairs of white-tailed eagles. The center of the white-tailed eagle in Westfjords is the perfect place to catch a sight of these glorious birds with ease. Other places you can try to get a glimpse include coastal areas of the western part of the country.
This is one of the very few species that you can find all year round in the country. Rock Ptarmigans are hunted in Iceland for food and they are extremely popular for being one of the main dishes in festival buffets. Unlike other species of birds available in the country, Rock Ptarmigans prefer to walk around instead of flying. They often use their surroundings as camouflage since they are generally hunted.
Hunting Rock Ptarmigans was banned for a short while during 2003-2004 but was resumed again in 2005. Now, there are some selected days in which hunting these birds is completely prohibited but only for personal use and consumption. There are several places where Rock Ptarmigans are protected and these are the places you will find them in greatest numbers. The best places to find these birds include Skaftafell Nature Reserve and Hrísey Island in the North. These birds mostly eat berries, seeds, small insects, and buds which means that you can find them in areas that are loaded with lush vegetation.
Thick neck, short bills, and rigid wings are the signature features of northern fulmar which incidentally distinguishes them from seagulls. Northern fulmars are one of those species which can be found all year round in the country. Two kinds of fulmar can be found in Iceland. One is generally white with some grey patches while the other has a more uniform grey overtone.
Even though the breeding rate is declining, you can still find up to 2 million pairs of northern fulmars in the summer season which increases up to 5 million in winters. This particular trend is very unlikely among other spices but it is quite the opposite when northern fulmars are concerned. You can easily find these birds in Látrabjarg in the Westfjords which is a pretty famous place to find puffins as well. Other places include Krýsuvíkurbjarg on the Reykjanes Peninsula.
A very distinct attribute of Northern Fulmars is the very strong stomach oil that they produce. It is powerful enough to fuel the body during long flights, feed chicks, and even to save their neck from predators. The oil is extremely difficult to remove once it touches the feathers of a bird and carries a rather pungent smell. The oil is so thick that it ends up clogging the feathers and may even cause death.
Best time to Go Bird-Watching
If you are hoping to find as many species of birds as it is humanly possible then visiting in the summer season is your best bet. All the migratory birds are in back in the area for the breeding and feeding season so you have a great chance to every bird you wish to catch a glimpse of. May and June are the best months to go bird watching in Iceland. The more the daylight, the more time you will have to explore the landscape to find the birds. And since June is the month that has the summer solstice, it is the perfect time to get acquainted with birdlife.
Gear-up for Bird-Watching
Be it summer or winter, the weather is pretty rambunctious in Iceland. And it is always colder than in most places in Iceland. So, the right thing to do here is to always be prepared for the weather with a few warm layers wrapped around your body. It is best if you go with wearing 2-3 layers of warm clothes instead of wearing just one extra warm jacket. The weather may be sunny one second and may get windy the other. It may start raining at any point in the day so you must always be prepared for all the possibilities.
Also, ensure that you wear sturdy hiking boots as some of your expedition can take to high cliffs or roads and trails with hard to conquer the ground area. If your boots are water-resistant then it will be a better option as you will be set if it happens to rain.
Most bird watching tours are a part of a single-day trip which means that you will not need to drag around any sort of heavy luggage for the tour unless you are on a long self-driving tour. You may need to carry a small day pack which is big enough to carry a small lunch pack and some daily essentials like medicines, chargers, power banks, etc.
It is smart to carry a notebook and pencil/pen to record the species that you find on your expeditions. Having binoculars may also come in handy to be able to get too close to the birds to get a better look.