Winters are challenging in the far north. But, November in Iceland is such a delightful time of the year despite being cold. By November, the country is in full swing; the temperatures dropping, sweeping winds, bouts of sunshine make for a fantastic time to visit Iceland in November. From Northern Lights to ice caves, snowmobiling to Silfra snorkeling, music festivals to Icelandic language holiday and book fairs, there's an abundance of adventure and culture the country has to offer. 
Iceland Weather in November
Without any surprises, Iceland in November isn't actually so cold expecting the far north country is. November in Iceland can range between warm and dry to cold and wet to absolutely freezing and snowy. The Icelandic winter is on its way in November. The country is truly a land of unpredictable weather, however, November is a stable winter month that makes for a perfect time for a winter vacation to Iceland.
The average temperature in Iceland in November hovers between 1°C-8°C (33°F-46°F), gaging even lower in the Icelandic highlands at high altitudes. The temperature is pretty steady throughout the month.
You can expect good rainfall in November. There's an average of 80mm (3 inches) of precipitation, and about 10 days of rainfall in the form of sleet or snow. There're about 42% chances of snowfall. Though, snow accumulation around this time is unlikely. Wind speeds also pick up at about 24 mph. The precipitation in November is the first stage of the season's ice sculptures, it happens to naturally decorate the ice caves and glaciers.
During this time of the year, the amount of sunlight decreases. There aren't many daylight hours during November. Towards the end of the month, the days see only 5 hours of sunlight. After mid-November, you can expect sunrise at 10:00 am and sunset at 4:00 pm.
Pros and Cons of Visiting Iceland in November
November is perfect to soak in Iceland's geothermal pools, experience glacier tours, and ice caves. Since Christmas is approaching, the towns are filled with Christmas spirits, lights, and decorations. The snow-covered and the magical Northern Lights, that's just the biggest reason enough! On the other side, the tours on the highlands could have zero access if the weather turns too bad. The unpredictable weather can cause difficult conditions on the road. Due to lesser sunlight hours, you get less time to explore the wilderness in bright light.
Best Self Drive Activities in Iceland in November
Magical Multicolored Waves in Dark Sky
November in Iceland is one of the best times to spot the elusive aurora borealis or the Northern Lights. In winters the daylight hours are decreased and the solar phenomena that cause the Northern Lights are always going on above, so always keep your eyes skyward to catch a glimpse of this magical phenomenon. If you're an enthusiastic photographer, you can't be more excited about the Aurora. You can book a tour with the experienced guides who help you photograph the lights with great advice on camera settings and photography perspective. The Icelanders bring along hot chocolate thermos to keep you toasty. The lights shining in greens, purples, yellows, and whites are a sight to relish.  The Aurora can also be spotted within Reykjavík. The most popular spots in Reykjavik where the lights can be seen are Klambratún Park or Grótta Lighthouse.
One of the topmost tourist attractions in November is the Golden Circle. Just a day trip from Reykjavik, the Golden Circle Tour offers incredible natural escapades. The Golden Circle tour of Iceland encompasses the three most popular attractions of Iceland: Þingvellir (Thingvellir) National Park, Geysir Hot Spring Area, and Gullfoss Waterfall. It is a 300 km circle from Reykjavik to see Iceland's most beautiful wonders. These areas help you be close to nature and enjoy the spectacular landscapes. You can also get to see the Geothermal action up close. The beautiful snow-cover sights will add an additional layer of exhilaration to your November trip to Iceland.
Gear up for Some Adventure
November is wondrous in Iceland; the ice and snow activities are in full swing. Since the lowlands are often still free of snow, November gives a perfect opportunity to try multiple adventurous activities.
November is just perfect for lava caving in Iceland. The low temperatures help create wonderful ice sculptures against the rock and so a fascinating contrast of red and blue is created. You might get to see the magma columns, paleochannels, ancient stalactites and stalagmites, sheep fossils from the Settlement Age, and fragments of early Icelandic husbandry.
There is no better time than November to explore the gigantic ice caps of Iceland. The scenes from the top of the glacier are extraordinary. If you fancy a challenging adventure, glacier hiking is a perfect way to encounter the massive ice caps. There are different types of glacier tours including kayaking to glacial waters to walking down to the ice. You can choose the difficulty level while booking. The guides are experienced and trained to ensure your safety. They share their extensive knowledge with you about glaciology and supply all the necessary equipment like helmets, harnesses, ice axes.
To add another level of excitement to your vacation and enjoy the Iceland winter at its best, snowmobiling is an excellent Icelandic adventure. There are several glaciers for snowmobiling; Langjökull, the grazing area Súlumýrar (near Akureyri), Mýrdalsjökull, and Vatnajökull are some perfect glaciers for snowmobiling. The guide will help you operate the snowmobile accurately and safely. They also provide the necessary gear including helmets, thermal outerwear, and gloves. You must hold a driver's license to be able to snowmobile in Iceland.
Iceland is home to the world-famous Silfra Fissure. Silfra Fissure is one of the most popular diving and snorkeling spot in the world for its crystal-clear visibility and the fact that it's the only place where you can swim between two tectonic plates. The water here is a mild chill above freezing at around 35°F which is comfortable enough to snorkel or dive in for 30-40 minutes. It truly is like a lifetime opportunity and the best part is that the tours are available all around the year.
 Your trip is incomplete without the Blue Lagoon. It is fun to swim in the lagoon in November as the temperature drops but the water here stays hot. You can also visit other popular hot springs as Iceland is the hub of geothermal activity, you'll find plenty of options.
Horseback riding is so much fun in November. The tours are available across Iceland that offer unique sights. The Icelandic horses are brilliant and reliable. They are mainly suited for severe climates and have a dual insulation coat. The guides provide the necessary gear and help with the basics of horseback riding. You can choose between variety of horse riding tours.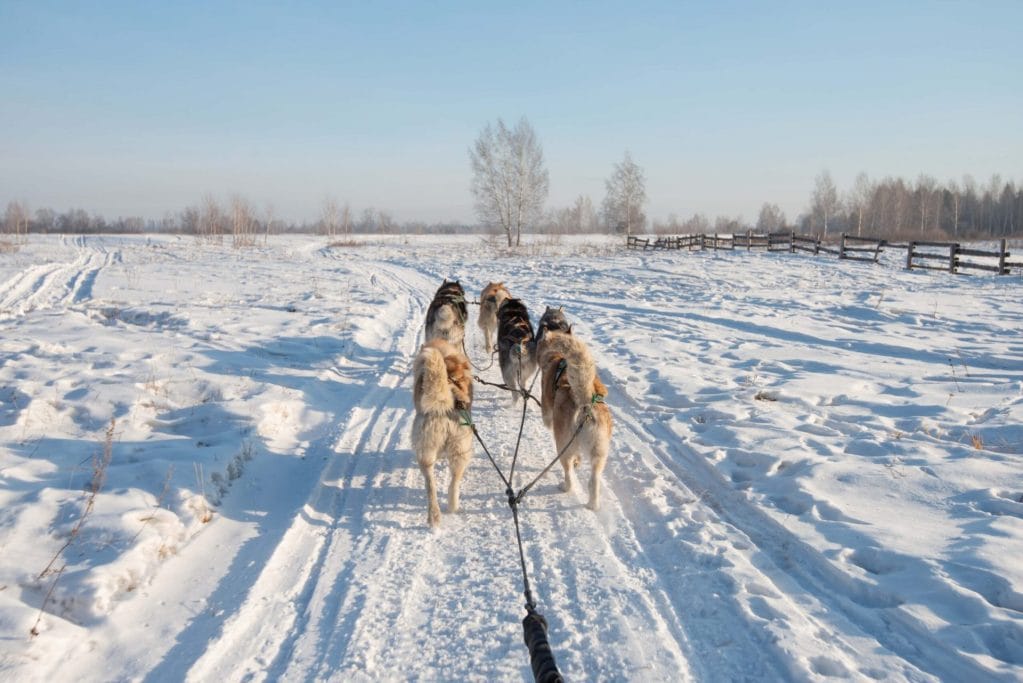 Dogsledding is a uniquely exhilarating experience and the perfect activity for November. In Iceland, you'll find Siberian Huskies or Greenland dogs, the intelligent and strong breeds, pulling the sled. These are so reliable that natives in the snowy deserts still use them for sledding instead of the snowmobiles, thanks to their higher endurance and reliability. Your musher will teach basic commands and techniques that will help steer the sled without hurting the dogs. Depending upon the people riding, 4-5 or 6-10 dogs pull a sled at any given time. The standard age is generally 16 years old, although 12+ children could be allowed this activity but at the discretion of the tour guide.
An Icelandic Helicopter Tour
A helicopter tour around the most wonderful sights in Iceland is an excellent option to make your trip memorable. The beauty that Iceland holds in its mountains and terrains when seen from above, is unimaginable.
Exploring the Culture: Things to Do around Iceland in November
Iceland is packed with Christmas markets and activities. During this time of the year, you can spot so many Santa Claus' around the streets in the town. The best Icelandic outlets to shop are Geysir, Kron, Farmer's Market, and more. Geysir is perfect for warm blankets and clothing, shoes, and scented candles. Kron is an artsy place for cool goodies while Farmers Market is perfect for some natural colored clothing. You can check the Icelandic brands Tulipop for the cutest options for kids and little ones.
Iceland serves to all cultural needs; Reykjavik is filled with interesting and quirky museums. The Reykjavik Art Museum is host to arcades of contemporary art. The exhibitions at the National Gallery of Iceland and the Icelandic Phallological Museum are always intriguing.
They say that an average Icelander, the keen coffee drinker, drinks around 9kg coffee beans per year. The coffee culture in Iceland is tailored and community-driven. You could also find free coffee in most local markets. They also have some of the high-quality roasted coffee found in the world. Iceland is filled with top-notch cafes in every street. There are many cozy cafes like Reykjavik Roasters, Te & Kaffi, Kaffitár, and Café Babalú that offer free refills allowing the guests to immerse in the artistic cozy city.
Iceland is packed with superb bars and restaurants. You can find a lot of world class restaurants in Reykjavik that serves amazing food by top chefs. If you are not up for fine dining, one of the favorite foods in Iceland is the hot dogs. You can find the best hot dogs in the stands in the harbor area.
Best Day Tours to Take in Iceland in November
Events in Iceland during November
For three musical days during the first weekend of November, Iceland turns into a melody itself- Iceland Airwaves is the country's biggest and most loved festival. The event attracts many music fans and artists, music journalists and scouts from across the world. David Fricke, the writer of Rolling Stone once mentioned that Iceland Airwaves is "the hippest long weekend on the annual music festival calendar." Started in 1999, it has come a long way and has now become one of the premier music events known for worldly ambiance and great talent.
This is a new addition to the Icelandic Airwaves Festival. Welcoming the music veterans and music lovers alike, the event gives an insider look into the music industry. This is a two-day program organizing panels, presentations, and seminars.
Icelandic Language Day or Dagur íslenskrar tungu is celebrated on November 16th. This day is a reminiscence of the importance of the country's unique language. It signifies preserving the remarkable language in the modern-day world. The holiday has been celebrated since 1996. On this day, Icelanders are encouraged to use Icelandic. Various cultural programs are organized in schools and Harpa Concert Hall, and the people who helped in promoting Icelandic literature are awarded.
Held during November 23-24, this is an annual literary event that honors authors published in Iceland. The fair has been organized since 2011 after Iceland joined the UNESCO Creative Cities Network. The event hosts exhibitions, discussions, readings, and story sessions for children. 
Best Multi Day Tours to Take in Iceland in November
Your Packing Essentials for November in Iceland
Clothing Recommendations:
As the temperature is dropping in November and the weather is mostly unpredictable, it is important to pack a variety of clothing. And, always remember that layering is the key!
Waterproof Trousers
Snow Boots
Windproof Coat
Earmuffs
Scarf
Fleece Lined Hat
Fleece Lined Thermals
Water and Windproof Gloves
Thermal Base Layers
Mid-layers
Warm Jumper
Swimming Costume
Quick-dry Towel
Waterproof Snow Boots
Approach Shoes
Hiking Boots
Casual Footwear
Flip flops
Other Essentials:
Travel Backpack
Travel Umbrella
Travel Pillow
Sleep Mask
Polarized Sunglasses
Power Adapter
USB-Car Charger
Filtered Water Bottle
Coffee Thermos
Camera/Action Camera
Medication
Jet Lag Relief
Required Documents
As called the land of fire and ice, Iceland is in its yet another unique and wondrous form in November. With dropping temperatures, chilly winds, numerous sights for landscapes, myriad of adventures, interesting events, and intriguing culture, November is an amazing time in the year to visit Iceland for every adventurer and traveler. 
We hope this article about Iceland in November will help you figure out if it's the best month for you to visit Iceland or not.
We would love to hear your thoughts. Tell us about your tips and tricks to when it comes to planning a trip to Iceland. 
It would be perfect if you let us know about your favorite locations from your trip. It's even better if they are hidden gems that you would like to share with the rest of us. 
Leave your comments and questions below and we will happily answer all of them