It is safe to say that Iceland is heaven on earth as it embraces mesmerizing beauty, eye-captivating mountains, icy cold glacier lagoons, streaming hot volcanoes, and aesthetical thermal spas. This European country attracts many travelers, hikers, trekkers, adventure enthusiasts, and tourists from around the globe. It is the hotspot of nature's best gift in the face of luscious green forests, thrilling trails, and rhythmic rivers. It is a place that every nature lover and adventure fanatic would want to visit at least once in a lifetime. Though the place encourages solo traveling, Iceland's best time is experienced when traveling with family and especially with kids. This northern country has an innumerable attraction for both adults and kids that everyone would love to enjoy.
The great aesthetic appeal and natural charm lure people to enjoy a fun and exciting family vacation. Be it the adventurous winter sports or summer hiking, Iceland guarantees never-ending excitements for all its tourists. Journeys turn out to be a lifetime experience when you travel with your family. In Iceland, you get to spend quality time with your kids and strengthening your bond with them. You can enjoy some great winter sports with your young kids, can go sightseeing, enjoy a lovely thermal spa, or swim in the numerous swimming pools. But when traveling with your family or little ones, keep in mind the following things to be safe and prepared in Iceland. So, get ready for your most memorable trip!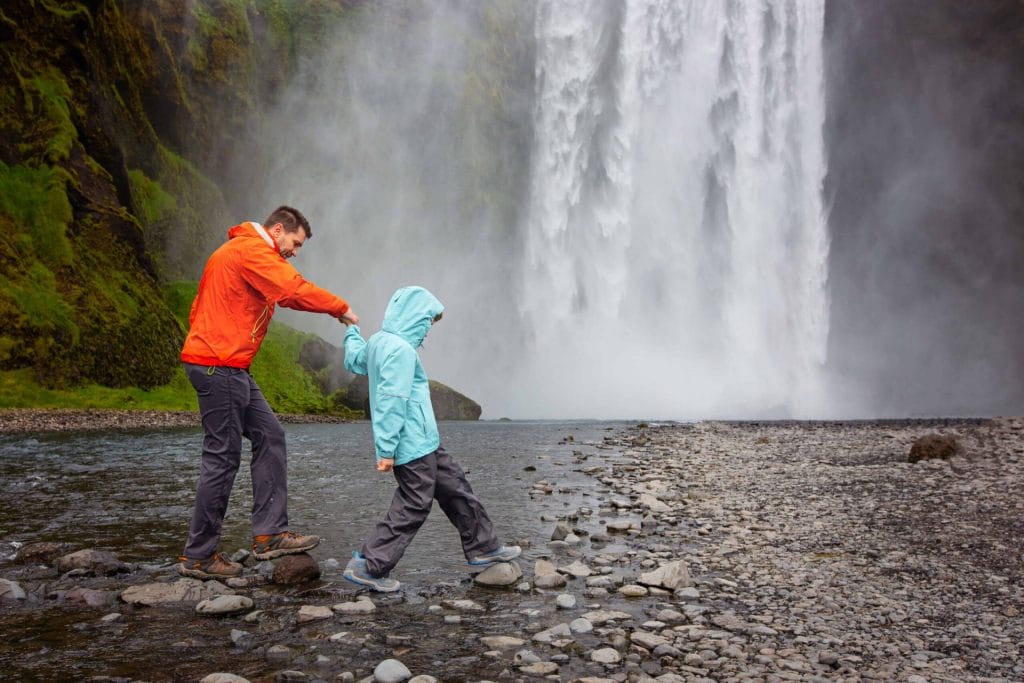 You cannot predict Iceland's weather, which means that you will always feel cold in Iceland, whether it's the month of June or January. Packing for Iceland depends majorly on the season you're traveling in. Kids are more sensitive than adults, which means they require extra attention when it comes to packing their stuff for an unpredictable place like Iceland. You have to take care of the special needs of your children, which includes clothes, entertainment, toys and gadgets, snacks, and accessories. Season or weather plays a very important role, and you have to make your packing list according to that. Remember, there are places in Iceland that are only accessible to tourists of certain ages, but check the requirements before packing for such places.
Summer in Iceland is a mystical affair; you will experience beautiful flowers and wildlife along with some cool breezes from the north. The country is very appealing in summer with beautiful natural colors. When traveling with kids in summer, take care of the essential thing like comfortable clothes, reusable water bottles to keep your kids hydrated while hiking, sun protectant cream, moisturizers, mosquito repellent, waterproof jackets, and rainwear. These are some basic summer essentials that you must pack for your little one.
LAYERS OF CLOTHES. Winter in Iceland is all about layering yourself with warm clothes. Remember that kids catch a cold and cough faster than anyone, it gets important to carry along a good pair of winter shoes, warm clothes, hot water insulated water bottles and food box, instant food items like chocolates and candies while traveling through chilly mountains. Take care of the essential things that keep your kid warm throughout the journey. If you have teenagers and young kids, then don't forget to carry along their winter sports accessories to keep them entertained and excited.
Autumn in Iceland feels like the beginning of winter, which means you need to carry along warm clothes and winter accessories. The weather in Autumn is pleasant with different and exciting colors all over. Do keep an eye on the weather forecasts to determine the right atmosphere as that will help you to avoid carrying stuff that you don't need.
It is a fun season with a mix of scorching sun and cold winter breezes. Your kids will probably love this season for its natural beauty and aesthetic appeal. Spring will encourage you to carry some comfortable sweatpants for hiking, light snacks, a pair of shots, a hat, and sunglasses for your kids. It is a happy season your kids will love traveling in as they get to see blooming flowers, chirping birds, and mystical rivers.
Despite the seasons, do not forget to carry along the following things while traveling with kids. Remember, what your children need depends upon their preferences and requirements. If you think that there is anything that your child might need during the vacation, pack it. If you're driving or renting a car for traveling to Iceland, use the extra space of your vehicle to carry your child's maximum stuff because you never know what you will need at any point.
Strollers and Car seats: These two things are a must if you're travelling with your toddlers. They may take up a lot of space but are equally important for a safe and comfortable journey. It is not always possible to carry your kids in arms; in such cases, strollers will help you to ease out a little. Car seats will help your kid to be safe during the road trips by providing a cushioned and comfortable sitting. Note that you can often rent car seats in with your rental car in Iceland. Make sure to check out if the car rental has car seats that are perfectly suited to your child. 
Food: Traveling with kids means you cannot run out of food or snacks. Food is the most successful way to keep your kids entertained during long journeys. Iceland is a fun place, but your kids might not love the visually attractive sites with an empty stomach. Carry food that can be preserved for a longer time like chocolates, bars, chips, and sandwiches.
Medical kit: It is the responsibility of the parents to ensure the safety of their kids, but you cannot predict what's coming. So, make sure you carry along with a first aid kit with all the necessary medicines, bandage, ointment, etc. to be prepared for any unprecedented circumstances. Don't forget to pack medication for fever, cold, and cough as Iceland is a cold place, and there are chances your kid might catch a cold.
Warm fleece or comforter: Your kids will love driving through the lustrous green forest and beautiful waterfalls covered in a warm and cozy fleece or comfortable. You can easily place this in your car or camper van to provide a comfortable journey for your kids. Even if your kids fall asleep on the way, they have access to a cozy partner all the time.
Carry an extra bag: You will not always travel in a car or any other vehicle, so it is important to carry a day bag or backpack to take all your essentials. This tiny little bag will only have stuff you require while hiking or traveling to a glacier lagoon. Read the article on what to have your daypack in Iceland. 
Baby Essentials: When traveling with toddlers or young kids, don't forget to take care of the necessary things that your child will require. This includes milk powder, diapers, extra pair of clothes, and baby food.
Portable heating equipment: When you're traveling to Iceland with your little ones, you need portable heating units to keep them warm throughout the journey. Remember, no matter in which season you're traveling in, Iceland always has cold weather. Take those items that can be used for different purposes like warming milk and heating food.
Battery charger: Preferable portable ones because no matter it's about charging your smart devices or your kids' entertainment station, a battery charger is important. Pick one that is compatible with most of your devices. The journey from point A to B can be a little longer, and you don't want your kids to get bored, so it's best to keep your battery backup ready!
Extra clothes: This may seem redundant to some, but while traveling to Iceland, the one important thing is your clothing. Don't go by the season or weather pack for winters. Yes, preparing for cold weather is key to a happy and enjoyable journey to Iceland. Ensure you carry warm gloves, woolen sweaters, and socks for your kids to keep them warm and cozy throughout the journey. We highly recommend wool underwear for your kids to wear all the time. 
Camera gear: Well, you're traveling to Iceland, which means there will be ample opportunity to capture some absolutely stunning landscapes. You wouldn't want to miss any chance to catch the happy faces of your kids while they enjoy the magical and enchanting beauty of Iceland. Don't forget to carry along your camera gear; if you have portable tripods, extra battery, chargers, lenses, do carry them along.
Miscellaneous items: These include a lighter for starting a fire, a camping tent (when staying in the Icelandic wilderness), sturdy boots for both you and your kids, a road map, safety tools, camping, or hiking accessory, etc.
It's natural to be excited about your must-needed family vacation in the magical and rhythmic Iceland. Everything looks fantastic when you enjoy the sight of your loved ones. Iceland is an adventurous place, which means you have the world to explore the wilderness with your family by experiencing some of the gigantic landscapes, northern lights, clear blue sky, and mountains covered under a white blanket of snow. It is essential to plan out everything beforehand to avoid hassles at the last minute. Other than the basic essential things, there is other stuff that you should give a thought to before packing your bags for your memorable journey.
Traveling with kids requires planning; you need to plan out everything according to your child's needs. The hospitable natives will make you comfortable with their friendly behavior and warming attitude but give your kids time to adapt to the new atmosphere.
Remember, safety comes first; carry all essential items to keep your kids safe. From a road map to a weather forecast device, make sure you can access everything before you land or drive to Iceland.
Pre-book everything to avoid real-time hassles with your kids. You wouldn't want to roam around to find a hotel or a place to stay after a tiring hiking spree, so make sure you pre-book everything from hotel room to a car to your activities, always be prepared.
Keep an eye on the weather forecast to be sure about the temperature and weather conditions. When traveling with young ones, a lot of things are determined based on the weather, the clothing, food items, travel gears, and miscellaneous stuff, so come prepared with everything.
Please do your homework; yes, it is essential to research the places before planning the trip. At some attractions, kids of a specific age can not go or experience the beauty of that place. So, it is essential to choose those places carefully.
Summer is all about hot springs, swimming pools and geothermal spas, which your kids will love. So, while packing your bags, make sure to add an extra pair of flipflops, towels, and shorts / swimsuit. These things are a must when traveling in summer to Iceland.
Among other essential things come toiletries; you need to carry everything your child must do that one important job. Carry along tissue rolls, pocket-size hand wash, sanitizer, face wash, and a small towel to be ready for nature's call.
If you think traveling to Iceland with family is an expensive affair, then plan your trip for the offseason. You will not miss out on anything but can travel on a budget to the most exciting and adventurous country. Off-season traveling is also good with kids because of less tourist and commotion.
Kids are sensitive, and there might chances that they won't like the food of any place or are allergic to some of the food items. Ensure you carry along easy-to-carry snacks to support your kids' instant hunger and avoid eating the local food. Though it is great fun to try out local food and Iceland has really good food for children and adults, if your children are sensitive, don't experiment with it.
Traveling in Iceland is both fun and thrilling; you will witness some of the best things nature has to offer. Be it winter or summer, Iceland offers plenty of ways to keep you and your family engaged throughout your vacation. When traveling with kids to Iceland, you can visit some of the most exciting places, including the Golden Circle, the capital city Reykjavik, the flea market, ice caves, glacier lagoons, and hiking trails. You can also take your kids for bird watching or fishing on a lovely summer afternoon in Iceland. Kids love animals, and Iceland is home to some amazing animals, including whales and puffins. Take your little ones to dog sledding and horse riding for maximized adventure. Keep your kids warm, well-fed, and dry, and your journey will become a success with memorable, exciting moments. Spend this time with your kids to know them better and give them time for a balanced relationship. All these things will look much more comfortable and accessible if you plan out your holiday smartly. Relax and look forward to an exciting and adventurous journey!