Visiting Iceland is one of the best things you can experience in your lifetime. Iceland offers breath-taking attractions, including hot springs, geothermal spas, mountains, volcanoes, waterfalls, glacier lagoons, rivers, hiking trails, and the northern lights. All these wonderful sites make Iceland one of the most popular vacationing spots in the world. Many travelers, hikers, trekkers, campers, adventure enthusiasts, and explorers from around the globe consider Iceland to be a heaven on earth. This mesmerizing northern country is known for its rich Vikings history, warm natives, and delicious food.
Iceland is often known to be an expensive country due to the larger number of tourists' visits every year. The pricy accommodation and transportation costs are among the most expensive things in Iceland. It would help if you had planned your trip to Iceland way ahead of time to monitor the funds and plan a budget for your most memorable trip. If you're planning to Iceland, then here are a few things that you must know to save your money without compromising on fun and adventure.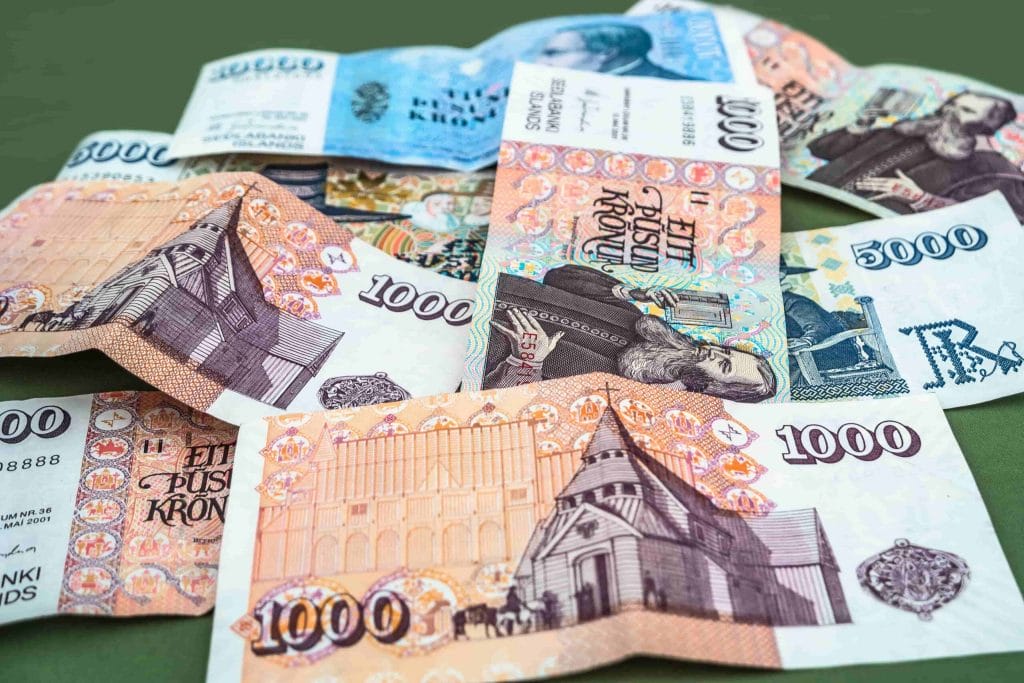 Like many other countries, Iceland has its own currency, Krona or ISK. To spend a joyous time in Iceland, you need to have this currency for any transaction. If you're traveling via flight, exchange your money with Icelandic Krona at the airport to get a better exchange rate and convenience. Everyone in Iceland takes credit and debit cars so you do not have to exchange to much cash for your trip to Iceland. You can also exchange your money at any nearby Central Bank of Iceland for better deals, or else you can visit the capital city, Reykjavik, to avail of a favorable exchange rate.
Many tourists prefer to carry cards to avoid the hassles of carrying the local currency. If you are also planning to use your plastic money, then make sure you take a Visa or MasterCard as it works in all parts of Iceland. It is advisable and recommended by tourists and other travelers to carry a small amount of the local currency. Like said above, most shops, stores, and small businesses take your cards. You might need Krona or ISK to pay small vendors and offer a tip to hotel staff and local talents. Do not forget to change the Icelandic Krona before leaving the country as it won't be useful to you in any other place.
Be Smart to Pick the Perfect Season
Iceland is a favorite spot to travel among adventure enthusiasts, trekkers, hikers, and campers worldwide. The rising popularity and the growth of travelers every year make Iceland expensive, especially in peak seasons. The peak or on-season to travel to Iceland usually starts in the end of May and lasts till the beginning of September. The weather condition remains pleasant and soothing during this time. You get a chance to witness a beautiful summer shine and the beginning of colorful autumns during this time. Many tourists hit Iceland at this time of the year, which eventually makes it a lot more expensive than usual. With an increasing number of tourists all around the country, you will find things more expensive with limited availability. The accommodations, transportation, and various activities witness a surge in price during the summer season.
This brings in the fact that to save burning a hole in your pocket, try to visit the country during the off-season. Many people believe that traveling in the off-season means compromising the great aesthetic appeal, which is not true. The country remains to look lethal and breath-taking during the off-season as well. You will find fewer tourists at this time of the year, which means less chaos and cheaper things. With fewer tourists, the prices for accommodation and transport decrease eventually and you need to take advantage of that very moment. We recommend pre-booking everything to avoid last-minute hassles and to save on your budget. This is convenient for all seasons in Iceland. 
How Much Things Cost in Iceland?
As said above, Iceland is expensive to visit; the prices and commodities are a little costly because of its touristy ambiance. The basic thing, including lodging, transportation, and food, can cost you a lot of money if you don't plan or research about them beforehand. Pre-bookings are the answer to most of your problems. You just need to think wisely and smartly before hitting the ground.
Well, this a pricy affair while staying in Iceland. The prices fluctuate depending upon the locations and time of the year. During summertime or peak season, the cost can be double than usual, considering the high tourists' demands. You can stay in a hostel, guest house, or a basic hotel by spending somewhere around 5,000 to 50,000 ISK, depending on the facilities and availability. The prices for accommodation usually goes up again over the Christmas and New Year season. Over the holidays it can be extremely hard to find accommodation in downtown Reykjavik, so we recommend that you book that well in advance. 
The public transport in Iceland is good if you would only like to stay in Reykjavik or travel between the larger towns of Iceland. However, most people like to explore the countryside and all the beautiful locations that you will find there. This is when the public transport becomes not so good, since the busses will only stop in the towns / villages. When exploring Iceland you can choose between staying in Reykjavik and going on guided day tours from there, or renting a car and driving on your own between the locations that you want to see. You can find very cheap guided tours that will take you to all the most popular locations on the south coast, Golden Circle and Snæfellsnes Peninsula. You can also find rental cars at very good prices, especially if you book your car well in advance. You can even save more for your trip with going on multi day tours, where transportation, accommodation and activities are included in the price. If you're planning to visit the remotest places or hitting the unexplored regions, you would require a rental car. The price for a rental car may vary depending upon the distance you wish to cover. If it is necessary, go for the cheapest rental car as they can save you some money compared to a small 4WD and estate car. During on-season, taxis and rental cars' prices are higher, but you can save your pocket by pre-booking everything.
Eating out in Iceland is very expensive; you will spend around 1000 ISK on a 12-inch Subway sandwich; that's how expensive food is in Iceland. Many travelers and explorers recommend staying in a hostel, AirBnb or a guesthouse so you can cook your own food. Many campsites also offer good kitchen facilities so you can cook your food. That way, you don't have to spend money on restaurants or other food stalls. Grocery items in Iceland are considered to be one of the most priced items across the world. But it is still much cheaper than going out to the restaurants. If you're opting to stay in accommodation that offers kitchen facilities, then you can bring cheaper foods from any grocery store and cook them as needed.
Some Pro-Tips to Enjoy a Budget-Friendly Visit to Iceland
Iceland is a place that is popular for its breath-taking natural attractions. You will be awestruck to see how beautiful the sites look when covered under a blanket of snow or with wide sunshine and blossoming flowers. But, when you're spending a little extra than what you've planned, you tend to lose the aesthetic sight and start worrying about your budget. But, don't worry, there are a few ways that you can follow to make your trip memorable without going over your budget:
Traveling in a group or with friends can be really helpful when you're saving your money. You can share and split the bills among each other to save a little extra on your pocket. Renting a hostel is a cheaper and better deal than staying in a hotel when you're traveling within a group, but if you are in a large group, it might be cheaper to rent a larger apartment for all of you. Plus, what's a better way to spend a fun and exciting holiday with your friends, that too by saving some money.
Well, if you love living amid the mysterious nature with eye-captivating mountain heights, mesmerizing waterfalls, shining sun, and fragrant flowers, then prefer hitting the country site of Iceland. Besides finding peace in mother nature, you will find cheaper food, lodging options, great campsites, and endless natural beauty.
Getting cheaper alcohol in Iceland is a task that you should not attempt to try; rather, buy duty-free alcohol to save your day. You can buy duty-free alcohol upon your arrival at Keflavik International Airport; that way, you don't have to pay for high taxed beers and wines in the city or town.
If you're planning to stay in a hotel, look for options with free breakfast and Wi-Fi. You can pre-book the rooms online or by hiring a travel agency for better deals as well. You can contact hotels and ask to provide free breakfast or any-meal with Wi-Fi; this could easily help you save a lot.
Iceland's beauty lies in its natural surroundings, greenery, huge mountain peaks, waterfalls, rivers, unique wildlife, and aquatic animals. If possible, skip visiting the blue lagoon or national museum as you may have to pay for admission fees or buy tickets for these attractions. You can see some of the free of cost in the natural parks, hiking trails, and hot-spring tubs. Living amid nature promises more fun and adventure than paying to visit a museum or buying a cruise ticket. You can read about the top alternatives to the Blue Lagoon here. 
While in Iceland, look for free stuff around you. The one thing that is free of cost in Iceland is freshwater. You can find water at all the places in Iceland without the need to buy water bottles. Not just these, most roads in Iceland are free from road charges. You can avoid traveling from/ to those to save some money for you. You can explore mesmerizing street art in Reykjavik, wander around the Ellidaardalur valley, or catch a glimpse of the most stunning natural phenomenon of the Northern lights. Most of the beautiful sites in Iceland are free of charge, only few of them have parking fees, so you can explore all you want of the natural wonders without a high price. 
If you love meeting new people and making new friends, you can also try to be friends with native Icelandic people. Icelanders are known to be warm, friendly, and welcoming, which means you can spend a night or two at their place. You just need to be humble and polite, be acceptable, and respect their hospitality.
Iceland is not known to be a popular shopping destination. You won't get anything exceptional in Iceland except for some warm and cozy woolens and some souvenirs. You can totally skip shopping in Iceland to avoid spending the money on nothing exceptional. But if you plan to buy souvenirs for your friends and family, you can visit a local flea market or support local businesses and small vendors as you will get a lot cheaper deals there.
If you're planning to camp in Iceland, then you should learn about the camping card. This card can be purchased online for around 20,000 ISK. With this card, you will get a 28 nights at campsites in a tent or campervan for two adults and four children, which means it's a great deal when you're camping with your family. You can stay for a maximum of 4-days in one campsite and then move to any of the 20 participating campsites to enjoy your stay. This card is valid to use for 28 nights, which means that just by spending about 20,000 ISK, you can spend 28 days in Iceland without worrying about any accommodation or transportation, that is too amid stunning natural surroundings.
Iceland embraces unpredictable weather; even in summer, you can experience sun, rain and wind in 5 minutes. Remember to always pack for the weather of the season, carry a warm jacket and sturdy boots, this way you don't have to buy anything in Iceland in case of sudden weather change. Carry your umbrella, pair of extra shoes, socks, caps, and gloves to avoid impulsive buys.
Consider all traveling options in Iceland and figure out the best that suits your interest and pocket. There are many ways to travel to Iceland, including guided tours, self-driving, hitchhiking (not the ideal way when traveling in a group or with family), and self-drive packages. You need to be very specific with the details and comfort you are looking at. You need to plan everything to choose the best option that suits your requirements and budget the best.
Planning a trip to Iceland requires patience and a good amount of research. Spend some time reading blogs, browsing local websites, news, and weather conditions to avoid any uncertain situation and save your pocket. Planning and pre-booking can help you spend a great vacation in a pocket-friendly way.
Getting an inexpensive deal in Iceland is a bit tricky but what is guaranteed is a magical and incredible time. In the hassle of saving money, do not miss out on experiencing a great time in the stunning wonderland. You will get to experience some of the best moments of your life, embracing breath-taking natural attractions, spending the night underneath twinkling stars, waiting to catch a glimpse of the stunning Northern lights, and enjoying the comforting winter sun. What matters is absorbing the natural beauty, meeting new people, trying out new things, and spending your nights wondering what makes Iceland so special and enchanting.