One of the best things about visiting places that have still not been visited by many and are still yet to be explored to their full potential is that you get to experience so many unique things that no one has ever experienced before. The secret places in a country as beautiful as Iceland are something that no one would want to miss out on if only, they know about them. The only problem is that most people are not aware of these slightly hidden, secret places which are, incidentally, right beside the most known ones. There are hidden hot springs, hidden waterfalls, hidden caves and caverns, sneaky mountains, and a lot more, more than one can comprehend and include in one visit.
One such secret-filled place in Iceland which is a widely popular tourist spot is the Golden Circle of Iceland. Located in southern-west Iceland, pretty close to the capital city of Reykjavik, the Golden Circle is one of the most visited places in Iceland along with the south coast. While the main locations of the golden circle include the three musketeers – the Þingvellir national park, Geysir Geothermal Area, and Gullfoss waterfall, there are several other places which are placed right along the route and are equally mesmerizing as the main destinations of the golden circle. Let us find out a little more about these locations that you can visit when traveling around the golden circle during your visit to Iceland.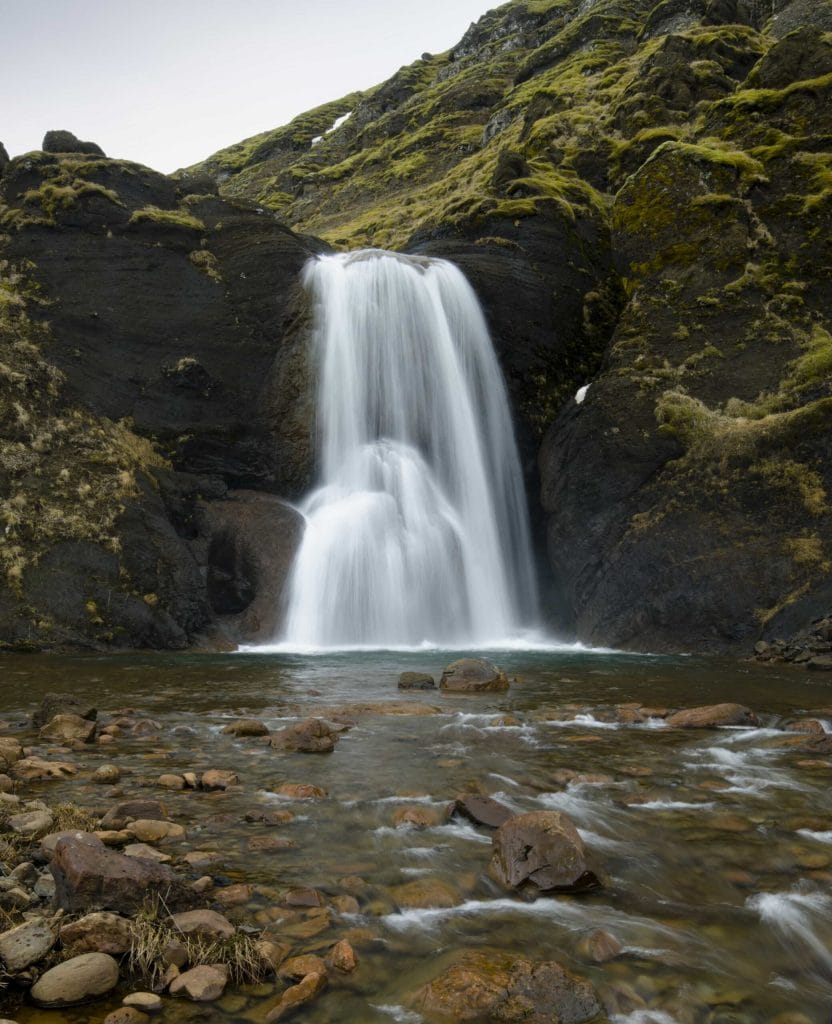 Not even a half-hour long ride from the capital city, Helgufoss waterfall is one of the closest waterfalls to the capital city. The waterfall is located in the Mosfellsdalur valley which, in turn, is located towards the south of a town named Mosfellsbær. Mosfellsbær is on the border of the capital city which means that it can easily be included in your day tour of the golden circle. Many people like to visit it as a part of the golden circle day tour. Falling in a rather shallow river, Helgufoss waterfall is one of the most picturesque waterfalls in Iceland. Mossy cliffs, the long-stretched lava fields, and walls of old lava rocks make it a fabulous place to have a photoshoot or nature photography.
A perfect haven for all nature lovers and animal lovers, you can easily find Icelandic horses taking a troll on these plains near the waterfall or herds of sheep grazing on the lush green land. The valley in which this waterfall is located is also famous for being the home of one and only Nobel laureate of Iceland, Halldor Laxness, who won the Nobel prize in literature for his novels. His old house is located in the valley which has been turned into a museum. All his life's work can be found there which makes it a great spot for literature enthusiasts. Another add-on attraction in this area is the hiking trail that Laxness supposedly walked on with his dog. A very easy hike, it can be taken by people with all kinds of fitness levels.
Locals love to visit this waterfall. During the summer time they come out to the waterfall and do some BBQ, jump in the water and have a good time. 
A waterfall that looks like a sheet of pure white paper flowing down in a calm, steady motion, Thorufoss waterfall is another serene spot for you to visit when traveling around the golden circle. Located close to Þingvellir National Park and originating from the Laxá í Kjós river, this 100-feet-wide waterfall is just around route one, only a small detour away. The waterfall is primarily famous for its fine salmon population but also holds a great deal of appreciation from Game of Thrones Fans. It has been used as a shooting location for the show to represent the home of the Children of the Forest. In episode 6 of season 4, one of Daenerys's dragon kids, Drogon rises here and roasts a goat for dinner out of the blue. Despite the calming surroundings of the waterfall, this scene was on par with the rest of the brutal appeal of the show. 
The landscape here is nothing short of the mesmerizing beauty that Iceland, in general, is popular for. Lush green plains and cliffs are on either side of the waterfall. The cascading waters of the waterfall are pretty wide-spread and fall flowing on several small rocky obtrusions on the way. There are several small waterfalls that can be found in the Laxá í Kjós but Thorufoss is the tallest and widest of them all even though it is a rather small one when compared to the other powerhouse waterfalls of Iceland. Another thing that makes this place special is the fact that the mother river Laxá í Kjós is known for its fabulous salmon breeding grounds. You may find several people fishing for exceptional Atlantic salmon near the waterfall or the canyon upon your visit.
A hidden gem frequented by the locals, Trollafoss is another waterfall located very close to the capital city and offers a beautiful scope for photography and hiking near the vicinity. Trollafoss waterfall is located in the Mosfellsdalur valley in south-west Iceland and literally translates to Troll's waterfall. Although there is no certain myth related to trolls that may have been the reason behind the waterfall getting its name, you can still find some very questionable rock formation near the waterfall which look pretty much like trolls. The waterfall is located pretty close to the Skeggjastaðir farm. One can easily reach the spot in a 2×2 vehicle although you may have to travel for a while on a gravel road so make sure you are confident about the drive. You can also park the car a few kilometers away from the waterfall in a parking lot and hike the rest of the way. There is a pretty clear gravel trail that leads to the waterfall and the path is not very difficult to cover but still offers a certain level of thrill.
Trollafoss originates from the river Leirvogsá which is also popular for its salmon population and sea-trout. The fishes are known to swim up to the waterfall and not beyond because of the height but this means that you can easily find some of those bad boys swimming in the gorge. Not only that, if the weather allows, some locals or tourists can also be found taking a dip into the river at the bottom of the waterfall. The scenery is incredibly beautiful flaunting lush greenery, moss-covered rocks, and multicolored soil around the gorge.
This is a beautiful oval crater which is believed to be an active volcano several years ago by scientists. The volcano then dried up over the years and all that remained was the crater that we know as Kerið. Kerið crater is now filled with bright blue water, giving it the name Kerið lake, which contrasts perfectly with the various shades of browns, reds, pinks, oranges, and yellows that the surrounding land features. Kerið is about 170 meters wide, 55 meters deep, and 270 meters in circumference.
A joy for all small kids and a place to relax a little bit and just let got the kids nuts, the Slakki Petting Zoo is located in the small village of Laugarás. The petting zoo has several cute animals for kids to play with such as bunnies, cats, goats, parrots, and small rodents. There are foxes in the outside garden as well but it is probably better to not pet them and enjoy them from a distance.
The Cave People of Laugarvatnshellir
This is exactly how it sounds – a family of Icelanders living in a home that is constructed inside a cave. This particular cave is located in Laugarvatn and is known as Laugarvatnshellir. Two families have lived in this cave so far and two children have been born here as well. It is quite common for outlaws and such to hang around in the caves of Iceland but for normal Icelanders, it is still quite a unique thing to do which is what makes this place an extra special thing to exist. The first family, actually a young couple Indriði Guðmundsson and Guðrún Kolbeinsdóttir, moved into the cave in the year 1910. Indriði, a carpenter designed a living room and a kitchen in the larger cave and while left the smaller one to be used as a barn for their sheep, cows, and horses. This couple stayed there for about 11 months.
The next couple moved into the cave in 1918 and lived there till 1922. Jón Þorvarðarson and Vigdís Helgadóttir were the names of this young couple. Jón was also a carpenter much like the previous homeowners and he installed new panels in the cave kitchen along with a stove. Jón and Vigdís had three babies there in the cave out of which Jón delivered the firstborn. This first-born child was later known to have elf friends which is quite a common thing for Icelanders.
And for the lovers of the panoramic, these caves are also believed to be haunted, by ghosts or by the spirits of elves – that's still a mystery. It is a common thing for Icelandic shepherds to take shelter in caves when traveling with their sheep or to use them as stalls. One such young shepherd, Þorsteinn, tried to make his herd of sheep enter the cave but was met with a firm refusal. After a lot of tries and aggressive pounding on the walls of caves, his sheep finally entered the cave and went to sleep in the furthest corner that they could find. Þorsteinn, however, was awoken from his sleep in the middle of the night and was dragged throughout the cave by some mysterious beings that he could not see. This episode happened on a loop until he left the cave with his sheep. However, the caves' ghosts or elf spirits are believed to be not evil. As soon as Þorsteinn left, a horrific blizzard broke out which means that if he had stayed, he and his sheep would have starved to death. If this story doesn't fire up the inner explorer in you, nothing will our friend.
A small pool located on privately owned land, Hrunalaug hot spring is a geothermal pool which is located near the town of Flúðir. The pool is not maintained by any assigned authority and is quite small in size. It can be an ideal place to visit for people who like a rustic setting more than a lavish one. The pool has a small stone wall and there are no changing rooms nearby so you may have to change in the open.
A not so hidden stop on the golden circle tour, Friðheimar Farm is known for its home-grown tomatoes and the dishes that they make using them. Friðheimar farm is generally included in most extended golden circle tours. Not to mention, Friðheimar flaunts 6 first-prize broodmares. These horses take part in a glorious show that all visitors can enjoy after a hearty meal at the farm made with vegetables and ingredients which are grown in the greenhouse of the farm.
Standing side by side with the historical episcopal in Skálholt, Þorláksbúð is a small turf building that served as a church. Þorláksbúð turf church was found in ruins around the year 1954 which were retrieved in 2011-2012 when the Þorláksbúð turf church was finally rebuilt using the same remains. This turf church stands as a stark contrast to the modern-day building of the church that is built right beside the turf church.
The moment you spot this waterfall, you are definitely going to think that you have died and reached heaven. Yes, Brúarfoss waterfall, the bluest waterfall of Iceland, is that beautiful. With crystal blue waters pouring down from three sides into a shallow but beautiful gorge, this waterfall is nothing short of mystical and could easily be one of the prettiest waterfalls to have ever laid eye upon. Imagine a gorge with small and big dark-colored rocks forming simple but continuous cascading stairs which are then populated by steadily running beautiful water with a color shade all that is good and pure. Add some dried or lush vegetation, depending on the season, to this gorgeous mix and you have yourself with the Brúarfoss waterfall.
As beautiful as the waterfall is, unfortunately, the history and facts related to it are almost equally dark. Brúarfoss or the Bridge Falls used to have a bridge over it, a stone arch to be more precise. This stone arch used to serve as a bridge to cross the river and get to the other side. This bridge was destroyed by a minion of the Skálholt episcopal see in the year 1602 when famine hit Iceland. The destruction was done in order to stop the peasants to come over to the other side of the bridge to the lavish, bountiful lands which had been claimed by the church.
Another unfortunate incident that happened at this waterfall was the drowning of a danish pope named Jón Gereksson. The details of the incident are still not clear but it is speculated that Jón attempted to kill the lover of a woman, blinded by jealousy. The woman swore to be betrothed to any man who would avenge the death of her dead lover. So, this incident probably led to the drowning of the pope. Needless to say, both nature and goth enthusiasts would find this glorious place as fascinating as they come.
Brúarfoss waterfall used to be a pretty popular add on to travelers Golden Circle self driving trip. It was pretty easy to reach the waterfall a couple of years ago. However, since it is located on a private property in the middle of a cabin area, there are now closed gates that you would have to cross to get to the waterfall. If you would like to visit this waterfall today, you would have to park your car at the new parking lot and hike around 7 kilometers. The hike is easy and beautiful. 
If you take a small and easy detour when going towards Gullfoss waterfall from Geysir geothermal area, you will reach another wide wonderful waterfall of Iceland. Located only 12 kilometers away, Faxi waterfall is generally referred to like the smaller Gullfoss due to the striking resemblance that these two beauties share. However, the size of Faxi is much smaller than Gullfoss. Apart from being one of the widest waterfalls in Iceland, Faxi waterfall is also one of the top spots where one can find a hefty population of Salmon. Several people can be seen here fishing for them. Faxi is about 80 meters wide and 7 meters high while Gullfoss is 175 meters wide and 32 meters high.
A little bit run off the mill, Marteinslaug hot spring is a small hot pool kind of a place located only 2 kilometers away from the Geysir Geothermal Area. The pool is quite small and can have only 3-5 people in one go. The water in this pool comes from the ground underneath so the temperature right above the source is rather high and reaches up to 41°C. But if you move a little further up you will get a decent temperature of about 39°C. Mind your step when you visit this pool as the surrounding area around the pool is quite unstable and fragile. The water of the pool can be a bit muddy because it is a small naturally occurring pool so make sure that you do not disturb the bedrock a lot.
One of the places that you can not miss, at any cost, the secret lagoon is all that the blue lagoon is but without the overbearing crowd and the hazy milky blue waters. The secret lagoon is the oldest hot pool in Iceland. It was closed for a while after being built-in 1891. But it started once again after some renovations and a change in the ownership. The secret lagoon is not as buffed as the Blue Lagoon with a fancy resort in sight but it is everything that one would expect a hidden hot pool to be like in the midst of unwinding natural beauty. The biggest attraction of the Secret lagoon has to be the lack of crowd, lack of most artificial elements and attraction, and the pure natural vibe that it has. There are lush green mountains that surround the lagoon. You can find all the basic facilities like separate changing rooms. You can also find some occasional snacks and breakfast items here that are up for buying.
Efstidalur Farm & Ice Cream
Have you ever seen a farm that has a café, a restaurant, and a hotel as well? No, right? Well, now you will when you visit Efstidalur Farm. Efstidalur farm used to be a dairy farm, initially but it generally focuses on tourism now with its new café and hotel. Another special thing that you will find here is an ice cream barn. So, with a restaurant, ice cream barn, hotel, and a café in the picture, Efstidalur Farm turns out to be a pretty good place for a getaway or to get some food on your golden circle tour. The hotel here is pretty good too with several kinds of rooms and a beautiful window view of the mountains in the distance.
If you were bewitched by the beauty of the blue lagoon and the milky azure waters, then Brúarhlöð canyon is a must-visit spot for you. The crude natural beauty of the canyon will be all that you would need to relax and unwind. The white waters and the extraordinary rock formations of a unique kind of rock named Breccia give it its eccentric beauty. Pretty, little colorful flowers, green vegetation, the dark volcanic rocks, and the milky white waters create a contrasting but beautiful scenery for the viewers to sit and enjoy.