The sublime beauty of Icelandic terrains is cherished by the explorers and locals alike. With majestic waterfalls, ice-capped mountains, clear as day water bodies, and rare species of birds and animals, Iceland is no less than a paradise on earth. Nauthusagil ravine is a true hidden gem in Iceland that contributes to the country's lush beauty. Situated in the Southern part of the Highlands, Nauthusagil is a narrow ravine located under the glacial volcano Eyjafjallajökull. If you want to experience nature at its best, Nauthusagil is a place that you need to visit.
Explore around Nauthusagil
Nauthusagil ravine translates to Bull Shed Ravine in English. Nauthusagil is an energizing sight when you look at it for the first time. The most interesting characteristic of this place is the wild rowan tree which grows on its ridges. Multiple trunks of the rowan grow over the ravine in places, horizontally at times, creating a roof of leaves. This created a beautiful effect, adding to the mystique touch of the ravine that you can capture via your camera.
Located in the vicinity are some beautiful waterfalls. If you have covered everything on the mainland and want to discover some exquisite waterfalls, Nauthusagil is your haven. If you are looking for some more waterfalls in the nearby area, Seljalandsfoss is an immensely popular waterfall located in the vicinity of Nauthusagil. With a drop of 200 feet, Seljalandsfoss has an encircled shape that beautifully adds to its aura. If you are a photography enthusiast looking for some mind-blowing locations, this waterfall can be the end of your search. You can easily reach Seljalandsfoss following the ring road. Gljúfrabúi is another waterfall that would charm you with the beautiful scenes it offers. Also known as Canyon Dweller, Gljúfrabúi is at a mere height of 40 meters. It is behind a cliff that faces out towards Iceland's South Coast and the Atlantic Ocean. You will witness here the true beauty of nature in a wholesome way with the open sky above, mossy walls of the waterfall, black lava, and silver mist. It is one of the most stunning locations as it is peaceful and enthralling. On the way to Nauthúsagil, you can find many hidden locations so hiring a professional local to take you on the tour is a great idea. 
For those interested in some historical information about Iceland, they can visit the Skógar Museum. With 16,000 artifacts from the history of Iceland, Skógar Museum provides anecdotes on various movements and changes that Iceland went through overtime. It also has an open-air museum, a folk museum, and a technical museum. This is a good place to go with children as it has useful information about numerous places in Iceland. 
Best Season to Visit Nauthusagil
Summers are considered best to visit Nauthusagil ravine because the access is much easier during the summer time. The winters are beautiful as well but you will need a specially modified truck the get there. Snow-capped mountains and waterfalls are truly captivating in winters. Packing a sturdy jacket and boots with an excellent grip is mandatory in any season. They would keep you warm and help in covering long distances on uneven grounds and slopes. Grippy boots are also advised around waterfalls as the earth is moss-covered in these areas. Hence, one can easily slip with bad quality footwear. Do follow weather forecasts consistently. Winters in Iceland can be bad as some frequent snowstorms and tides can get dangerous. 
Places to Stay around Nauthusagil
Since Nauthúsagil is located on your way from the south coast to the highlands, we recommend that you book your accommodation well in advance if you decide to stay in the area. There are not that many options close to Nauthúsagil, but you can find some great hotels on the south coast. Nauthúsagil is located on your way to Þórsmörk in the highlands. Þórsmörk is a great place for camping or visiting the Volcano huts. We definitely recommend spending at least half a day to one full day in Þórsmörk. The hiking trails are excellent and the views are out of this world. Other options for accommodation are Brú Guesthouse, which can be a great choice as they offer all basic amenities at good prices. They have spacious rooms with all the facilities. There are dormitories and rooms available on a sharing basis. Black Beach Suites is another great option if you are up for a drive to the black sand beach near Vík. You can choose between apartments and hostel stay at the Black Beach Suites.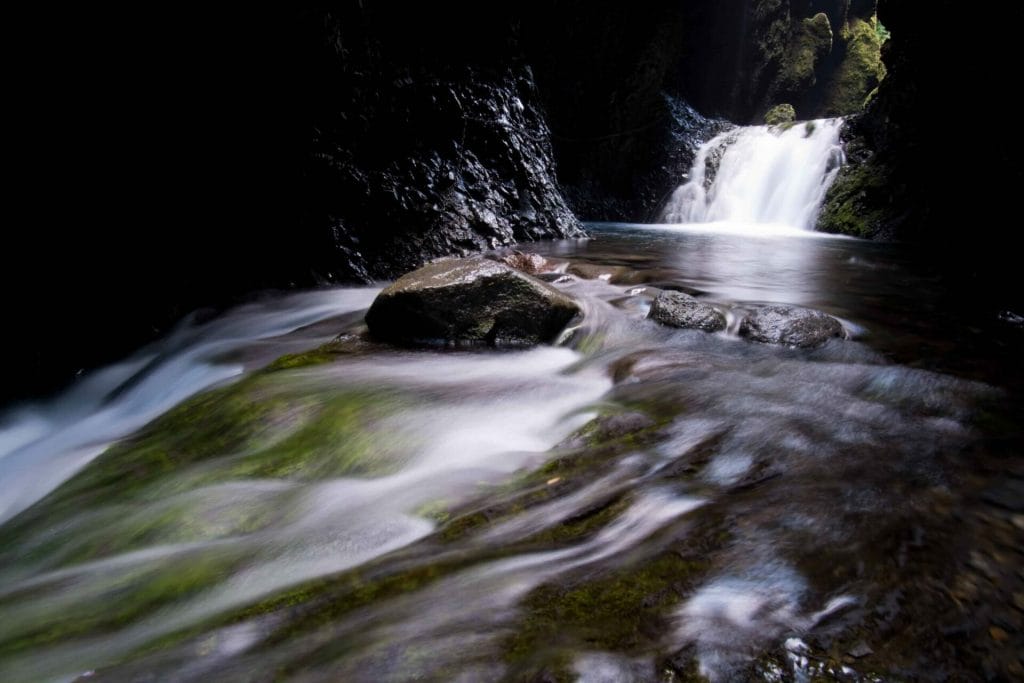 Nauthúsagil Ravine on a map
Interesting locations in the area