Iceland well-deserves the name the land of Fire and Ice. A magnet to travelers, solo explorers, and environmentalists, Iceland has always been the most traveled and the most favorite destination to explore nature and its creations. From glacial lakes, steaming geysers, massive lava fields, the Blue Lagoon to the staggering waterfalls, hiking trails, natural formed gigantic elephant rock, and the extreme geological contrast with extreme weather conditions, Iceland has everything that you could ever wish to witness and explore.
This all-year-around destination with snow-blanketed landscapes is sure to make you feel stunned and surprised. Though there are numerous places to visit Iceland and all are equally beautiful, there is one place that needs to be there in your travel itinerary when in Iceland and it is Brimketill Lava Rock Pool. Let's find out what this place has for the explorers!
Icelandic Folklore Associated with Brimketill
Brimketill translates to 'whitewater cauldron', it isn't its first name, the historical name was 'Oddný's Pool' or Oddnýjarlaug, named after a troll. It is believed that Oddný used this natural pool to wash clothes and bathe whenever she used to get active during the night; according to Icelanders, trolls are believed to be up during the night and turn into stone if the sun catches them during the day time. Different places in Iceland are associated with numerous Icelandic folklores.
Beautiful Creation of Nature: Lava Rock Pool
Iceland is a place that has hidden gems around every corner and some of the most beautiful places are still less explored by travelers. There are numerous places where due to the volcanic eruptions and constantly changing weather, you get to see sea-arches, naturally carved fractures, hexagonal basalt columns, and the towering lava formations that make Iceland a unique and fascinating place. On the southern side of the Reykjanes Peninsula, you will get to visit Brimketill, which is a coastal rock pool that is known for its exceptional beauty. The shape of this natural pool is due to the constant pounding of the waves over the years; it sits beautifully by the ocean's edge at a cliff's bottom. It has incredibly serene surroundings and the view is magnificent. You can spend quality time here, exploring the surrounding areas, with your family and friends.
Be Extra Careful When Visiting the Pool
Since Brimketill is carved out of lava rock created by the eruptions of Reykjanes Peninsula, you will get to witness unusually shaped rocks and cone-shaped peaks, massive black lava land alongside geothermal activities going on. The waves can be extremely high and pounds over the pool with extreme force, so one needs to be very careful when near the pool. The jagged shores are hit by the waves and thus the formation. During summertime, it seems safe and serene to have a dip in the pool, while the fact that Icelandic weather can change really quick, it is advised to be sure of your safety before you head towards the pool. It becomes equally dangerous owing to the slippery and sharp rocks. Since it is right by the edge, waves are sure to come over with force and there is no time to get back to a safe place. The water is drained out easily by the waves in rough weather and is not geothermally heated, it is simply sea-water.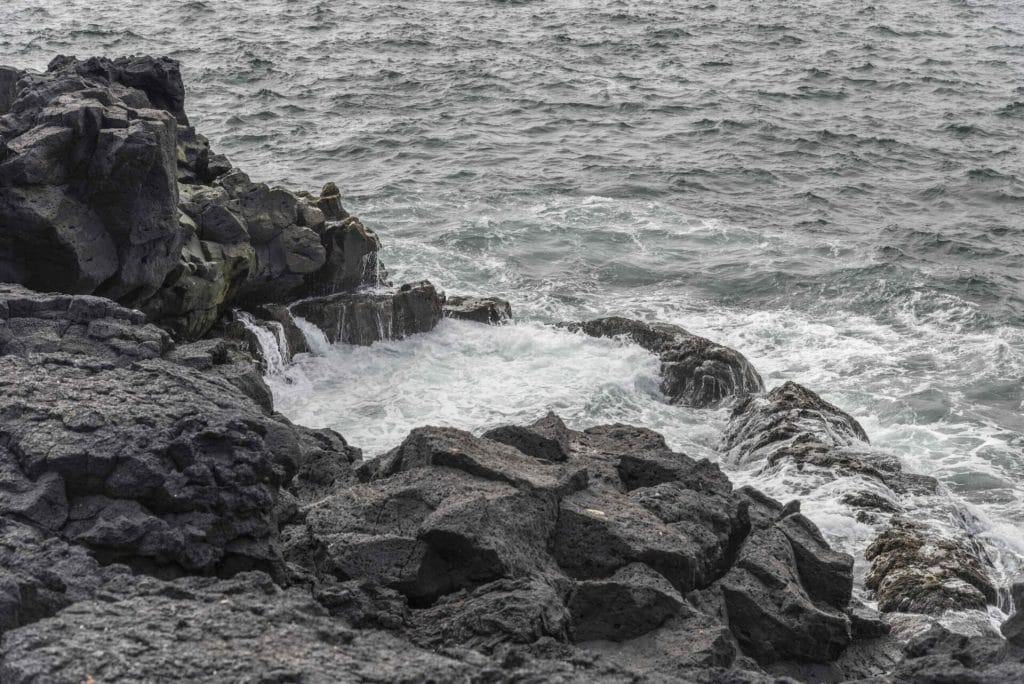 If you are traveling from the main capital city of Iceland, Reykjavík, then it will take you approximately 50 minutes to cover 62 kilometers and reach the Brimketill lava rock pool. Start from Reykjavík and follow Suðurgata to Hringbraut/Route 49, and continue on the Route 40, Route 41 and Grindavíkurvegur to Route 425 in Suðurnes. Continue on Route 425 that will take you towards Brimketill lava rock pool. Brimketill is located around 25 minutes drive from the airport, so it could be the perfect first or last stop on your trip to Iceland. Or you can go there on your short stopover in Iceland. 
Interesting locations in the area