While officially, winter knocks Iceland's doors in September but October is the month it starts to gather the full strength and all the beauty that the winter season upholds. Along with winter special tours, some of the summer tours are also available in October so there is a fair chance for you to be able to enjoy both seasons together. The beginning of the month sees mild weather although it starts to get chilly as the end of the month approaches. The snow covers the land again and the glacier hiking season continues in full swing. The good thing is that many of the summer attractions like whale watching are still available in October even though most migrating animals are now swimming out of the country. However, diving, self-driving, snorkeling, hiking, and many other activities are at their peak along with Northern Light viewing tours so you have plenty to cover on your trip.
Iceland Weather in October
October is the month of transition for Iceland when all the signs of summer start to disappear and fall brings in the news of the arrival of winters. The weather changes drastically and the landscape wears countless different colors creating a sight to behold.
The average temperature of October in Iceland stands between 2°C or 36°F (the average low) and 7°C or 45°F (the average high). The weather and the conditions change drastically even within 24 hours. You can expect to experience crisp cold winds and chills running down your spine so be prepared for all kinds of situations when you set to packing.
Iceland gets an average of 85.6mm (3.4 in) of precipitation which can come in any form – drizzle, heavy rainfall, hail storm, or snowfall. While the weather is mostly forecasted to stay normal with a clear sky but 14.5 days on an average are considered to be wet days in October. So, make sure that you pack right for the journey.
An average of 11-8 hours of daylight can be experienced in October. It is a fairly dark month as the sun sets quite early in the evening now and rises a bit later in the day. October 1st sees its sunrise at 7:37 am and it sets at 6:55 pm giving a fair 11 hours of daylight hours in the beginning. The last day i.e. 31st of October, the sun rises at 9:09 am and sets at 5:12 pm reducing the daylight hours to a total of 8.
Pros and Cons of Visiting Iceland in October
Best Self Drive Activities in Iceland in October
Mark These Things on Your To-Do List
Aurora Borealis – The Northern Lights
October marks the complete return of the Northern Lights in Iceland. As the sun sets around 6 pm, there are plenty of night hours for the tourists to enjoy this world-famous phenomenon while being surrounded by the bliss of nature. Not that you won't be able to see the lights from the balcony of your hotel in the city, it is a recommendation to travel to a remote area in the countryside – away from the city's light pollution – so that you can properly enjoy the view of the glimmering colorful night. There are several tours and travel packages available with local tour companies that not only cover the viewing of the Northern Lights but also several other sightseeing stops. So, you can either set out on a personal trip by hiring a four-wheeler vehicle or book a tour to enjoy the viewing with a tour guide. While October is dark enough to catch the Northern Lights in their full glory, it is still advised to check for aurora forecast before you set out to camp under the stars. Any index number above 'KP3' will mean that you will be able to see the lights clearly without any interventions from the clouds and other factors.
While boating tours are more popular among the summer tourists, they are still available in October. They are often organized on Jökulsárlón glacier lagoon which is filled with large and small icebergs. The boat swims through the calm waters of the lake in between beautiful structures of ice that rotate and float towards the ocean. Since Jökulsárlón is home to many aquatic animals, you will probably be able to see some very beautiful seals while sailing through the water. It is a pure matter of luck to catch a whale in October as most of the species have already swum back from the breeding places but you may catch a few in action. Just like any other tour in Iceland, boating also comes with a lot of options for vessels and lengths. Glacier lagoon tours in boats are available from April to October while private tours of the lagoon are available throughout the year. Most of the tours depart from the capital of Reykjavik.
Take Super Jeeps for a Swing
One of the most versatile activities, a drive in the super jeeps can be enjoyed in the peak of the summer season as well as in the emerging stage of the winter season as well. Since driving is an activity better done in broad daylight, October gives you plenty of time to take the wheels out for a while. Most of the self-driving tours concerning super jeeps are available all year round and last for 6-11 hours and a maximum group size of about 16 people. You can take Þórsmörk, Northern Lights, Landmannalaugar, Golden Circle, and Glacier super jeep tours depending on your trip plans and duration. It is possible to rent a Super Jeep for self-driving while others come with a designated driver. Depending on your preferences, you can choose either type of tour.
Glacier Hiking Never Loses Its Charm
Hiking and trekking on the glaciers are possible throughout the year while the available places change as per the weather conditions each month. Touring in Iceland is not complete without at least one glacier hike. The majestic blue ice caps offer a landscape and a thrill that is one of a kind and brings out the best of what extreme cold weather has to offer. Ranging from north to south, there are countless mountain tops and ice-covered caps that you can conquer. The most popular glaciers for a glacier hike are Sólheimajökull and Vatnajökull in Skaftafell Nature Reserve. Every glacier comes with its unique traits, quirks and difficulty levels. You can choose one suitable to the level of difficulty you are willing to Glacier, Sólheimajökull, Svínafellsjökull, Langjökull and Vatnajökull are some of the many glacier hikes that are available in October.
Iceland holds its pride in its beautiful pure-bred horses. They are much different than the kind of horses most tourists from the mainland are familiar with. Icelandic horses are said to have a unique kind of gate (or gait) aka leg movement which keeps the riders so stable that they can drink a glass of water without spilling. This combined with the intelligence, friendliness, and curiosity of these majestic creatures makes it a must-do thing to take a ride on the beach with them. There are many tours available through October like a tour of the lava field leaves from Reykjavík, from Reykjadalur Valley to geothermal rivers and hot springs, the tour of the Golden Circle, Black Beach horse riding and Ölfus horse riding tours. Be it Akureyri in the north of the capital city in the south, horseback riding is a luxury that is available in every corner of Iceland.
A valid driver's license is all that you need to hop on and operate these dashing vehicles and ride the snowy terrain like a master of ice. Snowmobiling is one of the most popular and the most widely enjoyed activities in Iceland and October is one of the best months to enjoy this sport. The summer crowd has already left the country and the full-fledged winters are yet to arrive. Everyone is allowed to enjoy the adrenaline rush that snowmobiling brings even children as young as 6 years old. Regardless to mention, snowmobiling is available in all those parts of Iceland where one can find snow in October, even though it mostly happens on the glaciers. It is one glorious way to enjoy the beauty of the glaciers while you put your driving skills to test.
Jumping into the cold streams may sound a bit far-fetched but trust us, it is one of the things you will enjoy the most while you are in Iceland. Diving and snorkeling excursions are very popular among not only tourists but also the locals and are conducted all year round. Silfra fissure is the site for both these activities. Filled with gorgeous underwater sites, the Silfra fissure is located between two tectonic plates in Þingvellir National Park, which makes the dive one of a kind. The dive between the continents. Silfra never freezes and stays at a year-round temperature of 2°C. That is why it is open for diving and snorkeling even in the worst of the cold. The water of the spring is filtered by porous lava rocks which makes it crystal clear with complete visibility of 100 meters.
Diving in October is rather easy as compared to other months of the winter season. Although, a complete protective gear is still provided at the diving sites. Make sure that you take all the necessary precautions as suggested by the diving coach and the lifeguards to make this experience nothing but rewarding.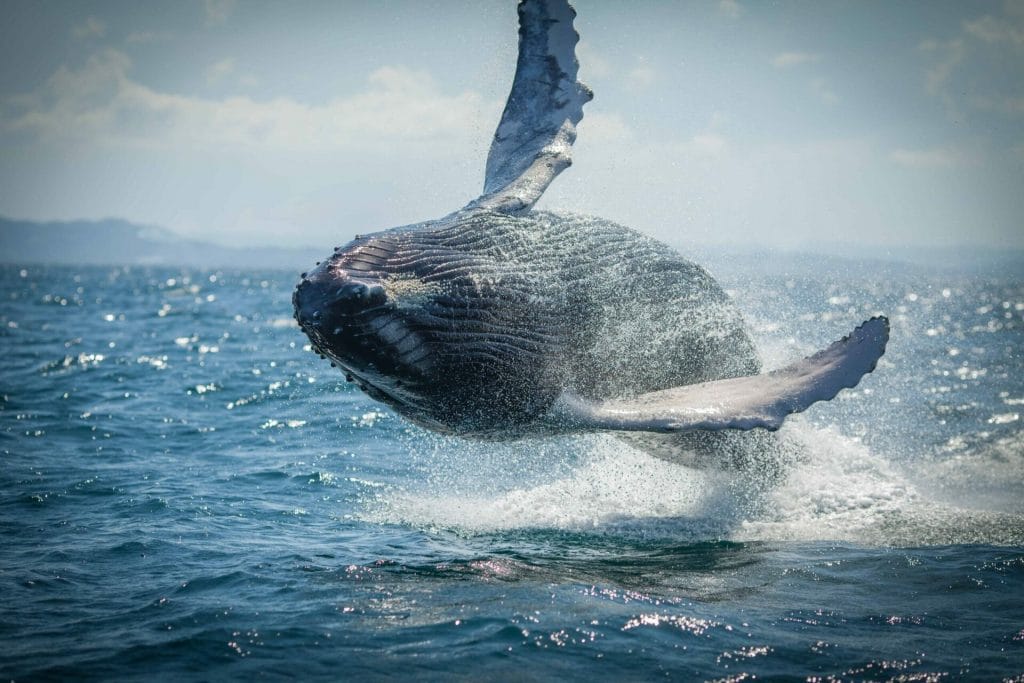 Most migrating animals and birds including many species of whales and dolphins already start to swim away from their migrating zones to the north in September but there is still a fair chance that you will be able to catch a sight of these magnificent creatures on your trip to the black sand beach. Minks, humpbacks and dolphins are commonly spotted from Reykjavík. If traveling to Akureyri, you have a chance to get a sneak peek at belugas and even narwhals which are spotted from time to time in the city. If you are a wildlife enthusiast it is recommended that you book a special boat ride for whale watching. However, if you are not able to spot any whales or dolphins on your trip, most of the touring companies let you reuse your ticket for another ride later whenever you desire. 
Best Day Tours to Take in Iceland in October
The tradition of celebrating Halloween is still new to Iceland. A more popular adaptation of this festival already exists in the form of Ash Wednesday which is celebrated in April. While Ash Wednesday is more about children dressing up in costumes and wandering around the town singing songs in exchange for candy rather than the ghostly gothic themes like that in Halloween. However, Halloween in its originally intended form has started to gain a lot of popularity among the citizens now. Many different groups put on themed shows while there are many club-goers spotted in pubs and bars in gothic-themed costumes.
Reykjavík International Film Festival
Just like any other film festival across the world, Reykjavík International Film Festival is a celebration of different kinds and genres of movies from all across the world. Movies from over 40 genres are screened in the festivals and the focus is kept on the upcoming independent filmmakers. It is a great chance for the new filmmakers in the industry to build connections and establish friendships for a successful career ahead. The festival is filled with many exhibitions, concerts, and meetings along with parties and banter.
The Lighting of The Imagine Peace Tower
Imagine peace tower is a tribute/memorial to John Lennon from his wife Yoko Ono. It has the text 'imagine peace' written on the base in 24 different languages. This memorial intends to epitomize the couple's message of peace, unity, healing, harmony, and joy. Imagine Tower is lit on October 9th at 8 pm every year to celebrate John Lennon's birthday and is switched off on December 9th – the day John Lennon died. When lit, the tower creates a 4000-meter-high pillar of light up in the sky which lights up the landscape spreading across many miles. It is a glorious sight to lay your eyes upon.
October is the month in which various concerts and music shows are held in Iceland. From popular local artists to world-famous musicians, many big names come to Iceland in October and arrange shows which are as fabulous as any party of the millennium. 
Best Multi Day Tours to Take in Iceland in October
Down to Every Last Detail – Pack the Essentials
Since October is still the fall season of Iceland, you can afford to take it a bit easy on the extra warm and heavy clothes but if you are extra sensitive to cold weather, it is smarter to pack your layer wisely. The temperature can drop as low as 2°C in October which can still be pretty harsh for folks who are traveling from warmer countries. Here is a complete list of essentials that you should pack for your trip to Iceland in October.
Windproof Jacket and pants for hiking and such activities
Raincoats or waterproof jackets
Jackets with extra insulation layers
Warm woolen beanie or hats
Scarf or buff to shield the neck
Warm heavy gloves
Thermal innerwear
Ample amount of fleece and woolen layer in form of pullovers and sweater
Cotton shirts/t-shirts as sleepwear or to wear under woolen layers
Leggings and jeggings as a comfort wear outfit
Outwear/ Party Clothes – Jeans, Dresses, etc.
Swimsuit or bathing outfit
Hiking Boots and waterproof boots
Casual Shoes, Sandals, Sports Shoes, and Flip Flops
Warm woolen Socks
Additional Important Picks
Cameras and Camera gear like a tripod stand
Toiletries like – soap, bath towels, shampoo, face washes, etc.
Gadgets like phones, tablets, chargers, power banks, flashlights, batteries, and travel adapters
Water bottles and thermos
Rain cover for hiking and touring bags
Sunglasses
Prescribed medicines and over the counter drugs
We hope this article about Iceland in October will help you figure out if it's the best month for you to visit Iceland or not.
We would love to hear your thoughts. Tell us about your tips and tricks to when it comes to planning a trip to Iceland. 
It would be perfect if you let us know about your favorite locations from your trip. It's even better if they are hidden gems that you would like to share with the rest of us. 
Leave your comments and questions below and we will happily answer all of them