GPS: 63.96428, -18.6176
Located up in the Highlands of Iceland. 
Ófærufoss means the impassable waterfall in English. 
4×4 car required. 
Free parking lot. 
Hiking required to reach the waterfall. 
The roads to the waterfall are only open from July – September. 
Iceland has always been a mysterious yet so fascinating place, and never fails to dishearten any of the travelers, globetrotters, or even solo travelers. And even for the environmentalist, Iceland is one travel destination that leaves them in surprise with nature's creation. The extreme geological contrasts, drastic weather change, brutal cold, and volcanically active regions are only a few things that make Iceland a perfect all-year-round destination.
There are infinite waterfalls, geysers, panoramic landscapes, snow-blanketed mountains, cascading waterfalls, glacial lakes; it is an ideal destination for somebody who loves unexpected adventure on the go. You have the opportunity to even experience the elves' region, the history of Iceland, and witness Europe's largest glaciers here! So, what's better than this? There is one destination that many travelers miss out on, but if you have the chance to visit, you will be amazed. This place is Ófærufoss Waterfall. This is one of the most beautiful waterfalls in Iceland, located in the Highlands so not many people have access to it, and therefor you will most likely find yourself all alone exploring this beauty. 
Explore the Most Beautiful Waterfall and Trek Amidst the Raw Nature
The Icelandic name seems to be a little tricky to pronounce, but here how it goes – "Oh-fye-ru-foss"; break it and then pronounce it, it is much easier. The meaning of the name Ófærufoss is the impassable waterfall. Amidst numerous waterfalls in Iceland, Ófærufoss Waterfall, is undoubtedly the most spectacular of the Icelandic highlands that falls in the Eldgjá canyon. Ófærufoss waterfall in the Nyrðri-Ófæra river is located in the great fissure Eldgjá (Canyon of Fire), in Vatnajökull National Park's western part. It was back in the 1990s, there used to be a natural bridge (stone arch) crossing the falls, but unfortunately, it collapsed from brutal natural causes, it is believed that it was because of earthquakes along with natural erosions too.
Ófærufoss, a multi-tiered waterfall, is approximately 40 meters high and falls beautifully in two levels or cascades. Surrounded by stunning raw nature with volcanic rocks along with green moss. The Eldgjá chasm (a 40 km long volcanic fissure, which is the longest in Iceland as well) is a part of the same volcanic system as that of Katla that lies underneath Myrdalsjokull icecap. You need to walk along the volcanic fissure to reach the waterfall. There are walking paths around the waterfall and you can easily spend hours there with your family and friends. The upper and the lower cascade makes this waterfall even more dreamy; it is a sight to behold. And just imagine how a natural bridge over the lower cascade, back then, would have added a charismatic charm to it. Iceland is diverse and extremely stunning, and trust us, you won't leave without zillions of memories and adventure experience. So, make the most of it and visit this beautiful Ófærufoss Waterfall. 
How to Reach Ófærufoss Waterfall?
This area in which Ófærufoss waterfall is located is only accessible from July to September. The roads that lead up to the highlands area where the waterfall is located are closed during the winter season, so make your plans accordingly. If you start your journey from Reykjavík, the capital city of Iceland, then it will take you around 3 hours and 55 minutes to reach this waterfall. Start driving from Reykjavík, and follow the Suðurgata – Hringbraut/Route 49 and continue driving on the Þjóðvegur 1, Route 1, Þjóðvegur to Suðurland. From Ring Road Nr. 1, you will have to turn on road 208. After driving a few kilometers on this road, follow Fjallabaksleið nyrðri to Gjátindur that will take you straight towards Eldgjá where the waterfall is located. It will take you approximately 25 kilometers on this road. Before arriving at the destination, you will see the parking lot, park your vehicles over there, and then head for the trek to reach the fall. The impressive canyon and the whole trek won't make you feel tired, rather this is surely one of the best trekking experiences. The most important thing it is recommended to have a 4X4 vehicle when planning to visit this place.
Since the waterfall is located up in the highlands of Iceland there are not any shops or restaurants located nearby. Therefor we recommend that you bring some snack and a water bottle with you.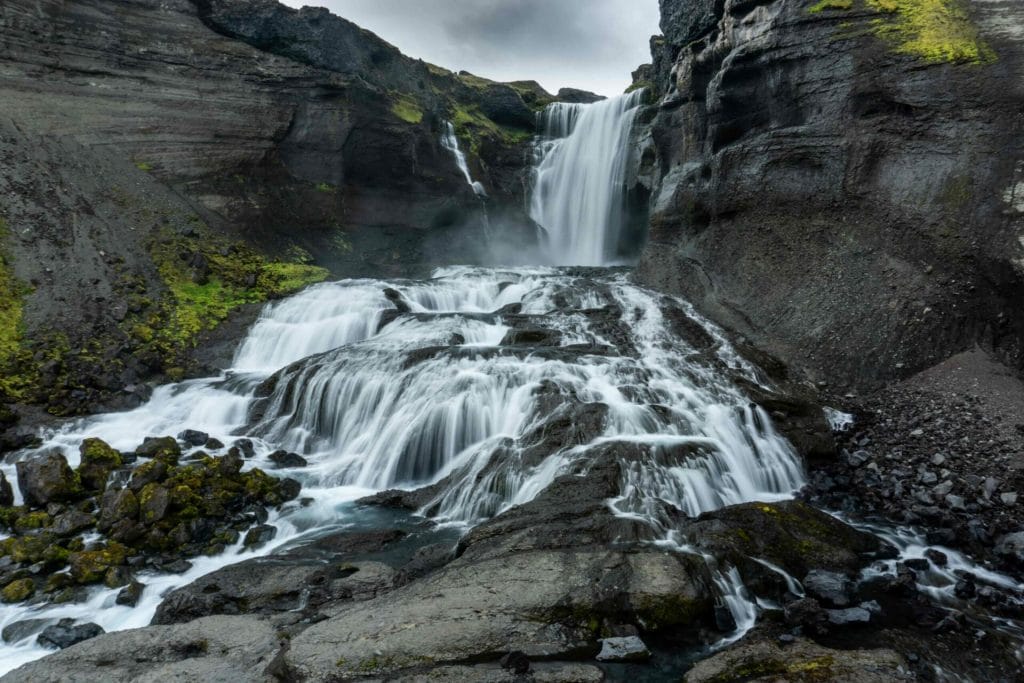 Ófærufoss waterfall on a map
Interesting locations in the area