Iceland sees the best that the summer season has to offer in July when days are longer and nights are shorter. The peak of the summer season in July invites an array of festivals and events like camping, hiking, and picnic as a variety of tourist spots, inaccessible in winters, open for the tourists. The difference between summer and winter of Iceland is so eminent that the country seems like two completely different worlds in two seasons. July is the best time to visit Iceland as it allows you to experience the wide variety of natural wonders that Iceland sustains from glorified glaciers, highlands, to bubbling hot springs, trails and mystical natural phenomenon.
The month of July sees the warmest days of Iceland with an average maximum temperature of 14°C (57°F) and an average minimum temperature of 9°C (48°F). Since it is just an average estimate, the days can get warmer up to 20°C and colder up to 6°C. Weather is relatively warm for the citizens of Iceland who face an average of 5°C temperature for most of the year but it may still feel chilly to some. Hence, it is wise to carry a few pieces of warm clothing along with your swimsuits to be prepared for all possible scenarios.
Even though Iceland is not known for sunny warm weather but the summer season sees plenty of daylight and warm sun rays. One can experience an average of 20 hours of daylight in July in Iceland. Iceland gets its midnight sun at the end of June which keeps the daylight hours still on the high in July when the sun barely ever sets and is up again only after a few hours. Northern parts of Iceland see some dark hours in the night but the southern region stays well-lit by sun rays until the end of July.
Rain is always a possibility in Iceland. Although the summer season is on the peak in June, July, and August, July still experiences a decent amount of rainfall. The average precipitation seen in July is 52 mm. The rainfall is not generally heavy and comes in the form of light precipitation however, bringing suitable clothing is still advised. Raining can mean that summer night will feel colder than average.
Best Self Drive Activities in Iceland in July
Pros of Visiting Iceland in July
The month of July brings in the season of daylight and sunshine. If you want to witness the greenery of Iceland along with the ever-famous Midnight Sun, July is the best time to take a trip. The summer season comes with a lot of festivities and events for Iceland which fill the streets with people appreciating the warm sun rays, food, drinks, banter, and laughs. Visiting in July proves fruitful for people with a love for wildlife as the season brings many awaited animals and birds like whales, sheep, and Puffins, to the shore near human habitats.
Cons of Visiting Iceland in July
Taking a trip in July can bring some disappointment if you are planning on catching the Northern Lights. Since the summer season has over 20 hours long days, Northern lights are not visible in the season. While the snow is still there on glaciers, July is not the ideal time to visit if you are looking forward to experiencing the authentic Iceland cold.
Best Day Tours to Take in Iceland in July
Your To-Do List in Iceland in July
The mild weather means that every tourist spot is open to welcome visitors in full swing, all roads are open and there are no limitations that tourists often face due to the hazardous Iceland winters. While Iceland is the perfect vacation spot in its entirety, there are still some things that must be done and to experience the best that Icelandic summers have to offer:
If winters in Iceland bring something as special as the Northern Lights to you, the summer season has its specialty on hands – the Midnight Sun. As days are 20 hours long on an average in July, the sun sets at midnight and rises back again only after a few hours making Iceland one of the very few places to experience the midnight sun.  There are a few top spots in the country from where you can fully enjoy the beauty of the vibrant shades of Pink, Red, and Gold that the sun brings to the sky. While days start to get darker in July, places like Reykjavík does not get dark at night and hence offers a fabulous view of the midnight sun. Visit Seljalandsfoss Waterfall which is about an hour and 45 minutes' drive away from Reykjavík or Glymur waterfall in Hvalfjörður. Not only that you will get to see the best of the midnight sun but also a beautiful view of the waterfall from various angles.
Hiking should be the next on your to-do list after bathing in the glory of the midnight sun. Mid-June to August is the best time to measure the hiking trails. The mild July weather makes it the ideal time of the summer for hiking. Laugavegur Trail is one of the best trails to get on with the hiking. It has actually been chosen one of the best hiking trails in the world. The 4-6 days long hike offers an abundance of landscape change which includes everything from snow-laden trails, volcanoes, glaciers, meadows, and streams. Apart from Laugavegur, Hornstrandir Nature Reserve, The Seven Peaks of North East Iceland, and Landmannalaugar 'The Pearl of the Highlands' are some great options you can weigh upon as potential places for the hike.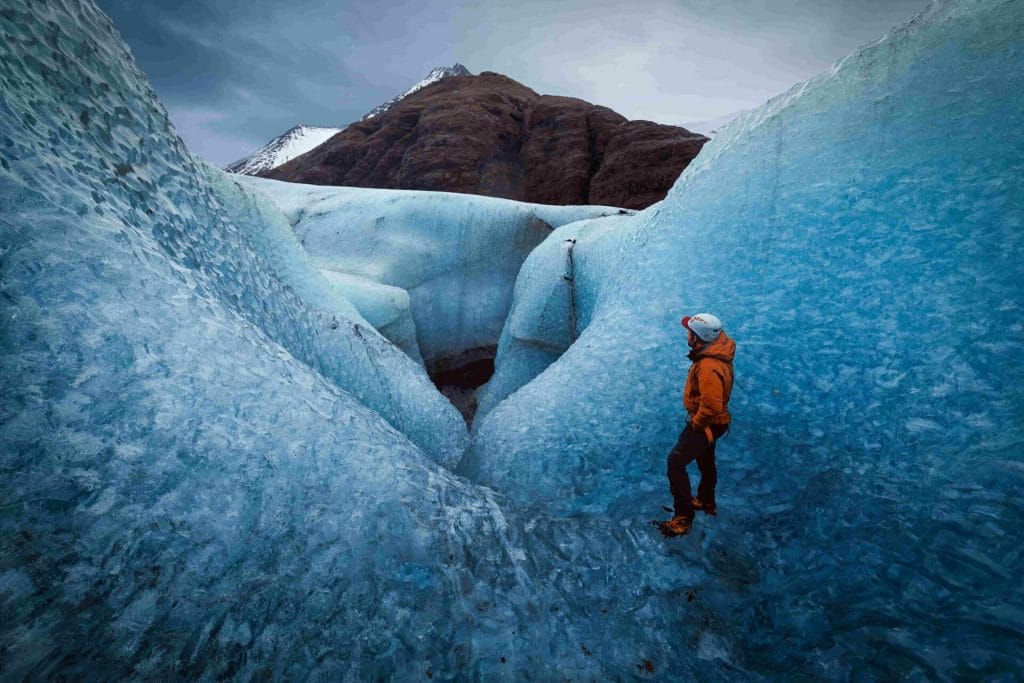 Icelandic Glaciers are always in their prime and should be missed out on. While the glacier tours are ongoing all year round in Iceland, the summer season opens up trails and tours to many glaciers that are closed due to the biting cold that the winter season brings. Sólheimajökull, Vatnajokull and Langjökull glaciers are the most popular spot for these tours. The party often leaves either from Gullfoss Waterfall, Skaftafell Nature Reserve, Sólheimajökull base camp or you can get a pick up in Reykjavík. The sites can be enjoyed on a glacier hike, in a snowmobile or more adventurous ways like ice climbing. Planning a glacier visit must come with a well-thought packing system. You will need warm clothes and durable hiking boots to tackle the snow head-on. Bring along a pair of sunglasses to avoid the blinding sunlight that reflects of the snow.
Snorkeling and Diving Season
Diving and snorkeling excursions are not be missed if you are an admirer of the beautiful underwater sights. Like glacier tours, diving excursions are also an ongoing event in Iceland but summer brings in many advantages for the divers. It's relatively easier to put on your equipment and the sights are extra beautiful in this season. The fissure between North American and Eurasian tectonic plates is in full bloom in this season and the sunlight makes the algae thrive even more – adding to the vibrance of the colorful view. Silfra fissure, a gorge in Þingvellir National Park is the hot spot for most snorkeling and diving event in July. It offers visibility of crystal-clear waters for up to 100 feet.
While both dry and wet suits can be used for diving but dry suits are of preference in Iceland as they are insulated. The water is 2°C cold on an average and can be even colder below the surface making proper insulation a necessity when you dive.
Go on a Long Drive to The Highlands
July brings in the ideal time to see all that the untouched natural beauty that Iceland has in store. Roads to remote highlands open up in summer allowing the tourists to go on drives and witness the breath-taking views and landscapes. The magnificent Þórsmörk, the colorful mountains of Landmannalaugar, Kerlingarfjöll in the central highlands, the geothermal crater lake Víti in Askja Caldera, Lakagígar craters in the southeast and the natural hot river at Hveravellir on the ancient highland route Kjölur are some of the top picks to explore while you take the drive.
Take a Dip of Calmness – Hot Springs
What can be better than sliding in the warmth of a hot spring in the middle of the untouched nature? Iceland is situated in on a hot spot of earth which means that it experiences a lot of geothermal activities. These geothermal activities give birth to naturally occurring boiling underground water along with many other surprising repulsive earthly structures. The water in Iceland is naturally warm or rather boiled and requires to be cooled down before use. This is the reason so many hot spots are dedicated to hot springs. Some of the most famous hot springs in Iceland that should not to be missed include The Blue Lagoon, Myvatn Nature Baths, Secret Lagoon, Geo Sea Baths and, Laugarvatn Fontana Geothermal Baths. There are also a lot of other natural hot springs located around the country, like the one in the photo above, called Sturlungalaug. 
Don't Miss out on The Puffins and the Whales
This is a treat that you would not want to miss out on even if you are not a bird-lover. Puffins arrive in April and stay in Iceland till August. Iceland houses one of the largest Puffin colonies in the world. These stately creatures can be seen dancing around the coast during their stay in July. Some of the best places to catch a glimpse are Vestmannaeyjar (Westman Island), Cape Dyrhólaey, and Látrabjarg Cliff in the Westfjords.
From blue whales to mink whales, humpback whales, sperm whales, and even fin whales, the Iceland whale watching tour sights are seldom topped by any other experience. Whales leave their breeding ground in the summers and come near the shore to feed. The easiest way to get on with the watching is by joining a viewing party with a tour company. The best whale watching tours can be spotted in Húsavík and Akureyri. If you prefer to spot them from the land then it is best to visit Westfjords, East Fjords, and the Snæfellnes Peninsula as whales are regularly spotted from the coast here.
Explore the Seldom Visited – Westfjords
Most people stick to the ring road while driving around Iceland and miss out on some very beautiful, unexplored places like the Westfjords. It is a must-go place if you are in a mood to experience the old unexplored kind of Iceland, Westfjords is the ideal off the beaten track place to go to. It is carved with splendid views, small villages, natural hot springs, Arctic Fox, hospitable locals, and fabulous hiking trails.
Grab the Best of the Local Cuisine
No matter which place you are taking a trip to, you cannot experience it in its entirety if you miss out on the unique local cuisine and culture. The local cuisine ideally represents the diversified dramatic beauty of Iceland's snow-clad mountains, black sand beaches, cascading waterfalls, and enormous roads.  Make a bucket list and add these 6 dishes to the must-haves before you reach the end of your trip: Reykjavik's Hot Dog, Skyr, Lamb (roasted, with vegetable, with curry or stewed), Ice Cream and Cheese, Rye bread (and butter) and Seafood (everything from Lobsters to fish jerky sacks).
Join in with the Festivities
Summer brings the arrival of a variety of festivals in Iceland. The whole country is awoken with a rejuvenated life force and joy to celebrate the arrival of summer. When visiting in July, you will come across festivals like Market Weekend in Bolungarvik (1st Weekend), The end of the Eruption at Westman Islands (1st Weekend), Eistnaflug – Metal Festival (2nd Weekend) Lunga at Seydisfjordur (4th Weekend) and Braedslan (Last Weekend). If you happen to be a fan of dancing and music, visiting around the 3rd weekend will land you on the Kexport Festival, a city-wide block party on 3rd Saturday which is filled with nothing but music, drinking and dancing along with friends and family. Summer itself is an event in Iceland which is celebrated with enthusiasm at its best.
Best Multi Day Tours to take in Iceland in July
Iceland July Packing List – Do not Forget to Pack These Essentials
Iceland in July is filled with many variating wonders which can easily land you in an unwanted, tricky situation if you are not packed well for the changes. The unwarranted weather changes can cause troubles especially if you have already set out on a hike, trekking or road trip in the remote areas. Here are some important things that you should pack when traveling to Iceland:
Weather-proof insulated jacket
Raincoat, Hiking Pants
Hat/Headwear
Gloves,
Scarves/Buff
Thermal Base (if you plan to camp)
Shirt – Sleeved or sleeveless (depending on your level of cold tolerance)
Fleece
Leggings – for ease during long road trips and hikes
Swimsuit – for the hot springs
Hiking Boots
Walking Shoes
Warm Socks
Flip-Flops or any other comfortable pair of slippers
Additional Important Items
Toiletries – like soap, shampoo, bath towels, etc.
Sunscreen and sunglasses
Moisturizer
Head net
Face Mask – to help get some sleep during daylight
Gadgets (camera, phones, tabs) and charging equipment
Prescription medicines and Over the Counter Medicines for the trip
We hope this article about Iceland in July will help you figure out if July is the best month for you to visit Iceland or not. 
We would love to hear from you if you have traveled to Iceland in July or if it is on your plan. Do not hesitate to tell us about your tips and tricks to when it comes to planning a trip to Iceland. 
And it would be perfect if you could let us know about your favorite locations from your trip. It's even better if they are hidden gems that you would like to share with the rest of us. 
Don't hesitate to leave your comments and questions below and we will happily answer all of them.