Iceland can be seen as the ultimate travel destination for the ones out there who are looking for a nice adventure. The immense beauty that this small island contains in itself is hard to come across in any other part of the world. The icy wilderness calls the tourist for a hefty session of exploration in varied forms and styles. Iceland will not fulfill the desires of your adventurous heart but also let you have the relaxation that you seek when you get to a vacation destination. Iceland is a fine mixture of thrill, adventures, leisure, and tranquility. And all this exists due to the positioning of several contrasting landscapes like glacier and volcanoes, an ocean filled with freezing waters and hot springs, lava caves, and crystal blue ice caves, in one single place.
Snowmobiling as an Activity
Activities are available in abundance in Iceland ranging from simple leisurely soaks, attending warm, welcoming festivals, enjoying the excellent, eccentric cuisines to going on trails, walks and hiking on glaciers, diving, snorkeling and visiting the ice or lava caves. One piece of thrill that you should not miss out on is snowmobiling. It is one of the most popular activities in Iceland standing erect right beside glacier hiking, diving, and midnight sun/northern lights tours. As it is evident, snowmobiling adventures take place on the glaciers of Iceland. A special vehicle known as the snowmobile is used in the activity. But what is it that makes Iceland so special for an activity like snowmobiling?. Iceland is the only place where you can not only glide across glaciers in these cool vehicles but also measure the snow-covered volcanoes. When winter falls, all the volcanoes in Iceland are covered with thick layers of snowmaking it possible for you to experience the kind of ecstasy and adventures exclusive to Iceland.
Most snowmobiling tours last for a few hours which can vary as per the number of hours your package has assigned to the activity or the amount of time you hire a snowmobile for. Almost every tour company in Iceland has packaged deals available as tour options where you can combine snowmobiling with a bunch of other similar activities like hiking, glacier walking, sightseeing, and ice cave visits.
Snowmobiling Sights: A Talk about the Geography of Iceland
It is rather clear that you will need bountiful snow for snowmobiling which is easily accessible on the glaciers all year-round. Glaciers cover almost 11% surface area of the country which by far the largest in terms of geographical formations. The largest glacier of Iceland covers about 8% of the total surface of the country which measures up to 8100 km2 sq. Glaciers in Iceland receive over 20% part of the total precipitation which mostly comes in the form of snowfall. Snowmobiling is limited to the glacier only sites in the summers when it snows comparatively lesser but winter season opens up volcanic sites for activity.
Snowmobiles: An Introduction
Pretty rarely appearing, snowmobiles are popular among countries and places where snowing is a common occurrence. Also known as All-Terrain Vehicles, they expertly engineered to travel easily on snow or ice. Some common synonyms that you may have heard for snowmobiles are motor sledges, motor sleds, skimobile, snow scooter, Ski-doo, or snow machines. Wheels are replaced with rubber tracks in a snowmobile. One may think that riding a snowmobile is like riding a bike or any other kind of two-wheeler but it is more like riding a quad bike which makes it all the more safe and secure. The maximum speed for a snowmobile is about 150 km/h (93mph) but the recommended safe speed for riding on glaciers is 70 km/h (43 mph) which is pretty thrilling and more than enough when it comes to gliding on snow.
The fame of inventing the snowmobile goes to Joseph-Armand Bombardier. He first completed the final model of a snowmobile in the mid-thirties and started the sale of the seven-passenger mobile. The initial design was huge resembling steam locomotives nothing similar to the ones we see nowadays. A new, smaller model was released by Bombardier after the Second World War with one or two seats. Since then, the same model is being used all across the world for the activity. Iceland has its own rich culture of snowmobiling. Its importance as a sport is equivalent to what Soccer holds for America. Just like any other sport in the world, snowmobiling has its unique catchphrases and terms unique to the frequent riders.
Snowmobiling Safety Measures
Taking care of safety measures is one of the most important things one needs to do to enjoy any kind of activity. Snowmobiling comes with its own set of safety rules and regulations that require to be followed to ensure that any plausible accidents do not hamper your ride. Just as glacier hiking, diving, and snorkeling have their separate set of equipment, snowmobiling comes with its own set of safety equipment. While most tour companies will provide you with the safety gear, you must have a working understanding of each part. Here is a brief introduction:
Overalls: Usually made with polyester, the overalls are like onesies. It is mandatory to wear them before you can start your drive as they create a shield/barrier from the wind. While overalls will protect you from the crisp winds out there, it is your responsibility to properly layer up with warm clothes inside to keep the cold out as overalls are not insulated.
Gloves: Snowmobiling gloves are very important to wear as your hands can get the worst of it out there from the harsh winter winds. It is advised to wear the gloves provided by the tour agency even if you have brought a pair with you.
Helmet: To save from all kinds of pits and falls. Although it is highly unlikely that you will lose your balance or trip on something but a little precaution can go a long way.
Glasses: Glasses will protect your eyes and a part of your face as well from the cold winds that you will encounter while driving.
Overshoes: This is not a necessary part of the overall equipment but they are handed over in case you forget to bring your hiking boots.
Infamous Snowmobiling Sites to Plan your Drive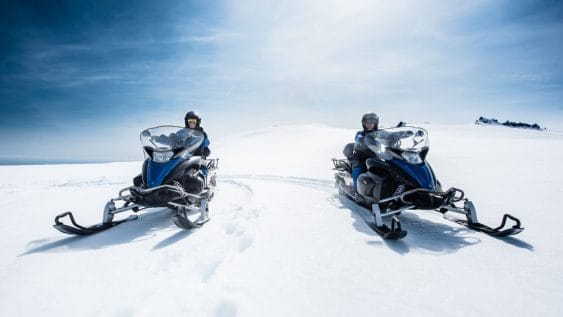 A premium site for all snow and ice-related activities, Vatnajökull glacier holds the title of "the largest glacier" in Europe. It covers almost 8% of the total surface area of the island and has over 30 different glacial outlets. Vatnajökull glacier stretches over an area of over 8100 km2 and a 1000 meters thick ice sheet. You can stand on one spot and see nothing but long stretched fields of ice. Vatnajökull houses some of the most active volcanoes in Iceland including Bárðabunga, Öræfajökull, and Grímsvötn. Most snowmobiling tours on Vatnajökull glacier are available from March to October. A popular site for various movie shoots and up and coming Tv shows like Game of Thrones, Vatnajökull glacier is the ideal place to plan your snowmobiling trip. Dramatic gorges, black lava veins on the snow, and fabulous crystal blue ice sculptures await you on your rides on Vatnajökull glacier. Several kinds of tours take place on this glacier and hence can be combined with your snowmobiling trip. Most tours leave from the Höfn area and last for about 3 to 4 hours.
Vatnajökull Snowmobile Tours
Iceland's second-largest glacier, Langjökull glacier is also known as 'the long glacier'. It stretches over an area of 953 km2 and contains a 500-meter-thick ice sheet on it. It is situated in the west part of the country in the highlands. The glacier houses 2 volcanoes beneath the thick sheet of ice although both craters are relatively quieter as compared to other areas showing only 32 eruptions over the past 10,000 years. The landscape is so widespread that it wouldn't be an overstatement to say that you would feel dwarfed standing amidst that landscape. You can get a separate tour package for snowmobiling or you can combine it with snorkeling tour, ice cave tours or the Golden Circle Tour. Tours for Langjökull glacier generally leave from the capital city, Gullfoss waterfall or Húsafell. You will require to hire a super jeep to get to the snowmobiling site which is generally provided by the tour agencies.
Snowmobiling at Myrdalsjokull
Housing Katla volcano, Myrdalsjokull is the fourth largest glacier in Iceland with a 250-meter-thick ice sheet and a 10 km wide caldera for the volcano. Katla is a rather active volcano with an eruption in 13-95 years. All kinds of activities in the volcano are monitored by scientists at all times. These outrageous facts about the glacier and the thrill that it inhibits makes the ride that you plan to take in the raging snowmobile even more thrilling and adventurous. The snowmobiling tours for Myrdalsjokull glacier start at Sólheimakot, the base camp. All the tourists are accompanied by a trained experience tour guide who explains all the necessary security measures and equipment information you need to gather before the tour. Even though the glacier is filled with bountiful adrenaline heightening thrills which may even seem dangerous, the tours are absolutely safe to take.
Snowmobiling tour on Eyjafjallajokull Volcano
Eyjafjallajokull, much like other volcanoes in Iceland is completely covered by an ice cap that spread over an area of about 100 km2. The volcano is 1651 meters high and has a crater with a width of about 3-4 km and is situated a little bit to the west of Katla. Eyjafjallajokull eruptions are believed to have triggered most eruptions in Katla which is considered to be one of the most unstable volcanoes in Iceland. The most recent eruption in Eyjafjallajokull happened in the year 2010 which was addressed by then-President Ólafur Grímsson as "just a rehearsal" and stated, "it is not a question of if but when Katla will erupt". Eyjafjallajokull should be your choice of site for snowmobiling if you crave thrill more than anything else from your adventures. The lingering silence before the storm beneath you, while you glide on the ice cap, is more than any thrill-hungry adventurer would ask for. The ride may be full of the excitement of the known and uncertain but it is a completely safe tour to take. Tour companies keep a track of the seismic activities and you will be accompanied by an experienced tour guide at all times.
Eyjafjallajökull Snowmobile Tours
Snowmobiling from Akureyri
The capital in the north, Akureyri offers a landscape different than any other snowmobiling site. Akureyri is the northernmost city of Iceland. Since most of the glaciers are limited to the southern parts, snowmobiling in Akureyri is done on grazing areas such as Súlumýrar. It about 500 meters above sea level and is situated near Glerárdalur Canyon and Hólmarnir ("The Holmar"). The flatter and more open landscape of Súlumýrar gives you a chance to go a tad bit extra on the thrill of speed with the snowmobile. While some may find the smaller size of the hills not as thrilling as the humongous glaciers in the south, it is no secret that the flatter and smaller size of the hills will provide you with an opportunity to try "catching air" better known as 'jumping' the snowmobile. While the south will present you with electric blue ecstasy of the glaciers, the north offers a chance to go all out with the vehicle and discover the true potential and sportsmanship of the activity.
Roughly translated as troll's peninsula, Tröllaskagi is a beautiful hilly area between the fjords, Eyjafjörður and Skagafjörður are popular for its backcountry skiing trail. This is probably the only site in the country which is open for longer hours and offers extended snowmobiling rides lasting for longer than just a few hours. It is not only an ideal place for snowmobiling, but it is also the perfect site to catch the midnight sun and the Northern Lights. So, you can expect to enjoy long stretched rides and try to race towards the midnight sun or take a leisurely ride on the trails ideally lit by the dancing colorful lights in the sky. Tröllaskagi is sort of like a buffet meal in a hotel with countless delicious options on the table right in front of you. The peninsula is filled with deep-cut gorges, valleys covered with a snow blanket, plains that reach far beyond than the eye can see, gorgeous flora and fauna, geological wonders in the form of monoliths, and much more.
Snowmobiling Essentials: Rules and Regulations
You need to carry a valid driver's license with you specifying the kind of vehicles you are qualified to drive if you want to take the driver's seat on the snowmobile.
No prior experience is required to take part in the activity.
The rider, passenger, or driver needs to be at least 8 years of age to take part.
Pregnant women who have started with the second trimester cannot join the ride. A doctor's permit is required for women in the first trimester as well. Most tour companies do not allow pregnant women to participate in the activity at all so check with them before you book a tour.
Snowmobiling Tours in Iceland