The unearthly beauty that is possessed by Iceland is all thanks to the otherworldly geographical formations like glaciers, ice caves, lava caves, and volcanos. The existence of contrasting formations like glaciers and volcanoes in the same landscape is what earned Iceland its name, the land of ice and fire. There are glaciers, there are volcanoes and then there are volcanoes among the glaciers such as Eyjafjallajökull glacier. The more you explore the more you find out about the wonder that Iceland is and this is why glacier walking and hiking is one of the most popular activities among the tourists.
Geography of Icelandic Glaciers
Log-stretched lava fields, volcanos, black sand beaches, gushing geysers, natural hot springs, and glaciers encompass the land of ice and fire. While there are plenty of different geographical formations gathered up in Iceland, most of the island is covered with ice caps and glaciers. Glaciers cover about 11% of the country which totals up to about 11,400 km2 stretch out of the total surface area of the country. Most glaciers are located in the south of the country and midlands as it gets most of the snowfall. About 20% of the total precipitation that Iceland gets falls on the glaciers and turn into snow as the air gets colder.
About Hiking as an Activity
Glacier hiking is one of the very few tourist activities in Iceland which is available all year round. While the glaciers you get to hike may differ as per the weather conditions and situations of the routes leading to them, one sure thing about the hike is an extraordinary thrill that you get to experience. Many local tour companies provide packaged hiking tours to the tourists. These tours can last anywhere between 2 to 10 days depending on the packaged activities or it can be an hourly tour booked from beneath the glacier you plan to conquer. Hiking is something which is not to be missed out on when you travel to Iceland. The reason is simple, the undenied beautiful landscape that you view when atop. Marvelous spreads of fresh white snow, structures made with electric blue ice with black colored lava veins crawling amidst, the world seem like a completely different place when you see it from the top of a glacier. This thrill, excitement, and uniqueness are what make hiking thrive as a popular tourist activity.
How to Get to the Spot – Modes of Transportation
Since glaciers are located far off the town settlements, you will require to take on a mode of transportation to get to the spot you chose for hiking. Some of the most popular vehicles used to get to the glaciers are Super Jeeps and Snowmobiles. Super Jeeps can be booked as a part of your hiking tour. The pickups for such tours are usually from the nearest city. Most tours leave from the capital city of Iceland, Reykjavik. Super Jeeps provided by the tour companies are accompanied by designated drivers and experienced tour guides. The jeeps can be driven by the tourists as well but that requires a valid driver's license. Although it is still advised to get a designated driver for the ride as the roads are snow-laden and quite dangerous to drive on most of the time.
Snowmobiling is another popular option for transportation. Super jeeps are options used to get to the site of snowmobiling. Again, trained drivers with a valid license can drive snowmobiles as well but it is wise to get a professional expert with you on board. Snowmobiling can be a perfect way to do some sightseeing while you get to the hiking spot. Snowmobiling is an activity to enjoy on its own as well. You can combine both these excursions for a more memorable experience.
Safety has bi-fold meaning to it when comes to glacier hiking and trips. You need to assure your safety from the cruel cold of Iceland and the threats that come with hiking. Make sure that you are safely tucked away from the cold weather and the crisp winds with layers of woolen and fleece clothing. While the tour agency that oversees your hiking trip will provide you with the necessary gear to keep the cold out, it is your responsibility to layer up from the start as an extra step of precaution. Along with insulated jackets to keep the cold out, you will require some safety equipment for the hike which is also provided by the touring agencies. Here is a brief overview of the hiking safety equipment that is important to the activity:
Crampons or Ice Cleats: The spike-like devices attached to the bottom of your shoes are called crampons. They help you in walking on the ice when you go hiking. Although you will need to bring sturdy hiking boots so that ice cleats can work properly else, they will be pretty ineffective.
Ice Axes: Essential to climb the glaciers, ice axes help you when you climb steep slopes. They are also handy in keeping you from falling when you are climbing or slipping if you happen to lose your footing. Note that this is only necessary if you are going on an ice climbing tour. 
Helmets: A simple safety measure against anything may fall from above including ice, snow, and rocks, helmets protect your head from any possible damage.
Harness, carabiners, and ropes: These safety measures are generally taken for the hiking beginners. The ropes and harness make sure that first-time hikers do not fall back during the excursions. They are also used to keep the group together in hikes on glaciers which may have potential hidden crevasses and bad weather conditions.
Infamous Glaciers to Plan Your Hiking Trip
Every place comes with a must-see list and the same is the case with Iceland. It has long must-see, must-visit, and must-experience lists and the longest one may be the one containing all the glaciers one must conquer. While every single one of these beauties covered in electric blue snow is worth your time, here are a few recommendations that are not to be missed when you come to visit Iceland.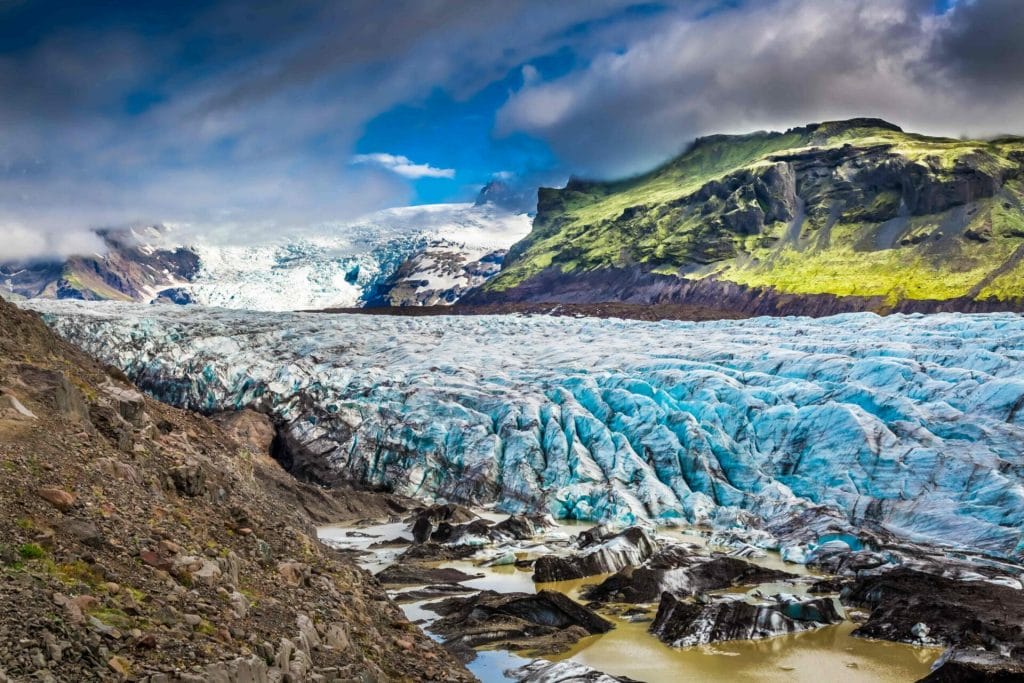 Vatnajökull is Iceland's and Europe's largest glacier and encompasses about 8% of the total glacier mass on the island. It has a total ice volume measuring about 4000 km3 and an area of 8100 km2. It contains some of the most active volcanos of the country including Bárðabunga, Öræfajökull, and Grímsvötn. There are many different gorges, valleys, and mountains at the foot of the glacier. Vatnajökull is the most exciting site for hiking, glacier boating, and snowmobiling. Many of its outlets like Breiðarmerkurjökull have worked as "mother" for many glacier lagoons like Jökulsárlón glacier lagoon. Vatnajökull has 30 outlet glaciers which every bit magnificent as itself. It has been a site for many Hollywood movies like James Bond: A View to Kill and James Bond: Die Another Day. You may also recognize the white long-stretching landscape covered with black lava veins from the famous TV show Game of Thrones. It is a sight to behold and get discovered.
You can enjoy activities like snowmobiling, simple glacier walking tours, extensive hikes, ice caving at Breiðarmerkurjökull, and boating in glacier lagoons. The glacier is about 250 km away from the capital city of Reykjavik.
Skaftafell Nature Reserve - glacier tounges
Vatnajokull glacier is the largest glacier in Iceland and has many glacier tongues that are popular for glacier hiking. The most popular one is Svínafellsjokull and Fjalljokull glaciers in Skaftafell Nature Reserve.  Skaftafell Nature Reserve has been the most popular glacier hiking location in Iceland for years and for a good reason. The natural beauty all around the glacier is magnificent. 
Langjökull is the second-largest glacier in Iceland with a total size of 953 km2. It is the nearest large glacier to the capital city about 1.5 hours away. Langjökull glacier is 580 m thick and is also known as 'the long glacier'. Similar to Vatnajökull, Langjökull also has some hidden volcanoes underneath the thick sheet of snow. The long glacier is known to have one of the largest man-made ice caves in the world although many natural ice caves have also been found in it recently. The length of Langjökull makes it the ideal place for activities like snowmobiling.
Tour pick-up for Langjökull is usually available from Reykjavik, Gullfoss, and Húsafell. It is generally a part of the golden circle tours as well and brings the tour of the golden waterfall as an add-on on the tour.
Situated between Vatnajökull and Langjökull in highlands, Hofsjökull, third in the line of the largest glaciers in Iceland, is home to the largest volcano in the country (also named Hofsjökull). Several rivers including the longest river of Iceland- Þjórsá are sourced from this glacier.  It covers almost 952 km2 circular area and is 1,765 m high. The glacier is situated in the western part of the country. Most of the volcanic trips in Iceland depart for Hofsjökull in a 4-wheeler vehicle accompanied by experienced tour guides. The tour takes Kjölur road. It runs between Hofsjokull and Langjokull going through the highlands and hence offers a magnificent sightseeing trip on the way to the volcano glacier. Hofsjökull is one of the hardest to reach glacier which makes it the prime location for tourists looking for an extra dose of thrill in their hike.
Snæfellsjökull is one of the smallest glaciers in Iceland measuring 1446 m in height and is situated in west Iceland on the tip of the Snæfellsnes peninsula. It is about 2.5 hours away from the capital city of Iceland and surrounds a unique cone-shaped volcano which can be spotted from Reykjavík in clear weather. Snæfellsjökull is also famously known as 'the entrance to the center of the earth' after it was featured in a novel by Jules Verne 'Journey to the Centre of the Earth'. Snæfellsjökull glacier is believed to have mystical spiritual energy on it which is felt by several spiritual-minded visitors as well. This mystical aura of this glacier is the prime attraction apart from the unbelievably beautiful landscape which is visible when atop.
The fourth-largest glacier in the list and home to the largest active volcano of Iceland, Katla, Mýrdalsjökull is one of the easily accessible glaciers of the country. Activities like hiking and snowmobiling are at their peak on this glacier. Usually, a 4×4 vehicle is taken to reach the hiking trail of the glacier. Despite being home to an active volcano, it is completely safe to visit Mýrdalsjökull as long as it is the company of an experienced travel guide. Most glacier hiking tours on Mýrdalsjökull often take place on one of its most famous tongues – Sólheimajökull glacier. It is about 10 km long and 2 km wide and can be covered in a single-day trip. Most tours have the visitors picked up from Reykjavik, Vík or you can meet the guides on location.
This glacier is special out of the numerous glaciers in Iceland. Drangajökull glacier is one of the only glaciers which has not started to recede yet unlike many other famous glaciers of Iceland. Another fact that makes it special is it is the only glacier in Iceland that does not have a height of more than 1000 meters. Drangajökull is a total of 925 m high and an area of about 200 km2. It is one of the best places to take in the view of the midnight sun when summer solstice arrives in June. It is located in the far north of the country in remote Westfjords. Hiking tours to this glacier range from easy, intermediate to expert level and booked according to your preferences. Needless to say, an experienced guide will accompany you on every kind of tour you book , hiking, midnight sun viewing, etc.
Which Glacier to Choose for My Tour?
There are countless glaciers in Iceland and it is humanly not possible for anyone to explore them all in a single trip. The best way to make the most out of your trip to glaciers is by choosing one according to the kind of activity that you want to take part in. Every glacier has a specialty and the tour can be chosen depending on what you would like to conquer on your tour. Following is a guide to choose glacier by the type of activity:
Another important aspect to keep in mind while choosing glaciers for your tour is the length of the tour. there are several tours available across the country and they all vary as per the activities included in the planner as well as the length. If you can only spare a few hours from your time in Iceland, then choose from the available single-day tours to glaciers like Sólheimajökull and Svínafellsjökull. If you have a few days marked in your calendar for hiking and such activities then you can take the multi-day tours ranging anywhere between 2 to 10 days. These tours usually have space for all kinds of activities including hiking, ice caving, lava caving, and snowmobiling.
Glacier hiking and related activities are planned by the tour companies as per the season as well. Winter tours are often available as a combination of famous waterfall tours, golden circle tours, crystal ice caving tours, hiking, and northern lights viewing. Summer tours, however, come with a lot more options as more routes and glaciers are accessible in this season due to milder and calmer weather. Northern Lights viewing is replaced by midnight sun tours in summer packages.
Questions to Keep in Mind When Booking and Preparing for the Tour
There are a few things that should be followed for a safe, secure, and fulfilling trip. Although there is a chance that one or two of these things may slip your mind amidst all the planning and packing for your tours. Keeping in mind all the factors of a glacier tour, here are some things to ponder upon:
Also, here is a check-list to help you keep a track of every essential that you should pack when preparing for the glaciers:
Have you layered up with thermals and woolen clothes properly?
Backpack essentials: flashlight, reusable bottle, thermos, helmet light, insect repellent, sunscreen, extra pair of socks, rain cover, emergency medicines, first aid kit.
Charged gadgets: phones, cameras, power banks, etc.
Wear light but well-insulated jackets so that clothing does not weigh you down while hiking.
Glacier Hiking Tours in Iceland