A geothermal area with the hot mud pots, smoking fumaroles surrounded by Sulphur crystals, Námafjall is located near Lake Mývatn in Northeast Iceland. In this area which is also known as Hverir, you will get the stinking feel. Since the complete area is acidic, you will not see any vegetation in this region. While visiting this region, you must be careful of the boiling muds and volcanic craters. Follow the instruction that you will find on the signboards. Around this geothermal region, you will find a hiking trail. If you are an adventure enthusiast, you can trace the trail up to the Námaskarð pass and Námafjall Mountain. This hiking trail returns to the highway and a parking space. The sterile land, strong sulfur smell, and colorful mineral contribute to the beauty of this place.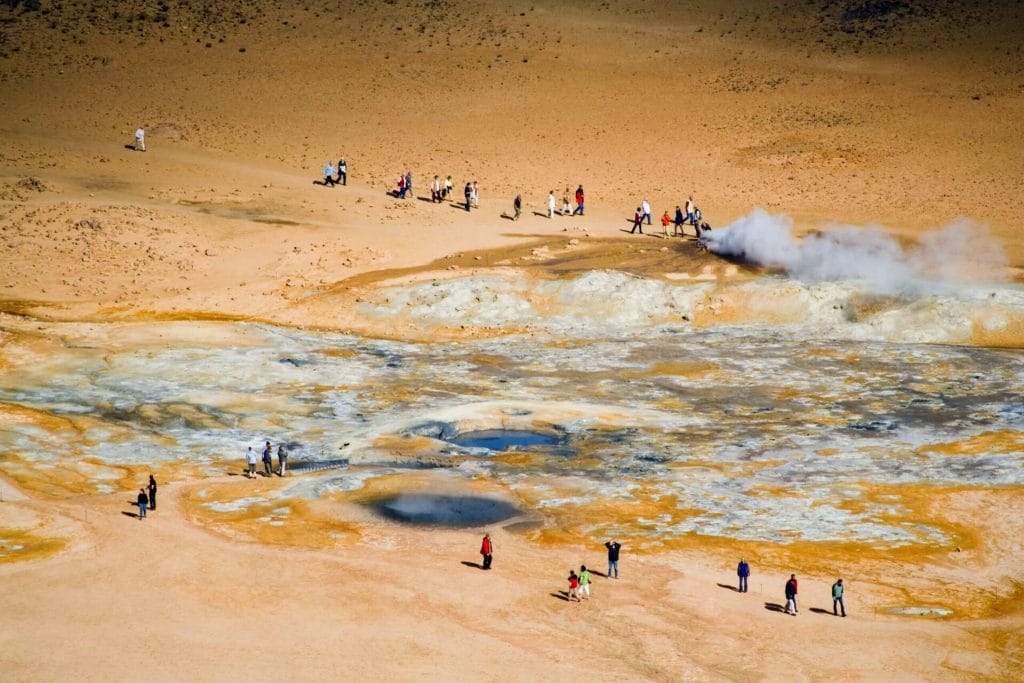 The old rock-covered boreholes in the Námafjall region emit a lot of hot steam. In 1969, a geothermal power plant was built over this energetic area that currently produces 3MW of energy. If you want to explore the area around this geothermal area, visit the Námaskarð pass. It is a narrow pass between Námafjall and Dalfjall mountains. Just like Námafjall, Námaskarð area is filled with boiling mud pots and steam vents. In the east of Námaskarð, you will see Hverarönd that is also known as "The Geyser Strip". In Hverarönd, fumaroles and mud springs scatter the surface in a mixture of vibrant colors. The largest mountain of this area is composed of rhyolite that shows extraordinary colors including green, bright yellow, and gray.
You can visit Lake Mývatn that is the fourth largest water body of Iceland. Created by basaltic lava eruptions thousands of years ago, Mývatn Lake is one of nature's true beauties of northern Iceland. Spread within an area of around 36.5 square kilometers, it attracts many tourists throughout the year. Lake Mývatn and its surrounding wetlands are the livelihoods for many water birds especially ducks. Rootless vents, lava pillars, and the volcanic landforms around this grand lake provide an amazing view.
If you are planning to explore North Iceland in better detail then you can visit many beautiful places in the Diamond Circle. Explore the area around the Námafjall region to witness Ásbyrgi canyon. It is a lush green deep forest that is 3.5 kilometers long and more than 1 kilometer. Located on the Diamond Circle road, the Ásbyrgi canyon is divided by a 25 meters high rock, providing a spectacular view. While exploring the Diamond Circle road, you will pass through Húsavík town, Goðafoss waterfall, Dettifoss waterfall, and Hljóðaklettar rocks.
Located on the north of Mývatn Lake, Námafjall geothermal area can be accessed easily.  It is situated at a distance of 476.4 kilometers from the capital city of Iceland, Reykjavík. If you are starting from Reykjavík, drive on the Ring Road towards the north and cross Borgarfjörður fjord, Borgarnes town and Skagafjörður. Keep driving on Ring Road to pass through Akureyri, known as North Iceland's capital, Fossholl, and Lake Mývatn. After driving on the same route for some time, take a right turn to reach Námafjall. Road trip from Reykjavík to Námafjall takes more than 6 hours in one go. You can stop by the many naturally protected attractions to make the journey more adventurous and memorable.
Námafjall is beautiful in summer as well as in winter. In summer, it is easier to access the place as roads are clear in summer months whereas, in winter, you may find the roads covered with snow that will increase your travel time. When visiting during the winter time, we recommend that you read the Winter Self Driving Guide to make your trip safe and memorable.  If you are planning to explore North Iceland, you can stay at hotels or guesthouses in Reykjahlíð, Mývatn, or near Diamond Circle.
Interesting locations in the area